[In-Depth] Necklace of Diamond Strategy- Developments, Challenges and Facing China's String of Pearls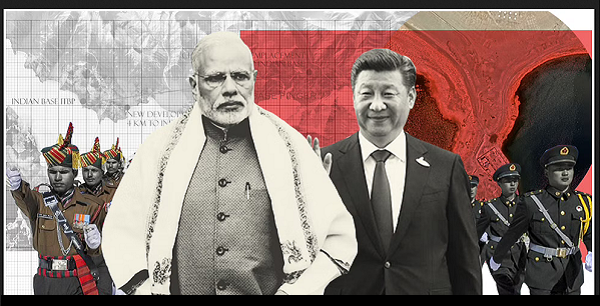 Recently, China's Xi Jinping secured his 3rd term as the President of PRC. In this time, China's increasingly aggressive stance against India and other countries in the IOR and the larger Indo-Pacific brings into focus India's 'Necklace of Diamond' Strategy.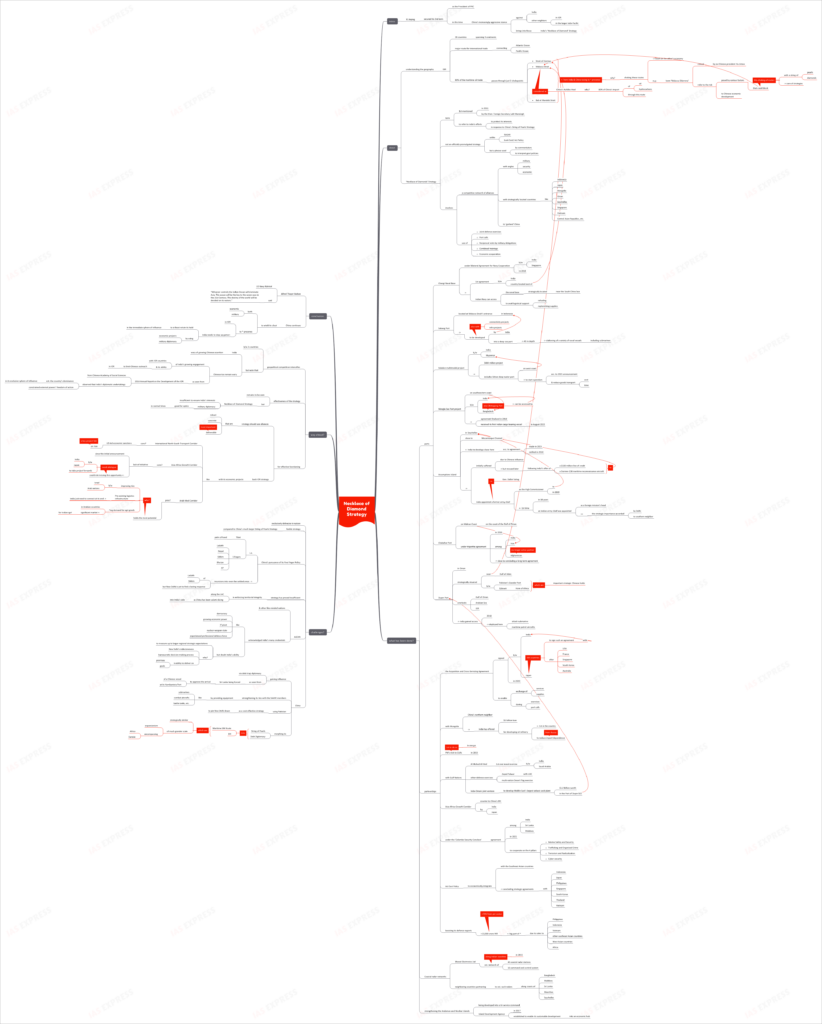 What is the strategy about?
To understand how India is working on this strategy, the region's geography needs to be kept in mind:

The Indian Ocean Region has

28 countries

, spanning

3 continents.

The Indian Ocean is a major route for

international trade

, connecting the Atlantic and the Pacific Oceans.

Some

80% of the maritime oil trade

passes through just 3 chokepoints:

Both India and China have been racing to

establish presence

in the vicinity of these routes, for choking these routes means having a

leash on the other's economy.

For instance, ex-Chinese president Hu Jintao coined the term

'Malacca Dilemma'

to refer to the risk posed by various factors, that could block the southeast Asian strait, to Chinese economic development.
This idea of choking the other with a

string of 'pearls'/ 'diamonds

' forms the core of the India's and China's strategies.
The phrase 'Necklace of Diamonds' Strategy was 1st mentioned in

2011

, by the

then- Foreign Secretary Lalit Mansingh

. He used the term to refer to India's efforts to protect its interests, in response to China's

String of Pearls Strategy.

It is to be noted that, unlike 'SAGAR', 'Look East/ Act Policy', etc., 'Necklace of Diamonds' Strategy is

not an officially promulgated strategy

, but rather a phrase used to interpret certain government policies by commentators i.e. the phrase hasn't found mention in official discourse.
This strategy involves putting in place a

competitive network of alliances

– with

military

,

security

and

economic

angles.
Under this strategy, India is cooperating with

strategically located countries

like Indonesia, Japan, Mongolia, Oman, Seychelles, Singapore, Vietnam, the Central Asian Republics, etc. to

'garland' China.

The strategy mainly involves use of

Reciprocal visits by military delegations
What has been done till now?
Ports: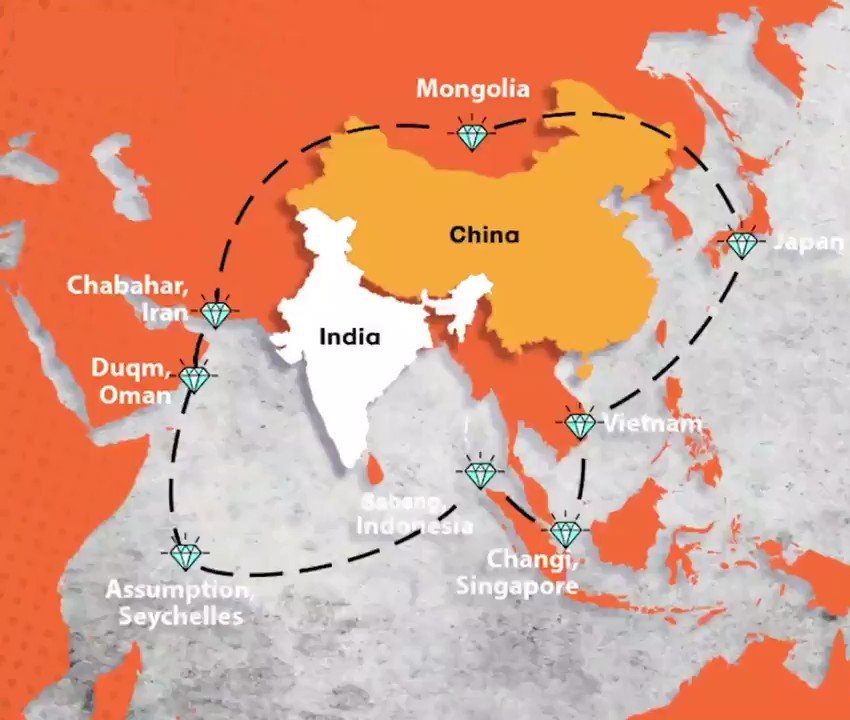 In

2018

, India signed an agreement, the

Bilateral Agreement for Navy Cooperation,

with

Singapore

to gain access to the

Changi Naval Base.

Notably, this is the 1st agreement India has signed with a

country located east of the Malacca Strait

. The Strait is considered as

China's Achilles Heel

given how

80% of the country's oil and hydrocarbon imports

pass through this route.

This agreement enables the Indian Navy to access the naval base, strategically located near the

South China Sea.

The agreement allows the Indian naval vessels to avail

logistical support

such as refuelling and replenishing supplies

In the same year,

Indonesia

gave access to the

Sabang Port

located at the

Malacca Strait's entrance.

The countries partnered to develop the deep sea port, in addition to other connectivity and infrastructure projects in the area.

The Sabang Port's

40 m depth

enables the stationing of a variety of naval vessels, including

submarines

.

India and Myanmar are cooperating on the

Kaladan multimodal project.

This $484 million project includes the

Sittwe deep-water port

, constructed by India on Myanmar's western coast.

In

2021

, the Union Shipping Ministry announced that the port is set to begin operations and would help cut goods' transport cost and time.

India and Bangladesh are cooperating on the

Mongla Sea Port project.

The neighbours signed an initial transhipment deal in 2015 and a more detailed agreement in

2018

to modernize this port on the southwestern coast of Bangladesh.

In

August

this year, the seaport received its

first Indian cargo-bearing vessel.

In addition to this, India has access to the country's

Chittagong Port.

India ratified a 2015 agreement with

Seychelles

in

2018

. This is an agreement to jointly develop a base on the

Assumption Island.

Note that this site lies close to the

Mozambique Channel.

This deal initially suffered due to Chinese influence over Seychelles. However, it was rescued following India's offer of a

$100 million line of credit

and a

Dornier-228 maritime reconnaissance aircraft

to Seychelles.

In 2019, India appointed a

former army chief

(Gen. Dalbir Suhag) as the

High Commissioner to Seychelles

. This marked the 1st time in 38 years that an Indian army chief was appointed as a foreign mission's head, reflecting the strategic importance accorded by Delhi to its southern neighbour.

In

2016

, a

tripartite agreement

, involving

India

,

Iran

and

Afghanistan

, to develop the Chabahar Port was concluded.

This port, located on the

Makran coast

of Iran, lies on the coast of the

Gulf of Oman.

Following recent political turmoil, Afghanistan is no longer actively involved in this deal.

However, India and Iran are close to concluding a

long-term agreement

on this project.

Also in

2018

, India gained access to

Oman's Duqm Port

that overlooks the

Gulf of Oman

,

Arabian Sea

and the Indian Ocean.

The Duqm Port is strategically situated near the

Strait of Hormuz

and the

Gulf of Aden.

This port is located between

Pakistan's Gwadar Port

and

Djibouti

in the Horn of Africa- 2 important strategic Chinese holds.

India had deployed an

attack submarine

and

maritime patrol aircrafts

at the port.
Partnerships:
In

2020

, Japan and India signed the

Acquisition and Cross-Servicing Agreement

to enable exchange of services and supplies during exercises and port calls.

Note that Japan is only the 6th country to conclude such an arrangement with India, after USA, France, Singapore, South Korea, and Australia.

India offered a

$1 billion loan

to

Mongolia

and is helping China's northern neighbour build its 1st oil refinery. This refinery would reduce Mongolia's dependence on fuel imports from Russia.
Tin 2015, the current Prime Minister became the 1st Indian head of government to visit

all the 5 Central Asian countries

in one go.
In 2021, India and Saudi Arabia conducted the

Al Mohed Al Hind

, the 1st ever naval exercise between the 2 countries. Apart from this, India has been taking part in other defence exercises with the Gulf nations, like the

Zayed Talwar

with

UAE

and the

multi-nation Desert Flag exercise.

A $1.2 billion-worth

Indo-Omani joint venture

to develop

Middle East's largest sebacic acid plant

is located in the

Port of Duqm SEZ.

The

Asia-Africa Growth Corridor

is a project undertaken by India and

Japan

. It is considered as a counter to China's BRI.
In 2021,

India

,

Sri Lanka

and

Maldives

agreed, under the

'Colombo Security Conclave' framework

, to cooperate on the 4 pillars:

Marine Safety and Security

Trafficking and Organised Crime

Terrorism and Radicalisation

India launched the

Act East Policy

to economically integrate with the Southeast Asian countries. This policy has paved way for concluding strategic agreements with

Indonesia, Japan, Philippines, Singapore, South Korea, Thailand and Vietnam.

India has been boosting its defence exports as well. The defence exports

crossed 13,000 crore INR

with the

private sector exports

accounting for

70%

of the total. A significant portion of the increase is attributed to sales to the

Philippines

,

Indonesia

,

Vietnam

and

other southeast Asian countries, West Asian countries

and

Africa

.
Coastal Surveillance Radars:
Coastal radar networks is another means through which this strategy is taking shape:

Bharat Electronics Ltd

established a network of

46 coastal radar stations

and

16 command and control system

along the Indian coast in 2015.

India has been partnering with its neighbours to establish surveillance radar systems along the coastlines of

Bangladesh

,

Maldives

,

Sri Lanka,

Mauritius

and

Seychelles

.

Apart from this, India is working on strengthening the

Andaman and Nicobar Islands

The islands are being developed into a

tri-service command.

In 2017, the

Island Development Agency

was established to enable its sustainable development into an economic hub.
What are the challenges?
The Necklace of Diamond Strategy is e

xclusively defensive

in nature.
It is criticized as a

feeble strategy

compared to China's much larger String of Pearls Strategy.
While China's pursuance of its

Five Finger Policy,

with

Tibet

as the palm and the fingers being

Ladakh

,

Nepal

,

Sikkim

,

Bhutan

and Arunachal Pradesh, has translated into incursions into even the settled areas of Ladakh and Sikkim, New Delhi is yet to find a lasting response. The Indian strategy has proved insufficient in enforcing territorial integrity along the LAC where China has been

salami slicing

into India's side.
While like-minded nations, like the ASEAN, have acknowledged India's many credentials- a democracy, a growing economic power, an IT pivot, a nuclear weapon state and a state possessing an experienced professional defence force- the countries continue to

doubt India's ability

to measure up to

larger regional strategic expectations

. This doubt stems from New Delhi's

indecisiveness

,

bureaucratic decision-making process

and

inability to deliver

on several promises and goals.
In addition to this, China is gaining influence through its

debt trap diplomacy

. Its consequence can be seen from Sri Lanka being forced to approve the arrival of a

Chinese vessel

at its

Hambantota Port.

China has been strengthening its ties with the SAARC members– Afghanistan, Bangladesh, Bhutan, Maldives, Nepal, Pakistan and Sri Lanka. For instance, it has been providing

equipment

like submarines, combat aircrafts, battle tanks, etc. to SAARC members.
China has been using Pakistan as a cost-effective strategy to pin New Delhi down.
These String of Pearls and Debt Diplomacy strategies have now morphed into the Maritime Silk Route and BRI– strategically similar but with a much grander scale of expansionism, encompassing Africa and Eurasia.
What is the way ahead?
As the geopolitical competition intensifies between India and China for gaining strategic influence in the Indo-Pacific, it is to be noted that, like how India is wary of growing

Chinese assertion

, the Chinese too remain wary of

India's growing engagement

with the countries of the region and its ability to limit Chinese outreach in the IOR.
This can be seen from how the

2016 Annual Report on the Development of the IOR,

a report from the Chinese Academy of Social Sciences, observed that

India's diplomatic undertakings

have established the country's

dominance

in its exclusive sphere of influence and

constrained external powers' freedom of action.

However, while the effectiveness of the strategy remains to be seen, Indian military analysts and observers from the neighbouring countries continue to assess the Necklace of Diamond Strategy to be

insufficient

to ensure India's interests.
In normal times,

military diplomacy

is good for optics. However, for effective functioning, India's strategy should use

alliances

that are robust, concrete and most importantly,

deliverable

.
India needs to back its IOR strategy with its economic projects, like the International North-South Transport Corridor, Asia-Africa Growth Corridor and the Arab-Med (Arabian Mediterranean) Corridor.

In case of the

Asia-Africa Corridor

, a

lack of initiative

since the initial announcement is risking a missed opportunity. India needs to

restart dialogue

with Japan to take the project forward.

The

Arab Med Corridor

holds the most potential, given the current circumstances:

Increasing

demand for agricultural exports

in the Arab nations, creating a significant market opportunity for Indian agriculture sector, etc.
Conclusion:
Alfred Thayer Mahan, a US Navy Admiral, is quoted as saying, "Whoever controls the Indian Ocean will dominate Asia. This ocean will be the key to the seven seas in the 21st Century. The destiny of the world will be decided on its waters." As China continues to wield its economic and military clout to increase its presence in the IOR, India needs to step up its game to at least retain its hold in the immediate sphere of influence. Economic projects, in addition to military diplomacy, hold the key to a successful strategy.
Practice Question for Mains:
What is the Necklace of Diamond Strategy? How can it be made effective against China's String of Pearls Strategy? (250 words)
Learn More