FAQ
What is a Mindmap
A mind map can turn a long list of boring information into a colourful, memorable and highly organized diagram that works in line with your brain's natural way of doing things.
A mind map is hierarchical and reflects relationships among pieces of the whole.
Whenever you make notes from books or newspapers, instead of writing paragraphs or bullet points, you can make a mind map for the big-picture analysis and better recall.
How to make a mind map?

Step 1: Write the main concept at the centre of the page.
Step 2: Write sub-topics around the main concept and link them together.
Step 3: Write the key points under each-subtopics.
Step 4: Mark relationship (if any) between different points in the mind map.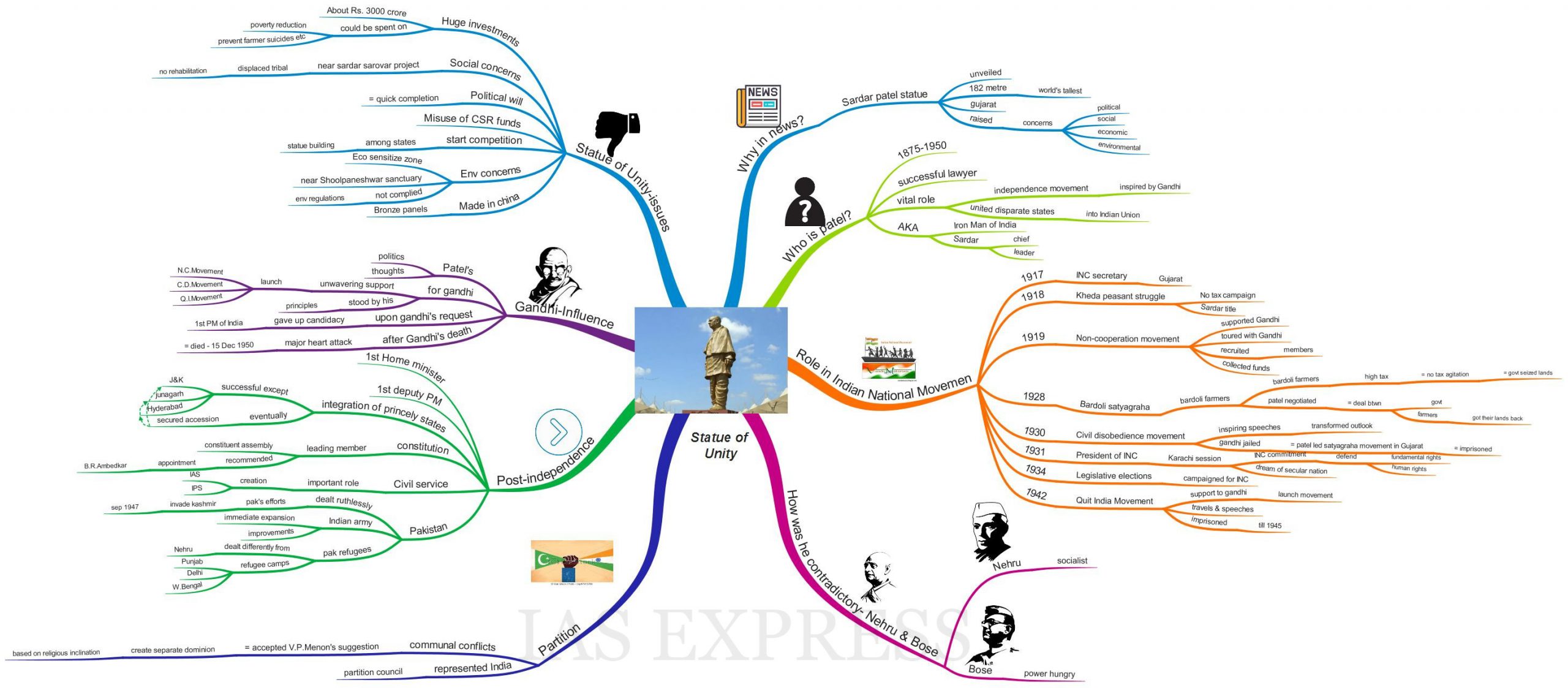 Above is the example mind map from our article on the statue of unity issue. Here,

Statue of unity – the Main concept
Why in news? Who is Patel? Etc – Sub-topics
Then the nodes that branch out from sub-topics are key points.
[collapse]
Mindmap Learning Programme (MLP)
Mindmap Learning Programme (MLP) is a flagship programme of IAS EXPRESS that makes learning easier, faster and fun through mindmap courses.
What are the Benefits?
Big picture – You can take in the bigger picture quickly and easily at a glance with our mindmap courses.
Better recollection – The visual nature of mindmaps allows for easier recall.
Simplification – Mindmaps allow for the simplification of complex relationships between topics.
Quick revision – Every point is organized and linked in a way that enables quick revision.
Interactive – IE Mindmaps are interactive i.e., you can collapse, expand, navigate around and search for a particular topic inside the mindmap. This provides for the active learning process and you never get bored.
Updated – Our contents are periodically updated according to the changing needs of the exam.
Question paper-based – Contents are prepared based on solving previous years question papers = high chance of success in the actual examination.
What are the Features?
In-depth courses: covering the whole syllabus in a systematic and easy-to-understand manner. More importantly, our courses are prepared according to the previous years question patterns.
Add your own notes: on any page by clicking the "Add Notes" button at the top. The button will show up after you login.
Bookmarks: You can bookmark different pages for later reading.
[collapse]
Why should you join
Because:
Smart work is more important than hard work: IAS EXPRESS gives you smart learning by analyzing previous year question patterns and creating dedicated content according to the syllabus.

You can save a lot of time and energy. because:

You don't have to compile various points from different sources yourself. We do all the hard work for you.

you can learn/revise 10X better and faster because of the mindmap format

You can save a lot of money from buying so many books or spending lakhs in coaching centres.

This initiative is self-funded = your contribution will help us sustain and come up with more innovative programs. In other words, you're helping us in order to help you reach your goal.
[collapse]
How to join
Step 1: Click Sign Up button
Step 2: Create an account with your username and password. You can also register through Google or Facebook account.
Step 3: On successful payment, your membership will be activated immediately and automatically (no manual approval needed).
Step 4: You can then sign in to your account by clicking "Sign in" in the menu and then use the menu to navigate to different pages and access contents. Quick links to different pages are also provided on the homepage itself.
The renewal/upgrade procedure is also the same.
If you have any doubts, feel free to contact us by clicking the chat icon at the bottom right. We reply fast.
[collapse]
Student Reviews
Have any doubts?
Search/ask for answers in the comments section down below or use the chat icon at the bottom-right of this page to contact us.