Role of external state and non-state actors in creating challenges to internal security
India is the seventh-largest and second-most populous country in the world. Its population is divided into more than 2,000 ethnic groups, speaking more than 22 different languages and practising nine recognised religions. Thus, it is widespread with divisions and the conflict naturally follows. It is among the top ten most affected by terrorism. Not only is it facing religious extremism, but it also is mired by poverty, urban-rural divide, tribal feuds, and ethnic nationalism – all leading to the problem of terrorism within the nation.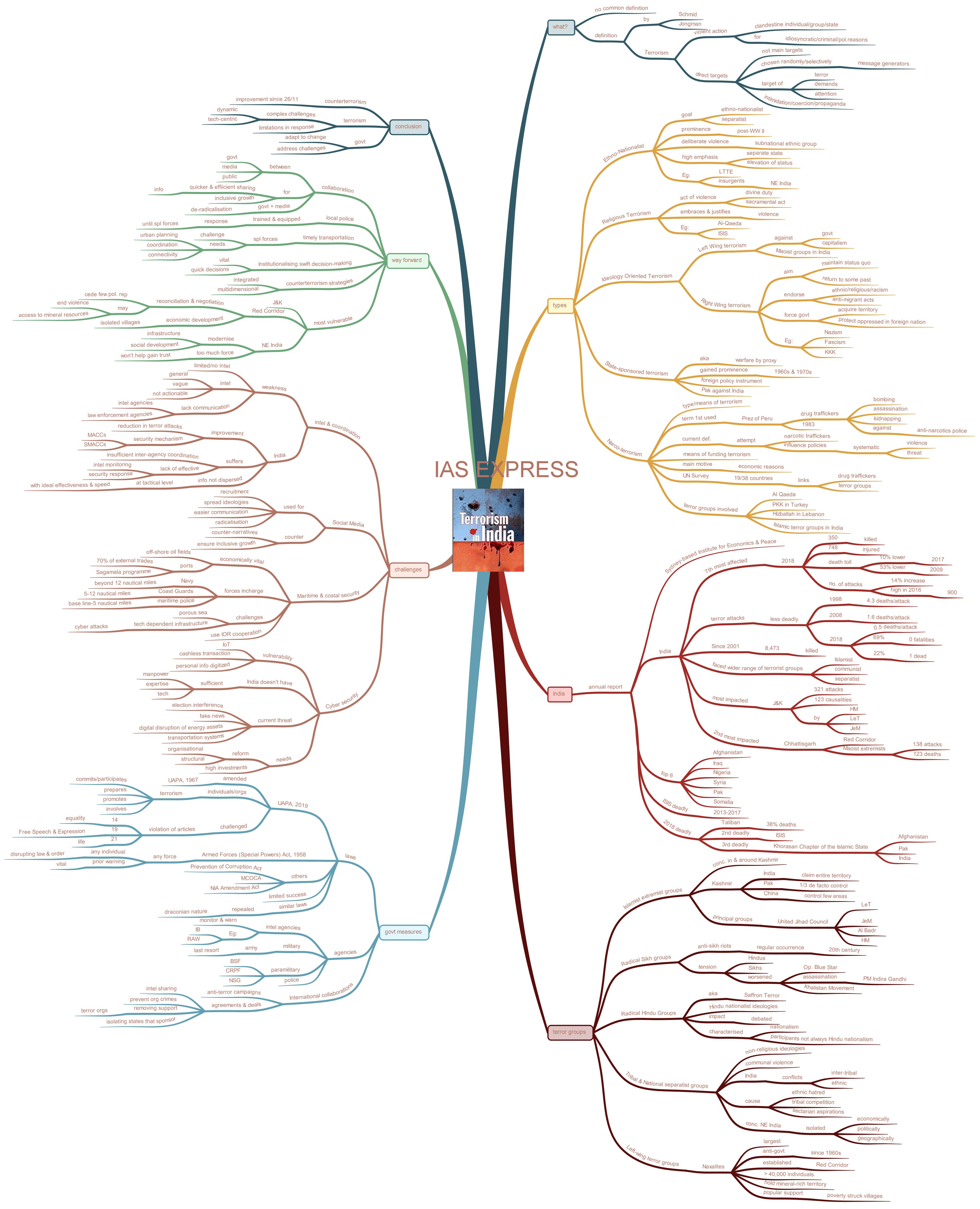 What is terrorism?
There is no universally accepted definition for terrorism.
Many legal systems and government agencies use different definitions of terrorism.
India currently uses the definition proposed by Schmid and Jongman in 1988, just like many of the Western nations.
The definition is as follows – "Terrorism is an anxiety-inspiring method of repeated violent action, employed by (semi-) clandestine individual, group or state actors, for idiosyncratic, criminal, political reasons, whereby the direct targets of violence are not the main targets. The immediate human victims of violence are generally chosen randomly (targets of opportunity) or selectively (representative or symbolic targets) from a target population, and serves as message generators. Threat and violence-based communication processes between terrorist organisation, victims, and main targets are used to manipulate the main target (audience(s)), turning it into a target of terror, a target of demands, or a target of attention, depending on whether intimidation, coercion, or propaganda is primarily sought."
What are the types of terrorism in India?
According to the eighth report of the Second Administrative Reform, terrorism is classified as follows:
Ethno-Nationalist Terrorism:
This type of terrorism is motivated by ethno-nationalist and separatist goals.
It gained global prominence during the post-Second World War era until religious terrorism gained the centre stage.
According to Daniel Byman, ethnic terrorism is defined as deliberate violence by a subnational ethnic group to advance its cause.
Such terrorism gives high emphasis to either for the creation of a separate state or on the elevation of the status of one ethnic group over others.
Liberation Tiger of Tamil Eelam in Sri Lanka and insurgent groups in North East India are some examples of this type of terrorism.
Religious Terrorism:
Currently, most of the terrorist activities are motivated by religious ideas.
The practitioners of this type of terrorism consider the act of violence as either divine duty or a sacramental act.
It often embraces and justifies extreme acts of violence, making it far more destructive in nature.
Islamic State of Iraq and Syria (ISIS) and Al-Qaeda are some of the examples of this type of terrorism.
Ideology Oriented Terrorism:
This type of terrorism use ideology to support violence and acts of terror.
It is further classified into two groups:
Left-wing terrorism involves the violence against the ruling elite mostly by the peasant class to promote leftist ideologies. These ideologies are mostly based on ideas of thinkers like Marx, Engels, Lenin, Mao Tse-tung, etc. The leftist ideologies believe that all existing social relations and state structures in the capitalist society are exploitative and a revolutionary change through violence is essential. The examples of this type of terrorism include the Maoist groups in India and Nepal, Red Brigades in Italy, etc.
Right-wing groups often aim to maintain the status quo or return to some past situation which they feel they should conserve. Sometimes they even endorse ethnic/racist/religious character too. They may also force the government to acquire territory or to intervene to protect the rights of an "oppressed" minority in the neighbouring country. Violence against migrants also comes under this category. The examples for this type include Nazism, Fascism, white supremacy movement in the US known as Ku Klux Klan (KKK), etc.
State-sponsored terrorism:
Also known as warfare by proxy, State-sponsored terrorism is as old as the history of military conflict.
It has gained prominence in international politics between the 1960s and 1970s.
Currently, some countries have embraced terrorism as a deliberate instrument of foreign policy.
One distinction that separates this type of terrorism from others is that it is undertaken to achieve the defined foreign policy objectives rather than grabbing media attention or targeting a specific audience.
India has been facing this problem since independence due to Pakistan's state-sponsored terrorism.
Narco-terrorism:
It can either fall under in the category of "types of terrorism" or "means of terrorism", depending on how it is defined.
The term was first used by the former President of Peru in 1983 to describe the campaigns by drug traffickers using terrorist methods like bombing, assassination, and kidnapping against the anti-narcotics police in Columbia and Peru.
Though this term was initially used to describe the drug trafficking-related terrorism in South America, it has now come to be associated with terrorist groups and activities around the world and more so in the Central and South-East Asia.
The Canadian Security Intelligence Service defines it as " the attempt by narcotic traffickers to influence the policies of the government by systematic threat or use of violence".
However, it can also be used to describe as a means of terrorism or at any rate as a means of funding terrorism.
It combines two illegal activities – drug trafficking and terrorist activities.
It is mainly motivated by economic reasons as it helps them fund other terrorist activities.
According to a survey conducted by the UN, the links between drug traffickers and terrorist groups were observed in 19 out of 38 countries. These countries include Algeria, Colombia, Comoros, Ecuador, Germany, Guernsey, India, Japan, Kenya, Kyrgyzstan, Lithuania, Mauritius, Saudi Arabia, Turkey, UK, USA, Uzbekistan, and Yemen.
The major terrorist groups involved in this activity include Al Qaeda, PKK (Kurdistan Workers Party) in Turkey, Hizballah in Lebanon, Islamic terrorist groups in India, etc.
Terrorism in India – a critical analysis:
According to an annual report by the Sydney-based Institute for Economics and Peace, India is the 7th most affected country by terrorism.
As per the report, 350 Indians were killed and 540 were injured in 748 terrorist incidents in 2018.
In this report, Afghanistan is the most affected country terrorism, followed by the order of Iraq, Nigeria, Syria, Pakistan, and Somalia.
The report states that 8,473 Indians have died due to terrorism since 2001.
However, in 2018, the death toll was 10% lower than in 2017, and 53% lower than in 2009.
However, the number of terrorist attacks has increased by 14% over the same period, peaking in 2016 at over 900.
This trend indicates that the terror attacks in India are becoming less deadly.
In 1998, about 4.3 people were killed in each attack.
It reduced to 1.6 deaths per attack in 2008 and 0.5 in 2018. In 2018 alone, 69% of the attacks had zero fatalities and 22% had only one fatality.
ISIS was the deadliest since 2013.
With ISIS currently retreating, the world's deadliest terrorist group is currently the Taliban in Afghanistan, accounting for 38% of all the deaths in 2018.
The third deadliest is the Khorasan Chapter of the Islamic State, which is currently operating in Afghanistan and Pakistan, is now surfacing in India.
The report had included the armed insurgent groups in Kashmir and the North East as the terrorist groups.
Based on this analysis, the report states that compared to other countries in the top ten most impacted, India faces a wider range of active terrorist groups – Islamist, communist and separatist groups.
As per the report, Jammu and Kashmir are the most impacted in India, with 321 attacks and 123 causalities, mostly perpetrated by the Hizbul Mujahideen (HM), Jaish-e-Mohammad (JeM) and Laskar-e-Taiba (LeT).
India's second most impacted is Chhattisgarh in the centre of the communist "Red Corridor". It faced 138 attacks and 123 deaths in 2018 in the hands of Maoist extremists. Though the attacks were few when compared to Kashmir, the death toll in Chhattisgarh is almost equal.
Terrorist groups in India:
Islamist extremist groups:
Most of the attacks by these groups are concentrated in and around Kashmir.
While India claims the entire Kashmir as its sovereign territory, it only controls two-third of the region, with Pakistan acting as a de facto governor to nearly 1/3 of the territory and several other areas are under China's control.
The principal groups operating in this area include LeT, JeM, Al Badr and Hizbul Mujahideen.
These groups coordinate under the United Jihad Council.
Radical Sikh groups:
Anti-Sikh riots were a regular occurrence in the 20th
There was always a tension between the Hindus and the Sikhs and their relations was at an all-time low following Operation Blue Star – the military operation to remove Jarnail Singh Bhindranwale and his followers from the buildings of the Harmandir Sahib complex in Amritsar, Punjab.
The assassination of the former PM Indira Gandhi by her two Sikh bodyguards worsened the situation.
Many innocent Sikhs were persecuted in response, leading to popular support of the Khalistan movement that seeks to create a separate nation called Khalistan in Punjab region to serve as a homeland for the Sikhs.
These radical groups are still operating abroad in countries like Canada.
Radical Hindu groups:
Popularly known as the "Saffron Terror", these violent acts are motivated by Hindu nationalist ideologies.
The extent of the Hindu terror in India is highly debated at the domestic level.
Riots or attacks targeting other religious groups are often characterised by a nationalist undertone and not all participants are necessarily Hindu nationalists.
Complexities like these and the issues surrounding the nature of the minority victims/targets may lead to under-reporting of the Hindu terror attacks.
Tribal and National separatist groups:
These groups are motivated by non-religious ideologies and are often known for "communal violence".
India, for a very long time, has been the host for inter-tribal and ethnic conflicts.
These incidents are mainly due to ethnic hatred, tribal competition and sectarian aspirations that supersede any existing religious or ideological differences.
These incidents are concentrated in the North East India that is politically, economically and geographically isolated from the rest of the country.
Left-wing terror groups:
The largest among this group, the Naxalites, have been waging war against the government since the 1960s.
They have established a Mao inspired insurgency in the eastern part of India known as "Red Corridor".
Currently, they are estimated to have more than 40,000 individuals and are holding significant swaths of the mineral-rich territory.
They also have popular support in the poverty-stricken rural villages.
What are the measures taken by the Indian government to counter-terrorism?
India's counter-terrorism laws:
Unlawful Activities (Prevention) Amendment Act, 2019 was passed in the parliament this year and it repeals the UAPA, 1967. The amended Act gives the power to the centre to declare individuals/organisations as terrorists if it commits/participates, prepares, promotes, or involves in terrorism.
Armed Forces (Special Powers) Act, 1958 allows the use of any kinds of force that is necessary against a person who is "acting to disrupt the law and order". This is applicable only if the warning is given by the security personnel.
The other Acts to deal with terrorism includes the Prevention of Corruption Act, Maharashtra Control of Organised Crimes Act (MCOCA), NIA (Amendment) Act, 2019
These laws have seen limited success in curbing terrorism. Many such laws were repealed due to their draconian nature.
The current UAPA, 2019 is challenged in the apex court for its violation of Article 14 (Right to Equality), 19 (Right to Free Speech and Expression) and 21 (Right to Life) of the Constitution.
India's counter-terrorism agencies:
The counter-terrorism activities are mostly undertaken by the intelligence agencies, military, paramilitary and police forces.
Army participates in the counter-terrorism operations only as a last resort.
Paramilitary forces are given specialised training in counter-terrorism. These forces include BSF, CRPF, NSG, etc.
India's intelligence agencies monitor the terrorist activities and give a warning about the imminent attacks to prevent it from taking place. These agencies include Intelligence Bureau (IB), Research and Analysis Wing (RAW), etc.
International collaborations:
India has been, for a very long time, vociferous against terrorism, especially state-sponsored terrorism.
India has signed various deals and agreements with several like-minded countries for sharing intelligence, preventing organised crimes, removing support to the terrorist organisations and isolating those countries that are sponsoring terrorism.
However, despite these proactive endeavours, India is not able to materialise these collaborations and cooperation and has to deal with terrorism on its own most of the time.
What are the key challenges faced by India's counter-terrorism apparatus?
Intelligence and coordination:
For any counterterrorism operation to be successful, reliable and actionable intelligence is vital.
India has the following weaknesses when it comes to intelligence:
Limited to no intelligence
The available intelligence is general, vague or not actionable
Lack of effective communication between intelligence agencies and law enforcement agencies.
These weaknesses are not only seen in India but also in other nations like the USA.
The Indian government has made a huge improvement in the state's intelligence gathering mechanism and has enhanced coordination among the different security agencies. Thus, it has resulted in the reduction of terror attacks.
India's security mechanism has been reinforced with the establishment of Multi-Agency Coordination Centres (MACCs) and Subsidiary Multi-Agency Coordination Centres (SMACCs).
Yet, India currently suffers from insufficient inter-agency coordination, which in turn, leads to a lack of effective intelligence monitoring and security response.
Concern still exists over the fact that the information is not dispersed among the security forces at the tactical level at the speed and effectiveness with which it should ideally occur.
To ensure better coordination, interoperability among the agencies must be improved and the delegations must be frequently sent for coordination and cooperation among all intelligence agencies.
Social Media:
Currently, those involved in terrorist activities are making use of social media platforms to recruit and spread ideology among a wider audience.
They are even giving manuals on how to make explosives to the public.
Communication has also become easier for these individuals.
The radicalisation of youth in India's vulnerable areas has also become easier due to social media.
Indian government must counter this through effective counter-narratives and build an environment that ensures inclusive growth of the marginalised.
Many of these terrorist organisations are involved in "talent spotting" and "radicalisation" of the youth.
It is difficult to counter these due to the lack of clear "criminality" of these actions.
Maritime and coastal security in India:
Maritime security is of economic significance to India.
In the past years, a large portion of India's domestic energy production comes from the Mumbai High offshore fields in the western coasts.
Currently, similar endeavours are undertaken to extract energy from offshore oil and gas fields on the eastern coasts.
Due to these vital economic activities, the Indian government has initiated the Sagamala programme for the modernisation of India's ports and ensure port-led industrialisation in different maritime states and UTs.
This along with the Bharatmala (the centrally sponsored roads and highways project) are improving connectivity and removing economic disparities across the country.
Furthermore, India's ports handle 70% of external trades in terms of values, making it vulnerable to terrorism.
26/11 and 1993 serial bomb blasts in Mumbai exposed the vulnerability of India's maritime security.
Currently, the Indian Navy is in charge of ensuring the security of the areas beyond 12 nautical miles, while the Coast Guards is responsible for the security of areas between 5 and 12 nautical miles and the maritime police are in charge of the security between the baseline and five nautical miles.
Sea is porous, thus is highly difficult to monitor constantly.
Furthermore, the current port or maritime-based infrastructure is technology-dependent, making it vulnerable to cyber-attacks.
Following the 26/11, the countries around the Indian Ocean Region have expressed their willingness to cooperate in the maritime security in the region and India must make use of this opportunity.
There is an increase in cashless transactions within India in recent times.
Due to the improvement in IT, most of the infrastructural and industrial capacities have become technology-driven.
Most of the citizens' personal information is digitized, leading to higher dependence on technology.
This makes India highly vulnerable to cyber terrorism.
Currently, India does not have sufficient manpower, expertise, and technologies to deal with this emerging threat.
The current threats in this context include interference in the election, propaganda, fake news, digital disruption of energy assets and transportation systems.
This is an enormous challenge that requires structural and organisational reform with a large financial investment.
Way forward:
Collaboration between the government, media and the public is a need of the hour. This will ensure quick and efficient sharing of information about suspicious activities to the law enforcement agencies while also ensuring inclusive growth among the people. Media and government can also ensure the de-radicalization of the youth in vulnerable areas.
Local police forces must be well trained and well equipped with necessary gears so that they can respond to the terrorist attacks until the Special Forces reach the site.
Enabling timely transportation of the security forces during the terror attacks to ensure an effective and quick response. This is of significant challenge to India due to the heavy congestion and haphazard layouts of the infrastructures. Improved urban planning, coordination, and connectivity are vital to address this issue.
Institutionalising swift decision-making is necessary to address security issues. Efficient counterterrorism strategies must be formulated in an integrated and multidimensional manner for these decisions to be successful. These decisions must be quick and proactive with no delays.
While over 50% of the known terror attacks between 1972 and 2017 was committed by Left-Wing terrorist groups, in terms of casualties, Islamic terror equally deadly. Three key vulnerable areas in India are Jammu and Kashmir, the eastern "Red Corridor" and North East India. These areas are dominated by the Islamist, Left-Wing, and Tribal/separatist groups
As long as Pakistan continues to sponsor terrorism in Kashmir and nearby areas and refuse to cede its claim to the territory, it is unlikely that the crisis will calm in the near future. India has little choice but to maintain some façade of control and security.
The types of violence found in the North East are common among the underdeveloped areas undergoing modernisation. The continued investment in infrastructure and social development in the region should be adequate to quell such incidents in the long-term. Harsh police crackdown may only increase the tribal mistrust of the authorities, making developmental activities far more difficult.
The area, which has the most terror incidents and has a high potential for short-term improvement, is the Red Corridor.
The Naxalites and other Maoist groups can be controlled if efforts are made in reconciliation and negotiation. This process may be painful, involving ceding some reasonable political representation to the aggressors, but the end of violence and regained access to vital mineral resources would make well worth the government's while.
There are also some benefits to waiting. Increased funding for the economic development of the isolated rural areas that support the Naxalites can ensure popular support for the government instead of the separatist groups.
Conclusion
Since the 26/11 Mumbai terror attacks, there has been a considerable improvement in India's counterterrorism endeavours. The complex challenges pertaining to terrorism continue to threaten India and its limitations in addressing it are making the situation bleaker. The manifestation of terrorism continues to change rapidly and is increasingly becoming technology-centric. Therefore, the government must take the necessary steps to adapt to the change and address the growing challenges while countering terrorism.
Test Yourself
Critically analyse how terrorism is a threat to India. What can the government do to address it? (250 Words)