Mahatma Gandhi – Biography, Movements, Literary Works

From Modern Indian History Notes » Important Personalities of Modern India
Introduction:
Mohandas Karamchand Gandhi was a renowned freedom activist and a powerful political leader. He played an important role in India's struggle for Independence against the British rule of India through non-violent means which ultimately led to Indian independence. He was also known as Father of India, Bapu (endearment for father), and Mahatma (Great Soul). He also improved the lives of India's poor people and depressed classes. His ideology of truth and non-violence influenced many including Martin Luther and Nelson Mandela. His professions include lawyer (studied law at London, 1888), politician, activist, and writer.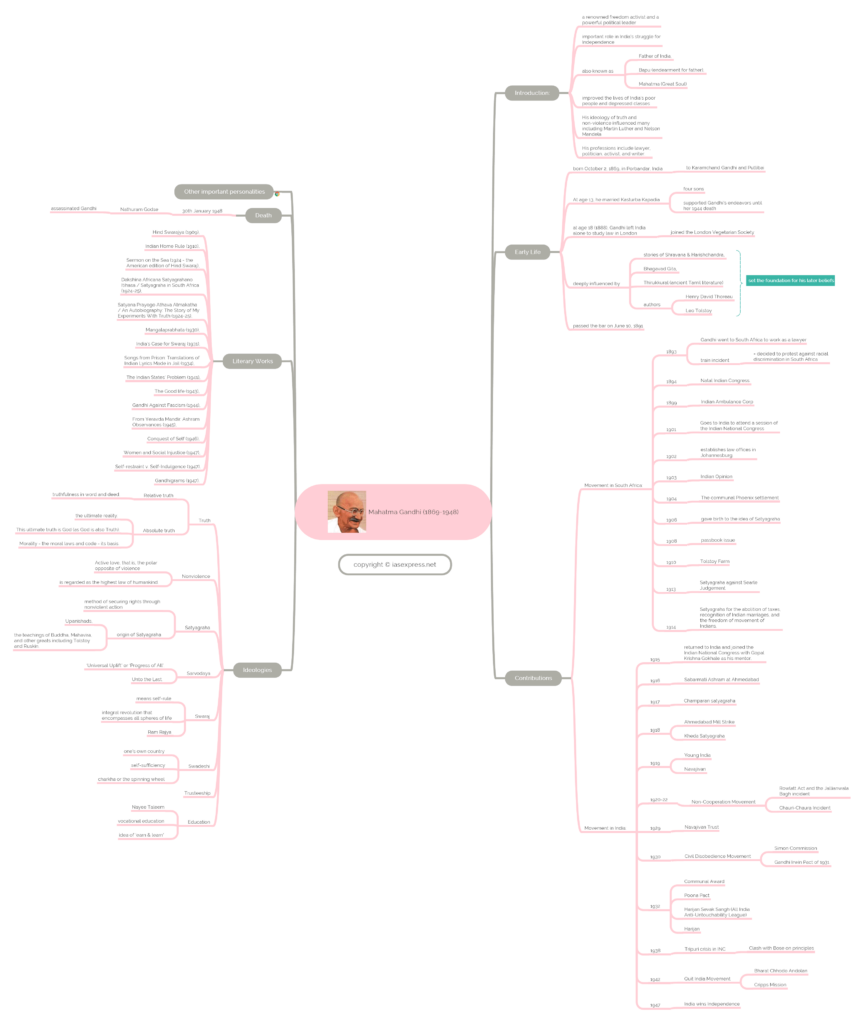 Early Life of Mahatma Gandhi:
Mohandas Karamchand Gandhi was born October 2, 1869, in Porbandar, India, to Karamchand Gandhi and Putlibai. At age 13, he married Kasturba Kapadia as part of an arranged marriage. She bore four sons and supported Gandhi's endeavors until her 1944 death.
In September 1888 at age 18, Gandhi left India alone to study law in London. Gandhi also adopted vegetarianism and joined the London Vegetarian Society, whose intellectual crowd introduced Gandhi to authors Henry David Thoreau and Leo Tolstoy. He was also deeply influenced by the stories of Shravana & Harishchandra, Bhagavad Gita, and Thirukkural (ancient Tamil literature) as they reflected the importance of truth. These books' concepts set the foundation for his later beliefs.
Gandhi passed the bar on June 10, 1891, and returned to India. For two years, he attempted to practice law but lacked the knowledge of Indian law and the self-confidence necessary to be a trial lawyer. Instead, he took on a year-long case in South Africa.
Contributions of Mahatma Gandhi:
Gandhi's Movement in South Africa:
1893: Gandhi went to South Africa to work as a lawyer. There he had first-hand experience of racial discrimination when he was thrown out of the first-class compartment of the train despite holding the first-class ticket because it was reserved for white people only and no Indian or black was allowed to travel in the first class. This incident had a serious effect on him. He also observed that this type of incident was quite common against his fellow Indians. Therefore, he decided to protest against racial discrimination in South Africa.
1894: Gandhi agrees to extend his stay in South Africa, and helps to establish the Natal Indian Congress

. He assumes a prominent and vocal role in the local campaign for Indian rights.

1899: Gandhi forms the Indian Ambulance Corp

to provide relief support for British soldiers during the South African War (formerly the Anglo-Boer War).

1901: Goes to India to attend a session of the Indian National Congress. He returns to South Africa the following year.
1902: Gandhi establishes law offices in Johannesburg.
1903: Gandhi begins printing the newspaper, Indian Opinion

(later titled

Opinion

), in Johannesburg.

1904: Gandhi established The communal Phoenix settlement

. Meets Herman Kallenbach (Architect & Gandhi's associate).

1906: Gandhi gave birth to the idea of Satyagraha

. He chaired a meeting in Johannesburg, in which the Indian community was called upon to resist new anti-Asiatic laws through acts of civil disobedience.

1908: Gandhi is arrested for not carrying a passbook. After he was released, he led thousands of Indians in burning their passbooks and registration papers at Johannesburg.
1910: Gandhi and Kallenbach established Tolstoy Farm on the outskirts of Johannesburg. It becomes Gandhi's base in South Africa.
1913: After the Searle Judgement

(under which marriages conducted under Indian law were declared invalid), many Indian women join the Satyagraha.

1914: Suspends Satyagraha, in return for the abolition of taxes, recognition of Indian marriages, and the freedom of movement of Indians.

Movement in South Africa transformed Gandhi into a new person and it played an important role in the evolution of Satyagraha which was used in upcoming freedom struggles in India.
Gandhi's Movement in India:
1915: Gandhi returned to India and joined the Indian National Congress with Gopal Krishna Gokhale as his mentor.
1916: He established the Sabarmati Ashram

at Ahmedabad so that his followers could learn and practice the truth and non-violence.

1917: Champaran satyagraha

–  marks Mahatma Gandhi's first successful application of his method of 'satyagraha' in India. The indigo cultivators of Champaran, Bihar were greatly exploited by the planters who were largely European. The cultivators were bound by law to grow indigo on 3/20

th

(the tinkathia system) of the total area of their land and sell it to the planters at the price fixed by the latter. As a result of this system, the poor peasants were greatly distressed and approached Gandhi in order to lead their struggle against the planters. Gandhi accepted their request but was banned from entering the district by district authority orders. In protest, Gandhi did satyagraha. As a result of his campaign, an enquiry was conducted into the conditions of the peasants. This went a long way in giving the indigo cultivators some relief.

1918:

Ahmedabad Mill Strike

: In February 1918, there was a conflict between mill owners and workers of the Gujrat Mill. Gandhiji organised satyagraha in favour of cotton mill workers in 1918 at Ahmedabad. It was one of the formative events in the political career of Mahatma Gandhi. 

Kheda Satyagraha

of 1918: Gandhi organised this movement to support peasants of the Kheda district, Gujarat. The people of Kheda were unable to pay the high taxes levied by the British due to crop failure and a plague epidemic.

1919:

Young India

was a weekly paper or journal in English started by Mahatma Gandhi. It was published from 1919 to 1931. Through this work, he desired to popularise India's demand for self-government or Swaraj. He used Young India to spread his unique ideology and thoughts regarding the use of nonviolence in organising movements and to urge readers to consider, organise, and plan for India's eventual independence from Britain. 

Navajivan (a new life)

was weekly newspaper published by Gandhi, in

Gujarati

, from 1919 to 1931, from Ahmedabad.

1920-22: Non-Cooperation Movement

– Gandhi launched this mass movement which involved participation from the nationalists as well as the public.  Factors that led to the formation of this movement were the oppressive policies of Britishers such as the Rowlatt Act and the Jallianwala Bagh incident in Amritsar. The campaign involves Indians revoking their cooperation from the British government, with the aim of inducing the British to grant self-governance (swaraj). The British government arrested Gandhi and sentenced him to six years in jail for sedition.

Gandhi withdrew the non-cooperation movement after the Chauri-Chaura Incident.

After the non-cooperation movement ended, Gandhi withdrew from the political platform and focused on his social reform work.

1929: Navajivan Trust

 is a 

publishing house

 based in 

Ahmedabad

, 

India

. It was founded by 

Mahatma Gandhi

in 1929

 and has published more than 800 titles in 

English

, 

Gujarati

, 

H

i

ndi and other languages to date. The objective of Navajivan Trust was to propagate peaceful means for the attainment of Hind Swaraj (Swaraj for India).
1930: Civil Disobedience Movement – The Simon Commission came to India in 1928. It was to look into the functions of the constitutional system in India. As there was no Indian member in it, it was boycotted by all political parties in the country. Later, in 1929, the Congress under the leadership of Nehru declared 'Poorna Swaraj' as its main goal. As nationalist feelings began to rise, Gandhi sent a letter containing eleven demands to Lord Irwin in 1930 asking him to accept it. When he refused, Gandhi launched the Civil Disobedience Movement.

Civil disobedience implies the active, professed refusal of a citizen to obey certain laws, orders, and demands of a government. In the year 1930, Gandhi started this movement (Dandi) by violating the salt law. The movement was discontinued following the

Gandhi Irwin Pact of 1931

.

1932: 

Communal Award – Ramsay Macdonald announced communal award due to repeated failure of communities to decide on the proportion of representation. The award provided for a separate electorate for depressed classes. Gandhi condemned this award as it was based on Britishers' Divide and Rule Policy and it will destroy Hinduism. He led a fast unto death which ultimately resulted in Poona Pact

between Congress and depressed classes headed by B.R. Ambedkar. Poona pact provides for reservation of depressed classes in Hindu joint electorate.

As a result of the communal awards and Poona pact, Gandhi dedicated himself to the upliftment of depressed classes and untouchables. Gandhi founded

Harijan Sevak Sangh (All India Anti-Untouchability League)

in 1932. He also started a journal named

Harijan

which means "People of God".

1934: Gandhi resigned from the Congress party membership as he did not agree with the party's position on different issues.
1936: Gandhi returned to active politics in 1936 with the Lucknow session of Congress where Jawaharlal Nehru was the president.
1938: Gandhi and Subhash Chandra Bose's principles clashed during the Tripuri session which led to the Tripuri crisis in the Indian National Congress.
1942: Quit India Movement – The Quit India Movement was launched by Mahatma Gandhi on 8 August 1942 at the Bombay session of the All India Congress Committee (AICC). Also known as the Bharat Chhodo Andolan, this movement was a mass civil disobedience that took place in the country. Gandhi demanded that the British must leave India immediately or face dire consequences. As a part of this movement, a call for mass agitation was followed by violence that took over the country after which Indian National Congress leaders were arrested. The main reason for the Quit India Movement to begin was because the Britishers were planning to drag the country into World War II without consent to fight on behalf of the United Kingdom (UK). During that time, more than 87,000 Indian soldiers were martyred in World War II including people from Pakistan, Nepal, and Bangladesh. Also, the Cripps Mission which was led by Sir Stafford Cripps, a member of the War Cabinet in March 1942, made an attempt to secure India's cooperation in World War II. Following this, Cripps was sent to India to discuss and support the British Government's Draft Declaration with Indian leaders. Moreover, the declaration also granted India Dominion Status after the war. To which, Congress denied discussing any terms unless given total freedom.
1947: India wins independence. Gandhi fasts as penance for inter-communal violence following the partition of India and Pakistan.
Gandhian Ideologies:
Gandhi developed a set of religious and social ideas first during his period in South Africa from 1893 to 1914 and later in India. He developed these ideologies from various inspirational sources including Bhagavad Geeta, Jainism, Buddhism, Bible, Gopal Krishna Gokhale, Tolstoy (His book The Kingdom of God is within you had a deep influence on Gandhi), John Ruskin (Gandhi paraphrased his book Unto the Last as Sarvodaya), among others. These ideologies have been further developed by later Gandhians most notably, in India by Vinoba Bhave and Jayaprakash Narayan, outside of India by Martin Luther King Jr., Nelson Mandela, and others. Major Gandhian ideologies are as follows.
Truth and Non-Violence: 
They are the twin cardinal principles of Gandhian thoughts.

For Gandhiji, the truth is

Relative truth of truthfulness in word and deed.

Absolute truth – the ultimate reality. This ultimate truth is God (as God is also Truth). Morality – the moral laws and code – its basis.

Nonviolence is Active love, that is, the polar opposite of violence, in every sense. Nonviolence or love is regarded as the highest law of humankind.
Satyagraha:
It is a method of securing rights through nonviolent action, that is, through personal suffering rather than inflicting injury on others.

It means the exercise of the purest soul-force against all injustice, oppression, and exploitation.

The origin of Satyagraha can be found in the Upanishads, and the teachings of Buddha, Mahavira, and other greats including Tolstoy and Ruskin.
Sarvodaya:
The term Sarvodaya means 'Universal Uplift' or 'Progress of All'.

It was first coined by Gandhiji as the title of his translation of John Ruskin's book on political economy,

Unto the Last

.
Swaraj:
Although the word swaraj means self-rule, Gandhiji gave it the content of an integral revolution that encompasses all spheres of life.

For Gandhiji, swaraj of people meant, 

The sum total of the swaraj (self-rule) of individuals.

Freedom for the meanest of his countrymen. 

Much more than freedom from all restraints, it is self-rule and self-restraint and could be equated with moksha or salvation.

He envisaged

Ram Rajya

where the swaraj is achieved for the people by the people.
Swadeshi:
The word swadeshi is a conjunction of two Sanskrit words – 'Swa' means self or own and 'desh' means country. So Swadesh literally means one's own country. But it can be loosely translated in most contexts as self-sufficiency.

It is the focus on acting within one's own community, both politically and economically.

It is the interdependence of Community and Self-sufficiency.

Gandhi believed this would lead to independence (swaraj) as the British control of India was rooted in control of her indigenous industries.

Swadeshi was represented by the charkha or the spinning wheel, The "center of the solar system" of Mahatma Gandhi's constructive program.
Trusteeship:
It is a socio-economic philosophy propounded by Gandhiji.

It provides a means by which the wealthy people would be the trustees of Trusts that looked after the welfare of the people in general.
Education:
Gandhi believed that Education needs to be a lifelong experience.

He developed a scheme on education named

Nayee Taleem.

He gave priority to vocational education, the idea of 'earn & learn', and the learnings like social forestry, nursing, home science, handicrafts, etc.
Death of Gandhi:
On 30th January 1948, Gandhi was on his way to address a prayer meeting in the Birla House New Delhi when a Hindu fanatic named Nathuram Godse fired three bullets into his chest from close range killing him instantly.
Legacy of Gandhi:
Gandhi always held on to non-violence and simple living throughout his life, in his principles, practices, and beliefs. He influenced several great leaders and the country respectfully addresses him as the father of the nation or Bapu. Rabindranath Tagore is said to have given the title of Mahatma to Gandhi. It was Netaji Subhash Chandra Bose who first addressed him as the Father of the Nation. Many great world leaders like Nelson Mandela followed Gandhiji's teachings and way of life. Therefore, his impact on the world is still very high.
Literary Works of Gandhi:
Hind Swarajya (1909),

Indian Home Rule (1910),

Sermon on the Sea (1924 – the American edition of Hind Swaraj),

Dakshina Africana Satyagrahano Itihasa / Satyagraha in South Africa (1924-25),

Satyana Prayogo Athava Atmakatha / An Autobiography: The Story of My Experiments With Truth (1924-25),

Mangalaprabhata (1930),

India's Case for Swaraj (1931),

Songs from Prison: Translations of Indian Lyrics Made in Jail (1934),

The Indian States' Problem (1941),

The Good life (1943),

Gandhi Against Fascism (1944),

From Yeravda Mandir: Ashram Observances (1945),

Conquest of Self (1946),

Women and Social Injustice (1947),

Self-restraint v. Self-Indulgence (1947),

Gandhigrams (1947).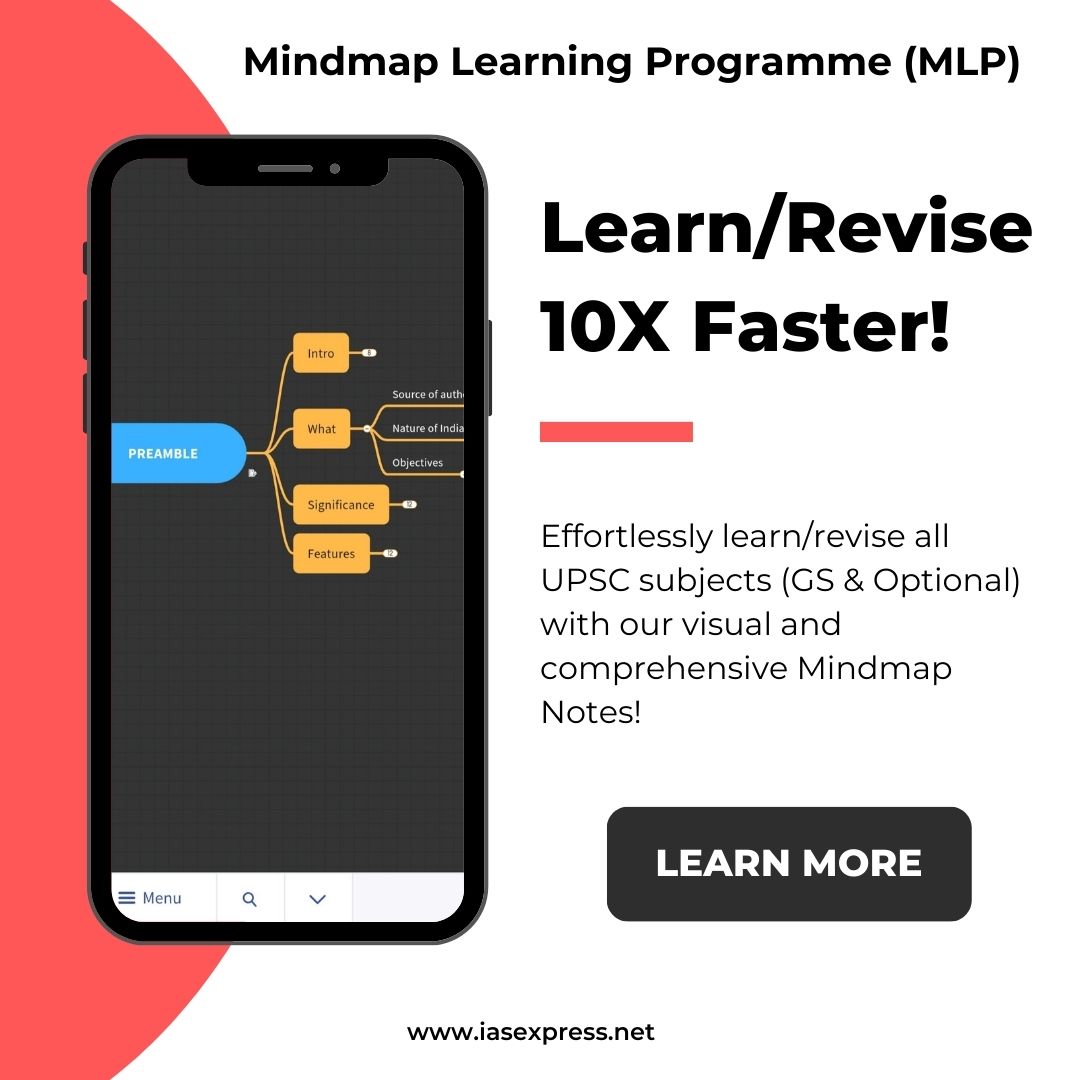 Learn More