Rabindranath Tagore (1861-1941): Important Personalities of Modern India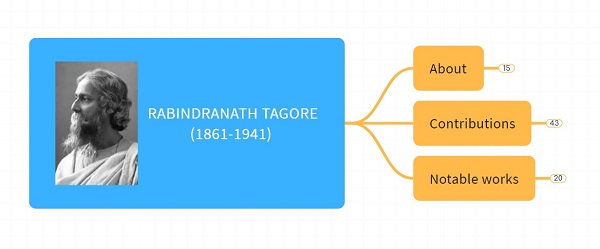 Why this topic is important for prelims?
Mahatma Gandhi said that some of his deepest convictions were reflected in a book titled, "Unto this Last" and the book transformed his life. What was the message from the book that transformed Mahatma Gandhi?(2011)
(a.) Uplifting the oppressed and poor is the moral responsibility of an educated man
(b.) The good of individual is contained in the good of all
(c.) The life of celibacy and spiritual pursuit are essential for a noble life
(d.) All the statements (a), (b) and (c) are correct in this context
Solution (b)
With reference to Indian freedom struggle, Usha Mehta is well-known for: (2011)
(a.) Running the secret Congress Radio in the wake of Quit India Movement
(b.) Participating in the Second Round Table Conference
(c.) Leading a contingent of Indian National Army
(d.) Assisting in the formation of Interim Government under Pandit Jawaharlal Nehru
Solution (a)
What was the reason for Mahatma Gandhi to organize a satyagraha on behalf of the peasants of Kheda?(2011)
The Administration did not suspend the land revenue collection in spite of a drought.
The Administration proposed to introduce Permanent Settlement in Gujarat.
Which of the statements given above is/are correct?
(a.) 1 only
(b.) 2 only
(c.) Both 1 and 2
(d.) Neither 1 nor 2
Solution (a)
Consider the following statements :(2012)
The most effective contribution made by DadabhaiNaoroji to the cause of Indian National Movement was that he
exposed the economic exploitation of India by the British
interpreted the ancient Indian texts and restored the self-confidence of Indians
stressed the need for eradication of all the social evils before anything else
Which of the statements given above is/are correct?
(a) 1 only
(b) 2 and 3 only
(c) 1 and 3 only
(d) 1, 2 and 3
Solution (a)
Which of the following parties were established by Dr. B. R. Ambedkar?(2012)
The Peasants and Workers Party of India
All India Scheduled Castes Federation
The Independent Labour Party
Select the correct answer using the codes given below :
(a) 1 and 2 only
(b) 2 and 3 only
(c) 1 and 3 only
(d) 1, 2 and 3
Solution (b)
Mahatma Gandhi undertook fast unto death in 1932, mainly because: (2012)
(a) Round Table Conference failed to satisfy Indian political aspirations
(b) Congress and Muslim League had differences of opinion
(c) Ramsay Macdonald announced the Communal Award
(d) None of the statements (a), (b) and (c) given above is correct in this context
Solution (c)
Annie Besant was: (2013)
responsible for starting the Home Rule Movement
the founder of the Theo-sophical Society
once the President of the Indian National Congress
Select the correct statement/statements using the codes given below.
(a) 1 only
(b) 2 and 3 only
(c) 1 and 3 only
(d) 1, 2 and 3
Solution (c)
Consider the following pairs : (2019)
Movement: Organization Leader
1.All India Anti-Untouchability League: Mahatma Gandhi
2. All India Kisan Sabha: Swami Sahajanad Saraswati
3.Self Respect Movement: E.V. Ramaswami Naicker
Which of the pairs given above is/are correctly matched?
(a) 1 only
(b) 1 and 2 only
(c) 2 and 3 only
(d) 1,2 and 3
With reference to the British colonial rule in India, consider the following statements : (2019)
1. Mahatma Gandhi was instrumental in the abolition of the system of 'indentured labour'.
2. In Lord Chelmsford's War Conference', Mahatma Gandhi did not support the resolution on recruiting Indians for World War.
3. Consequent upon the breaking of Salt Law by Indian people, the Indian National Congress was declared illegal by the colonial rulers.
Which of the statements given above are correct?
(a) 1 and 2 only
(b) 1 and 3 only
(c) 2 and 3 only
(d) 1, 2 and 3
With reference to Indian National Movement, consider the following pairs : (2019)
Persons: Position head
1. Sir Tej Bahadur Sapru : President, All India Liberal Federation
2. K.C. Neogy : Member, The Constituent Assembly
3. P.C. Joshi : General Secretary, Communist Party of India
Which of the pairs given above is/ are correctly matched?
(a) 1 only
(b) 1 and 2 only
(c) 3 only
(d) 1, 2 and 3
In the context of Indian history, the Rakhmabai case of 1884 revolved around: (2020)
women's right to gain the education
age of consent
restitution of conjugal rights
Select the correct answer using the code given below:
[a) 1 and 2 only
[b) 2 and 3 only
[c) 1 and 3 only
[d) 1, 2 and 3
Which among the following is associated with ''Songs from Prison'', a translation of ancient Indian religious lyrics in English? (2021)
a) Bal Gangadhar Tilak
b) Jawaharlal Nehru
c) Mohandas Karamchand Gandhi
d) Sarojini Naidu
Who among the following was associated as Secretary with Hindu Female School which later came to be known as Bethune Female School? (2021)
a) Annie Besant
b) Debendranath Tagore
c) Ishwar Chandra Vidyasagar
d) Sarojini Naidu
[collapse]
About this initiative
As you've seen above, this topic is really important for the UPSC prelims exam as you can score a guaranteed 4 marks after studying this topic.
However, you cannot find any compilation of such personalities on the internet with adequate facts for prelims and for quick reading/revision before the exam.
So we have come up with this initiative where we'll post content of such personalities with more focus on key points that are important for prelims.
We hope it helps boost your marks in the prelims exam. All the best!!!
You can provide your feedback in the comment section.
[collapse]
Rabindranath Tagore (1861-1941) was a Bengali poet, short-story writer, song-composer, essayist, playwright, philosopher and most importantly a remarkable nationalist who struggled for India's independence through various unconventional means. The Nobel laureate was the youngest son of Debendranath Tagore, a religious reformer who sought to revive the ultimate monistic basis of Hinduism. Tagore's mastery of language and literature made him the voice of India and its spiritual heritage all over the world. He also played a crucial role in developing the indigenous education system in India by harmonizing the ideals of the East and the West. His varied endeavours helped broaden the bases of nationalism in India.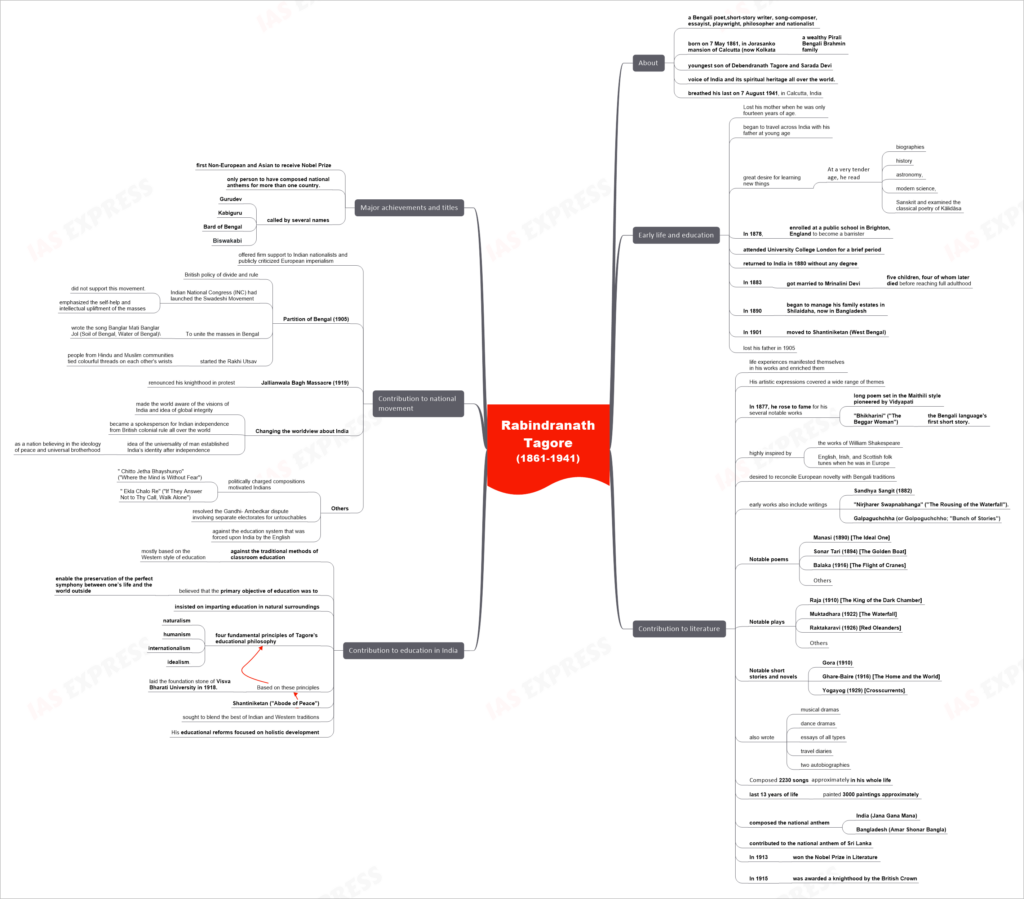 Early life and education
Tagore was born on 7 May 1861 in a wealthy Pirali Bengali Brahmin family in the Jorasanko mansion of Calcutta (now Kolkata). 
His mother's name was Sarada Devi whom Tagore lost when he was only fourteen years of age.
At a very young age, Tagore began to travel across India with his father.
He had a great desire for learning new things. At a very tender age, he read biographies, studied history, astronomy, modern science, and Sanskrit and examined the classical poetry of Kālidāsa.
In 1878, Tagore enrolled at a public school in Brighton, England intending to become a barrister.
He also attended University College London for a brief period and returned to India in 1880 without any degree.
In 1883, he got married to Mrinalini Devi with whom he had five children, four of whom later died before reaching full adulthood.
In 1890, he began to manage his family estates in Shilaidaha, a region now in Bangladesh.
In 1901, Tagore left Shilaidaha and moved to Shantiniketan (West Bengal) where his wife and two children died.
Tagore lost his father in 1905.
Contribution to art & literature
Tagore's life experiences manifested themselves in his works and enriched them. His artistic expressions covered a wide range of themes, starting from mystical romanticism to patriotism.
In 1877, he rose to fame for his several notable works, including a long poem set in the Maithili style pioneered by Vidyapati.
He also wrote, "Bhikharini" ("The Beggar Woman") — the Bengali language's first short story.
Tagore was highly inspired by the works of William Shakespeare and English, Irish, and Scottish folk tunes when he was in Europe. This influence made him desire to reconcile European novelty with Bengali traditions.
His early works also include writings such as Sandhya Sangit (1882) and the famous poem "Nirjharer Swapnabhanga" ("The Rousing of the Waterfall").
During his stay in Bangladesh, also known as Tagore's Sadhana period (1891–1895); named after one of Tagore's magazines, he wrote more than half the stories of the three-volume and eighty-four-story Galpaguchchha (or Golpoguchchho; "Bunch of Stories"). The stories are filled with irony and emotion depicting a wide range of Bengali lifestyles, especially village life with the predicament of the poor being in focus.
His other works include Naivedya (1901) and Kheya (1906). He also translated his poems into free verse.
Other works

Notable poems: Manasi (1890) [The Ideal One], Sonar Tari (1894) [The Golden Boat], Gitanjali (1910) [Song Offerings], Gitimalya (1914) [Wreath of Songs], and Balaka (1916) [The Flight of Cranes].
Notable plays: Raja (1910) [The King of the Dark Chamber], Dakghar (1912) [The Post Office], Achalayatan (1912) [The Immovable], Muktadhara (1922) [The Waterfall], and Raktakaravi (1926) [Red Oleanders].
Notable short stories and novels: Gora (1910), Ghare-Baire (1916) [The Home and the World], and Yogayog (1929) [Crosscurrents].
Apart from these, he also wrote musical dramas, dance dramas, essays of all types, travel diaries, and two autobiographies.
His excellence as a writer gained him a large following among Bengali and foreign readers alike.
In 1913, he won the Nobel Prize in Literature for the idealistic (for Western readers) and accessible nature of his collection of poetry named "Gitanjali: Song Offerings" published in 1912.
In 1915, Tagore was awarded a knighthood by the British Crown.
Tagore also left numerous drawings and paintings, and songs for which he wrote the music himself.

He wrote approx 2230 songs in his whole life. 
In his last 13 years of life, he painted 3000 paintings approximately proving his power of creativity.
Tagore composed the national anthem of India (Jana Gana Mana) and Bangladesh (Amar Shonar Bangla). He also contributed to the national anthem of Sri Lanka.

In short, he was a multi talented personality.
Contribution to the national movement
As much as Tagore was known for his contribution to art and literature, his role in the Indian national movement was similarly remarkable.
He offered firm support to Indian nationalists and publicly criticized European imperialism. 
Partition of Bengal (1905)

The event led to widespread protests against the British policy of divide and rule.
The Indian National Congress (INC) had launched the Swadeshi Movement where Indians were asked to denounce all the British items and use native ones. Although Tagore supported India's struggle for freedom, he did not support this movement.
He emphasized the self-help and intellectual upliftment of the masses, since he believed that British imperialism was not a primary evil, but instead a "political symptom of our social disease", and urged Indians to accept that "there can be no question of blind revolution, but of steady and purposeful education".
To unite the masses in Bengal, he wrote the song Banglar Mati Banglar Jol (Soil of Bengal, Water of Bengal).
He also started the Rakhi Utsav where people from Hindu and Muslim communities tied colourful threads on each other's wrists.

Jallianwala Bagh Massacre (1919)

Tagore renounced his knighthood in protest against the atrocities and brutality inflicted upon Indians.
His actions received widespread support.

Changing the worldview about India

Through his works, he made the world aware of the visions of India and the idea of global integrity acting as a gateway to the world.
Tagore travelled, lectured, and read his poetry extensively in Europe, the Americas, and East Asia and became a spokesperson for Indian independence from British colonial rule.
His philosophy and the idea of the universality of man established India's identity after independence as a nation believing in the ideology of peace and universal brotherhood.

Others

Tagore's politically charged compositions – " Chitto Jetha Bhayshunyo" ("Where the Mind is Without Fear") and " Ekla Chalo Re" ("If They Answer Not to Thy Call, Walk Alone") had a mass appeal and it motivated Indians to struggle for India's independence.
Although he differed from Gandhi on several issues, he played a key role in resolving the Gandhi- Ambedkar dispute involving separate electorates for untouchables, ending a fast "unto death" by Gandhi.
He was also against the education system that was forced upon India by the English.
Contribution to education in India
Tagore was against the traditional methods of classroom education which were mostly based on the Western style of education. He disregarded the system by comparing schools to mills of rote learning with no freedom for creativity.
He believed that the primary objective of education was to enable the preservation of the perfect symphony between one's life and the world outside. Therefore, he insisted on imparting education in natural surroundings.
The four fundamental principles of Tagore's educational philosophy are; naturalism, humanism, internationalism and idealism.

Based on these principles, Tagore laid the foundation stone of Visva Bharati University in 1918.
Shantiniketan ("Abode of Peace") was also based on these ideas. He invested his Nobel Prize money in building this campus located in Bolpur, West Bengal. Here, he sought to blend the best of Indian and Western traditions.

His educational reforms focused on holistic development. He remodelled the education system in such a way that teachers would be more like mentors guiding students towards emotional, intellectual and spiritual upliftment.
Major achievements and titles
He was the first Non-European and Asian to receive Nobel Prize.
He was the only person to have composed national anthems for more than one country.
He is called by several names such as Gurudev, Kabiguru, Bard of Bengal, Biswakabi and others.
His Quotes
"Reach high, for stars lie hidden in you. Dream deep, for every dream, precedes the goal."
"Don't limit a child to your own learning, for she was born in another time."
"I slept and dreamt that life was joy. I awoke and saw that life was service. I acted and behold, service was joy."
"If you cry because the sun has gone out of your life, your tears will prevent you from seeing the stars."
"It is very simple to be happy, but it is very difficult to be simple."
Tagore breathed his last on 7 August 1941, in Calcutta (now Kolkata), India.