Netaji Subhas Chandra Bose – Biography, Contributions, Ideologies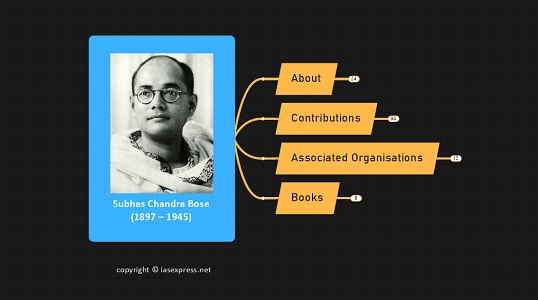 Why this topic is important for prelims?
Mahatma Gandhi said that some of his deepest convictions were reflected in a book titled, "Unto this Last" and the book transformed his life. What was the message from the book that transformed Mahatma Gandhi?(2011)
(a.) Uplifting the oppressed and poor is the moral responsibility of an educated man
(b.) The good of individual is contained in the good of all
(c.) The life of celibacy and spiritual pursuit are essential for a noble life
(d.) All the statements (a), (b) and (c) are correct in this context
Solution (b)
With reference to Indian freedom struggle, Usha Mehta is well-known for: (2011)
(a.) Running the secret Congress Radio in the wake of Quit India Movement
(b.) Participating in the Second Round Table Conference
(c.) Leading a contingent of Indian National Army
(d.) Assisting in the formation of Interim Government under Pandit Jawaharlal Nehru
Solution (a)
What was the reason for Mahatma Gandhi to organize a satyagraha on behalf of the peasants of Kheda?(2011)
The Administration did not suspend the land revenue collection in spite of a drought.
The Administration proposed to introduce Permanent Settlement in Gujarat.
Which of the statements given above is/are correct?
(a.) 1 only
(b.) 2 only
(c.) Both 1 and 2
(d.) Neither 1 nor 2
Solution (a)
Consider the following statements :(2012)
The most effective contribution made by DadabhaiNaoroji to the cause of Indian National Movement was that he
exposed the economic exploitation of India by the British
interpreted the ancient Indian texts and restored the self-confidence of Indians
stressed the need for eradication of all the social evils before anything else
Which of the statements given above is/are correct?
(a) 1 only
(b) 2 and 3 only
(c) 1 and 3 only
(d) 1, 2 and 3
Solution (a)
Which of the following parties were established by Dr. B. R. Ambedkar?(2012)
The Peasants and Workers Party of India
All India Scheduled Castes Federation
The Independent Labour Party
Select the correct answer using the codes given below :
(a) 1 and 2 only
(b) 2 and 3 only
(c) 1 and 3 only
(d) 1, 2 and 3
Solution (b)
Mahatma Gandhi undertook fast unto death in 1932, mainly because: (2012)
(a) Round Table Conference failed to satisfy Indian political aspirations
(b) Congress and Muslim League had differences of opinion
(c) Ramsay Macdonald announced the Communal Award
(d) None of the statements (a), (b) and (c) given above is correct in this context
Solution (c)
Annie Besant was: (2013)
responsible for starting the Home Rule Movement
the founder of the Theo-sophical Society
once the President of the Indian National Congress
Select the correct statement/statements using the codes given below.
(a) 1 only
(b) 2 and 3 only
(c) 1 and 3 only
(d) 1, 2 and 3
Solution (c)
Consider the following pairs : (2019)
Movement: Organization Leader
1.All India Anti-Untouchability League: Mahatma Gandhi
2. All India Kisan Sabha: Swami Sahajanad Saraswati
3.Self Respect Movement: E.V. Ramaswami Naicker
Which of the pairs given above is/are correctly matched?
(a) 1 only
(b) 1 and 2 only
(c) 2 and 3 only
(d) 1,2 and 3
With reference to the British colonial rule in India, consider the following statements : (2019)
1. Mahatma Gandhi was instrumental in the abolition of the system of 'indentured labour'.
2. In Lord Chelmsford's War Conference', Mahatma Gandhi did not support the resolution on recruiting Indians for World War.
3. Consequent upon the breaking of Salt Law by Indian people, the Indian National Congress was declared illegal by the colonial rulers.
Which of the statements given above are correct?
(a) 1 and 2 only
(b) 1 and 3 only
(c) 2 and 3 only
(d) 1, 2 and 3
With reference to Indian National Movement, consider the following pairs : (2019)
Persons: Position head
1. Sir Tej Bahadur Sapru : President, All India Liberal Federation
2. K.C. Neogy : Member, The Constituent Assembly
3. P.C. Joshi : General Secretary, Communist Party of India
Which of the pairs given above is/ are correctly matched?
(a) 1 only
(b) 1 and 2 only
(c) 3 only
(d) 1, 2 and 3
In the context of Indian history, the Rakhmabai case of 1884 revolved around: (2020)
women's right to gain the education
age of consent
restitution of conjugal rights
Select the correct answer using the code given below:
[a) 1 and 2 only
[b) 2 and 3 only
[c) 1 and 3 only
[d) 1, 2 and 3
Which among the following is associated with ''Songs from Prison'', a translation of ancient Indian religious lyrics in English? (2021)
a) Bal Gangadhar Tilak
b) Jawaharlal Nehru
c) Mohandas Karamchand Gandhi
d) Sarojini Naidu
Who among the following was associated as Secretary with Hindu Female School which later came to be known as Bethune Female School? (2021)
a) Annie Besant
b) Debendranath Tagore
c) Ishwar Chandra Vidyasagar
d) Sarojini Naidu
[collapse]
About this initiative
As you've seen above, this topic is really important for the UPSC prelims exam as you can score a guaranteed 4 marks after studying this topic.
However, you cannot find any compilation of such personalities on the internet with adequate facts for prelims and for quick reading/revision before the exam.
So we have come up with this initiative where we'll post content of such personalities with more focus on key points that are important for prelims.
We hope it helps boost your marks in the prelims exam. All the best!!!
You can provide your feedback in the comment section.
[collapse]
Netaji Subhas Chandra Bose was an Indian Nationalist whose patriotism toward India has created a mark in the hearts of many Indians. He is regarded as the most influential freedom fighter with outstanding leadership skills and a charismatic speaker. His famous slogans are 'tum mujhe khoon do, main tumhe aazadi dunga', 'Jai Hind', and 'Delhi Chalo'. He is famous for the militant approach that he used to achieve independence and for his socialist policies. He founded Azad Hind Fauj (Indian National Army) and made many contributions to India's freedom struggle.
Early Life and Education of Subhas Chandra Bose
Subash Chandra Bose was born on 23rd January 1897, in Cuttack, Orissa Division, Bengal province. His parents were Prabhavati Dutt Bose and Janakinath Bose.
After his early schooling, he joined the Ravenshaw Collegiate School. From there he went to join Presidency College, Calcutta where he was expelled due to his nationalist activities. Later, he joined the University of Cambridge, U.K. 
In 1919, bose headed to London to give the Indian Civil Services (ICS) examination. Even though he was selected, he resigned from Civil Services as he believed he could not side with the British.
Bose was highly influenced by Swami Vivekananda's teachings and he considered him his spiritual guru. During the mid-1930s, he travelled across Europe, researched, and wrote the first part of his book, The Indian Struggle, which covered the country's independence movement in the years 1920-34.
Contributions of Subhas Chandra Bose
Association with Gandhi
Bose met M.K. Gandhi in 1921.

He actively participated in the Salt Satyagraha of 1930 and the Civil Disobedience Movement led by Gandhi. 

Bose was imprisoned for his participation and put under house arrest.

He vehemently opposed the suspension of the civil disobedience movement and the signing of the Gandhi-Irwin Pact in 1931.

He believed in the use of force against the British which contradicted the views of Mahatma Gandhi.

Bose's strong revolutionary urge for the emancipation of his motherland made him critical of many of Gandhiji's techniques.
Association with Chittaranjan Das:
Gandhi directed Bose to work with Chittaranjan Das.

He considered C.R.Das as his political mentor.

In 1921, Bose took over the editorship of the newspaper

Forward

founded by Chittaranjan Das's Swaraj Party.

When C.R.Das was elected Mayor of Calcutta Corporation, he nominated Bose as the chief executive.

Later, due to C.R.Das's connection with revolutionary movements, Bose was sent to Mandalay prison in 1925 where he contracted Tuberculosis and he was released in 1927 due to his failing health.
Trade Union Movements:
Bose organised youth and promoted trade union movements. In 1930, he was elected as the Mayor of Calcutta and the President of the All India Trade Union Congress (AITUC).
Association with Congress:
In 1923, bose was elected as the President of the All India Youth Congress and also as the Secretary of Bengal State Congress.

1928: As Subhas Chandra Bose stood for unqualified Swaraj (independence), he rejected Motilal Nehru's report which demanded dominion status for India.

In the 1930s, bose was closely associated with left politics in Congress along with Jawarharlal Nehru and M.N. Roy.

The endeavour of the left group resulted in the

Karachi Resolution (1931)

which declared that the main aim of the Congress was the

Socialization of means of production and guaranteeing fundamental rights.

In 1938, bose took over as the elected president of the Indian National Congress in the 1938 Haripur session.

In the 1939 Tripuri session, he was re-elected as the President against Gandhi's candidate Pattabhi Sittarammayya.

However, due to ideological differences with Gandhi, Bose left Congress and found a new party named

The Forward Bloc

with the aim to consolidate the political left and get a major support base for his ideology.

1940: When INC organized Individual Satyagraha, Subhas Chandra Bose organized an 'Anti-Compromise Conference' at Ramgarh, Bihar. He was arrested by the British shortly afterwards for organizing a protest for the removal of the Holwell Monument (Memorium for Blackhole tragedy of Calcutta). He was later released and placed under House arrest in Calcutta.
Free India Centre & Indian Legion:
In January 1941, he made a dramatic escape disguised as a Muslim, and after a long detour reached Berlin.

Bose founded the

Free India Centre

 in Berlin and created the

Indian Legion

out of the prisoners of war who had previously fought for the British in North Africa prior to their capture by Axis forces. 

In Germany, he was attached to the special bureau for India which was responsible for the broadcasting on the German-sponsored Azad Hind Radio. On this radio, Bose on 6th July 1944 addressed Mahatma Gandhi as the

Father of the Nation.

Bose was given the honorific title of

Netaji

in Germany in 1942 by the Indian soldiers of the Indian Legion and officials of the Special Bureau for India in Berlin.

Bose sought help from Hitler and Mussolini for the liberation of India. But whatever hope he had of gathering up support for India's liberation was dashed as Hitler was too preoccupied with his own problems.
Azad Hind & Indian National Army:
Disappointed with Hitler, Bose went to Singapore in 1943, to boost the flagging morale of the Indian National Army (originally founded by Rash Behari Bose and Captain Mohan Singh but was disbanded due to the differences that had emerged between Captain Singh and the Japanese). 

Netaji declared India free and formed a provisional Government named

Azad Hind (Free India)

and an army named

Azad Hind Fauj (Indian National Army)

with an aim to fight the British and liberate India with the help of Japan.

Indian National Army (INA) 

INA was composed of Indian prisoners of war of the British-Indian Army who was captured by Japan in the Malayan campaign and in Singapore and Indian civilians in South-East Asia.

Its strength was around 50,000.

INA was non-communal with Muslims quite prominent among its officers and ranks.

INA introduced the innovation of a women's regiment named after the Rani of Jhansi.

As an 'independent country' Bose's India declared war on Britain and the USA but not on China and Russia.

Bose gave famous slogans such as

Jai Hind (Glory to India)

and

Dilli Chalo (On to Delhi).

INA fought allied forces in 1944 inside the borders of India in Imphal and Burma. However, with the fall of Rangoon, the Azah Hind Government ceased to be an effective political entity.

It has to be noted that, before Bose withdrew from the eastern borders of India because of inevitable circumstances, he had actually occupied and freed more than 1500 sq. miles of the Indian Territory from the British. 

Significance: In November 1945, a British move to put the INA men on trial immediately sparked massive demonstrations all over the country. This created the wave of disaffection in the British Indian army during 1945-46 which ended with the Great Bombay Naval Strike of February 1946 which was one of the major reasons behind the British's decision to make a quick withdrawal.
Death of Subhas Chandra Bose
As the INA forces were being captured or surrendering, Bose travelled to Tokyo through Taiwan. Bose was reportedly killed in an air crash over Taipeh, Taiwan (Formosa) on August 18, 1945.
Although it is widely believed that he was still alive after the plane crash, not much information is available concerning this.
Ideologies of Subhas Chandra Bose
Samyavada or Doctrine of Synthesis: 'Samyavada' – an Indian word, which means literally 'the doctrine of synthesis or equality'. 
It points to a perfect balance between the material and the spiritual, between the East and the West.

According to this doctrine, the spiritual aspects, the intellectual, ethical and aesthetic values of life which had a high place in Indian culture must be blended with material civilization in the new set-up.

The new India must be a synthesis of ancient glories and modern trends, of Indian achievements and foreign contributions.
Against casteism: Any Indian irrespective of his caste (including non-martial caste) and religious community could enlist in the INA. They were served food cooked in the common kitchen and shared space in common barracks breaking the age-old caste bonds and practices.
Secularism: Common worship and celebrations of all religious festivals were introduced in the INA in order to strengthen the secular feelings and thereby promote National unity. Several Indians from the Minority Communities occupied high positions in the Provisional Government of Free India and the Azad Hind Fauj.
Women's rights: Bose had an innate faith in "Nari Shakti" or "Women"s Power". Bose created history by establishing the world's first all Women Regiment within the Indian National Army in 1943 and named it "The Rani Jhansi Regiment." It was a full-fledged combat regiment with its Indian women soldiers getting all essential military training similar to their male counterparts.
Education:  Bose realized that education is a great force to create a sense of national unity and solidarity. 
He wanted a common educational policy with a common script which should be 'Roman Script', the common lingua franca being Hindusthani.

With respect to primary education, Bose was highly influenced by the kindergarten system in Germany and Scandinavia and the Nursery School of England.

He was in favour of the visual or sensory method of education.

Vivekananda's concepts of man-making and character-building elements in education influenced Bose so much that, he wanted men of character to free India from foreign domination.

Bose firmly believed that no educational plan would be successful without a comprehensive system of teachers' training. 
Spiritualism
His religious and spiritual inclination was further heightened in contact with the teachings of Ramkrishna Paramahansa and Vivekananda.

He always had a small copy of Bhagavat Gita in the breast pocket of his field uniform.

Bose took the Upanishadic concept of 'Tyaga' and imbibed the ideal of renunciation for self-realisation.

He became committed to working tirelessly for the benefit of the country and its suffering masses.
The relationship between Bose and Gandhi
Mahatma Gandhi and Subhas Chandra Bose were two legendary personalities, gigantic in their political, moral, and ethical stature. Both of them were two worthy sons of Mother India.
To Subhas Bose, 
Gandhi always remained 'India's greatest man'.

Subhas had all praise for Gandhi's unflinching patriotism, firmness in character, love for truth, etc.

He recognised and admitted Gandhi as the undisputable, unrivalled leader of the masses.

That's why he addressed Mahatma Gandhi as the

Father of the Nation.
Similarly, to Gandhi, 
Bose was like a son whose 'self-sacrifice and suffering, drive, integrity and commitment to the national cause and the capacity to bind all Indians into one people were unsurpassed.'

In 1942 Gandhi called Subhas Chandra Bose the "Prince among the Patriots" and one whose "patriotism was second to none."
Their similarities:
Both Gandhi and Bose were totally honest men. 

They were internationalists and humanists. 

They were secular in approach and anti-racial in outlook.

Their minds were always focused on the liberation of their motherland.

The whole life of both the leaders was an epic struggle for India's independence.
Their differences:
| | |
| --- | --- |
| Bose | Gandhi |
| a firebrand nationalist who believed in the tradition of Tilak and Aurobindo. | a reluctant nationalist who belonged to the tradition of his mentor Gokhale and Tagore.  |
| adopted violent means for the liberation of India and led Indian National Army. | He was a firm believer in non-violence and led peaceful mass protests. |
| Was a keen follower of radical leftist and rationalist ideology and organized trade unions. | Believed in the Trusteeship pattern of relation between Capitalist and labourers. |
| Bose wanted to seize the opportunity provided by Second World War to oust the Britishers and liberate India. Thus, he approached Germany, and Japan to seek support for India's cause. | Gandhi saw fascism and Nazism as a greater danger to Indian polity and society thus cooperating with the British.  |
| Bose viewed freedom not only in terms of political self-rule but also freedom from socio-economic inequalities, casteism, intolerance, etc. | Gandhi's idea of freedom was based on self-rule and rule over self. |
Literary works of Subhas Chandra Bose
The Indian Struggle,
Azad Hind,
Renunciation and Realization,
The Alternative Leadership,
The Mission of Life,
Leader of Truth,
The Call of the Motherland,
Bhobishyot Bharat.
Quotes by Subhas Chandra Bose
Bose gave the most famous quote "Give me blood and I will give you freedom".

Another famous quote was Dilli Chalo (On to Delhi), the call he used to give the INA armies to motivate them.

Jai Hind or, Glory to India was another slogan given by him and which was later adopted by the Government of India and the Indian Armed Forces.

He also coined "Ittihad, Etemad, Qurbani" (Urdu for Unity, Agreement, Sacrifice).

INA also used the slogan Inquilab Zindabad, coined by Maulana Hasrat Mohani.
In conclusion, Subhas Chandra Bose is an unforgettable national hero who had a tremendous love for his country. Furthermore, this great personality sacrificed his whole life for the country. 
"By freedom, I mean all-round freedom, i.e. freedom for the individual as well as for the society; freedom for the rich as well as for the poor; freedom for men as well as for women; freedom for all individuals and for all classes." – Subhas Chandra Bose