Description
| Feature | Silver | Gold | Platinum | Platinum Plus |
| --- | --- | --- | --- | --- |
| Months | 2 | 6 | 12 | 12 |
| 18 Static GS Mindmap Notes | ✔️ | ✔️ | ✔️ | ✔️ |
| Prelims Newsbits (From 2018) | ✔️ | ✔️ | ✔️ | ✔️ |
| Mains Editorial Notes & Indepths (From 2018) | ✔️ | ✔️ | ✔️ | ✔️ |
| Prelims Sureshots (Judgments, Freedom fighters, etc) | ✔️ | ✔️ | ✔️ | ✔️ |
| Prelims PYQs Retake Tests (From 2011) | ❌ | ✔️ | ✔️ | ✔️ |
| Mains Topic-Wise Solved PYQs (From 2013) | ❌ | ✔️ | ✔️ | ✔️ |
| Study Hacks | ❌ | ✔️ | ✔️ | ✔️ |
| Add own notes, bookmark, dark mode | ❌ | ✔️ | ✔️ | ✔️ |
| Offline Access (Via website/app) | ❌ | ❌ | ✔️ | ✔️ |
| Mindmap Printout | ❌ | ❌ | ❌ | ✔️ |
Offline Access: With Gold/Platinum/Platinum plus membership, you can open the content online once = you can access it offline later (works until expiry).
Mindmap Printout/PDF:

With Platinum Plus, you can

See Download option in image mindmap (Current affairs).
See a print icon on the interactive Mindmap (Static). 

Print works only in browsers. Not IAS EXPRESS app. 
You cannot print the whole interactive mindmap as our Mindmaps are very lengthy.
But you can print parts of the mindmaps by clicking Focus/Expand all > Zoom out to fit into the frame > Select A3 paper size > Print/Download PDF.
What is a Mindmap
A mind map can turn a long list of boring information into a colourful, memorable and highly organized diagram that works in line with your brain's natural way of doing things.
A mind map is hierarchical and reflects relationships among pieces of the whole.
Whenever you make notes from books or newspapers, instead of writing paragraphs or bullet points, you can make a mind map for the big-picture analysis and better recall.
How to make a mind map?

Step 1: Write the main concept at the centre of the page.
Step 2: Write sub-topics around the main concept and link them together.
Step 3: Write the key points under each-subtopics.
Step 4: Mark relationship (if any) between different points in the mind map.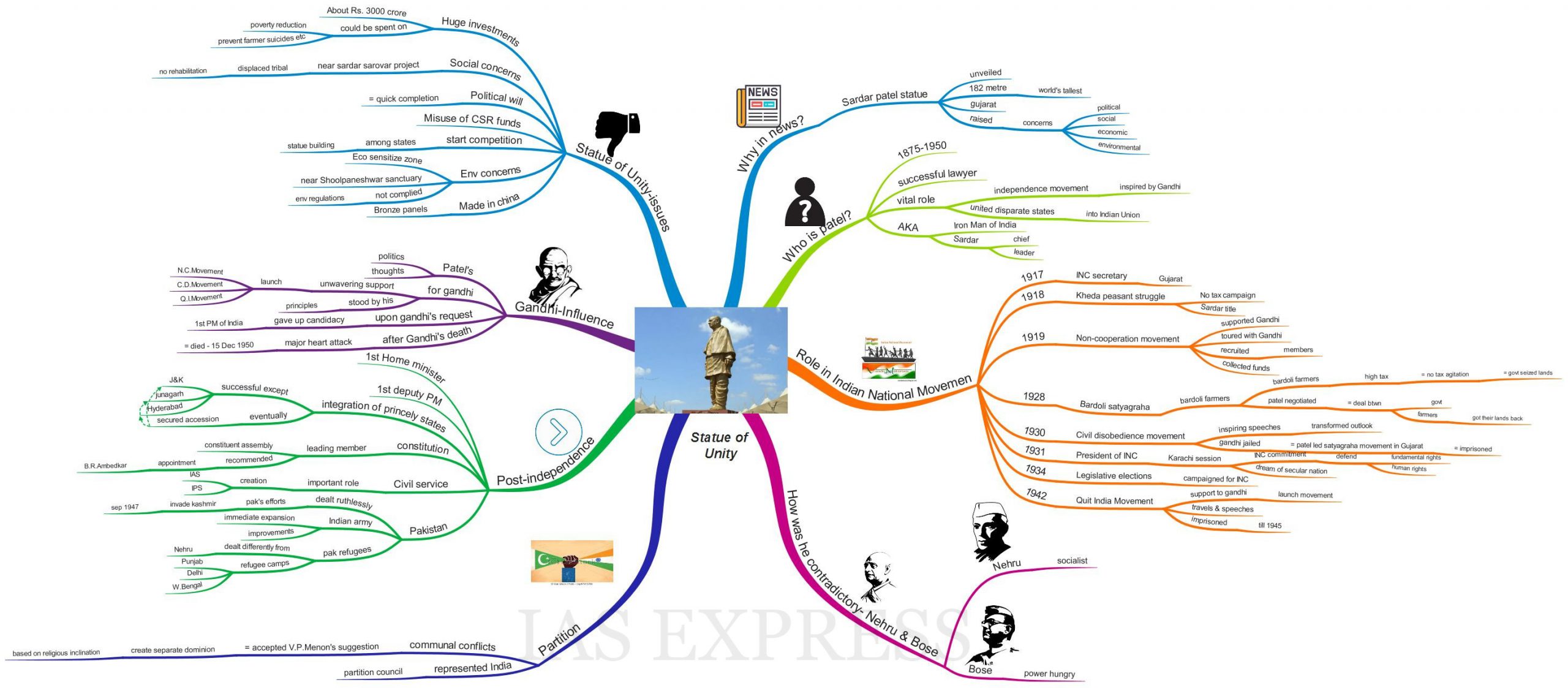 Above is the example mind map from our article on the statue of unity issue. Here,

Statue of unity – the Main concept
Why in news? Who is Patel? Etc – Sub-topics
Then the nodes that branch out from sub-topics are key points.
[collapse]
List of all Benefits/Subjects
FEATURES
18 Static GS in-depth Mindmap Notes (Indian Polity, Indian Economy, Art & Culture, Geography (World & Indian), Environment, Agriculture, Ancient Indian History, Medieval Indian History, Modern Indian History, Post-Independence Indian History, World History, International Relations, Ethics, Indian Society & Social Justice, Internal Security, Disasters & its Management, Governance, Science & Technology).
Prelims Newsbits (From 2018).
Mains Editorial Notes & Indepths (From 2018).
Prelims Sureshots (Repeated Topic Compilations: Indices, Species, GI tags, History terms, Important personalities of modern India, etc ). Available for all memberships.
Prelims PYQs Retake Tests (From 2011) – Official key, detailed solutions, leaderboard, performance analysis. Available for Platinum or Diamond members.
Mains Topic-Wise Solved PYQs (From 2013) – Topic-wise, Detailed explanations.
Study Hacks: (How to remember, focus, note-making, elimination tricks etc).
Add your own notes, bookmark, and dark mode options
Offline Access: Open any page once with the internet and it can be opened again without the internet for your later reference.
[collapse]
Features of this course
In-depth but easy to learn/revise through interactive & hierarchical mindmaps
Remember concepts for long-term
Add your own notes
Linkage with current affairs gives you updated info right away
Adhered to syllabus & previous year question patterns
[collapse]
Referred Sources
For static – NCERT, NIOS, Standard books (Laxmikanth, Ramesh Singh, Bipan Chandra, etc.) and Internet
For current affairs – Hindu, Indian Express, Down to earth, PIB, etc.
[collapse]
Note
Number of devices: 2 simultaneous device logins (PC/Tablet/Mobile) are allowed per user account for all subscriptions.
[collapse]