India-Maldives Relations: Complete Analysis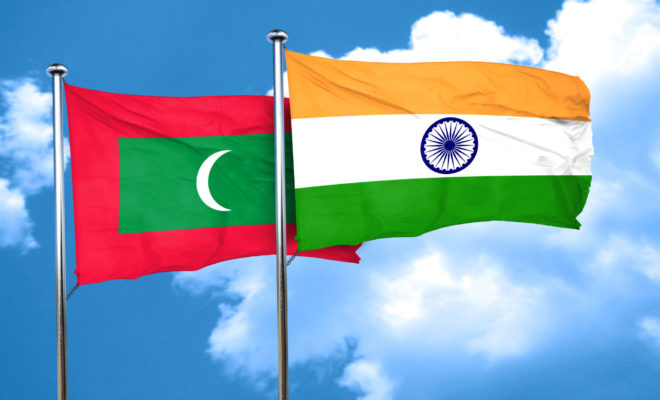 Recently, the new government in the Maldives expressed its indebtedness towards China due to the latter's construction activities in the Maldives. However, Maldives also has fears over the unsustainable Chinese debts. Notably, the new president, Ibrahim Mohamed Solih, wants to restore ties with India. Hence the situation in Male (Maldives' capital) provides both opportunities and risks to India.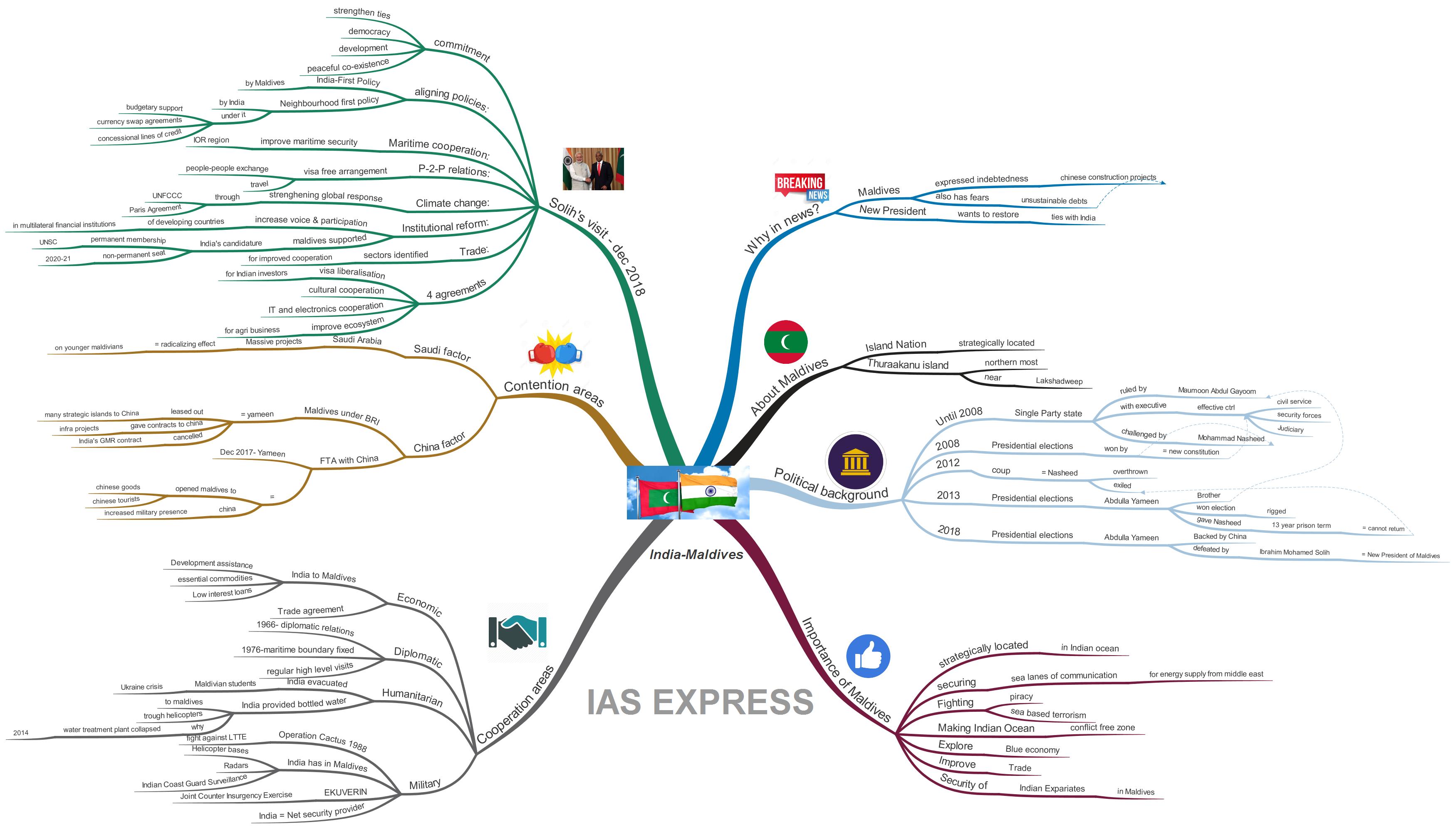 About the Maldives
The Maldives is a strategically located island nation in the Indian Ocean as it sits at the head of the international sea lane that moves traffic from Suez Canal and the Straits of Hormuz to India, Southeast Asia, and East Asia.
Maldives' northernmost Thuraakanu Island is just 100 km from the Indian naval station in the Lakshadweep island of Minicoy.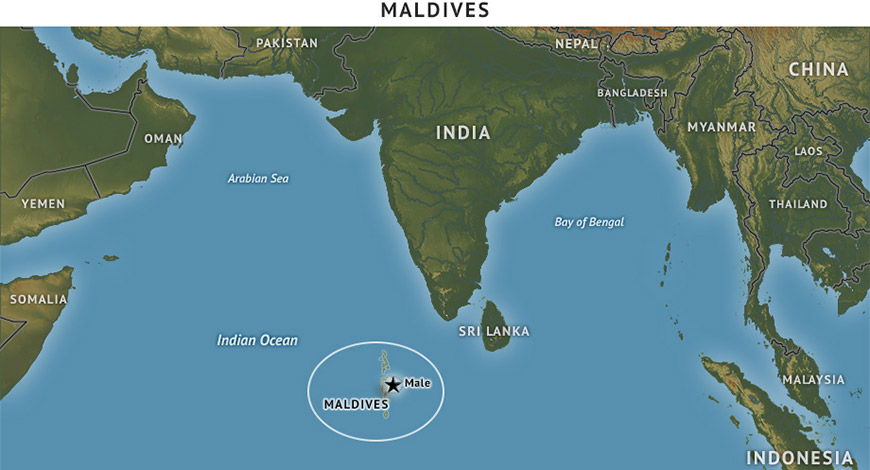 What is the political background of Maldives?
The Maldives is an island nation located in the Indian Ocean.
Until 2008, Maldives was ruled by 'Maumoon Abdul Gayoom' for 30 years and was a single-party state, with executive has effective control over civil service, security forces, and judiciary.
This was challenged by Mohamed Nasheed, who contested the 2008 presidential elections and won it. After that, a new constitution was formulated.
But in 2012, Nasheed was overthrown in a coup and eventually exiled from the Maldives.
In 2013, fresh presidential elections were conducted and ex-president Gayoom's brother, Abdulla Yameen, became President through what Nasheed supporters say was a rigged election.
Then Nasheed was tried and found guilty of terrorism and given a 13-year prison term, effectively preventing him from returning to the Maldives anytime soon.
In September 2018 Presidential elections, President Abdulla Yameen (China backed) was defeated by Ibrahim Mohamed Solih (Pro India) who became a new president of Maldives.
What is the importance of the Maldives for India?
The Maldives is strategically located in the Indian Ocean and India being a major power in the Indian Ocean region has the highest stake in the stability of Maldives for different reasons as follows.
Securing sea lanes of communication which ensure energy supplies to countries like India, China, and Japan.
Fighting piracy & sea-based terrorism.
Making the Indian Ocean a conflict-free zone and restore its status as the sea of tranquility.
Exploring the blue economy and improving trade.
Security of Indian expatriates working there.
What are the areas of cooperation?
Economic:
India has a very strong economic relationship with the Maldives which includes the provision of India's development assistance, low-interest loan and essential commodities to the Maldives.
In 1981, Both sides signed a trade agreement.
Diplomatic:
1966 – India established formal diplomatic relations with the Maldives after its independence from the British rule.
1976 – Both sides officially fixed their maritime boundary.
India regularly conducts high-level visits with Maldives government.
Humanitarian:
India's evacuation operation has helped Maldivian students during the Ukraine crisis to return to their home.
India provided bottled water through its helicopters to the Maldives when its only water treatment plant collapsed in December 2014.
Military:
Operation Cactus 1988, was India's military aid of 1600 soldiers to the Maldives in order to counter the armed attack of the Liberation Tigers of Tamil Elam (LTTE).
India has two helicopter bases, integration of radars and Indian coast guard surveillance along the Maldivian coast.
India also conducts a joint counter-insurgency exercise with Maldives named EKUVERIN.
India also seeks to remain as a net security provider to the Maldives.
What are the areas of contention?
Saudi factor
The Maldives is a 100% Sunni Islamic republic, which naturally made Yameen came up with an Arab alliance.
Saudi Arabia had drawn up plans for a massive integrated development project in the Maldives.
The risk of this increased visible presence of Saudi Arabia is that it could have a radicalizing effect on the younger Maldivians, which could have negative impacts on India. Radicalization is already being noticed since many young Maldivians have been found to have joined the ISIS.
China factor
In 2014, Chinese President Xi Jinping visited the Maldives and mooted the idea of a Maritime Silk Road (MSR) connectivity and Maldives signed in into China's Belt and Road Initiative (BRI). (Click here to learn about BRI).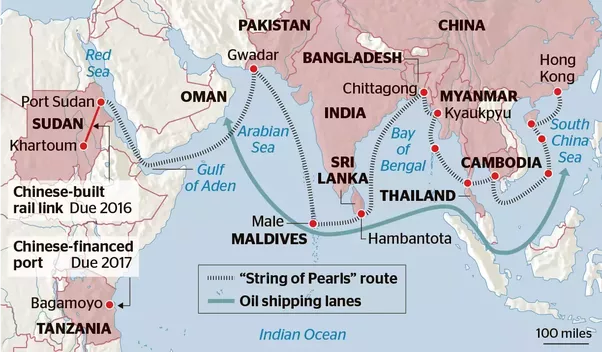 Yameen government even amended laws in order to lease out many strategic islands to China and allowed China to establish an observation post in Makunudhoo, the westernmost atoll not far from India.
Chinese companies were given contracts for many infrastructure projects in the Maldives.
Furthermore, an airport project allocated by the Nasheed regime to the Indian promoter GMR was canceled by Yameen regime and provided to a Chinese company. However, international arbitration eventually favored GMR.
In December 2017, Maldives signed a Free Trade Agreement (FTA) with China.

That was Maldives' first FTA with any country and China's second FTA with any country in South Asia after Pakistan.
The trade pact opened the Maldives to Chinese goods and tourists in unprecedented numbers.
India was certainly concerned with this because of the possible increased military presence of China in the Maldives.
Thus the electoral victory of Ibrahim Mohamed Solih provided much-needed relief to India as it hopes that Solih regime will cancel some of China's infrastructure projects as the Maldives owes nearly 3/4th of its external debt of China. He was also expected to reverse the stand of pro-china and Saudi policy to the pro-India policy providing opportunity to improve bilateral relations with India and remove India's concerns regarding the radicalization of younger Maldivians.
---
Update – 14.06.2019
The President of Maldives made a three-day visit to India in December 2018.
Commitments: The two countries reaffirmed their strong commitment to further strengthening the traditionally strong and friendly relations between them. They have also reaffirmed their commitment to democracy, development and peaceful co-existence.
Aligning policies: 'India-First' Policy has been reiterated by the Maldives, thus aiming at working together closely with India. India has announced a financial assistance package of $1.4 billion in the form of budgetary support, currency swap agreements and concessional lines of credit under its 'Neighbourhood-First' Policy.
Maritime co-operation: Both sides agreed to strengthen cooperation to improve maritime security in the Indian Ocean Region  (IOR) by means of coordinated patrolling and aerial surveillance, exchange of information and capacity building.
Terrorism: Both sides reiterated their support for enhanced cooperation in combating terrorism in all its forms and manifestations both within the region and elsewhere.
P-2-P relations: The Maldives is one of the very few countries with which India has a visa-free arrangement. This is crucial in enabling people-to-people exchanges and travel between the two countries.
Climate change: Both sides agreed on the importance of combating the consequences of climate change, particularly affecting developing countries, and small island developing states. They agreed on the need to work towards strengthening the global response to climate change, via the UNFCCC and the Paris Agreement.
Institutional reform: The voice and participation of developing countries in multilateral financial institutions have to be increased. Maldives reiterated support for India's candidature for permanent membership of an expanded and reformed UN Security Council (UNSC). It has also supported India's candidature for a non-permanent seat for the year 2020-21.
Trade: India has noted the increasing opportunities for Indian companies to invest in the Maldives to improve trade ties. Areas like fisheries development, tourism, transportation, connectivity, health, education, information technology, new and renewable energy, and communications were earmarked for improving bilateral cooperation.
Agreements: The two sides also signed 4 agreements –
Visa liberalization for Indian investors,
Cultural cooperation,
IT and electronics cooperation,
Improving the ecosystem for the agriculture business.
PM Modi's recent visit to Maldives 2019:
Although PM Modi visited the Maldives in November 2018 to attend President Ibrahim Mohamed Solih's swearing-in, the current visit is the first by an Indian prime minister at a bilateral level in the past eight years.
The two-day state visit undertaken by PM Modi was aimed at further cementing ties with the Indian Ocean archipelago.
Two countries held delegation-level talks as well as signed a slew of agreements to strengthen bilateral ties in a number of key areas including defence.
Prime Minister Modi was conferred with Maldives' highest honour- 'Order of the Distinguished Rule of Nishan Izzuddeen

' in Male, (Maldives capital) during his two-day state visit to the island country.

The prestigious award of Most Honourable Order of the Distinguished Rule of Nishan Izzuddeen is Maldive's highest honour accorded to foreign dignitaries.
Update – 12.04.2022
Anti-India Sentiments
India-Maldives relations deteriorated considerably when the Yameen administration was in power from 2013 to 2018.
Significantly, tensions rose over Mr Yameen's ultimatum to New Delhi to withdraw two Indian helicopters from the strategically important Laamu and Addu atolls.
Yameen's perceived China tilt during that time also made New Delhi apprehensive.
Following President Ibrahim Mohamed Solih's election in September 2018, his government declared an "India first" foreign policy, resetting ties emphatically.
The India-Out Campaign:
Since Maldives President Ibrahim Mohamed Solih was elected to office, an 'India Out' [#IndiaOut] campaign has cropped up every now and then within the Indian Ocean Island nation, mostly on social media.
Maldivian protesters recently demanded the Solih administration to 'stop selling national assets to foreigners', implying India.
What are the causes for the anti-India sentiments?
Perception of interfering in Domestic affairs:
There are unsubstantiated perceptions & allegations of Indian Diplomats stationed in the Maldives interfering in Domestic affairs.
Backdoor agreements:
Most agreements being signed between the Ibrahim Solih government and India are backdoor.
These agreements have not been publicly discussed in the Maldives Parliament.
Military presence in the country:
Two Dhruv Advanced Light Helicopters (ALF) were given by India to the Maldives for ocean search-and-rescue operations.
The opposition tried to portray this as a military presence in the country.
Anti-India sentiments for his political mobilization:
Yameen used anti-India sentiments for his political mobilization and started tilting China.