India-Myanmar Relations: Challenges & Way Forward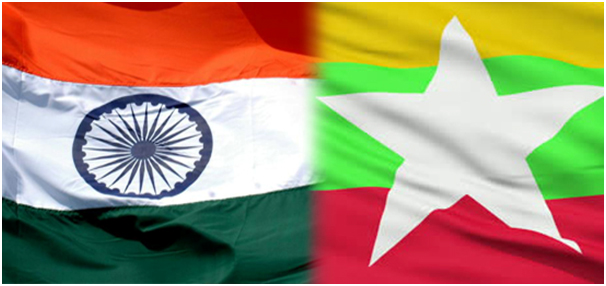 India and Myanmar have recently signed an MoU after holding talks on a range of issues on joint military exercises and training provided to Myanmar Defence Services in India, joint maritime security surveillance and cooperation in new infrastructure projects. These talks are of vital importance given the growing influence of China in the region.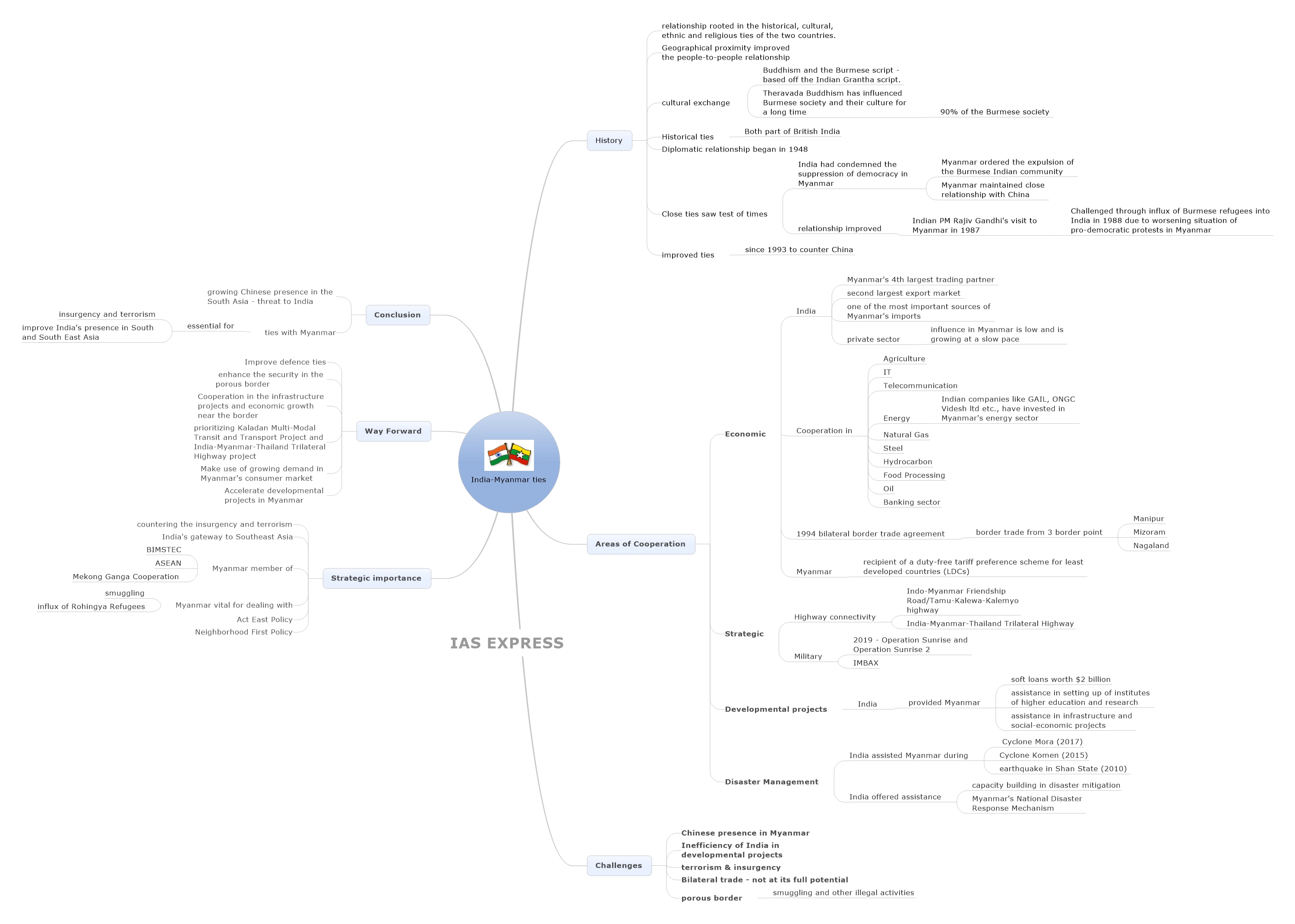 How did India-Myanmar relations begin?
India-Myanmar relations are rooted in the historical, cultural, ethnic and religious ties of the two countries.
India and Myanmar's relations have survived the test of times.
The geographical proximity has sustained and strengthened the cordial relationship between the two countries.
India and Myanmar share a 1600km long land border which is porous in nature.
They also share maritime boundary in the Bay of Bengal.
According to estimates, about 2.5 million Indian origin population lives within Myanmar.
India, for a long time, had shared the historical ties with Myanmar.
The cultural exchange between the two countries included Buddhism and the Burmese script which is based on the Indian Grantha script.
Theravada Buddhism has tremendously influenced Burmese society and their culture for millennia.
Nearly 90% of the Burmese society continues to follow this religion to this day.
Myanmar (formerly Burma) was previously a province of British India and was separated in 1937.
India established diplomatic relationship with Myanmar soon after the latter's independence from Great Britain in 1948.
For many years, the Indo-Burmese relationship was strong due to the historical and cultural ties between the two countries.
This, coupled with common interests between the two countries in the regional affairs and the presence of the large Indian community within the territory of Myanmar has helped forge a closer relationship between the two neighbouring countries.
India had provided considerable support when Myanmar when it suffered due to insurgencies and natural disasters.
However, these close ties between the two countries have seen the test of times.
The overthrowing of the democratic government by the military of Myanmar had created challenges for the India-Myanmar relations.
Along with the majority of the world, India had condemned the suppression of democracy which led to Myanmar ordering the expulsion of the Burmese Indian community.
This led to its isolation from the rest of the international community.
While India supported the pro-democracy movement, Myanmar maintained close ties with China.
A breakthrough occurred when the then Indian Prime Minister Rajiv Gandhi had visited Myanmar in 1987.
Yet, the relationship worsened during the influx of Burmese refugees into India in 1988 due to the worsening situation of the pro-democracy movements.
However, since 1993, the Indian government had maintained the cordial relationship with Myanmar as a part of the wider foreign policy of increasing India's influence in Southeast Asia in response to the growing dominance of Chinese presence in the region.
What are the areas of cooperation?
Economic ties:
India is Myanmar's 4th largest trading partner after Thailand, China and Singapore.
India is also the second-largest export market after Thailand.
It is one of the most important sources of Myanmar's imports.
The Indian government is still working to extend air, land and sea routes to further strengthen the trade links with Myanmar.
India's private sector's influence in Myanmar is low and is growing at a slow pace.
However, both the governments are making efforts to enhance the cooperation in agriculture, telecommunication, information technology, oil, steel, natural gas, hydrocarbons and food processing.
The 1994 bilateral border trade agreement calls for the border trade to be carried out from three designated border points, one each from Manipur, Mizoram and Nagaland.
Myanmar is a recipient of a duty-free tariff preference scheme for least developed countries (LDCs).
Bilateral trade between the two countries has grown from $12.4 million in 1980-81 to $2.18 billion in 2016-17.
Some of the Indian companies like GAIL, ONGC Videsh ltd etc., have invested in Myanmar's energy sector.
The cooperation in the banking sector is critical for the investment and trade between the two neighbours. The United Bank of India and EXIM Bank have representative offices in Myanmar.
Strategic Ties:
Indo-Myanmar Friendship Road or Tamu-Kalewa-Kalemyo highway, a 250km long highway was inaugurated on 13th February 2001. It was mainly built by the Indian Army's Border Road Organisation. The BRO maintained this road till 2009. Later it was given it the government of Myanmar, Now it is a part of India-Myanmar-Thailand trilateral highway
India-Myanmar-Thailand Trilateral Highway is a 4-lane, 3200 km triangular highway that is under construction. This route begins at the Northeastern States of India to connect with Myanmar and Thailand. This highway will eventually include Vietnam and Cambodia under Mekong-Ganga Cooperation within the wider framework of Asian Highway Network.
Indian and Myanmar troops had successfully carried out joint military Operation Sunrise and Operation Sunrise 2 in 2019 in their respective territories to destroy several insurgent camps. operating within the area. However, the threat to Kaladan Multi-modal transit transport project still continues to exist. It is a $484 million project that involves the connection of eastern Indian seaport of Kolkata with Sittwe seaport in Myanmar. From Sittwe seaport, the connection will be further extended to Paletwa in Chin State through Kaladan river boat route, and then from Paletwa to Mizoram by road. This project is significant as it is India's gateway to Southeast Asia.
India-Myanmar Bilateral Army Exercise (IMBAX) is conducted to forge closer ties with both the countries' armies.
India has provided soft loans worth $2 billion.
India is also assisting Myanmar in setting up of institution for higher education and research like Myanmar Institute of Information and Technology, Centre for Enhancement of IT Skills, India-Myanmar Industrial Training Centres, Advanced Centre for Agricultural Research and Education etc.
India has also proposed to support Myanmar in the infrastructural and socio-economic projects in its Rakhine State in the areas of agriculture, education, health etc.
India had assisted Myanmar during the times of natural disasters like Cyclone Mora (2017), Cyclone Komen (2015), during the earthquake in Shan State in 2010 etc.
India has also offered assistance in the capacity building in disaster mitigation and Myanmar's National Disaster Response Mechanism.
What are the challenges to India-Myanmar relations?
Border: India's states of Mizoram, Nagaland, Manipur and Arunachal Pradesh share a porous boundary with Myanmar. Due to the porous nature of the border and weak defences, this area has become vulnerable to illegal trade
Insurgency and terrorism: Due to Indio-Myanmar border's vulnerability, it is made use of by the terrorists and insurgent groups.
Bilateral trade between India and Myanmar is not at its full potential.
India's inefficiency in implementation of developmental projects is weakening the much-needed ties with Myanmar.
This is made use of by China. It has strengthened the relationship with Myanmar by improving the economic and trade ties while also being involved in large-scale infrastructure projects in Myanmar.
China's growing presence in Myanmar is a threat to India but it is finding it difficult to counter China both economically and strategically.
Why is India's relationship with Myanmar strategically important?
India's close ties with Myanmar are essential for countering the insurgency and terrorism in northeast India.
Myanmar is a key player in the BIMSTEC – the forum which India is currently relying on for increasing the connectivity between South and Southeast Asia.
Myanmar is considered to be India's gateway to Southeast Asia.
Myanmar is a member of Mekong Ganga Cooperation and ASEAN. Closer ties with Myanmar would mean Indian's increasing presence in Southeast Asia.
India-Myanmar relations are vital for dealing with issues like the influx of Rohingya Refugees, illegal smuggling and other security issues.
Myanmar plays a significant role in India's Act East Policy and Neighbourhood First Policy.
What is the way forward?
Both India and Myanmar have common problems in internal security matters like insurgency and illegal smuggling.
Therefore, all possible steps must be taken to improve defence ties.
Both countries must cooperate to enhance the security in the porous border by implementing an efficient border management strategy.
Cooperation in the infrastructure projects and economic growth near the border is essential to curb terrorism and insurgency near the border.
India-Myanmar relations are vital for India's Act East Policy as Myanmar is the gateway to Southeast Asia.
Therefore, the ties between the two countries must be strengthened and India's influence in Southeast Asia must be enhanced by hastening the key connectivity projects like Kaladan Multi-Modal Transit and Transport Project and India-Myanmar-Thailand Trilateral Highway project.
Myanmar is a consumer market with growing demands for smartphones, energy, telecommunication, healthcare, Fast Moving Consumer Goods, furniture, low-cost housing development, ports, logistics, rural electrification
So, India must make use of the opportunity to improve its exports to Myanmar.
Accelerating the developmental projects in Myanmar must be prioritized by India as its relationship is key for Act East Policy and Neighbourhood First Policy
Conclusion:
The growing Chinese presence in South Asia is a threat to India. So enhancing India's ties with Myanmar is essential for not only to counter the growing menace of insurgency and terrorism in Northeast India but also improve India's presence in South and South-East Asia.
Written by: K.G.Karishma