[In-depth] India-Iran Relations – Significance, Challenges, Way Ahead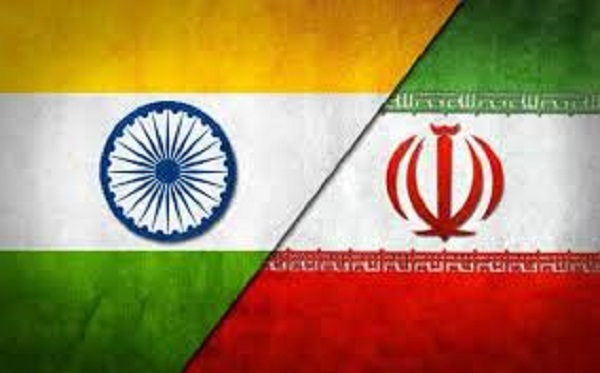 India-Iran ties are shaped around energy, Central Asia and security (mostly around Pakistan-Afghanistan region). These are currently being influenced by hostile relations between the US and Iran and also many other Gulf neighbours, including Israel. Yet, Iran, amid the growing tensions between India and China, remains strategically important for New Delhi. Despite pressure from the US, India is treading a fine path notwithstanding Tehran's strong and persistent criticism. However, there is a possibility of improved Iran-China relations, which is a threat to India's strategic interests. A sound multilateral approach to address these issues is a need of the hour.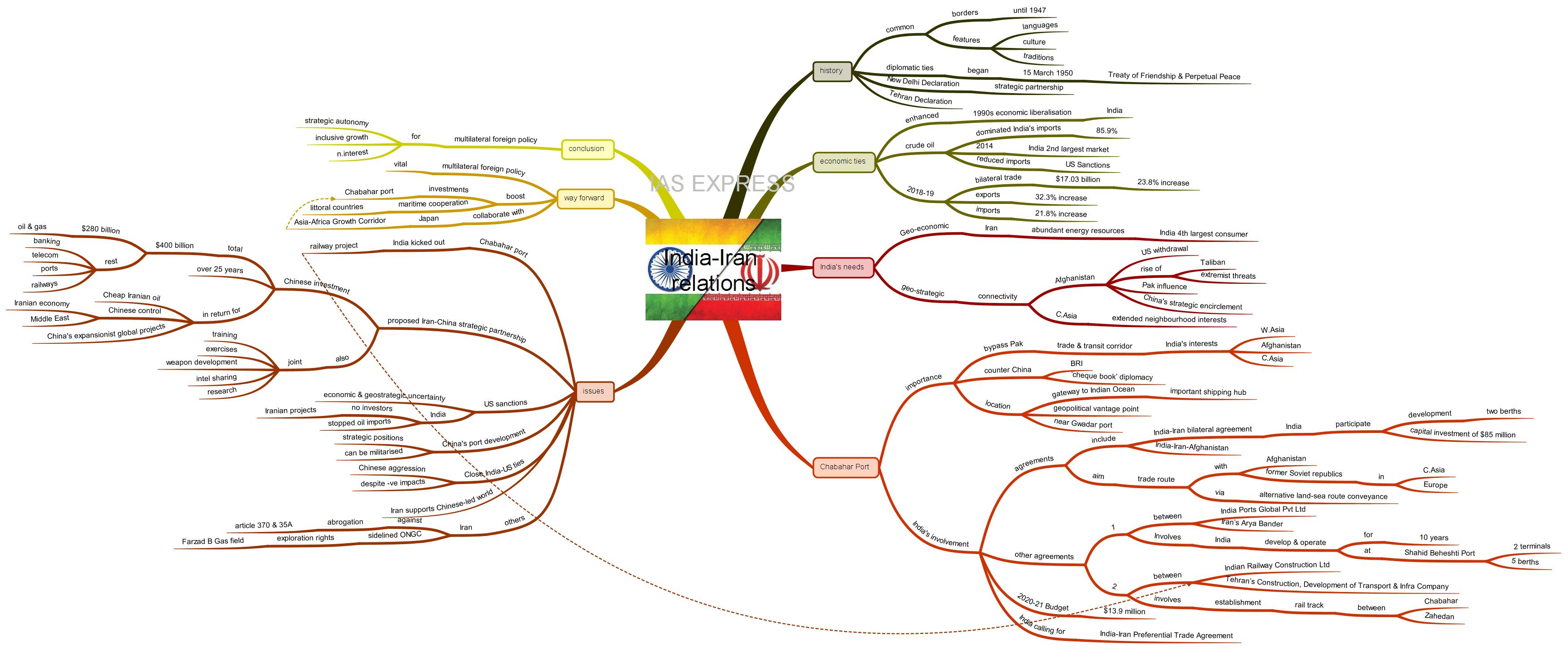 How did the relationship begin?
Bilateral relations between India and Iran span millennia marked by meaningful interactions.
Both countries shared borders until 1947 and share several common features in their language, culture and traditions.
The diplomatic links were established on 15th March 1950, when both countries signed a Treaty of Friendship and Perpetual Peace.
However, Iran's joining of Baghdad pact in 1954 and the Cold War politics prevented both countries from having closer relations until the 1990s.
Islamic Revolution of 1979, hostage of US diplomats, Iran-Iraq War and Tehran's support for Hezbollah and Hamas among others resulted in a range of political and economic sanctions, leading to Iran being isolated at a global level copyright©iasexpress.net
In the 1990s, both countries' interests converged around energy, Central Asia and security, mostly around the Pakistan-Afghan region.
This resulted in the signing of 'The Delhi Declaration', which provided the vision of the countries' defence and strategic partnership and "Tehran Declaration", which set forth the areas of possible cooperation
What are the economic relations between India and Iran?
The economic ties between India and Iran were enhanced following the opening of India's economy in the early 1990s.
According to the Exim Bank India Report, India's imports from Iran are dominated by crude oil, accounting for 85.9% of India's total imports from Iran.
In 2014, India was the second-largest market for Iran's exports of crude oil.
However, the US sanctions on Iran led to a decrease in trade to a historic low.
India has steadily cut imports from Iran as sanctions from the US and other Western countries blocked payment channels and crippled shipment routes.
The bilateral trade between the two countries during the fiscal year 2018-19 was $17.03 billion as compared to $13.76 billion in 2017-18, a 8% increase.
In 2018-19, Indian exports increased by 3% (accounted for $3.5 billion) and imports from Iran also increased by 21.8% (accounted for $13.5 billion).
Why does India need closer ties with Iran?
Geo-economic significance of Iran: copyright©iasexpress.net
The Iranian economy is considered as an economy with a large hydrocarbon sector as the country has abundant energy resources with significant oil and natural gas reserves, which are second in the world after Russia.
India is one of the fastest-growing economies in the world and thus, there is a significant increase in demand for energy in India.
India is the fourth largest consumer of energy after China, the US and Russia.
Three-quarters of Indian energy demand is met by fossil fuel, a share that has been increasing as the households gradually moving away from the traditional use of solid biomass for cooking.
To meet the ever-growing energy demand and sustain the economic growth rate, India needs to plan the sources of energy supply. Iran is one of the countries that can meet these needs as it is close to India and has ample energy resources.
Apart from energy, India's economic interests in Iran also include connectivity to Afghanistan and Central Asia.
India's geopolitical and geostrategic interests in Iran
India and China's power rivalry creates a conflict of interests at various levels in their immediate neighbourhood and Indian Ocean Region, which are strategically important for both the countries. copyright©iasexpress.net
While China is focusing on BRI, India is pursuing connectivity projects like the Chabahar port and the International North-South Corridor (INSTC). The objective of such initiatives is to connect Central Asia and Afghanistan.
Afghanistan is particularly important for both these major powers as there is a possibility of a power vacuum in the country after the US' withdrawal.
India is worried about the situation in Afghanistan because of the larger national security concern attached to the region:
Possibility of dominance by Taliban
Rise of extremist threats to India
Pakistani influence
Strategic encirclement by China
Thus, Iran is vital for India to secure its interest in Afghanistan and Central Asia as it can connect India to these regions.
Why is Chabahar Port important for India?
Iran's Chabahar port is vital for India's geopolitical and economic interests in West Asia, Afghanistan and Central Asia, which is a part of India's extended neighbourhood.
The trade and transit corridor allows India to access these regions over land by bypassing Pakistan.
The significance of this port has risen in recent years because of China's bid to increase its influence in India's immediate and extended neighbourhood via BRI and 'cheque book' diplomacy and investments in ports like Gwadar. copyright©iasexpress.net
Chabahar's location as a gateway to the Indian Ocean makes it ideal and lucrative regional shipping hub.
It offers India a geopolitical vantage point from which it can keep an eye on Pakistan's Gwadar port. Located barely 90 km away, Gwadar port is being developed by China as the pivot of its investment in Pakistan and a key juncture in its ambitious BRI.
What were the measures taken by India in developing the Chabahar Port?
On May 2016, India inked India-Iran-Afghanistan trilateral and India-Iran bilateral agreements to establish a trade route with landlocked Afghanistan and former Soviet republics in Central Asia and Europe via an alternative land-sea route conveyance.
The trilateral agreement entailed India's participation in the development of two berths with a capital investment of $85 million.
The bilateral agreement between the India Ports Global Private Limited and Iran's Arya Bander allows New Delhi to develop and operate two terminals and five berths for 10 years, following an 18-month lease, at Shahid Beheshti Port in Chabahar of Southern Iran.
The MoU was signed between the Indian Railway Construction Limited (IRCON) and Tehran's Construction, Development of Transport and Infrastructure Company (CDTIC) to establish a rail network between Chabahar and capital of Sistan and Balchestan Province, Zahedan. copyright©iasexpress.net
Minister of External Affairs Jaishankar's visit to Tehran for 19th India-Iran Joint Commission Meeting, his Iranian counterpart Javad Zarif's visit to New Delhi for ORF's Raisina Dialogue and the 2020-21 Union Budget demonstrates a series of proactive measures taken by India to promote Indian-Iran mutual interests in the development of Chabahar port.
The recent budget for expediting development and operationalizing the port is $13.9 million in fiscal 2020-21, which constitutes 5% of the MEA budget.
Although the government allocated funds for the port in all fiscal budgets since 2016-17, the latest budget allocation is significant amid the heightened US-Iran tensions over the killing of Iranian General Qasem Soleimani.
Apart from doubling the allocation from the previous fiscal of $6.25 million, India is also calling for an India-Iran Preferential Trade Agreement at the time when Iran is facing US sanctions.
These efforts, however, were mired by external pressures and internal challenges.
What are the issues faced in the bilateral ties?
Chabahar Port:
Iran recently announced that it would initiate work on a crucial rail link between Zahedan and Chabahar Port alone. India had earlier committed to jointly develop the rail track in 2016. Iran justified this move by stating funding delays from India. copyright©iasexpress.net
India's External Affairs Ministry clarified that it had been left to Tehran to nominate an authorised entity to finalise outstanding issues – technical and financial – after the meeting between two sides in December 2019 to review the railway project.
India being kicked out of this important project may be due to India's close ties with the US and China's growing influence in Iran, which is facing increasing economic crisis because of sanctions.
China-Iran strategic partnership:
An economic and security partnership deal between Iran and China was recently made public, creating a global alarm, especially for India and the US.
The foundation for this deal was laid during Chinese President Xi Jinping's visit to Iran in 2016
The draft agreement involves Chinese investments worth $400 billion into the Iranian economy over 25 years.
Of this, $280 billion will be allocated for the oil and gas sector and the remaining funding will be for other core sectors like banking, telecommunications, ports and railways.
In return, China would get a steady supply of Iranian oil at a heavily discounted rate during the same period.
This deal creates a win-win situation for both countries.
It lifts Iran's sanction-hit economy and helps China set a firm foothold in the Middle East. copyright©iasexpress.net
Iran's vast military and hydrocarbon reserves will help fuel China's expansionist global projects.
For India, this deal raises some serious concerns, especially the strategic part involving joint training, exercises, research, weapon development and intelligence sharing.
It also risks India's strategic stake in the Chabahar port project in the Sistan-Baluchestan province on Iran's southern coast.
US sanctions:
Iran's aim to develop nuclear weapons has come under strong criticism from Trump Administration since the beginning.
Thus, the US has withdrawn from the Iran nuclear deal in 2018 after it was signed in 2015 and imposed unilateral sanctions on Iran.
The US' sanctions and aggressive policies have created a situation of economic and geostrategic uncertainty.
Indian investors are wary of having businesses in Iran for the fear of the US.
Also, India deviated from the policy of not abiding by unilateral sanctions by ceasing to purchase Iranian oil.
Due to this, Iran did not back India's bid to mobilise international support against Beijing's aggression in the Ladakh.
China's strategic ports:
When China develops strategic ports in various countries, there is a possibility of them being militarised at some point.
In the proposed deal between China and Iran, Beijing plans to build several ports in Iran, one of them at Jask, just outside the Gulf of Hormuz, which is the entrance to the Persian Gulf. copyright©iasexpress.net
The Gulf of Hormuz is among the nine key chokepoints across the world. All of them are controlled by the US, which many believe to be a marker of US strategic hegemony over the world.
Now a Chinese port at Jask would provide Beijing a strategic vantage point on waters through which world's oil transits.
It is also a threat to US' security as the country's Fifth Fleet is headquartered in Bahrain in the Gulf.
India's closer ties with the US:
India's relations with Iran are often under duress due to US pressure and sanctions that are blocking legitimate financial highways to and from Iran.
India is facing difficulties in balancing its relations with Iran and US as most suppliers for projects in the sanction-hit country fear their names featuring in US blacklists.
It is also forced to take sides with the US despite numerous issues because it is facing an almost-war like the situation with China in Ladakh.
The US is motivated primarily to protect its own interests in India and India's neighbourhood, with little to benefit for India.
Yet, India seems to be reluctant to improve its ties with Iran after the US' withdrawal from the nuclear deal. This convinced Iran that India would not collaborate to its needs to counter the US sanctions. copyright©iasexpress.net
This makes an alliance with China more advantageous, though Beijing would not endanger its already tense relations with the US.
Iran's support for the China-led world:
Iran knows the risk of close ties with China and is wary about it
However, it has a limited choice as US' aggressive foreign policies has isolated it from the world and crippled its economy.
Also, Iran is, like China, infamous for its human rights violations and curtailing individual freedoms.
Other issues:
Iran is against India's decision to abrogate Article 370 and 35A.
It has called on India and Pakistan to show restraint and prevent the killing of innocent Kashmiris, revealing possible close ties between Pakistan and Iran.
Iran also voiced against "extremist Hindus and their parties" during the 2020 Delhi riots.
Apart from these issues, Iran also sidelined India's ONGC from exploration rights at its Farzad B Gas field, stating that it will engage the company at a later date.
What can be the way forward?
As India is treading a fine line in balancing relations with the US, China and Iran while striving to augment its political influence in West Asia, embracing one country over the other is not an option for India. copyright©iasexpress.net
Therefore, a multilateral foreign policy is a way forward.
India must retain its involvement in the Chabahar port development because of the geostrategic significance.
In the immediate term, India should improve its multi-alignment credentials to absorb investments into the port projects from the public and private sector, boost maritime cooperation among littoral countries to enhance the transit of goods, and foster regional partnership for the Chabahar port development.
Based on the mutual geostrategic and energy interests, India could collaborate with Japan under the Asia-Africa Growth Corridor.
Japan's participation would enhance the multilateral characteristics of the transit hub in the region, unlike the China-owned Gwadar port. This will further enhance multilateral investments to solidify regional economic partnerships that enable the sustainability of the port.
Also, India needs to evolve a better strategy on Iran beyond waiting to see how the US may react, beyond having to issue a clarification in response to Iran's sudden provocations and beyond allowing voids of partnerships that China may fill.
In order to do so, India must create a new alliance of countries having similar geostrategic interests, which are also facing issues with US' unrealistic and aggressive foreign policy strategy and China's expansionistic policies.
Conclusion:
India-Iran relations are economically and geostrategically important for New Delhi. A new multilateral foreign policy strategy is vital for India to maintain strategic autonomy that favours inclusive growth and national interests.
Practice question for mains:
India deviates from its traditional policy of strategic autonomy when it comes to its bilateral ties with Iran. Give reasons and solutions for this issue. (250 words)
Learn More