[In-depth] India's Look West Policy: Meaning, Objectives, Challenges and Opportunities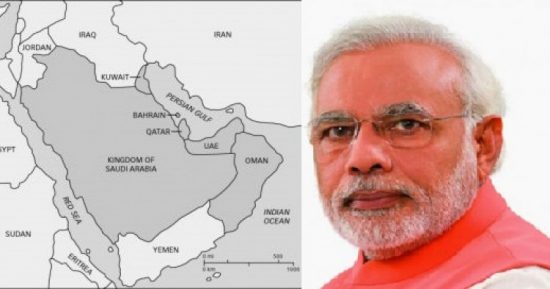 To India, the Persian Gulf plays a vital role in its economy as it supplies nearly two-thirds of India's total oil import. The bilateral trade with the nations present in this region is also flourishing in recent years. Over the years, millions of Indians have also migrated to the Persian Gulf region in search of jobs and they account for a sizable share in the total remittance received from abroad. Indian External Affairs Ministry refers to this region as West Asia and not as the Middle East which is a more popular attribution in Western countries. India's policy in West Asia has, in recent times, have become highly cordial despite the numerous differences between various nations within this region. This is because of India's neutral and flexible approach while interacting with these nations. However, it still faces challenges due to the external influences from major powers like the US. India's Look West Policy has been enhanced to deal with this complicated issue. This policy has enabled India to maintain strategic autonomy while also pursuing its economic interests.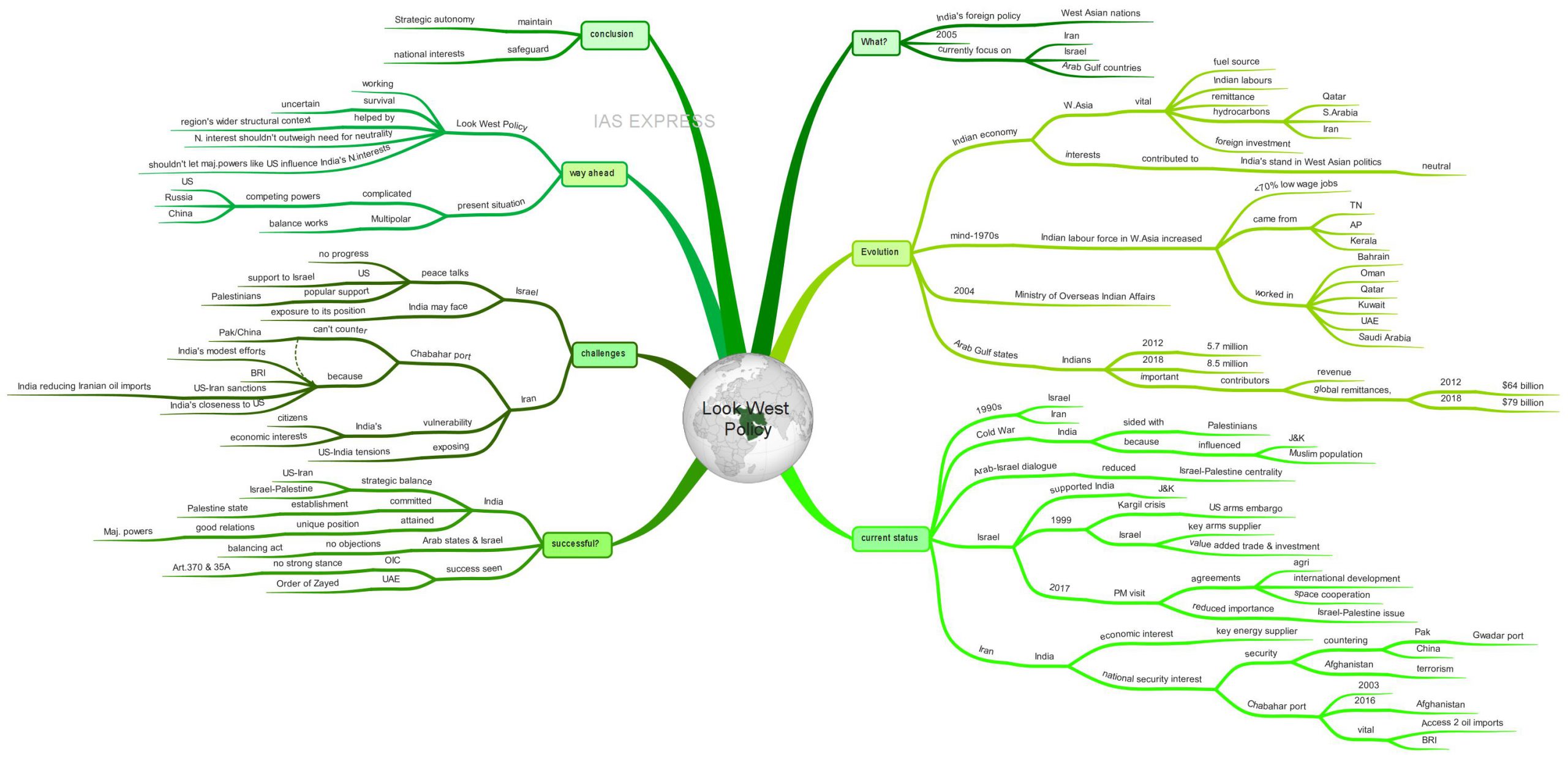 What is Look West Policy?
Look West Policy is the overall Indian government's strategy in dealing with the West Asian nations. copyright©iasexpress.net
It was adopted by the Indian government in 2005 and has not gained much attention since then.
In recent years, under the present government, the same strategy has been followed with increased intensification.
Currently, the Look West Policy focuses on three main axes:
The Arab Gulf countries
What was India's Middle East policy before the Modi government?
India's Look East policy began following the end of the Cold War.
The disintegration of the Soviet Union had removed it as India's key global partner, obliging Delhi to work with the US, now the dominant power.
India's state-led development model was also exposed to the demands of the market and globalisation, now the principal form of economic organisation.
India's economic development needs have made West Asia increasingly important both as a fuel source and for India's labour and remittance.
Iran, Saudi Arabia, and Qatar have been vital suppliers of hydrocarbons.
Since the oil boom of the mid-1970s, the number of Indians living and working in the Arab Gulf states (Saudi Arabia, Kuwait, Qatar, Bahrain, Oman, and the UAE) has grown rapidly.
The majority of the Indian labour force during this time came from states like Andhra Pradesh, Tamil Nadu, and Kerala and while some found employment in the white-collar jobs, the majority (70%) work in low wage, low skilled sectors, like construction. copyright©iasexpress.net
In response to the growing diaspora in West Asia, the Indian government established the Ministry of Overseas Indian Affairs in 2004 which was dissolved on 7th January 2016.
In the Arab Gulf states alone, the number of Indians was estimated at around 5.7 million in 2012, rising to 8.5 million by 2018.
Many of the Indians residing in this region are important contributors to the country's finances, accounting for a significant share of its global remittances, which climbed from $64 billion to $79 billion between 2012 and 2018.
Over time, the Indian politicians and business leaders realized that countries such as Saudi Arabia and Qatar could supply more than oil and gas respectively.
The wealth they and the UAE had accumulated also made them a potential source of foreign investment.
Such interest may have contributed to the then Manmohan Singh government's relative silence during the Arab uprising in 2011 and opposition to any foreign intervention.
As a temporary member of the UNSC, India abstained on the vote to impose a no-fly zone over Libya, which it saw as a target against the Gaddafi regime.
These cases show India's increasing favouritism towards the Arab Gulf Nations.
What is the current status of the Look West Policy?
As previously mentioned, India's relations with the Arab Gulf states had already undertaken significant changes and expansion since the 1970s. copyright©iasexpress.net
By contrast, India's relations with Israel and Iran are more recent, emerging largely since the 1990s.
In the case of Israel, India's relationship had historically been cool.
During the Cold War, India had openly sided with the Arab states and the Palestinian nationalist struggle.
This stance was influenced by domestic politics in India.
It included Arab states' support or absence of criticism for its management of the Muslim-majority Jammu and Kashmir and efforts to placate its sizable Muslim minority.
Over time, both these considerations became less relevant.
Growing Arab-Israel dialogue during the 1990s and the Oslo peace process between Israel and Palestinians diminished the Israel-Palestine Conflict's centrality in the region and among Indian Muslims.
Also, India had to contend with increasingly critical resolutions against its rule of Jammu and Kashmir from the Organisation of Islamic Cooperation.
By contrast, Israel demonstrated greater sympathy for India in the Jammu and Kashmir issue.
When the US threatened arms embargo on India over the Kargil crisis in 1999, Israel stepped up and became a key supplier for India: between 2000 and 2015 the Israel-India arms trade was worth over 42.2 billion dollars.
Israel not only provided arms to India but had also offered greater value-added trade and investment. copyright©iasexpress.net
Realizing this potential, in July 2017, PM Modi became the first Indian Prime Minister to visit Israel.
During this visit, PM Modi and his Israeli counterpart, Benjamin Netanyahu signed agreements on international development, agriculture, and space cooperation.
This visit had reduced the status and influence of Palestine issue in India's foreign policy, which was compounded by reconciliation in late 2018 between Arab Gulf states and Israel, reflected in the hosting of Israeli leaders by Oman and UAE.
As with Israel, India's relations with Iran have both national security and economic dimension.
Iran is not only a key energy supplier to India but also contributes to enhancing India's security in Central and South Asia, by containing Pakistan, while also offering a counterweight to China's rising regional presence.
For India and Iran alike, the path of containing Pakistan lies through Afghanistan, one of the bases for international terrorism and cross-border terrorism.
India and Iran first agreed to cooperate on the development of trade and transport links through Central Asia and channel them towards Iran's Chabahar port on the Indian Ocean in 2003.
In 2016, both the nations reached an agreement with Afghanistan.
The Chabahar port and its associated infrastructure is of significance to India because: copyright©iasexpress.net
Easier access to oil imports from Iran
It may balance China's BRI.
It offers an alternative to China's efforts to extend influence in the region through its efforts at improving Gwadar port on the Pakistan side of the border.
Thus, India is taking measures to improve its ties with all the nations in West Asia without being affected by the conflict of interests that is plaguing this region.
Is India's Look West Policy successful in achieving India's interests in the Middle East?
In the present-day context, it is safe to say that India's foreign policy in West Asia is highly successful.
This is because there is a strategic balance in India's foreign policy while dealing with Israel-Palestine issue and US-Iran tensions.
Though Israel's leaders visited India in the early years after diplomatic relations were established in 1991, Indian leaders fought shy of reciprocating these visits until recently.
It should be noted that there were virtually no objections from Arab nations to Modi's visit to Israel though Iran alone voiced reservations.
India dealt with the Palestine issue during this visit by inviting its President Abbas to Delhi before PM's visit to Israel.
It should also be noted that, though India is staying away from the politics of Israel-Palestine issue, it remains strongly committed to the establishment of a viable Palestine state. copyright©iasexpress.net
India, through what can be viewed as imaginative diplomacy, has attained a unique position in the world, of having good and growing relations with all major nearby regional powers – Iran, Saudi Arabia, UAE, Iraq, Egypt and Israel.
The success of this policy is seen when Organisation of Islamic Cooperation has not taken a strong stance against India on the issue related to the abrogation of article 370 and 35A and UAE presenting Order of Zayed to PM Modi immediately after to boost the ties between the two nations.
What are the constraints associated with Look West Policy?
Despite efforts taken by India to cultivate ties with the Arab Gulf, Iran and Israel, each is presenting potential challenges and risks.
First, peace negotiations between Israel and Palestine are not seeing any progress and are challenged by the US' increasing inclination towards Israel.
Furthermore, there is a revival of support for Palestinians by the wider Arab public that could put pressure on Gulf regimes to reverse their current rapprochement with Israel.
If this happens, India could be faced with the exposure of its position and its growing closeness with Israel.
India's engagement with Iran over the Chabahar port is unlikely to eliminate the Pakistan/China option. copyright©iasexpress.net
One reason is the more modest scale of India's efforts in Central Asia and West Asia, especially compared to China's BRI.
Current estimates suggest China has already spent about $68 billion on the CPEC project alone and approximately $200 billion on all other projects to date.
Also, India's efforts to counter China and Pakistan through Iran may become redundant especially if Iran and Pakistan can overcome their differences and cooperate to link their ports to increase their connectivity.
It is also challenged by the intensification of US-Iran tensions and India's growing inclinations with the US.
India is one of Iran's biggest oil importers.
However, the US' unilateral withdrawal from the JCPOA and the re-imposition of sanctions on Iran has derailed India's strategy to counter China and Pakistan through Iran.
India has even reduced its oil imports following the US' sanctions, further challenging its India-Iran relations.
The tensions in Iran have exposed India to another challenge: the vulnerability of India's citizens and economic interests in West Asia.
Thus, India is forced to deploy two warships and surveillance aircraft near Strait of Hormuz to protect its ships, while also making it clear that it will not join US-led coalition that was formed to counter Iran. copyright©iasexpress.net
This is simultaneously exposing India's tensions with the US, most notably the trade war between the two.
Additionally, the US-Iran and every other dispute in the region also show India's susceptibility to regional conflicts over which it has no control.
What can be the way ahead?
India has, for a long time, maintained a strategic autonomy and is highly experienced at it.
Politically, Delhi has kept its head down, whether over the 2011 Arab uprising or Iran's nuclear program, even as it has sought to expand and maximise economic opportunities in the region.
For now, India's Look West policy seems to be working. But how much longer is not certain.
India's present approach has been helped by the wider structural context in which the region finds itself in.
While India's footprint in West Asia was lighter during the Cold War and during the 1990s when the US was the paramount power in the region, today the situation is far more complicated.
While the US' influence in not completely absent, it is relatively more modest and competes with other major powers such as China and Russia, the latter following its intervention in Syria's Civil War. copyright©iasexpress.net
Presently, West Asia has become multipolar with powers diffused among various regional and extra-regional actors.
Within this mix, India has pursued an approach that balances against different parties and their rivalries.
However, in doing so, India must not forget its national interests that outweigh the need for a neutral stance.
It must not let major powers like the US influence its strategic interests like in Iran.
India must take all possible steps to maintain its current position in the Middle East to have the flexibility and strategic autonomy while also prioritizing the national interests of the country.