The US-China Trade War – The Way towards Economic Depression
On September 20, 2018, U.S. and China have announced fresh tariffs on each other's imports, aggravating the trade war further. The European Union also joined the trade war recently, imposing tariffs on $3.3 billion of American goods.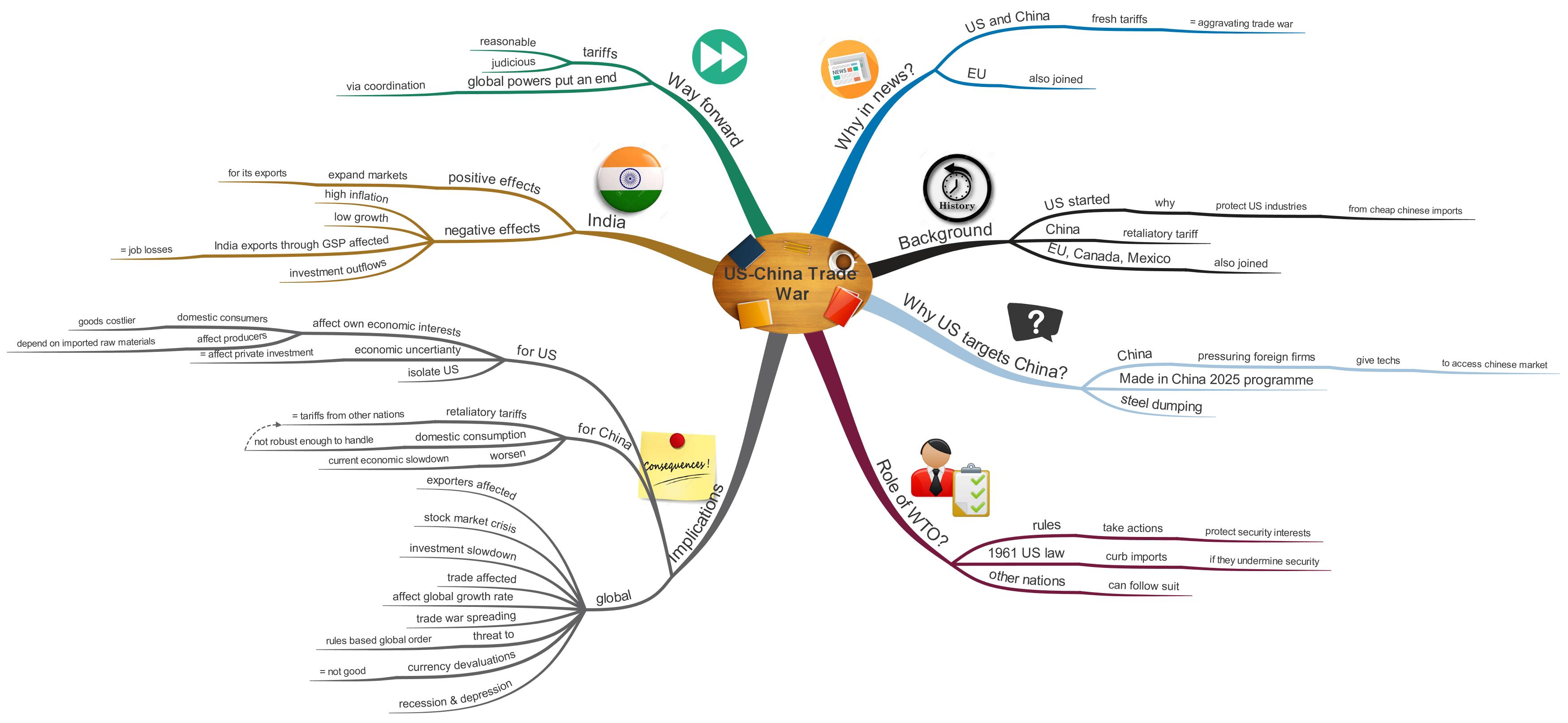 Mindmap Learning Programme (MLP)
Absorb information like a sponge!
Basic terms to know
Tariff is a tax on imports or exports.
Customs duty or simply, duty is the amount collected under a tariff.
Dumping – Practice of selling a product at a price lower than the production cost in order to gain market share. Example – China has been dumping its cheap products in other countries and gets market share.
A trade war is an economic battle in which countries impose restrictions (both tariff and non-tariff) on each other's import in order to harm each other's trade and/or protect its own.
What is the background of the issue?
US's tariffs or famously "Trump tariffs" are a series of tariffs imposed during the presidency of Donald Trump.
In January 2018, Trump imposed tariffs on solar panels and washing machines.
In March 2018, he imposed tariffs on steel and aluminium.
The US claims that the tariffs are meant to protect vulnerable American industries from cheap imports from other countries like China.
China responded with a retaliatory tariff of 25% on US products = the US again declared another 10% tariff on Chinese products.
Thus the trade war started between the United States and China and has become serious day by day with both the nations imposing fresh tariffs on each other.
Over the time, EU, Canada, and Mexico which supply around half of all steel and aluminium imports to the U.S. retaliated with their own tariffs.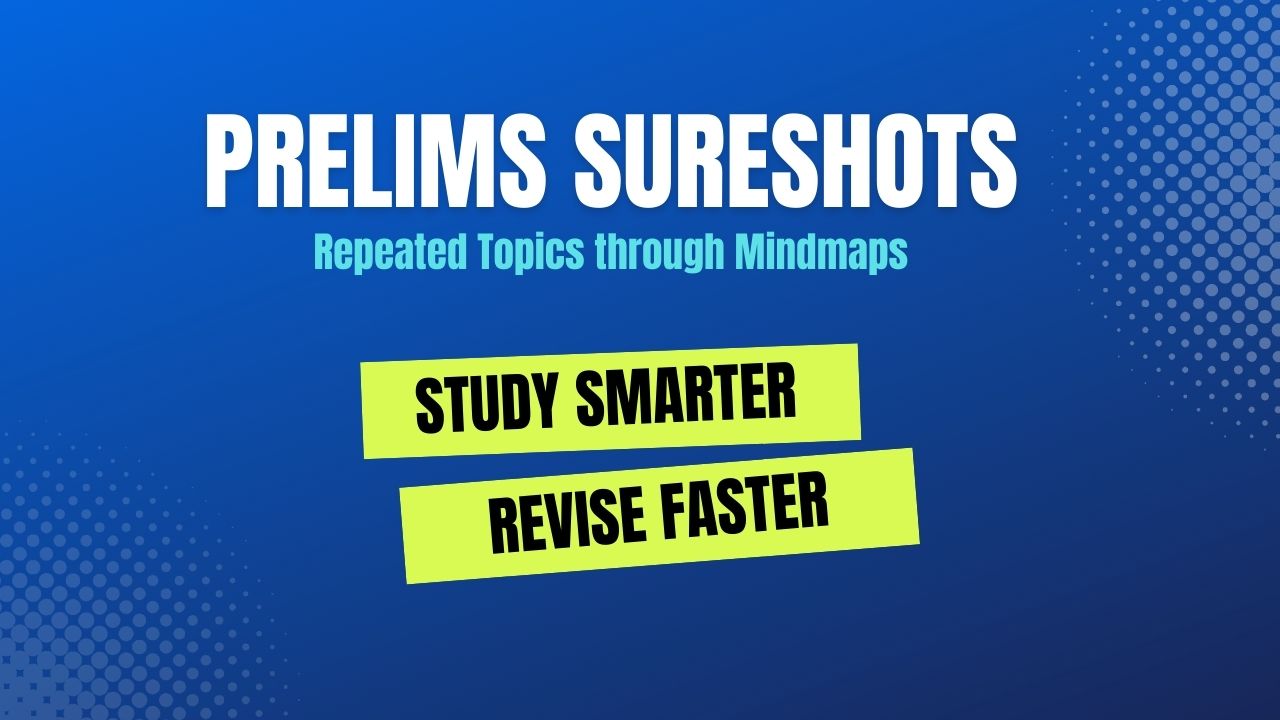 Why the US targets China?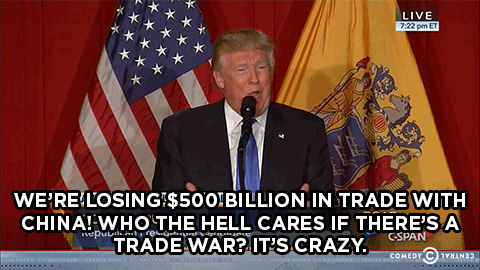 USA's tariffs are aimed at penalizing China for pressuring the foreign businesses to hand over technology to Chinese firms in return for accessing the Chinese market.
Protectionist measures of China particularly its "Made in China 2025" programme, an initiative to transform China into an advanced manufacturing powerhouse also prompted the U.S. to impose tariffs.
The USA also accused China of dumping its subsidized goods especially steel in the US which affected domestic industries.
You might want to read: COMCASA- The Pact that will Enhance India's Defence Capability
What is the role of the World Trade Organisation (WTO)?
According to WTO rules, a government can take trade actions to protect "essential security interests".
Trump has invoked a rarely used 1961 US law that gives him the authority to curb imports if they undermine national security.
Other nations could also challenge the validity of the U.S. law and impose retaliatory tariffs by mentioning that their national security is undermined by those laws.
What are the implications for the US and China?
In a globalized world, no country can hope to impose tariffs without affecting its own economic interests. Such an increase in tariffs will render goods costlier for domestic customers and also affect producers who are dependent on international supplies.
Moreover, economic uncertainty due to the trade war is already affecting private investment in the U.S.
It will also isolate the U.S., which has refused to settle differences through serious negotiations.
Notably, 11 Asia-Pacific countries went ahead to sign a trans-Pacific trade deal while leaving out the U.S., was an indication of this possibility.
Economists believe that imports on tariffs on steel and aluminium imports would harm the U.S. economy rather than benefit it.
If history is any guide, in 2002, when President George W. Bush raised steel tariffs, U.S. GDP fell abruptly and lost around 2 lakh jobs. About 13,000 of them were in raw steel-making.
In 2017, China had imported $130 billion in US goods, while the US bought goods worth $506 billion from China, So, the goods trade is weighed in favor of China. Hence the US economy could actually suffer more than China's.
Trade war badly affect China too since China's retaliatory tariffs would invite tariffs from other countries and the domestic consumption in China is not robust enough.
Furthermore, China is currently fighting an economic slowdown, and its problem of debt and unsold inventories are likely to worsen if tensions escalate.
What are the global implications?
Major trading companies and developing nations depending on either the US or Chinese market for their exports will be hugely affected.
Stock market across the world have fallen due to the trade war between the United States and China
The slowdown in precious investments happens as investors begin to take threats of a trade war more seriously.
World trade could be seriously affected since 2/3rd of goods traded are linked to the global value chains.
The global growth rate will slow down significantly due to the increasing burden of taxes.
The trade war is contagious and can spread to other countries or trading blocs. Already EU, Canada, and Mexico entered the trade war.
It is a threat to rules-based global trade order which has amicably handled trade disputes between countries for decades.
If these tensions continue for a long time, then countries may resort to destructive measures like devaluing their currencies to support domestic exporter. The world economy which is slowly recovering since the 2008 financial crisis can't afford to take unnecessary shocks.
The trade war may lead to a recession in the short run and economic depression in the long run. It has to be noted that, the Smoot-Hawley Tariff Act enacted by the U.S. in 1930 often blamed for deepening the Great Depression of 1929.
You might want to read: Fall in Rupee Value – Causes, Impacts and Suggestions
What are the implications (positive & negative) for India?
The decreasing trade engagement by the US and China could have positive results for countries like Brazil and India from a trade perspective, at least in the short term. For example, Soybean, one of the items in the tariff list, provides an opportunity for India to enter other markets.
However, in the long run, a full-fledged trade war is bad news. It will result in higher inflationary and low growth scenario.
Due to the hike in import duty on products such as steel and aluminium items by the US, India's exports to the USA under Generalized System of Preferences (GSP) would be seriously affected and could cause job losses in India.

Note – GSP is a preferential tariff system extended by developed countries to developing countries.

The tariff war can cause disruption in US financial markets, which have negative implications for India.

For instance, High tariffs on imported products in US = Investors want to pass their raw material cost to consumers = High consumer prices = Force US Federal Reserve to raise interest rate = Investment outflows from equity and debt markets in India as investor look to chase higher returns in the USA.
India will find it difficult to face such a scenario since the domestic banking system is already reeling under the pressure of bad loans (NPAs).
What is the way forward?
Tariffs are meant to protect national interest rather than causing harm to it. Therefore, it should be reasonably and judiciously used by the countries.
The ongoing trade war between the world's major economies leads to a considerable slowdown in world trade. This, in turn, will result in a deep recession in the world economy, which could aggravate the already strained geopolitical relationships.  Global powers must try their best to put an end to the ongoing trade war before it gets outs of hand.