[Editorial] India's Banking Sector- How has it Evolved?
India's governance structures and policy apparatus have ushered in a new era of global optimism. This is evident in the transformative changes and growth witnessed in the banking and financial sector, making India a beacon of innovation and novel public goods production.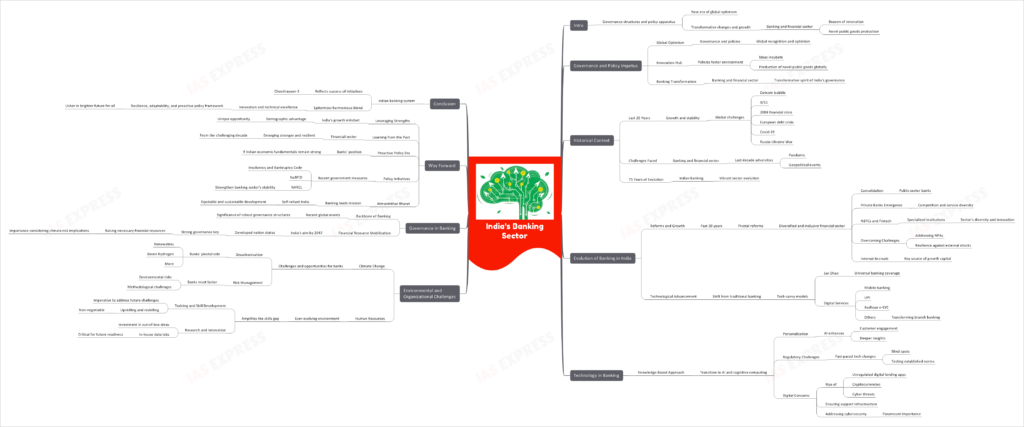 Governance and Policy Impetus
Global Optimism: India's governance and policies have garnered global recognition and optimism.
Innovation Hub: Policies have fostered an environment where ideas incubate, resulting in production of novel public goods globally.
Banking Transformation: The banking and financial sector exemplifies the transformative spirit of India's governance.
Historical Context
Last 25 Years: Marked by growth and stability despite global challenges like the dotcom bubble, 9/11, 2008 financial crisis, European debt crisis, Covid-19, and Russia-Ukraine War.
Challenges Faced: Banking and financial sector confronted adversities, especially in the last decade due to the pandemic and geopolitical events.
75 Years of Evolution: Indian banking matured into a vibrant sector over 75 years.
Evolution of Banking in India
Reforms and Growth: Past 30 years saw pivotal reforms leading to a diversified and inclusive financial sector.

Consolidation: In public sector banks.
Private Banks Emergence: Contributing to competition and service diversity.
NBFCs and Fintech: Specialized institutions enhancing the sector's diversity and innovation.
Overcoming Challenges: Addressing non-performing assets (NPAs) and resilience against external shocks. copyright©iasexpress.net
Internal Accruals: Now a key source of growth capital.

Technological Advancement: Shift from traditional banking to tech-savvy models.

Jan Dhan: Universal banking coverage.
Digital Services: Mobile banking, UPI, Aadhaar e-KYC, and others transforming branch banking.
Technology in Banking
Knowledge-Based Approach: Transition to AI and cognitive computing.

Personalization: AI enhancing customer engagement and deeper insights.
Regulatory Challenges: Fast-paced tech changes create blind spots, testing established norms.
Digital Concerns: Rise of unregulated digital lending apps, cryptocurrencies, and cyber threats. Ensuring support infrastructure and addressing cybersecurity becomes paramount.
Environmental and Organizational Challenges
Climate Change: Poses significant challenges and opportunities for banks.

Decarbonisation: Banks play a pivotal role in initiatives for renewables, green hydrogen, and more.
Risk Management: Banks must factor in environmental risks amidst methodological challenges.

Human Resources: The ever-evolving environment amplifies the skills gap.

Training and Skill Development: Imperative to address challenges of tomorrow. Upskilling and reskilling become non-negotiable.
Research and Innovation: Investment in out-of-box ideas and in-house data labs critical for future readiness.
Governance in Banking
Backbone of Banking: Recent global events underscore the significance of robust governance structures.
Financial Resource Mobilization: As India aims for developed nation status by 2047, strong governance will be key to raising necessary financial resources. Importance magnifies considering the implications of climate risk. copyright©iasexpress.net
Way Forward
Leveraging Strengths: India's growth mindset and demographic advantage offer a unique opportunity.
Learning from the Past: The financial sector is emerging stronger and resilient from the challenging decade.
Proactive Policy Era: Banks are well-positioned if Indian economic fundamentals remain strong.
Policy Initiatives: Recent government measures like the Insolvency and Bankruptcy Code, NaBFID, and NARCL strengthen the banking sector's stability.
Atmanirbhar Bharat: Banking leads the mission for self-reliant India, promising equitable and sustainable development.
Conclusion
The Indian banking system, reflecting the success of initiatives like Chandrayaan-3, epitomizes the harmonious blend of innovation and technical excellence. With its resilience, adaptability, and proactive policy framework, it stands ready to usher in a brighter future for all.
Practice Question for Mains
What are the major challenges faced by India's banking sector going forward? What is the way ahead? (250 words)