[In-depth] China-Pakistan Economic Corridor (CPEC): Why is India concerned?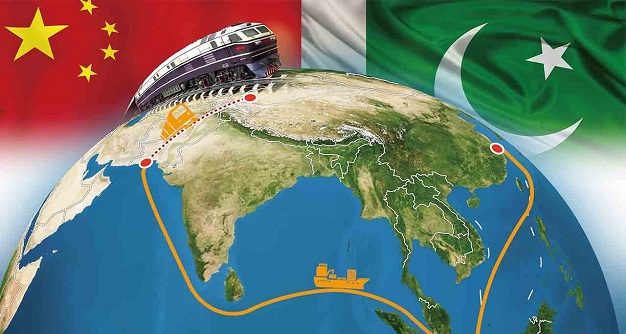 In news: The USD 60-billion China-Pakistan Economic Corridor (CPEC) is running behind schedule with only three out of its 15 projects completed, according to a media report. To date, Pakistan has completed only three CPEC projects in Gwadar worth USD 300 million. A dozen projects worth up to USD 2 billion remain unfinished including water supply and electricity generation.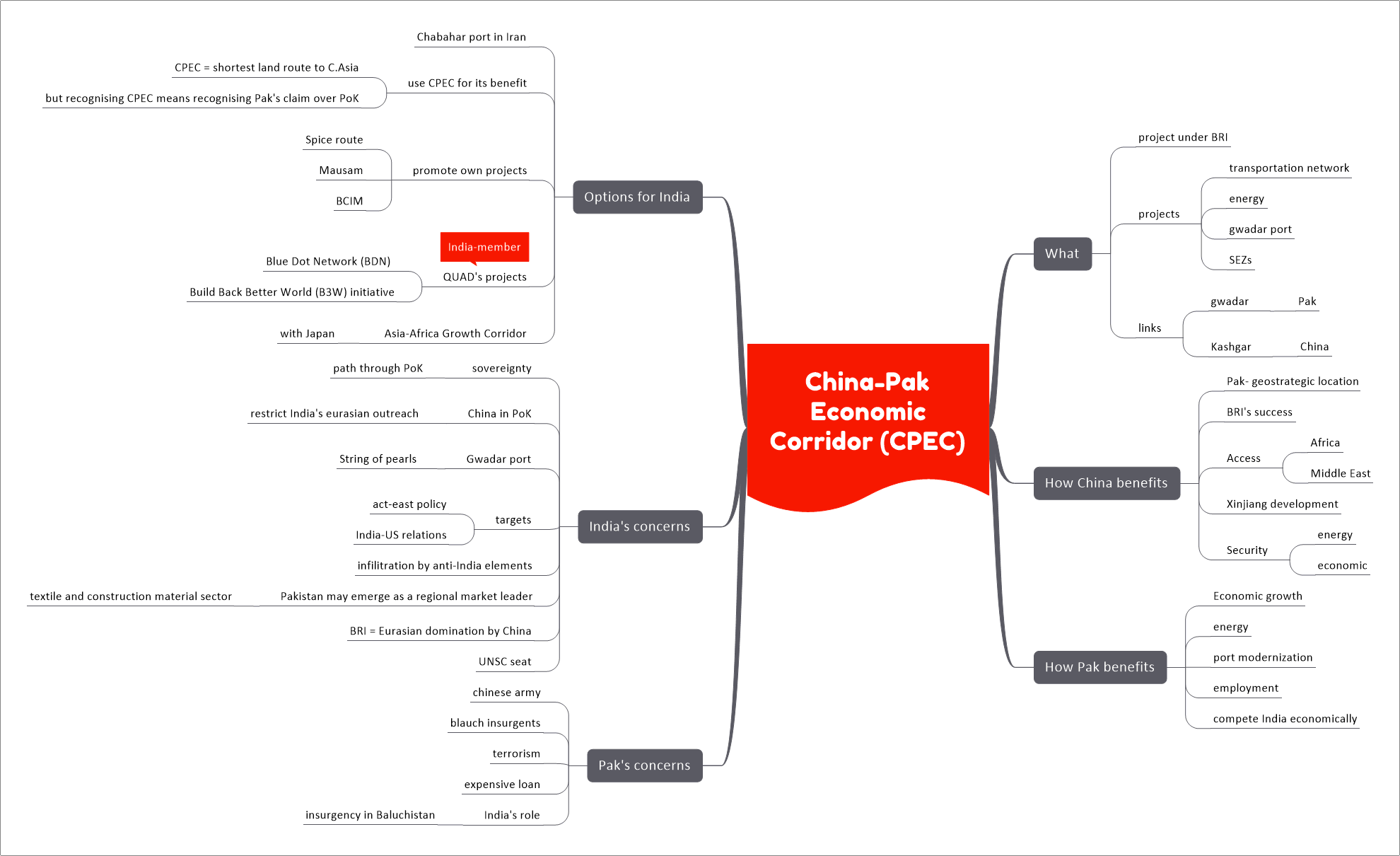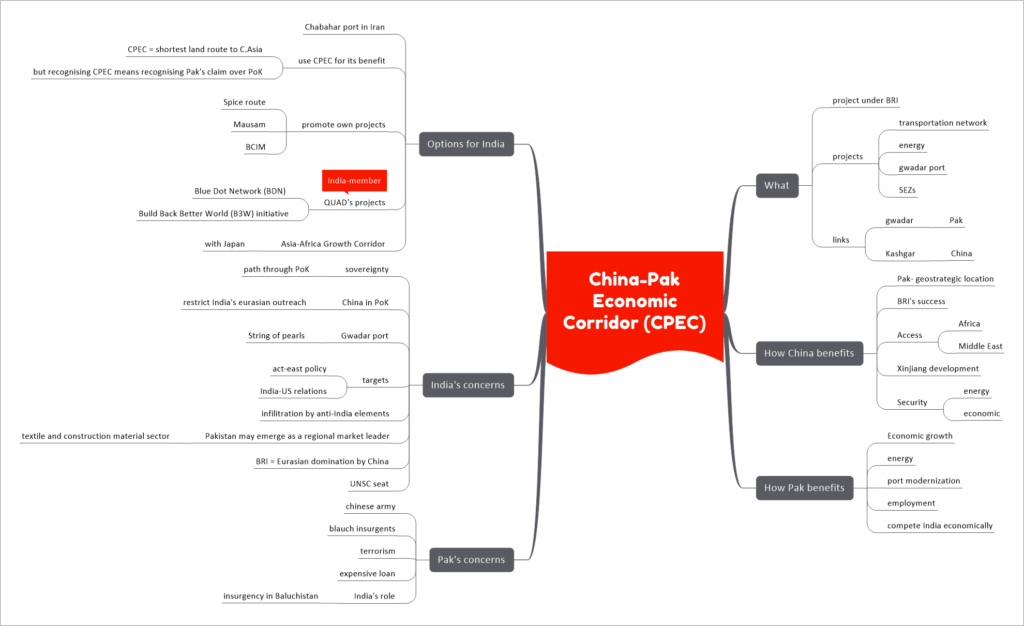 What is CPEC?
CPEC is a flagship project under China's multi-billion dollar Belt and Road Initiative (BRI), which seeks to enhance China's influence around the world through China-funded infrastructure projects.
It aims at constructing and upgrading the transportation networks, energy projects, the deep-water port at Gwadar, and Special Economic Zones (SEZs) to eventually support Pakistan's industrial development as a manufacturing hub by 2030.
CPEC links Gwadar (in South Western Pakistan) to Kashgar or Kashi in Xinjiang province (China's northwestern region) through a vast network of highways and railways.
CPEC is heavily financed by heavily-subsidized Chinese loans.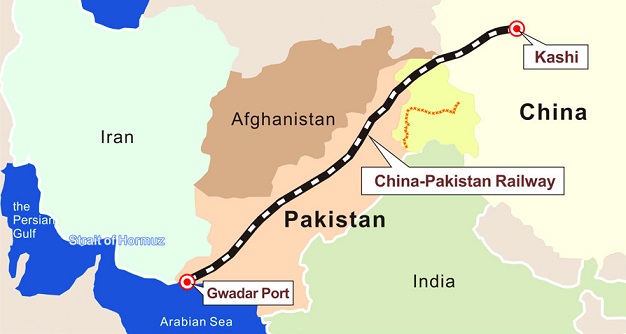 What benefits will China get from CPEC?
Unique location:
Pakistan has the geostrategic significance for China due to its unique location. Through CPEC, China could harness Pak's potential as a regional hub for China, Central Asia, and the Middle East.
BRI's success:
Stability in Pakistan is essential for the success of China's Belt and Road Initiative (BRI). CPEC projects = Development in Pakistan= Stability = success of BRI.
Access Africa & Middle East:
Currently, several Chinese companies are engaged in developmental projects in Africa and the Middle East region.
Thousands of Chinese workers are employed over there. CPEC serves as a short route to access those areas.
This could further deepen the Chinese activities in Africa and the Middle East.
Xinjiang development:
China's Xinjiang region is underdeveloped due to its landlocked nature and insurgency by Uighur militants.
However, the Xinjiang region has huge oil and gas reserves, and it is the only route for China to access Central Asia.
Thus the economic development of Xinjiang is important for China's overall economic development.
CPEC will link Xinjiang with the Indian Ocean via Gwadar port.
Energy & Economic Security:
Currently, the only maritime route available for China to access Africa, the Middle East, and Europe is through Malacca Strait.
However, the route is very long and there are risks of a blockade due to the tense situation in the South China Sea.
To overcome this, China is searching for alternative routes via Myanmar or Pakistan to secure oil imports and also export its cheap goods.
Thus CPEC improves China's energy and economic security.
CPEC will also support China to take an aggressive stance in the South China Sea.
How Pakistan will benefit from CPEC?
Economic growth: Pakistan sees CPEC as a potential tool for improving its economic landscape. China's investment in CPEC is its largest overseas investment and also the largest foreign investment in Pakistan. The improvement of transportation lines, fiber optics links, and energy supply links will boost the overall economy of Pakistan.
Energy: Pakistan has been facing a severe shortage of power and the proposed power projects along the economic corridor would address the power deficit. The power projects will also accelerate industrial and economic activity.
Port modernization: Under CPEC, China is modernizing the Gwadar port. Pakistan hopes that the port modernization will turn it into a regional trans-shipment hub by stabilizing its economy.
Employment opportunities: Due to the various energy, infrastructure, and industrial projects, CPEC promises huge employment opportunities to all sections of society.
What are the primary concerns for Pakistan?
Chinese army in Pakistan: China stationed a special division of its army in Pakistan to provide security for Chinese workers involved in CPEC-related projects. This creates a threat to the sovereignty of Pakistan.
Baluch insurgents: The insurgent groups in Baluchistan are opposing CPEC as it threatens the ethnic distribution of the region. This poses a threat to CPEC as Gwadar port situated in Baluchistan holds the key to the success of the corridor.
Terrorism: The banned terrorist organizations based in Pakistan poses a huge threat to the project. In the long run, it may also affect relations with China.
Expensive loan: The Srilankan govt has taken billions of dollars in loans from China for Hambantota projects which are also part of BRI initiative. Now, Srilanka is at the mercy of the IMF to pay back China's hefty loans. Likewise, a lack of transparency with respect to the interest rates and other terms may leave Pakistan in the same situation.
India's role: Pakistan thinks that India is willing to sabotage CPEC by funding and training insurgency elements in Baluchistan.
Why is India concerned about CPEC?
Sovereignty: India officially expressed strong opposition to CPEC, criticising it for affecting its sovereignty. India's primary concern is with the corridor's path through Gilgit-Baltistan in PoK (Pakistan Occupied Kashmir), which India considers its territory. The construction of CPEC would further reinforce Pakistan's claim over the region.
Eurasian outreach: China's presence in the strategic PoK region which is a linking point to South, West, Central, and East Asia may restrict India's outreach to the Eurasian region.
Gwadar port further strengthens China's "String of Pearls", which is a network of ports that China is building from its eastern coast to the West Asia which India believes to be aiming at encircling and containing India.
India also suspects that the CPEC seeks to counter India's Act East policy and growing India-USA relations.
Security: Further, it also has a fear that the newly developed roadways near the Indian border in the PoK region will raise the infiltration of anti-India elements from Pakistan to India.
With the supply of raw materials from China becoming easier, Pakistan may emerge as a regional market leader in textile and construction material sectors which compete directly with those of India in the US and UAE – two of the top three trading partners of both countries.
Eurasia domination: China's BRI project that focuses on the trading connectivity between China and the rest of Eurasia through a network of ports, roads, and railways has been often seen as China's plan to dominate the region politically.
UNSC Seat: A China that is more accepted and integrated with the rest of the global economy will have a better say in the United Nations and with individual nations, which may prove to be bad news for an India aspiring to acquire a permanent seat at the UN Security Council.
What are the options before India?
Chabahar Port: India can counter Chinese dominance in Gwadar port through chabahar port in Iran which is very near to Gwadar Port and India helped in its development. Moreover, India signed a trade corridor deal with Iran and Afghanistan giving India access to Central Asia from Chabahar, bypassing Pakistan. However, Iran is considering participating in CPEC. It has to be noted that, Pakistan announced in March 2018 that Chabahar is the sister port of Gwadar, and complement each other in promoting trade, transit, and connectivity. This raised another concern for India.
Use CPEC: India can work on improving the relationship with Pakistan and use CPEC for its benefit as it can provide the shortest land route to access Central Asia. However, recognizing the CPEC project would mean recognition of Pakistan's claim over PoK. Hence India should be careful on this front.
QUAD: India is a member of the Quad (India, the US, Australia, and Japan) which can provide realistic alternatives for countries looking for infrastructure and be an alternative to China. The member countries of the Quad have come up with some alternatives. For example Blue Dot Network (BDN) and Build Back Better World (B3W) initiative'.
Own projects: India should speed up work on the development of its own strategic projects like the Spice route and Mausam Project, Bangladesh, China, India and Myanmar Economic Corridor (BCIM), and Chabahar Port.
The Asia-Africa Growth Corridor: is an India-Japan economic cooperation agreement, it can provide India with great strategic benefits and counter China.
Conclusion
CPEC can act as a major instrument for economic connectivity and integration in Central Asia, South Asia, and West Asia. But it should not threaten India's sovereignty in any way. India should address its fears by highlighting its concerns in a diplomatic way. India should be careful while openly opposing the project since it would strain the relationship with China further. And finally, a stable and prosperous South Asia is possible only if India and Pakistan leave their hostility and work closely to find an amicable solution to their bilateral disputes.
Practice Question for Mains
Discuss India's concerns on the China-Pakistan Economic Corridor (CPEC) framework. Suggest how India should tackle the challenges posed by this alliance? (250 Words,15Marks)
Learn More