Taiwan – One China Policy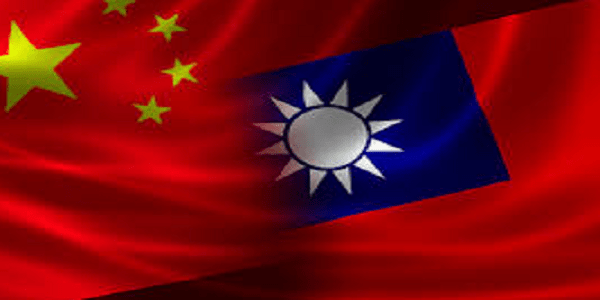 Taiwan's success in containing the COVID-19 infections despite being a neighbour of China, the original epicentre of the pandemic, has brought a spotlight on the island nation. The de facto independent nation has not been formally recognised as a sovereign country since it lost its "China" position to the Communist Party in Beijing. Many countries have called for Taiwan's increased participation in international platforms like World Health Assembly because it emerged as the global exemplar. Yet, these calls do not bring in the intended results due to the One China policy. India, having taken charge as Chairman of WHO executive board, has found itself in a tight spot in this situation, with the growing hostility of Beijing and increasing demand for its support for Taiwan from close allies.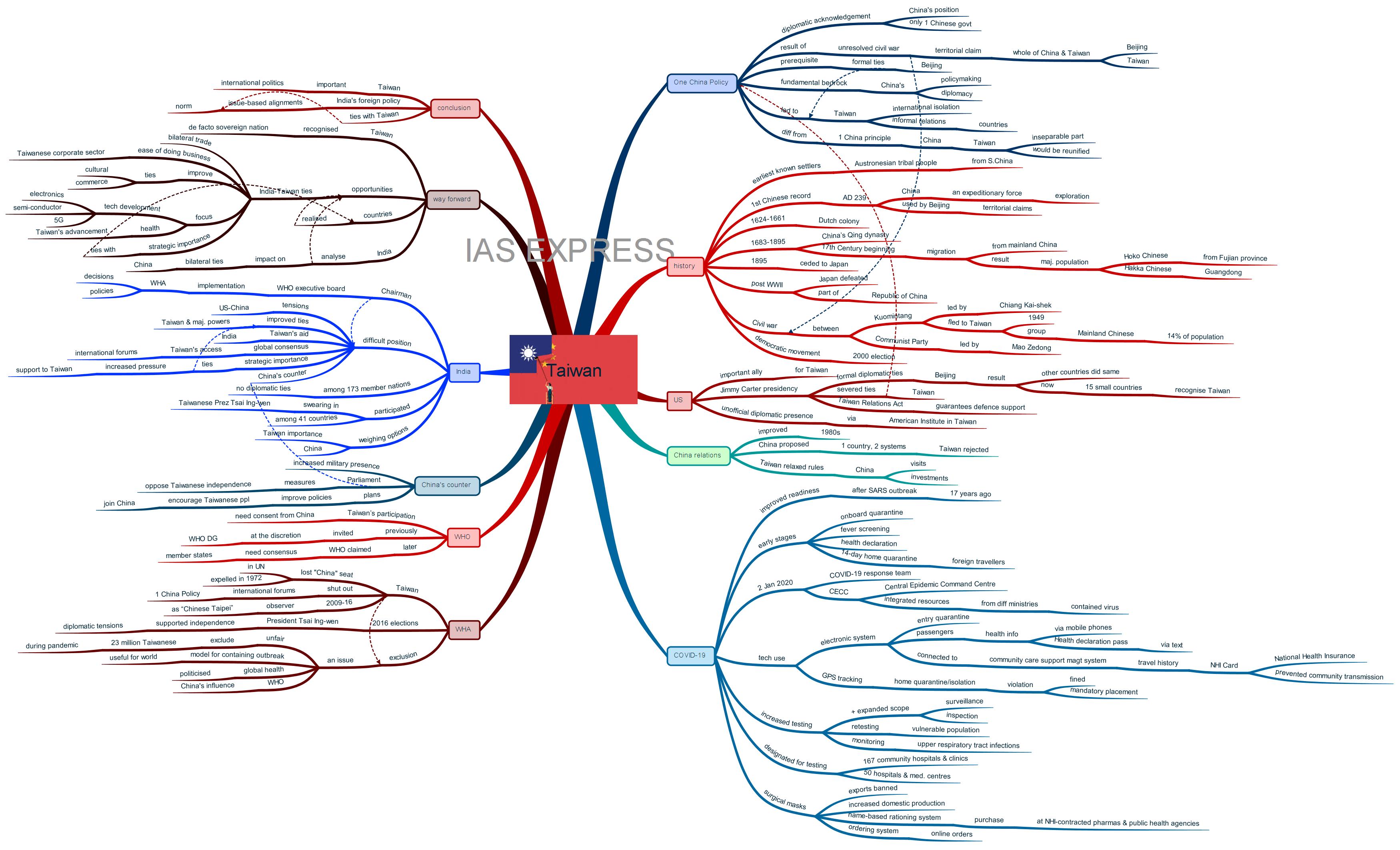 What is One China Policy?
One China Policy is the diplomatic acknowledgement of China's position that there is only one Chinese government.
It came as the result of an unresolved civil war between the Kuomintang and the Communist Party, in which both claimed to be the rightful government of the whole of China, including Taiwan.
China has made "One China" a prerequisite for countries that want to establish diplomatic ties with Beijing.
One China Policy is also the fundamental bedrock of Chinese policymaking and diplomacy.
This resulted in international isolation of Taiwan.
It is different from the One China Principle, whereby China insists that Taiwan is an inseparable part of one China that would be reunified one day.
Despite all this, many countries still maintain informal relations with Taiwan through trade offices or cultural institutions.
How did Taiwan come to be?
The earliest known settlers in

Taiwan

are Austronesian tribal people

who are thought to have come from modern-day southern China.
The island first appeared in Chinese records in AD 239, when China sent an expeditionary force for exploration. This record is often used by Beijing to back its territorial claims.
After briefly being Dutch colony between 1624 and 1661, Taiwan came under the administration of China's Qing dynasty (1683-1895).
At the starting of the 17th Century, numerous migrants began arriving from mainland China, often to flee turmoil or hardship.
Thus, a large portion of Taiwan's population consists of descendants from Hoko Chinese from Fujian (Fukien) province or Hakka Chinese, mostly from Guangdong.
Following the defeat in the First Sino-Japanese War, the Qing government was forced to cede Taiwan to Japan in 1895.
Japan surrendered Taiwan after it was defeated in the Second World War.
The Republic of China, one of the victors, began ruling Taiwan with the consent of its allies, the US and the UK.
However, in the next few years, the then leader of the Republic of China Chiang Kai-shek's troops were defeated by the Communist armies under Mao Zedong.
Chiang and the remnants of his Kuomintang government fled to Taiwan in 1949.
This group, referred to as Mainland Chinese, makes up 1.5 million people. It dominated Taiwan's politics for many years even though it accounts for just 14% of the population through dictatorial control.
However, due to the pressure from democratic movement, Chiang Ching-Kuo, Chiang's son, was forced to allow the process of democratisation. This led to the 2000 election of the island's first non-Kuomintang president, Chen Shui-bian.
Thus, Taiwan, unlike communist China, became a democratic entity.
Even though Kuomintang has left China after being defeated in 1949, it has not given up the claim over the whole of China and the idea is still enshrined in the island's constitution.
What is the US' stand on the issue of One China Policy?
The United States is by far Taiwan's most important and only ally.
After years of tensions with Beijing, the US has established formal diplomatic ties with the People's Republic of China under President Jimmy Carter.
This led to the US severing ties with Taiwan and closing its Taipei embassy.
However, during the same year, it had also passed the Taiwan Relations Act, which guarantees defence support for the island. This is the reason behind the US' continued arms sales to Taiwan.
The US currently maintains an unofficial diplomatic presence in Taipei via the American Institute in Taiwan, a private corporation through which it carries out diplomatic activities.
The US recognising the People's Republic of China prompted an avalanche of countries to follow suit, including some of the world's major powers.
Now, only 15 small countries recognise Taiwan.
The President of Taiwan Ms Tsai, who leads the Democratic Progressive Party, which supports independence from China, called on Trump after he won the election in 2016. This breaks the US policy set in 1979 when formal relations were cut.
What are the improvements made in China-Taiwan relations?
After decades of tensions, relations between China and Taiwan had started improving in the 1980s.
China proposed "one country, two systems", under which Taiwan would be given significant autonomy if it accepts Chinese reunification.
Though it rejected the offer, Taiwan did relax rules on visits to and investments in China.
In 1991, it proclaimed that the war with the People's Republic of China over.
However, One China Policy still remains in force.
How has Taiwan successfully contained the coronavirus outbreak?
Early response:
Since the SARS outbreak 17 years ago, Taiwan has been in a state of constant readiness to the threat of emerging infectious diseases.
As a result, when the information regarding the COVID-19 was confirmed on December 31, 2019, Taiwan began implementing onboard quarantine of direct flights from Wuhan that same day.
It also expanded the measures to include onboard quarantine, fever screening, health declaration, and a 14-day home quarantine for passengers arriving from nations affected by the coronavirus outbreak.
Taiwan, on 2nd January 2020, established a response team for the disease and activated the Central Epidemic Command Centre (CECC).
CECC was able to effectively integrate resources from various ministries and devote itself fully in the containment of the epidemic.
Due to the proactive measures, on April 9, it ranked 123 among 183 countries in terms of confirmed cases per million people, despite its proximity to China.
Using technology:
Taiwan also made use of technology to implement social distancing and contain the outbreak.
It had established an electronic system for entry quarantine, which allows passengers to fill in health information using mobile phones. Health declaration pass would then be sent to them via text message.
This is connected to the community care support management system, which allows the government agencies to provide care services and medical assistance.
The travel history of the individuals is now stored on the National Health Insurance (NHI) card to alert physicians to possible cases and prevent community transmission.
For those in the home quarantine or isolation, the government agencies are coordinating with telecom operators to allow GPS tracking of their locations.
Those who violate quarantine orders are subjected to fines or mandatory placement according to relevant laws and regulations.
Increased testing:
Taiwan has increased its testing capacity, expanded the scope of its surveillance and inspection based on trends of the COVID-19 epidemic.
It also retested people with higher risks even if they had earlier tested negative.
They also monitored community cases and cluster cases with upper respiratory tract infections to identify suspected COVID-19 cases.
Other measures:
It had designated 50 regional hospitals and medical centres and 167 community hospitals and clinics to create a tiered system for testing.
These hospitals and clinics are required to set up special wards or areas so that COVID-19 patients are isolated and treated individually to prevent nosocomial infections.
It had also banned the exports of surgical masks since January 24 and increased domestic mask production to effectively allocate masks.
On February 6, Taiwan launched a name-based rationing system for mask purchases at NHI-contracted pharmacies and local public health agencies.
On March, it added an ordering system for masks to enable people to order online and pick up masks at convenient stores.
These measures allowed Taiwan to ensure improved management of the limited resources and meet healthcare, epidemic prevention, household and industrial needs.
Why was Taiwan excluded from WHA despite being successful in containing the outbreak?
Taiwan was expelled in 1972 after it lost the "China" seat at the UN to the People's Republic of China.
Keeping Taiwan shut out of international bodies like WHO is a part of One China Policy.
However, this was not always the case. Between 2009 and 2016, Beijing allowed Taiwan to attend the World Health Assembly as an observer under the name "Chinese Taipei". At the time, the relationship between Taiwan and China was warmer.
However, the diplomatic tensions came in with the election of President Tsai Ing-wen in 2016. She hails the view that Taiwan is a de facto independent nation and does not subscribe to Beijing's idea that it belongs to "one China".
Her government found very little support from the international community for this stance.
The response from Taipei to the pandemic has drastically changed this situation, with China finding itself scrutinised for its initial response to the outbreak.
Led by the US, a large number of nations called for Taiwan to either be allowed into the WHO or be given the observer status.
Why does the exclusion of Taiwan in the World Health Assembly an issue?
Taiwan and its supporters argue that it is not fair to exclude 23 million Taiwanese from the world health body, especially during a pandemic.
They also say that its model of containing the outbreak could be useful for the world in dealing with the global health crisis
The global health should be beyond politics. However, the WHO has given more importance to politics and forgot is main real role.
Taiwan's exclusion has also raised questions about Beijing's influence over the WHO.
What is WHO's stand on the issue?
WHO stated that Taiwan's participation could only be decided by member states with the consent of "relevant government" – a reference to Beijing.
Taiwan countered this claim by stating that it was previously invited to attend the World Health Assembly "at the discretion" of the Director-General of WHO.
Later, the WHO said the WHO Director-General Tedros could give an invite if there was a consensus between member states, which was not there.
What are the measures taken by China to counter Taiwan in recent times?
Taiwan complained of increased Chinese military harassment since the coronavirus pandemic began, with fighter jets and naval vessels regularly approaching the island on drills, which China claims to be a routine.
Recently, the Chinese Premier Li Keqiang, at the start of the annual meeting of China's parliament, stated that his country would "resolutely oppose and deter any separatist activities seeking Taiwanese independence"
China also plans to improve policies and measures to promote exchanges and cooperation across Taiwan Strait so that Taiwanese people are encouraged to join the Chinese regime.
This may prove to be a difficult feat as President Tsai was re-elected for the second term just recently, showing Taiwanese people's solidarity towards independent and democratic governance.
How is India dealing with this issue?
This is a challenge for India, which took over as the chairman of the WHO Executive Board. WHO Executive Board is in charge of giving effect to the decisions and policies of the World Health Assembly and advice it.
India has to take a stand on whether it is going to support the US' demand of reinstating Taiwan's observer status at the World Health Assembly, which according to China's perspective, goes against India's longstanding one China policy.
Both Taiwan and China have engaged with India in their own ways in recent weeks. Taiwan has donated around 1 million surgical masks to assist India in dealing with the outbreak.
Taiwan's efficient handling of the coronavirus pandemic has led to growing support from major powers and even recalibrating their policy towards the island nation.
They have started improving their ties with Taiwan to bolster their own COVID-19 responses.
Consensus has emerged within the international community that Taiwan should be given access to WHO and other multilateral forums, even as Beijing's opposition is growing louder.
Given the strategic importance of bilateral ties with these countries, the pressure is mounting for India to support Taiwan.
India is among the 173 of the 193 UN members that do not maintain diplomatic ties with Taiwan.
Yet, two Indian Members of the Parliament from BJP had attended the virtual swearing-in ceremony of Taiwanese President Tsai Ing-wen. The Indian delegation was joined by Sohang Sen, the acting Director-General of India-Taipei Association, who represented India at the ceremony at Taipei.
Thus, it became one among 41 countries to participate in the occasion.
Ministry of External Affairs is currently weighing options with partners like Australia, the US and France, particularly on the Taiwan issue while coordinating with other countries to manage the humanitarian and economic impact of COVID-19.
What can be the way forward?
In the current situation, it is highly unlikely that Taiwan would have its way even with the increased support from the international community.
Currently, only 15 small countries form Latin America and the Pacific formally support Taiwan.
However, the recognition of Taiwan as a de facto sovereign nation is seen as a victory for Taipei and a blow for Beijing.
Heightened support for Taiwan has only infuriated Beijing.
India's growing ties with Taiwan does present an opportunity for New Delhi.
There are many avenues that India can explore to enhance relations with Taipei, like improving bilateral trade and enabling ease of doing business for Taiwanese corporate sector.
India could also improve its cultural and commercial ties with Taiwan.
There are several key sectors that are critical for India's next phase of technological development like electronics, semi-conductor and 5G where Taiwan is at the cutting edge.
Taiwan's health sector is one of the most advanced in the world. Cooperation with Taipei is critical for India in this sector as it enables improved preparedness for future epidemics.
India is not the only country that is realising the importance of Taiwan. Many countries including the US, Japan, New Zealand, Australia, Canada, UK among others, have understood the significance of Taiwan's role in the international arena.
The European Union stated that it is working with Taiwan to develop a rapid test and had even openly thanked Taiwan for donating masks to the EU countries.
India currently shares good bilateral relations with all the countries that are supporting Taiwan. Most of these countries are India's trusted partners in the Indo-Pacific as well as are part of the Quadrilateral alliance (QUAD).
From these viewpoints, it is strategically important for India to enhance its ties with Taiwan.
Yet, it should also analyze the impact on its bilateral ties with China. A flexible situation-based foreign policy strategy is a need of the hour in the current juncture.
Conclusion:
Taiwan is currently an important player in international politics. India's foreign policy vision has evolved in a way where issue-based alignments are becoming the norm. The country's relationship with Taiwan should also progress accordingly.
Practice question for mains:
Critically examine the importance of Taiwan in India's perspective. (250 words)
Learn More