Healthcare in India – A Comprehensive Analysis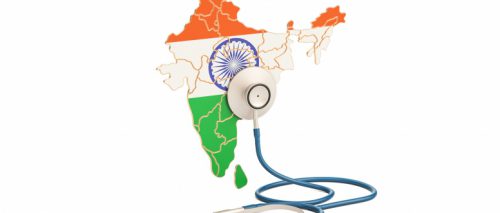 In the next decade, India is bound to become the most populous nation in the world, surpassing China. However, compared globally, India remains one of the lowest spenders on public health, despite the government's commitment to expanding the funding. This makes healthcare service unaffordable and inaccessible to many. Therefore government intervention in this regard is a need of the hour.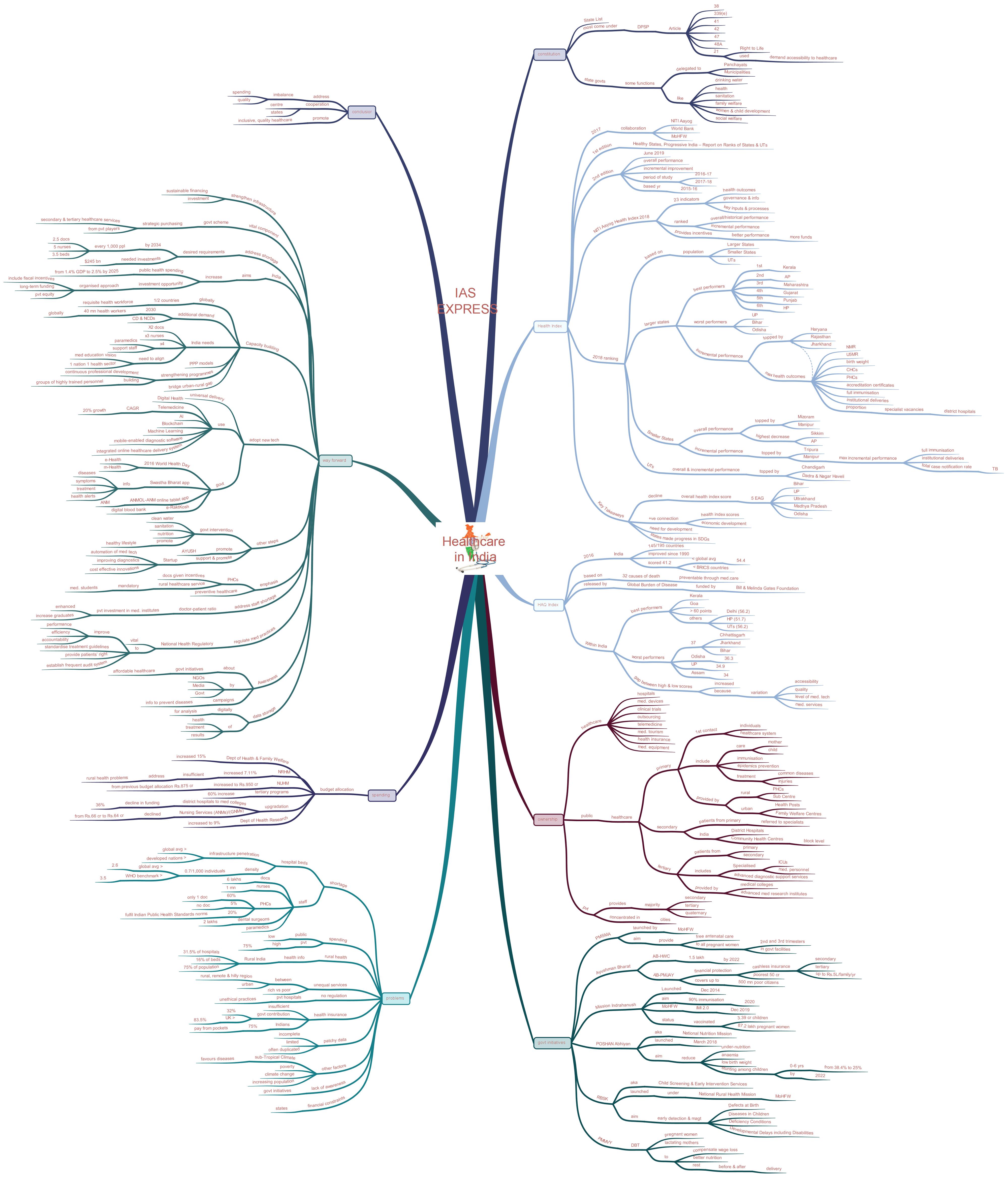 What does the Indian Constitution say about health?
Healthcare comes under the State List
Most of the provisions related to healthcare come under the Directive Principles of State Policy (Part IV). These include Article 38,339(e), 41, 42, 47 and 48A.
The state governments have delegated some of their functions related to health to the Panchayats and Municipalities. These include drinking water, health and sanitation, family welfare, women and child development, social welfare etc.
The Constitution of India provides for the Right to Life under Article 21. This has been used for a long time to demand access to healthcare.
What is India's Health Index?
In 2017, NITI Aayog, the World Bank and the Ministry of Health and Family Welfare had collaborated to develop the first-ever State Health Index.
The first edition of "Healthy States, Progressive India – Report on the Ranks of States and Union Territories" was released in February 2018.
It is the first time that an attempt was made to establish an annual systematic tool to analyse the heterogeneity of India's performance in the health sector.
The second edition was released in June 2019. It focused on measuring the overall performance and incremental improvement over the two years (2016-17 and 2017-18) in all states and UTs.
The base year in this edition is 2015-16.
NITI Aayog Health Index 2018:
The indicators, methodology and categorisation of states and UTs in the Health Index were consistent with the previous edition.
It had a total of 23 indicators categorized under the health outcomes, governance and information and key inputs and processes.
These indicators include the weight of the child at the time of birth, sex ratio, accreditation of healthcare facilities etc.
The states and UTs were ranked in two ways – on overall or historical performance and incremental performance.
It is linked to incentives under the National Health Mission.
Furthermore, it provides incentives for the states to make them perform well in the health sector. If the states perform well in providing better healthcare, more funds will be allocated for them.
It also plays a significant role in addressing India's preparedness to achieve Sustainable Developmental Goals.
2018 rankings:
Based on the population, the States and the Union Territories have been ranked under three categories: Larger States, Smaller States and UTs. This is done to provide a comparison between similar entities.
Larger States:
In this category, Kerala, Andhra Pradesh and Maharashtra top in the overall performance.
Gujarat, Punjab and Himachal Pradesh occupy 4th, 5th and 6th
UP, Bihar and Odisha are among the worst-performing states.
In terms of annual incremental performance, Haryana, Rajasthan and Jharkhand hold the top positions. They also show maximum gains in the improvement of health outcomes from base to reference year in indicators like neonatal mortality rate (NMR), under-5 mortality rate (U5MR), the proportion of low birth weight among the new-borns, proportion of community health centres and public health centres with quality accreditation certificates, full immunisation coverage, institutional deliveries and proportion of specialist positions vacant at district hospitals.
Smaller States:
Mizoram followed by Manipur hold the top two positions on the overall performance.
Tripura and Manipur are the top two states in terms of annual incremental performance. Manipur showed the maximum incremental performance on indicators like full immunisation coverage, institutional deliveries and total case notification rate of tuberculosis.
Sikkim and Arunachal Pradesh showed the highest decrease in the overall health performance of the smaller states.
Union Territories:
Chandigarh followed by Dadra and Nagar Haveli hold the top two positions in terms of overall performance and annual incremental performance.
Key Takeaways:
The report emphasised a decline in the overall health index score of the 5 Empowered Action Group (EAG) states: Bihar, UP, Uttrakhand, Madhya Pradesh and Odisha due to the deterioration in various parameters.
It also pointed out the general positive connection between the health index scores and the economic development levels of the states and UTs as measured by per capita net state domestic products.
It also pointed out the room of improvement in all states, even among the best performing states.
Many states have made progress in achieving SDGs that are included in the index.
Does India have quality healthcare?
As per the Healthcare Access and Quality (HAQ) Index, 2016, India was ranked 145th among the 195 countries.
This index is based on the 32 causes of death that can be prevented with effective medical care.
It was released by the Global Burden of Disease, funded by the Bill and Melinda Gates Foundation.
It states that despite the low rankings, India has seen improvement in HAQ since the year 1990.
India had scored 41.2 in 2016 which was earlier 24.7 in 1990.
Despite this improvement, India's score is well below the global average of 54.4.
It lags behind the BRICS countries – Brazil, Russia, China and South Africa.
Within India:
The best performing states are Kerala and Goa. They scored more than 60 points on the HAQ index in 2016.
Other top performers are Delhi (56.2), Himachal Pradesh (51.7) and the UTs other than Delhi (56.2).
The worst performing states were Chhattisgarh, Jharkhand and Bihar (37), Odisha (36.3), UP (34.9) and Assam (34).
The gap between the highest and lowest scores has increased from a 23.4 point difference in the year 1990 to a 30.8 difference in the year 2016.
The study stated that these differences can be due to multiple reasons like large variations in the accessibility to health facilities, quality of health infrastructure, the level and scale-up of medical technologies, and the provision of medical services across the spectrum of care.
Who owns India's Healthcare system?
The healthcare encompasses hospitals, medical devices, clinical trials, outsourcing, telemedicine, medical tourism, health insurance and medical equipment.
India's healthcare sector is growing exponentially due to the growing coverage, services and increasing expenditure by both public and private sectors.
India's healthcare delivery system is broadly categorised into two major components: public and private.
The public healthcare system consists of primary healthcare, secondary healthcare and tertiary healthcare.
Primary healthcare is the first level of contact between individuals and services within the health system. This includes care for mother and child, immunisation, prevention of epidemics, treatment of common diseases or injuries etc. In India, the primary healthcare is provided through a network of Sub Centre and Primary Health Centres (PHCs) in rural India. In Urban areas, the primary healthcare is provided through Health Posts and Family Welfare Centres.
Secondary Healthcare is the one in which the patients from primary healthcare referred to specialists in higher hospitals for treatment. In India, this includes District Hospitals and Community Health Centres at the block level.
The Tertiary Health Care is the one in which the specialised consultative care is provided usually on referral from primary and secondary medical care. Specialised Intensive Care Units, advanced diagnostic support services and specialised medical personnel are some of the key features of the tertiary healthcare. In India, under the public system, it is provided by the medical colleges and advanced medical research institutes
The private sector provides the majority of secondary, tertiary and quaternary care institutions with a major concentration in cities.
India's healthcare sector is one of the fastest-growing in the world.
It is expected to reach 280 billion by the year 2020.
What are the government's initiatives pertaining to healthcare?
India is aiming to achieve the SDG that involves maternal and child healthcare before the deadline in 2030. Some of the initiatives taken by the government in this context are:
Pradhan Mantri Surakshit Matritva Abhiyan: It is the government initiative launched by the Ministry of Health and Family Welfare (MoHFW). This program aims to provide assured, comprehensive and quality antenatal care at free of cost to all pregnant women on the 9th of every month. PMSMA guarantees a minimum package of antenatal care services to women in their 2nd and 3rd trimesters of pregnancy at designated government health facilities.
Ayushman Bharat involves a two-pronged approach:
Improving the comprehensive primary healthcare infrastructure on the ground with the rollout of 1.5 lakh Ayushman Bharat – Health and Wellness Centre (AB-HWC) across the country by 2022,
Offering substantial financial protection to the poorest 50 crore Indians with secondary and tertiary insurance.
The AB-HWCs have been off to a slow start over the last year. Its other component, Ayushman Bharat – Pradhan Mantri Jan Arogya Yojana (AB-PMJAY), the insurance arm of this initiative has seen better results in the past year. It is a cashless health insurance cover of up to Rs.5 lakh per family per year. It covers up to 500 million poor citizens.
Mission Indrahanush: Launched in December 2014, this scheme seeks to drive towards 90% of full immunisation coverage of India and sustain the same by the year 2020. In order to achieve the target of full immunisation, the MoHFW had launched Intensified Mission Indrahanush (IMI) 2.0 from December 2019 to March 2020. As of today, Mission Indrahanush and related programmes have successfully reached out to and vaccinated 3.39 crore children and 87.2 lakh pregnant women in India.
POSHAN Abhiyan also known as National Nutrition Mission was launched by the government in March 2018. It aims to reduce stunting, under-nutrition, anaemia (among children, women and adolescent girls). It also aims to reduce low birth weight. This mission aims to reduce the stunting among children in the age group of 0 to 6-year-olds from 38.4% to 25% by 2022.
Rashtriya Bal Swasthya Karyakram (RBSK): It is also known as Child Screening and Early Intervention Services. It was launched under the National Rural Health Mission initiated by the MoHFW. It aims at early detection and management of the 4Ds:
Defects at Birth
Diseases in Children
Deficiency Conditions
Developmental Delays including Disabilities
Pradhan Mantri Matru Vandhana Yojana ensures direct benefit transfer to the banks of pregnant women and lactating mothers to compensate for wage loss, ensure better nutrition and rest before and after delivery.
What are the problems faced by India's Healthcare System?
Insufficient hospital beds: The penetration of healthcare infrastructure in India is much lower than that of developed countries and even lower than that of the global average. The bed density in the country is 0.7 per 1,000 individuals, far below the global average of 2.6 and the WHO benchmark of 3.5.
Staff shortage: India faces a shortage of about 6 lakhs doctors, 1 million nurses, two lakhs dental surgeons and a large number of paramedical staff.
Funding: The Private sector's spending on India's annual health burden is about 75%. This is one of the highest in the world in percentage terms. Public spending, in contrast, is way below the global average.
Rural Health: According to health information, about 31.5% of hospitals and 16% of beds are located in Rural India, where 75% of the total population lives. Furthermore, doctors are not willing to serve in rural areas.
Unequal service: Services in rural, hilly and remote areas are not on par with urban areas, where the health facilities and services are well-developed. The SC and STs and the poor get little to no access to modern health services.
Absence of government regulations in private hospitals has allowed doctors and hospitals to follow unethical practices.
Insufficient health insurance: The government's contribution to insurance stands roughly at 32%. This is far below the UK's 83.5%. About 75% of the Indian population is paying for the healthcare services from their own pockets, putting them in a large scale financial burden.
Patchy data: Data related health sector in India is incomplete, limited and often duplicated.
Other factors: India's sub-Tropical Climate provides a favourable condition for germination of diseases. The collective effects of poverty, increasing population and climate change is making India increasingly susceptible to diseases.
Lack of awareness among the public about the limited government initiatives and cheaper health services is worsening the situation.
States facing financial constraints are reducing their expenditure on health.
How much does India spend on healthcare?
The budgetary allocation for the Department of Health and Family Welfare has been increased by 15% to Rs.62, 659 crores from the Revised Estimate for 2018-19.
The allocation for the National Rural Health Mission (NRHM) has been increased to Rs.27, 039 crores.
This 7.11% increase is not sufficient to address the failing rural health infrastructure.
60% of Primary Health Centres (PHCs) have only 1 doctor each while about 5% have none.
According to the Economic Survey 2018-19, only 20% of the existing PHCs fulfil the Indian Public Health Standards norms.
There is an acute shortage of human resources in these minor health institutions.
Allocation for the National Urban Health Mission has been increased to Rs.950 crore from the previous budget allocation of Rs.875 crore.
Tertiary care programmes saw an increase of 60% from the previous year's revised estimates.
This is the highest among all components of the health sector's budget.
This confirms that while it is the primary care which needs the utmost attention, tertiary care gets the most.
One of the most significant components were the allocation has declined is the upgrade of the district hospitals to medical colleges.
Against the revised estimates last year, a reduction to the tune of 36% has happened, with the component being allocated Rs.2, 000 crores this year.
This is noteworthy because the government had earlier announced that it would convert another 75 district hospitals to medical colleges and hospitals.
The allocation to "Upgradation/Strengthening of Nursing Services Auxiliary Nurse Midwives (ANMs)/General Nurse-Midwives (GNMs)" has also declined from Rs.66 crores to Rs.64 crores.
The allocation to the Department of Health Research has gone up to Rs.1,900 crore – an increase of 9%, as compared to last year's revised estimates.
What can be the way forward?
Strengthening infrastructure through sustainable financing and investment instruments:
A vital component for landmark government schemes like Ayushman Bharat is the strategic purchasing of the secondary and tertiary healthcare services from the private sector.
While the private sector caters to around 70% of the Indian population, there is a serious shortage of hospital beds, doctors and nurses.
The desired requirement by 2034 for every 1,000 people is 2.5 doctors, 5 nurses and 3.5 beds and to achieve this, an investment of about $245 billion is needed.
While India aspires to increase the public health spending from the current 1.4% of its GDP to 2.5% by 2025, the deadline is half a decade away.
Thus India has a huge investment opportunity.
A more organised approach to include fiscal incentives will allow India's healthcare to attract more long-term funding and private equity.
Capacity building:
Global estimates show that only half of all the countries have the requisite health workforce necessary to deliver quality health care.
Also, the twin burdens of communicable and non-communicable diseases (NCDs) are estimated to generate additional demand for 40 million health workers globally by 2030.
India, too, requires twice the number of doctors, triple the number of nurses and quadruple the number of paramedic and support staff.
Even to meet the WHO's benchmark of 1 doctor for every 1,000 individuals is highly difficult due to the large scale imbalance amongst the states and UTs.
India needs to align the vision of medical education with the vision of "one nation, one healthcare sector". The NMC Act, 2019 recognises the much-needed reforms in medical education. However, the challenge lies in building capacity for training people in a short time.
This should be done through transformational public-private partnership (PPPs).
These capacity-building programmes, in turn, can be strengthened through continuous professional development and building of groups of highly trained personnel, while also bridging rural-urban gaps.
Adopting new technologies for last-mile delivery and continuum of care:
Digital Health is emerging as a game-changer in achieving Universal Health Care goals.
Telemedicine in India is growing at a Compound Annual Growth Rate (CAGR) of 20% and is expected to reach a value of $32 million by 2020.
With more than 420 million mobile internet users, integrated medical records, the provision of mobile-enabled diagnostic software and an integrated online healthcare delivery system can be fast-tracked.
India's healthcare providers are already working on new frontiers of digital technologies.
AI, Blockchain and Machine Learning have the potential in addressing the inaccessibility and other problems faced by India's healthcare system.
E-health and m-health initiatives were launched on World Health Day, 2016.
These included the Swastha Bharat app for giving information on diseases, symptoms, treatment and health alerts.
ANMOL-ANM online tablet application for Auxiliary Nurse Midwives, e-RaktKosh (a centralised, digitally streamlined blood bank management system) etc., has played a huge role in improving the health of the nation.
The government must thus ensure the promotion of innovative and efficient use of these new technologies for the betterment of health within India.
Steps to make India healthy:
To improve the health of India, improving the quality and quantity of health service alone is not enough.
The government must intervene to provide for clean water, sanitation and nutrition and promote a healthy lifestyle amongst the people at the grass-root level.
The challenge is to incentivize wellness-seeking behaviour within society.
The encouraging aspect of India's commitment to Universal Healthcare has been the active and participatory role of the government.
From Poshan Abhiyan to the Fit India Movement, new emphasis has been given to multi-stakeholder engagements.
Emphasis on Primary Healthcare:
India must shift its focus from secondary and tertiary care to primary care.
The doctors must be given incentives to work in the PHCs and the rural healthcare service must be made mandatory for the medical students.
Prevention better than cure:
More emphasis should be given to preventive healthcare rather than on curative healthcare as activities like immunisations can reduce the financial burden on curative healthcare.
Addressing staff shortage:
NITI Aayog suggests that to address the problem of doctor-patient ratio, private investment in medical institutes should be enhanced so that there is an increase in the number of graduating doctors.
Regulating medical practices:                
National Health Regulatory need to be prepared to improve the quality, performance, efficiency and accountability of India's healthcare.
It should standardise treatment guidelines, provide for patients' rights and establish a frequent audit system.
Looking for alternatives:
AYUSH system should be made mainstream so that alternative medical care like Ayurveda, homoeopathy etc., are promoted along with allopathy.
Startup investments:
Startups are playing a vital role in investing in the automation of medical technologies, improving diagnostics and cost-effective innovations. They must be promoted and supported in achieving their goals.
Awareness:
The NGOs, media, the government workers etc., must spread awareness about the existing government initiatives that promote health service and support to the marginalised societies so that they can get affordable healthcare.
Drives must also be conducted to eradicate diseases like tuberculosis, dengue, polio, AIDS etc., by providing information about the measures taken to prevent these diseases.
Storage of Data:
All data related to health, treatment, results etc., must be stored digitally so that they are analysed to prevent the repetition of mistakes.
Conclusion:
There is an imbalance between states when it comes to spending on and providing quality healthcare. Cooperation between the centre and states must be ensured in promoting inclusive quality healthcare for all in India.
Model Question:
Discuss the major challenges faced by India's healthcare system. Critically analyse what can be done to make healthcare accessible and affordable to all Indians.