India-Bangladesh Relations: Origin, Recent Developments, Concern Areas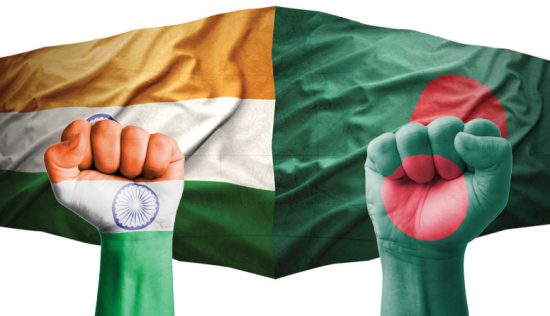 The India-Bangladesh bilateral relationship has witnessed unprecedented heights over the last few years. This is because of Bangladesh's growing geopolitical importance in the current times. Bangladesh is a key player in India's Act East Policy and Neighbourhood First Policy. India's ties with Bangladesh can ensure an economic boost to north-eastern India and the absence of terrorism and insurgency in the region. However, there are still a few contentious issues that are affecting India-Bangladesh bilateral ties. India would do well to proactively boost its ties with Bangladesh for its economic growth and for enhancing its presence in the international arena.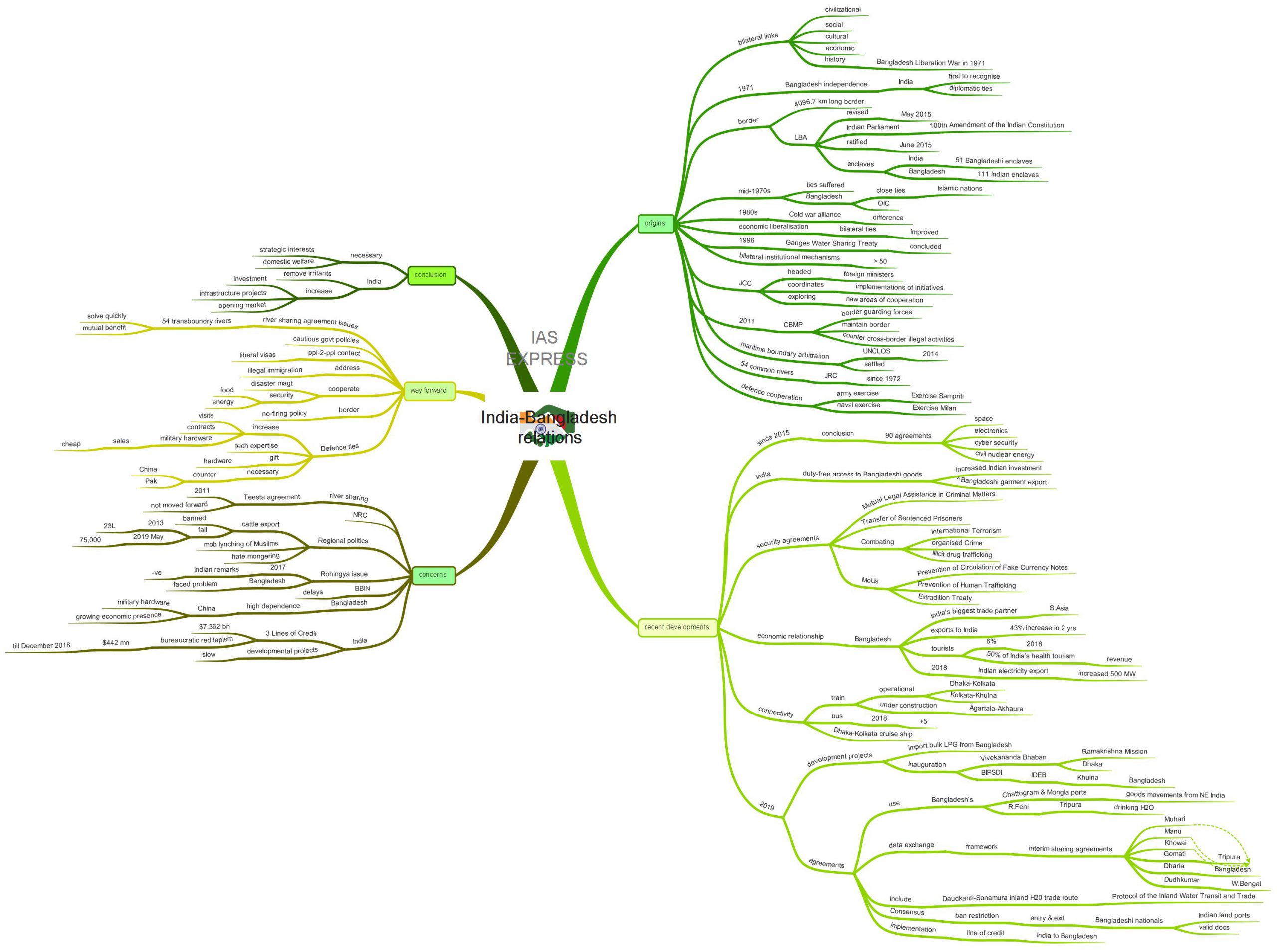 Mindmap Learning Programme (MLP)
Absorb information like a sponge!
How did it originate?
India was the first country to recognize Bangladesh as an independent state and had established diplomatic ties with the nation immediately after its independence in December 1971.
India's links with Bangladesh are civilizational, cultural, social and economic.
There is much that unites the two nations – shared history common culture, heritage, and linguistic ties, passion for music, literature, and arts.
Both the nations fought together against Pakistan during the Bangladesh Liberation War in 1971.
However, from the mid-1970s, the relationship was tense due to Bangladesh's growing ties with the Islamic nations, participation in the Organisation of the Islamic Conference, and an increased emphasis on Islamic identity over the country's ethnolinguistic roots.
Both the nations developed different alliances during the Cold War in the 1980s, worsening the already deteriorated ties.
With the onset of economic liberalisation of South Asia, both the nations forged a greater bilateral engagement and trade.
The historic Ganges Water Sharing Treaty was concluded in 1996.
There are more than 50 bilateral institutional mechanisms between these nations in the areas of security, trade and commerce, transport and connectivity, science and technology, defence, river, and maritime affairs, etc.
A Joint Consultative Commission (JCC) headed by the Ministers of Foreign/External Affairs coordinates and oversees implementations of initiatives taken between the nations while also exploring new avenues for cooperation.
India and Bangladesh share a 4096.7 km long border, which is the longest land boundary India shares with any of its neighbours.
India-Bangladesh Land Boundary Agreement (LBA) came into force following the exchange of instruments of ratification in June 2015.
The revised version of the agreement was adopted by the two nations on the 7th of May 2015, when the Indian Parliament passed the 100th Amendment of the Indian Constitution.
Under this agreement, which was ratified on 6 June 2015, India received 51 Bangladeshi enclaves in the Indian mainland, while Bangladesh received 111 Indian enclaves in the Bangladesh mainland.
The Coordinated Border Management Plan (CBMP) signed in 2011 aims to synergize the efforts of both the Border Guarding Forces for checking cross border illegal activities and crimes as well as for maintenance of peace along the India-Bangladesh border.
The settlement of the maritime boundary arbitration between the two nations, as per UNCLOS award in 2014, has paved the way for economic development in this part of the Bay of Bengal.
India and Bangladesh share 54 common rivers.
Joint Rivers Commission (JRC) is in progress since 1972 to maintain liaison between the two nations to maximise the benefits from the common river system.
Both the nations are currently close strategic partners in counter-terrorism and are the largest trading partners in South Asia.
As for the defence cooperation, joint exercises of Army (Exercise Sampriti) and Navy (Exercise Milan) are being conducted annually.
What are the recent developments?
Since the visit of Indian PM Narendra Modi to Bangladesh in 2015, the notable developments that have taken place include long-pending land and maritime boundary including the enclaves, conclusion of over 90 agreements including in the high tech areas like space, electronics, cybersecurity, and civil nuclear energy and increased bilateral trade between the two nations.
India has ensured duty-free access to Bangladeshi goods to the Indian market.
This has led to an increase of Bangladesh ready-made garment exports to India last year by 115% and has also increased India's investment in the region.
Security agreements were signed between the two nations on matters related to cross-border illegal activities.
This includes Mutual Legal Assistance in Criminal Matters, Transfer of Sentenced Prisoners, Combating International Terrorism, organised Crime and Illicit drug trafficking, MoUs on Prevention of Circulation of Fake Currency Notes and Prevention of Human Trafficking and Extradition Treaty.
As for the economic relationship, currently, Bangladesh is India's biggest trading partner in South Asia.
India's exports from Bangladesh for the financial year 2018-19 stood at $9.21 billion and imports from Bangladesh during the same period stood at $1.22 billion.
It should also be noted that Bangladesh's exports to India have increased by 43% in the last two years.
Bangladeshi tourists accounted for 6% of the total percentage of tourists visiting India in 2018.
Currently, Bangladesh accounts for 50% of India's health tourism revenue.
Also, in 2018, Indian electricity export to Bangladesh increased by 500 MW in addition to the 660 MW of power.
A 1,600 MW power station is currently being developed to enhance the power trade.
Cooperation in the energy sector has become one of the trademarks of India-Bangladesh relations.
Train connectivity in Dhaka-Kolkata and Kolkata-Khulna are currently operational while the Agartala-Akhaura route is under construction.
Five additional bus services were introduced in 2018.
The first-ever Dhaka-Kolkata cruise ship was launched recently.
This year, India and Bangladesh have signed seven agreements and inaugurated three projects to deepen the relationship.
The agreements include:
Agreement on the use of the Chattogram and Mongla ports in Bangladesh for the movement of goods to and from India, particularly from Northeastern India.
Use of Bangladesh's River Feni for drinking supply in Tripura.
Exchange of data and information to prepare a framework of interim sharing agreements of six rivers – Manu, Muhari, Khowai and Gomati river of Tripura, Bangladesh's Dharla river and West Bengal's Dudhkumar river.
Agreement to include Daudkanti (Bangladesh)-Sonamura (Tripura) inland water trade route under the Protocol of the Inland Water Transit and Trade.
Consensus on lifting restrictions on entry and exit from land ports in India for Bangladeshi citizens travelling on valid documents.
Implementation of the Line of Credit that was committed by India to Bangladesh.
The bilateral development partnership projects include:
Import of bulk LPG from Bangladesh
Inauguration of Vivekananda Bhaban (students' hostel) at Ramakrishna Mission, Dhaka.
Inauguration of Bangladesh-India Professional Skill Development Institute (BIPSDI) at the Institution of Diploma Engineers Bangladesh (IDEB), Khulna, Bangladesh.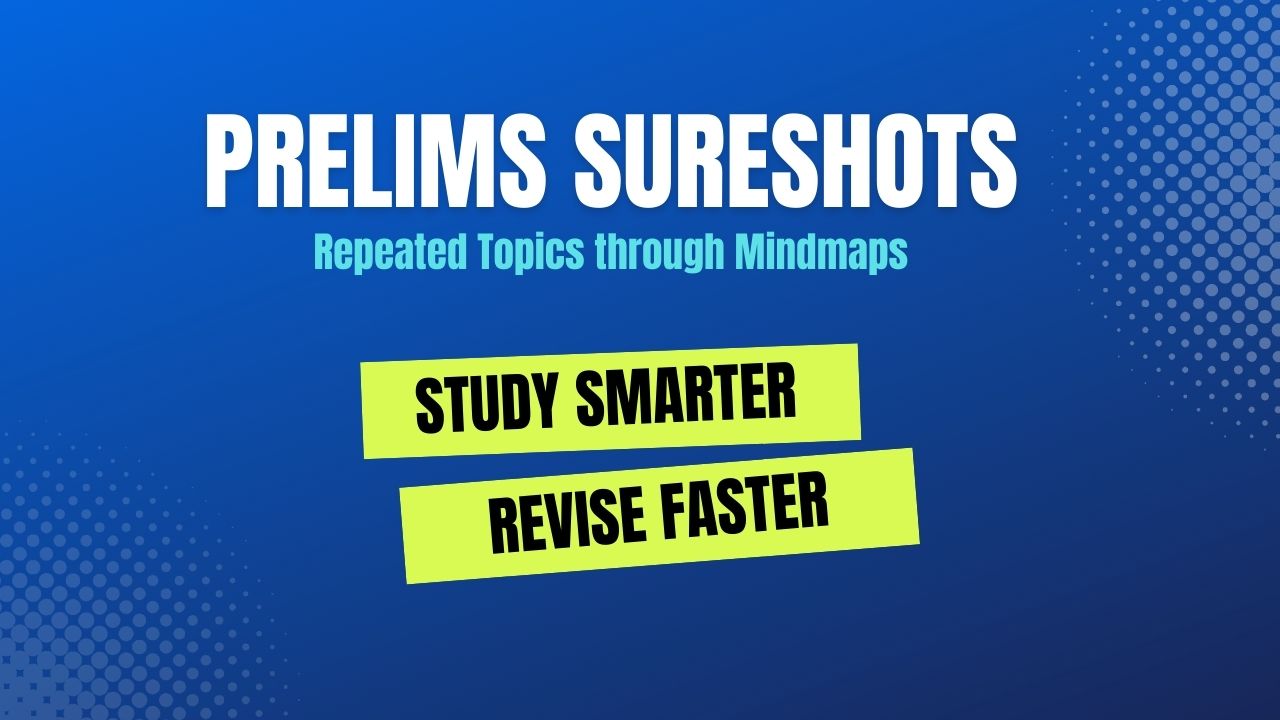 What are the areas of concern?
River water-sharing agreements between India and Bangladesh have failed despite the efforts taken by both sides.
The significant among them is the Teesta agreement, which was inked in 2011 but has not moved forward due to the tensions between the Centre and the West Bengal government.
There is a growing concern in Bangladesh over India's Nation Register of Citizens (NRC). This is increasingly becoming an area of contention in the bilateral relations as about 1.9 million people in Assam are left out and they are being labelled as illegal immigrants from Bangladesh.
However, Bangladesh is firm in its stance that no migrants travelled to Assam during the 1971 war. Thus, NRC is posing as a risk to the bilateral ties.
India's regional politics is affecting trade ties with Bangladesh. For example, India's ban on cattle export has led to a fall in the cattle trade from 23 lakhs in 2013 to 75,000 till the end of May this year.
Furthermore, the Rohingya issue and India's remarks in 2017 on the issue have dented the bilateral ties as Bangladesh, during that time, had faced challenges while providing shelter to millions of Rohingya refugees who were fleeing persecution from Myanmar.
Also, mob lynching of Muslims and hate-mongering in India has affected public opinions in Bangladesh.
The on-going delays in the implementation of the Bangladesh, Bhutan, India and Nepal Initiative (BBIN) is jeopardizing India's foreign policy in the region.
Bangladesh is increasingly becoming reliant on China's military hardware and the latter's economic presence is growing exponentially.
Since 2010, India approved 3 Lines of Credit to Bangladesh worth $7.362 billion for financial development projects.
However, due to India's bureaucratic red-tapism, just $442 million have been disbursed until December 2018.
India's slow-paced developmental projects are in contrast to China's fast-paced ventures in Bangladesh.
What can be the way forward?
Agreement on river water sharing and management should be prioritized. Faster resolution of the Teesta issue is of crucial importance to boost India-Bangladesh relations.
Both the nations share 54 transboundary rivers and they are the key to prosperity and also the area of contention.
Thus, cooperation from both sides is necessary to bring in development and prosperity in the region through a strategy that brings forth a mutual benefit for all.
India's regional policies are highly influential in India-Bangladesh relations. Therefore, the government must tread carefully while undertaking government policies.
People-to-people contact should be stimulated through a liberal visa.
Pluralism is the distinguishing feature of the Indian subcontinent and it should be kept in mind by the policymakers of both sides.
Greater interaction between Indians and Bangladeshi nationals can address prejudices and distrust.
Also, at the same time, there is a need for addressing the issue of illegal immigration from Bangladesh, though with caution and efficiency.
Indian investments in Bangladesh should be encouraged through the visits of trade delegations, trade fairs and bilateral assurance on the protection of interests of the potential investors.
Cooperation must be ensured in common challenges like disaster management, food security, and energy security.
Implementation of no-firing policy by India near the India-Bangladesh border is necessary to clear India's image in Bangladesh public.
India-Bangladesh defence ties should be enhanced by increasing visits, defence contracts, selling of military hardware at a cheaper rate.
India ought to consider China's strategy of gifting hardware in the initial instance and offering technical expertise to the Bangladesh armed forces.
This is necessary to counter Pakistan and China's influence in the region.
The issues in the bilateral ties between India and Bangladesh need to be addressed holistically and based upon the current geopolitical reality.
Conclusion:
India-Bangladesh ties should be boosted not only for the enhanced bilateral relationship but also for India's strategic interests in South Asia. India must take the lead to remove the irritants that are plaguing the bilateral ties. It can take measures to enhance investments and infrastructure projects in Bangladesh to increase its presence in the region while also opening up its market for enhanced trade with the same. Both nations must reach consensus on issues like NRC, Rohingya and Teesta River for the common good for all.