Draft Vehicle Scrappage Policy- Features, Challenges & Way Forward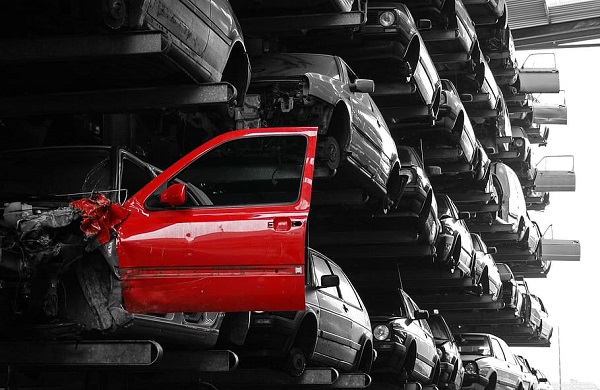 Vehicle scrappage programs serve multiple purposes like reducing traffic congestion, air pollution, pressure on mines, etc. However, it is also a key tool for economic revival as it has a direct bearing on the automobile sector– a critical determinant of economic growth. Many countries used it in the aftermath of the 2008 financial crisis to aid their recovery. Recently, Ministry of Road Transport and Highways released the draft Vehicle Scrappage Policy. This could serve as a much needed leg up for the Indian auto industry and post-COVID economy.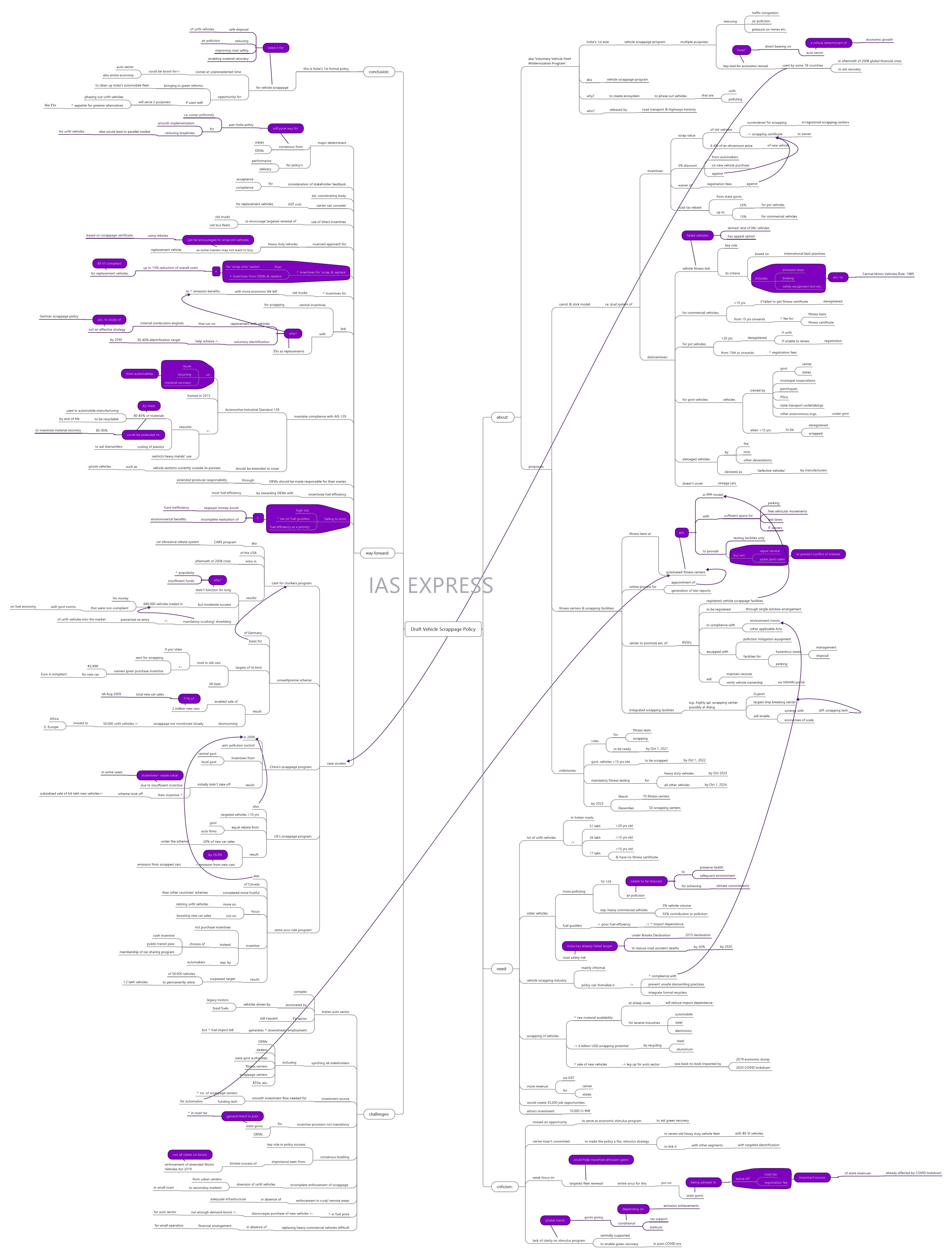 Mindmap Learning Programme (MLP)
Absorb information like a sponge!
What is the draft vehicle scrappage policy?
The Vehicle Scrappage Policy or Voluntary Vehicle Fleet Modernization Program is a scrappage program that seeks to create an ecosystem for phasing out the use of polluting and unfit vehicles.
It uses a carrot and stick modele. dual system of incentives and disincentives for this purpose:
Incentives:
The scrap value of the old vehicles, surrendered to registered scrapping centers, will be 4 to 6% of a new vehicle's ex-showroom price.
The owners of the old vehicles are to be incentivized with a scrapping certificate upon surrendering them for scrapping.
It has advised the vehicle manufacturers to provide a 5% discount on new vehicle purchase against the scrapping certificate.
Registration fee for new vehicle purchase is to be waived against the scrapping certificate.
The policy calls for a road tax rebate from the state governments as an incentive. A rebate of up to 25% could be given for personal vehicles and up to 15% in case of commercial vehicles.
Disincentives:
Vehicle fitness test will play a key role in the policy.
The criteria for the test has been developed based on international best practices. Some of the key criteria include emission tests, braking, test of safety equipment as per the Central Motor Vehicle Rules, 1989.
Vehicles that fail these tests are declared as 'End of Life Vehicle'.
The policy provides for an appeal option for vehicles that fail the fitness test.
Commercial vehicles: vehicle older than 15 years are to be deregistered if they fail to get a fitness certificate. The fees for fitness tests and fitness certificate is to be increased for these old (15 years onwards) vehicles.
Private vehicles: vehicles older than 20 years are to be deregistered if they are declared unfit or if they fail to renew the registration. Vehicles from their 15th year onwards will have to bear an increased registration fees.
Government vehicles: vehicles older than 15 years, belonging to the central or state governments, municipal corporations, panchayats, PSUs, state transport undertakings and other autonomous bodies under the government are to be de-registered and scrapped.
Vehicles that are damaged by fire, riots or any other devastation are to be declared as defective vehicles by the manufacturers.
Vehicles confiscated by the enforcement agencies are to be scrapped.
The policy doesn't cover vintage cars.
Fitness Centers and Scrapping Facilities:
The fitness tests are to be carried out at automated fitness centers which are to be established through PPP (public private partnerships) model. These centers are to have sufficient space for parking, free vehicular movement, test lanes and IT servers.
These fitness centers will only be involved in fitness testing and not in repair and sale of spare parts. This will avoid conflict of interest among the fitness center operators.
The appointment of fitness centers and the generation of test reports are to be through an online process.
The center is to promote the establishment of RVSFs or registered vehicle scrappage facilities across the country by encouraging PPPs.
The registration of scrapping facilities would be simplified with the help of a single window arrangement. These facilities are required to comply with pollution control norms and other applicable Acts.
The scrapping facilities are to be equipped with pollution mitigation equipment to tackle air, water and noise pollution. They are to have adequate hazardous waste management and disposal facilities and parking facilities for the vehicles waiting to get scrapped.
The government could also look at establishment of integrated scrapping facilities at various places. Eg: Alang in Gujarat, which is also the world's largest ship-breaking center, is being considered for development of a highly specialized scrapping center. This will enable synergy among the different scrapping technologies and holds the advantage of economies of scale.
The scrappage centers will maintain records and verify vehicle ownership using the VAHAN database.
Milestones set in the policy:
The rules for the fitness tests and scrapping are to ready by October 1, 2021.
Vehicles older than 15 years and owned by government or PSUs are to be scrapped by October 1, 2022.
Mandatory fitness testing will be put in place for heavy duty vehicles by October 2023.
Mandatory fitness testing for all other vehicles will be in place by October 1, 2024.
Establishment of 75 fitness centers by March 2023 and 50 scrapping centers by December 2023.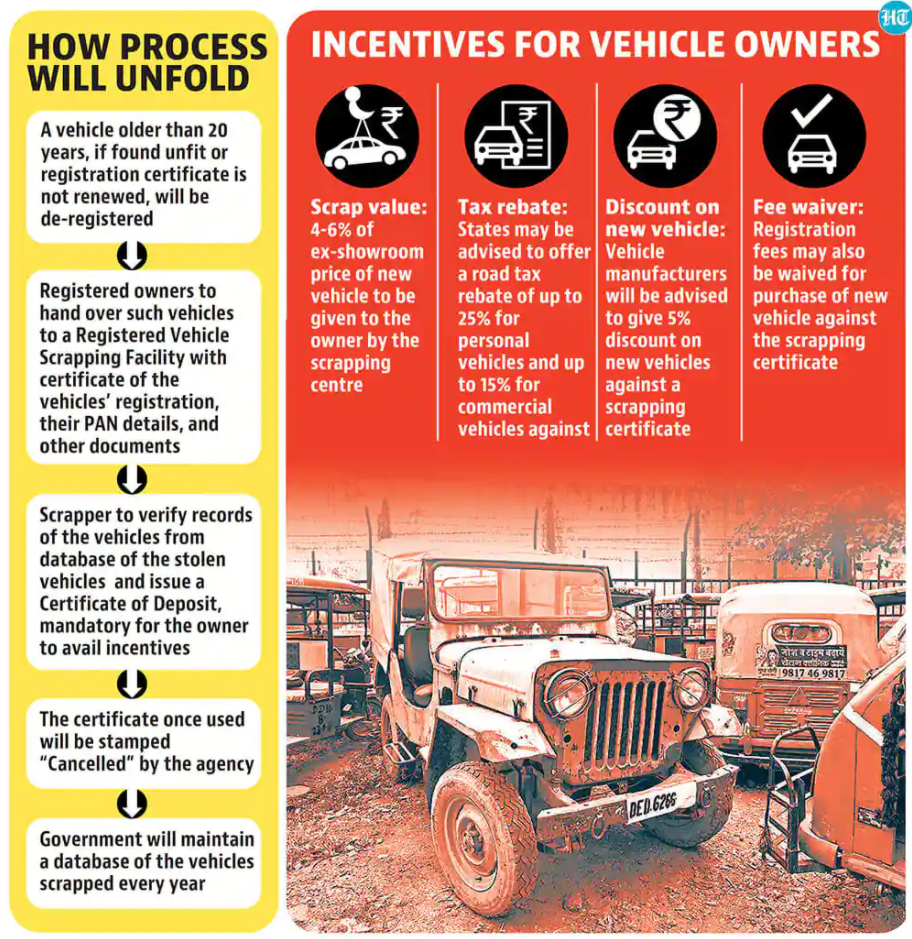 Why is such a scrappage policy needed?
This is a much awaited policy as there are a huge number of unfit vehicles plying on the Indian roads. Some 51 lakh vehicles are over 20 years old, 34 lakh vehicles are over 15 years old and 17 lakh vehicles are older than 15 years and don't possess fitness certificates.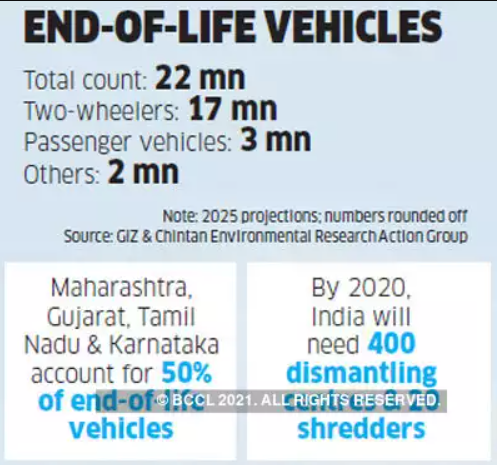 Older vehicles are more polluting– they contribute 10 to 12 times more to air pollution than newer and fitter vehicles. Vehicular pollution is especially high from the heavy commercial vehicle sector with its fleet constituting just 5% of vehicle volume but accounts for 55% of the pollution.
Reducing air pollution from vehicles is key to preserving the health of the population and the environment. It is also vital for achieving India's climate commitments.
If older vehicles which are often fuel guzzlers are phased out, India would be able to improve its fuel efficiency. This in turn will help reduce import dependence.
Many of the old vehicles pose a road safety risk. India had previously failed to meet the target as per its commitment under the Brasilia Declaration. Under the 2015 declaration, India should have reduced road accident deaths by 50% by 2020.
The vehicle scrapping industry in India is a pre-dominantly informal sector. This policy could help formalize This will make the sector more compliant with environmental norms and prevent unsafe dismantling practices in the sector. It will also help integrate formal recyclers.
Scrapping of old vehicles will increase the availability of cheap raw materials for the automobile, steel and electronics industries. Currently, these industries depend on imports for the same.
There is a 6 billion USD scrappage potential through steel and aluminium
Scrapping of older vehicles will increase demand for new vehicles. This would be a leg up for the Indian automobile sector which has suffered back-to-back impacts from the 2019 demand slump and the COVID-19 lockdown.
It may enable the center and state governments to garner more revenue via GST.
The policy is expected to create some 35,000 job opportunities in the automobile fitness centers and in the automobile industry.
It is expected to attract investments of around 10,000 crore INR.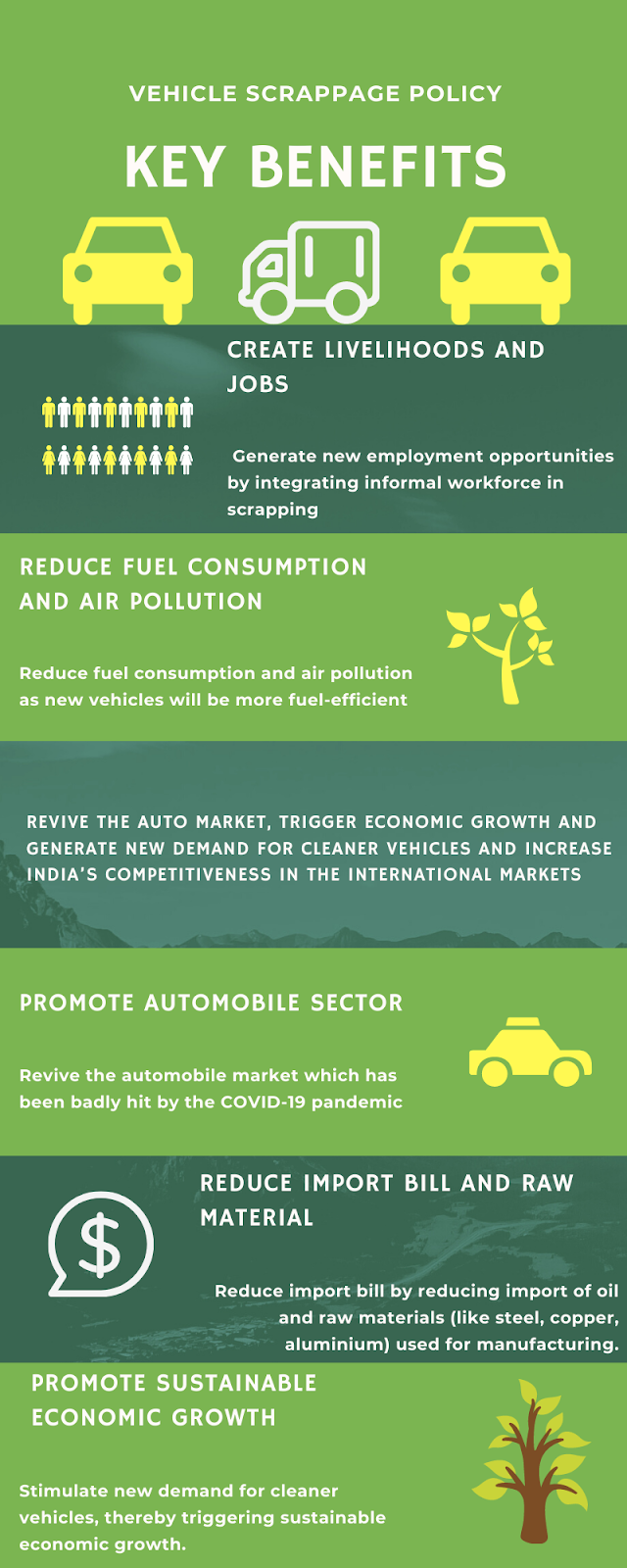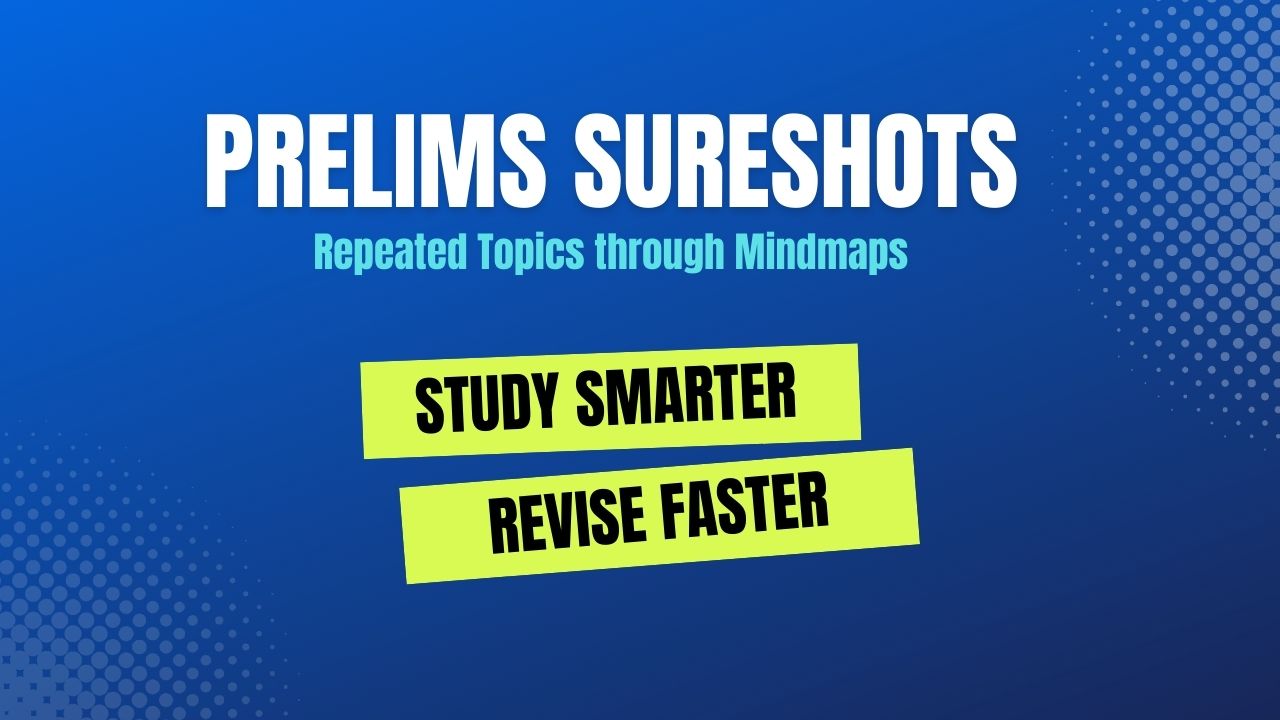 Why is it being criticized?
Critics argue that the draft policy has missed an opportunity to serve as an economic stimulus program to aid a 'green recovery'.
The center hasn't committed to make the policy a fiscal stimulus strategy to renew the older heavy duty vehicle fleet with BS VI vehicles or to link it with other segments with targeted electrification.
There is weak focus on targeted fleet renewal to achieve maximum gains in emission parameters. The entire onus for incentivizing this has been put on the state governments.
The states are being advised to waive off a huge part of the road tax and registration fees levied on replacement vehicles. The state government's revenues had already suffered a blow from the lockdown and these two components are important sources of state revenue.
The center is still unclear about whether a centrally supported stimulus program to enable a green recovery in the post-COVID era would be put in place. Governments giving conditional tax support or bailouts depending on emission achievements is the trend elsewhere.
What are the challenges?
The automobile ecosystem in India is complex and dominated by legacy motors driven fossil fuel vehicles and only a nascent electronic vehicle segment. Though it is a significant source of downstream employment, it is also the source of a significant fuel import bill for India.
Synchronization is to be a significant challenge given the large number of stakeholders who will be involved in the scrappage exercise- OEMs (original equipment manufacturers), dealers, state government authorities, fitness centers, scrappage centers, regional transport offices, etc.
The sourcing investment is to be a major challenge too. A smooth flow of investment is vital given the meagre number of scrappage centers currently operating in India and also the technological requirements given the plans to automate the fitness test centers.
The state governments and the OEMs are not mandated to provide incentives– they are only advised to do so. In the past, the general trend has been of state increasing road tax.
Consensus building will play a key role in the success of the policy. Its importance can be understood from how the enforcement of the amended Motor Vehicles Act, 2019 had limited success because not all states were on board.
If the scrapping portion of the policy is incompletely enforced, the end of life vehicles from the urban centers would simply be resold at secondary markets in smaller towns.
Enforcement in rural and remote areas are to be a challenge if the testing infrastructure isn't developed.
The current rise in fuel prices may discourage customers from buying new vehicles and hence the objective of boosting demand for the auto sector would go unfulfilled.
Replacing old heavy commercial vehicles quickly is a major challenge especially in the absence of financial arrangement for small operators.
What is the way forward?
Bringing about consensus from states and the OMEs is a major determinant in how well the policy performs and delivers. Consideration of stakeholders' feedback is necessary for large scale acceptance and compliance.
This consensus should pave the way for some semblance of uniformity in the policy to enable smooth implementation and to reduce loopholes that may lead to development of a parallel market for unfit vehicles.
Experts have called for the establishment of a coordinating body to enable synchronization of the stakeholders.
The central government can consider GST cuts for replacement vehicles.
Targeted renewal of old trucks and bus fleets based on BS IV standards could be encouraged using direct incentives from the center.
The policy needs to take a more nuanced approach when it comes to heavy duty vehicles as some truck owners may simply want to dispose their old vehicles but not replace them with a new one. In such cases, the truck owners can be encouraged to scrap their vehicles with the help of a rebate based on scrappage certificate.
To boost automobile sales, the incentives given for 'scrappage and replacement' must be higher than 'only scrappage' of old vehicles. The OEMs and the dealers may add to the incentives. This could reduce overall cost of BS IV compliant replacement vehicle by up to 15%.
Higher incentives can also be given to ageing trucks with more economic life This will increase emission benefits.
Linking central incentives for scrapping end of life personal vehicles with replacement with EVs will help increase air quality gains. Replacing old vehicles with newer one that are still powered by internal combustion engines is not as effective as strategy for emission gains as replacement with EVs according to a study of Germany's scrappage program.
This AIS-129 on reuse, recycling and material recovery from automobiles should be made mandatory as part of the policy. The Automotive Industrial Standard-129 was framed in 2015. It requires 80 to 85% of the materials (by mass) used in manufacturing the vehicles to be recyclable at the end of its life. It requires the coding of plastics to aid dismantlers and restricts the use of heavy metals.
This recyclability condition in AIS-129 could be extended to 85 to 95% to maximize material recovery.
Simultaneously, the AIS-129 should be made applicable to vehicle categories that are currently beyond its reach- such as the goods vehicles.
OEMs must be made responsible for the waste generated using extended producer responsibility.
OEMs that achieve the most fuel efficiency must be rewarded to incentivize the trend.
Failing to put in place high standards, enhanced tax on fuel guzzling vehicles and prioritizing fuel efficiency will lead to taxpayer money funding inefficiency and incomplete realization of environmental benefits.
Case studies:
Cash for Clunkers program:
Cash for Clunkers program or CARS (Car Allowance Rebate System) program of the USA is one of the scrappage programs introduced in the aftermath of the 2008 global financial crisis.
It didn't function for long due to increased popularity but insufficient funds.
Yet it achieved moderate success in the short period with some 680,000 vehicles that didn't comply with government specified fuel economy standards being traded in for money.
Mandatory crushing/ shredding of the acquired vehicles prevented their re-entry into the market.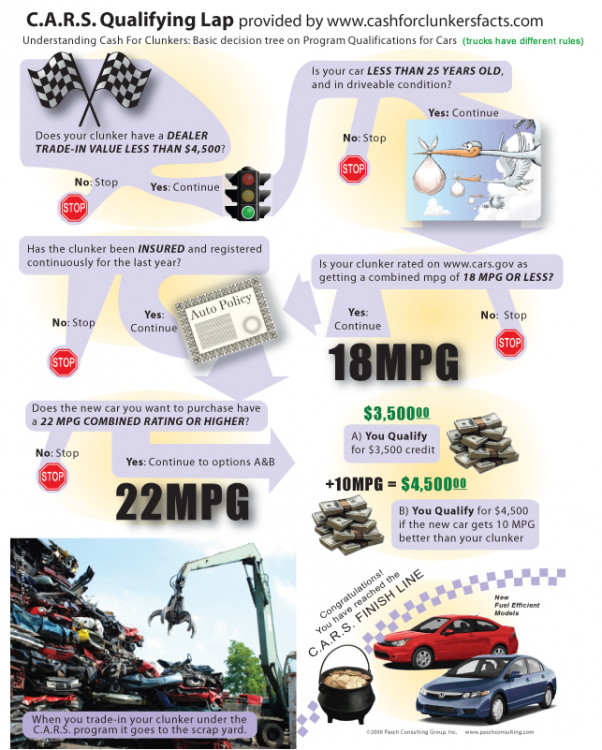 Umweltpramie scheme:
It is a German vehicle scrappage program that served as the basis for USA's 'Cash for Clunkers' program.
Till date it is the largest of its kind and it enabled the sale of 2 million new cars– accounting for 71% of the total new car sales till August 2009.
For every car, 9 years or older, that is sent for scrapping, a purchase incentive of €2,500 was given for a new car that is Euro 4 compliant.
A shortcoming was that scrappage wasn't closely monitored and this led to some 50,000 old vehicles being exported into Africa and Eastern Europe.
China's scrappage program:
Launched in 2009, this program was aimed at pollution control. Incentives were provided by both the central government and the local governments.
Initially, the program saw only limited success as the incentives were less than the resale value of the vehicles in some cases.
However, the program took off when the incentive was increased and was able to subsidize the sale of some 6 lakh new vehicles.
UK's scrappage scheme:
This was also introduced in 2009. In this program, vehicles that were older than 10 years were targeted.
The government and the automobile firm gave equal rebate for the purchase of new replacement cars.
During the extent of the program, 20% of new car sales in the UK were under this scheme and the emissions from these newer vehicles were on average 8% lesser than from the scrapped cars.
'Retire Your Ride' program:
It is Canada's scrappage program introduced in 2009 and is considered more fruitful than other countries' initiatives in its extent.
The focus of the program was on retiring the unfit vehicles rather than on boosting new car sales.
Instead of purchase incentives, the government gave the choices among- cash incentive, public transit pass or membership of car sharing program.
The automakers played a major role in incentivizing the program.
The program was able to surpass its initial target of 50,000 vehicles to permanently retire 1.2 lakh vehicles.
Conclusion
This is the first ever formal vehicle scrappage policy in India. It is urgently needed to facilitate safe disposal of end of life vehicles, reduce pollution, improve road safety and enable material recovery to aid the industries that are currently depending on imported scraps for raw materials. This policy has come at an unprecedented time and could serve as a boost not only for the auto sector but for the entire economy. However, this is also an opportunity to bring in green reforms to clean up India's automobile fleet that is greatly dependent on fossil fuels. If used well, this policy could serve the dual purpose of phasing out unfit vehicles and increasing appetite for greener alternatives like EVs.
Practice question for mains
India is set to introduce its first ever vehicle scrappage policy. Examine the benefits of scrappage policy in the post-COVID economy. (250 words)