National Curriculum Framework for School Education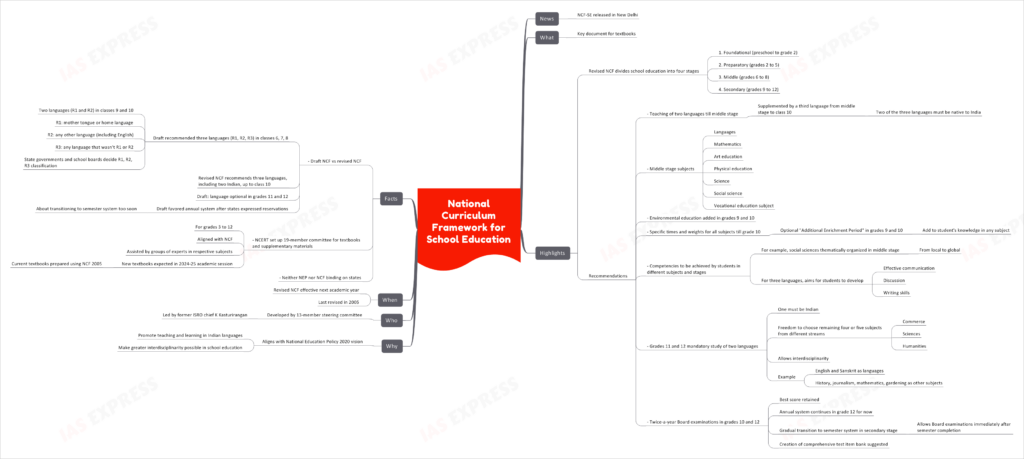 In a significant stride towards transforming the educational landscape, the revised National Curriculum Framework for School Education (NCF-SE) has been released in New Delhi. This crucial document holds the key to revamping textbooks and fundamentally altering the learning experience in schools across India.
News: NCF-SE Release
The unveiling of the National Curriculum Framework for School Education (NCF-SE) in New Delhi marks a pivotal moment in shaping the future of education.
Defining the NCF-SE
Guiding Document for Textbooks
The NCF-SE assumes the role of a guiding framework that will steer the creation of textbooks and curricula across schools.
Key Highlights of the Revised NCF-SE
Revised Framework's Structure
The revised NCF divides school education into four distinct stages, each catering to specific developmental phases:
Foundational (preschool to grade 2)
Preparatory (grades 2 to 5)
Middle (grades 6 to 8)
Secondary (grades 9 to 12)
Recommendations for Teaching and Subjects
The framework encompasses a range of recommendations:
Teaching of two languages till the middle stage, supplemented by a third language from middle stage to class 10. Of these languages, at least two must be native to India.
Middle stage subjects encompass languages, mathematics, art education, physical education, science, social science, and a vocational education subject.
Addition of environmental education in grades 9 and 10. copyright©iasexpress.net
Specification of time allocations and weights for all subjects until grade 10, with the inclusion of an optional "Additional Enrichment Period" in grades 9 and 10 to foster extended learning.
Emphasis on achieving specific competencies in different subjects and stages. For instance, social sciences will follow a thematic organization from local to global.
Mandating the study of two languages in grades 11 and 12, one of which must be Indian. Students have the freedom to choose additional subjects from diverse streams, fostering interdisciplinarity.
Assessment and Examination
The NCF-SE introduces twice-a-year Board examinations in grades 10 and 12, allowing students to retain their best scores. It proposes a gradual transition to a semester system in the secondary stage, enabling Board examinations right after the completion of each semester. Moreover, the creation of a comprehensive test item bank is recommended.
Alignment with Vision and Purpose
Harmonizing with NEP 2020
The revised NCF-SE aligns seamlessly with the vision set forth by the National Education Policy 2020 (NEP), emphasizing the promotion of teaching and learning in Indian languages and fostering greater interdisciplinarity in school education.
Key Contributors and Timeline
Developed by Steering Committee
The NCF-SE was formulated by a 13-member steering committee, led by former ISRO chief K Kasturirangan.
Effective Implementation and Last Revision
The revised NCF-SE is set to take effect from the next academic year, bringing about transformative changes. The previous version was last revised in 2005. copyright©iasexpress.net
Additional Facts and Comparative Insights
Draft NCF vs. Revised NCF
Comparatively, the draft NCF recommended the teaching of three languages up to grade 10. In contrast, the revised NCF endorses three languages, including two Indian languages, until grade 10.
NCERT's Role and Future
The NCERT has established a 19-member committee for creating textbooks and supplementary materials aligned with the NCF-SE. These new textbooks are anticipated to be introduced in the academic session of 2024-25.
Flexibility for States
Neither the NEP nor the NCF is binding on states, allowing flexibility in their adoption and implementation.
Learn More