Agriculture Export Policy 2018 – Need, Features and Challenges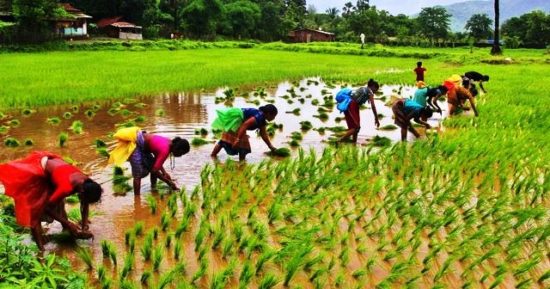 The Union Cabinet has approved the Agriculture Export Policy in December 2018. The policy would support the government in reaching the target of doubling farmers income by 2022. The aim of the policy is to utilize the export potential of Indian agriculture, by means of appropriate policy instruments and make India a global power in agriculture and raise farmers income.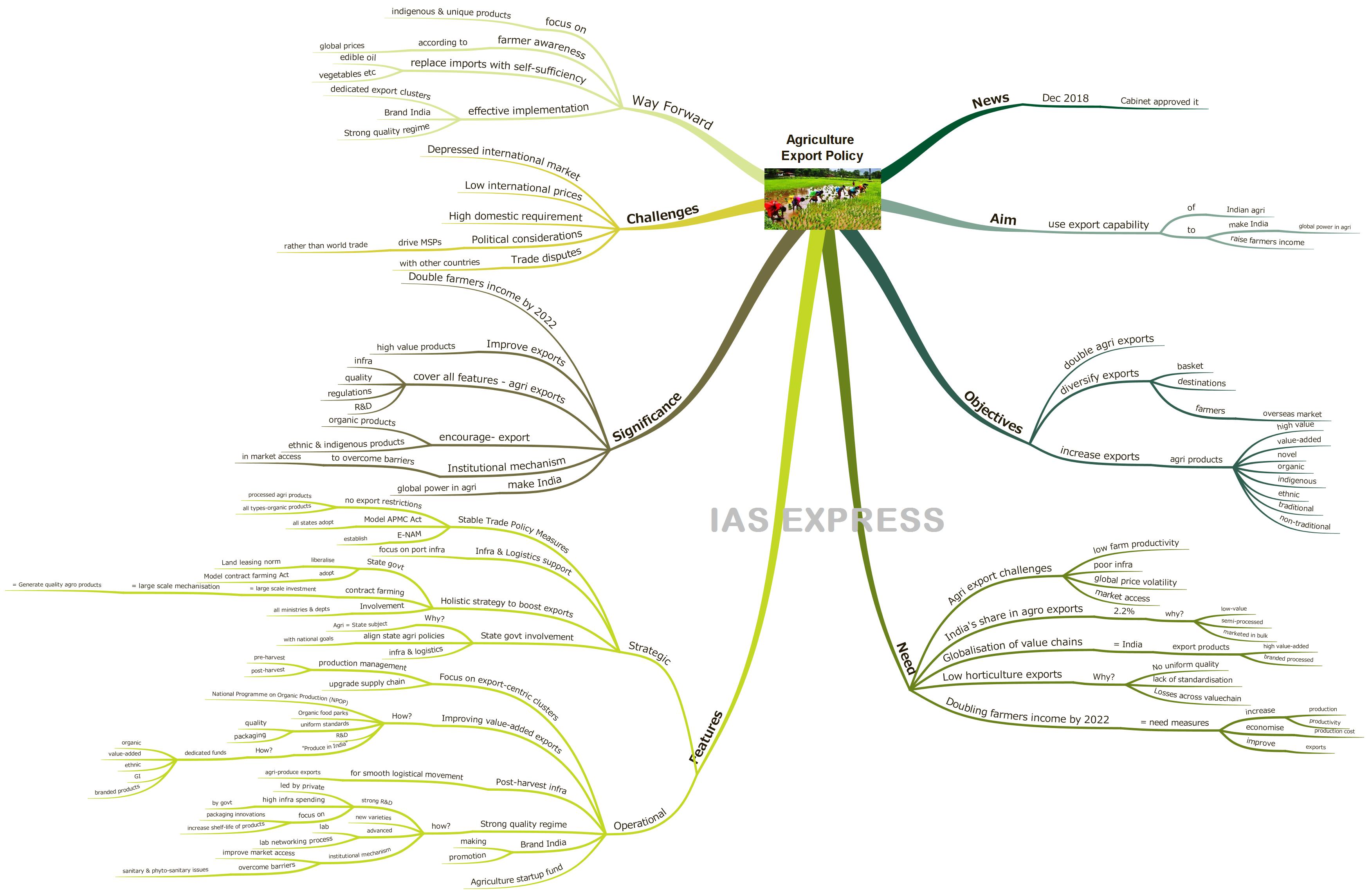 Mindmap Learning Programme (MLP)
Absorb information like a sponge!
What are the objectives of the policy?
To double agricultural exports from the current USD 30+ Billion to USD 60+ Billion and achieve USD 100 billion in the next few years thereafter, with a stable trade policy regime.
To diversify the export basket and destinations.
To improve exports of high value and value-added agricultural products including perishables.
To promote exports of novel, organic, indigenous, ethnic, traditional and non-traditional agricultural products.
To facilitate farmers avail the benefit of export opportunities in the overseas market.
What is the need for export policy?
Agricultural export Challenges: The policy can resolve challenges to exporting agricultural products from India such as low farm productivity, poor infrastructure, global price volatility to market access.
India's share in agro products: In 2016, India's share in global exports of agriculture products was just  2.2 percent. India has remained at the lower end of the global agriculture export value chain due to the fact that most of its exports are low value, semi-processed and marketed in bulk.
Share of high-value agro products:
The proportion of India's high value and value-added agriculture produce in its agri-export basket is less than 15 percent when compared to 25 percent in the US and 49 percent in China.
Considering the globalization of value chains, it is necessary that the country make proper efforts to boost exports of high margin, value-added and branded processed products.
Low Horticultural exports: India is unable to export its vast horticultural produce because of lack of uniformity in quality, standardization and its inability to reduce losses across the value chain.
Doubling farmers income by 2022: The target of doubling farmers income by 2022 will need a number of measures to increase production and productivity as well as economizing the cost of production. This would also need India to improve its exports to the global market.
Therefore, it is necessary to have an agriculture export policy in place to boost agricultural exports.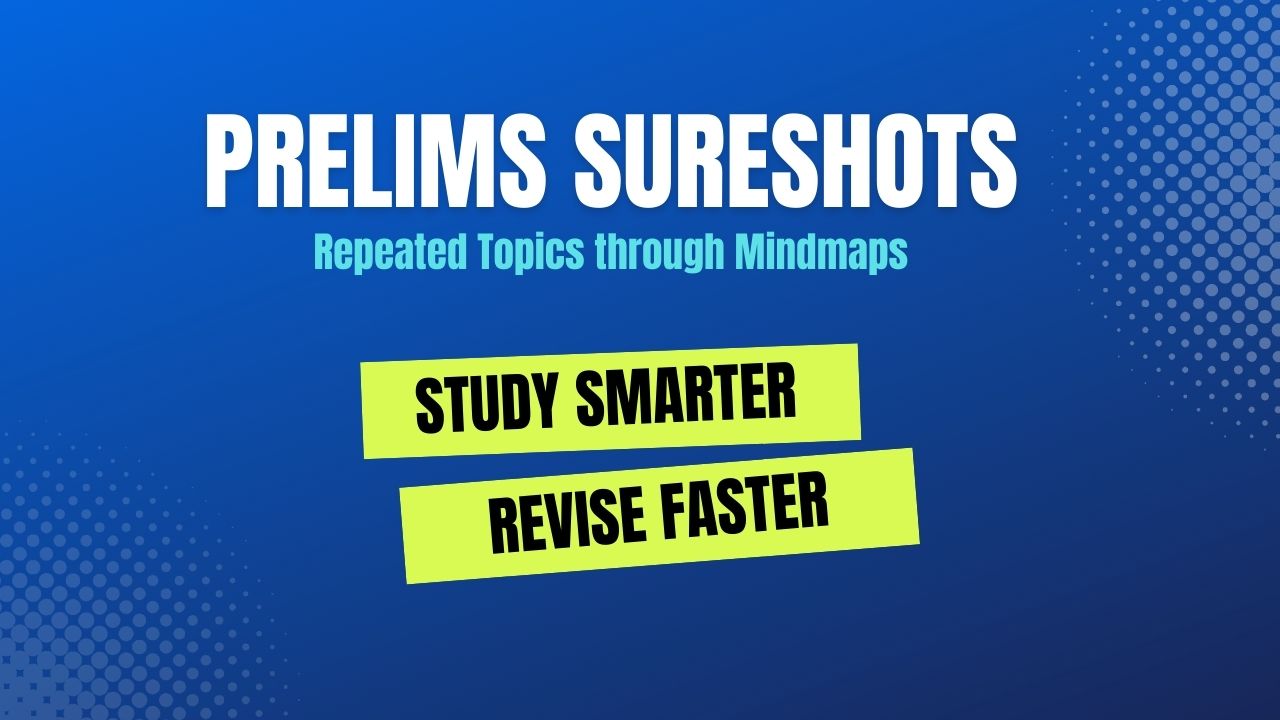 What are the elements of Agriculture Export Policy?
The suggestions in the Agriculture Export Policy have been categorised into two – Strategic and Operational – as detailed below:
Strategic:
Policy initiatives,
Infrastructure and logistics support,
A holistic strategy to boost exports,
Higher involvement of State Governments in agri exports.
Operational:
Focus on Clusters,
Improving value-added exports,
Marketing and promotion of "Brand India",
Promote private investments into production and processing,
Creation of strong quality regimen,
Research & Development,
Miscellaneous.
What are the key features of the policy?
Stable Trade Policy Measures:  
to provide an assurance that the processed agricultural products and all types of organic products will not be brought under the ambit of any export restrictions.
The Model Agricultural produce market committee (APMC) act should be adopted by all states and E-NAM must be established.
Infrastructure and Logistics support by identifying ports for the export of agricultural products. Development in port infrastructure such as dedicated perishable berths.
Holistic Strategy to boost exports:
Liberalizing Land Leasing Norm and adoption of the Model Contract Farming Act by state governments in order to boost agricultural exports.
Contract farming is expected to attract large-scale private investments in agriculture thus resulting in large-scale mechanization. This will further generate surplus volumes of the standardized, exportable quality of agricultural products.
Total Government approach that will make sure that all government department and ministries (such as Ministry of Agriculture, Ministry of Food Processing Industries, Ministry of Railways, Ministry of Shipping & Transport, and Ministry of Consumer Affairs involved in agricultural production, processing, transportation, and export) working together to resolve bottlenecks at all levels.
State government involvement:
Since Agriculture is a state subject, it is essential to involve the state governments for effective agricultural reforms.
Each state has its own agricultural differences. For instance, one state may be experiencing drought while another may be dealing with floods. Therefore, it is important to align state agricultural policies with the nation's goals.
State governments must choose the government department for improving agricultural export.
The states should include agriculture export in state export policy and create infrastructure and logistics to enable agricultural export.
Focus on export-centric clusters:
Pre- and post-harvest management of the production and upgradation of the supply chain = attain higher levels of export from those clusters.
Encouraging value-added exports:
By means of the National Programme on Organic Production (NPOP), organic food parks and through the uniform quality and packaging standards, India can utilize the potential for improving organic exports.
Increasing Research & Development (R&D) activities, encouraging "produce in India" via the setup of dedicated funds focussed on organic, value-added, ethnic, GI and branded products.
Post-Harvest Infrastructure
that can help in the smooth logistical movement of agri-produce exports. This will have a direct co-relationship in improving export volumes, guaranteeing quality & making sure of better price realization per unit.
Digitization of land records, geo-mapping of lands, registration of farmers and farm producer organizations (FPOs) is crucial to smooth agricultural exports.
Creation of Strong Quality Regimen 
Creating strong quality with the intent of strong R&D, new varieties, advanced lab and a lab networking process for efficient accreditation and overseeing.
An institutional mechanism should be set up that would improve market access, overcome barriers and deal with sanitary and phytosanitary problems against India's agricultural exports that emerge from time to time.
Research and Development 
R&D led by private sector along with higher infrastructure spending by the government will be essential in increasing agricultural exports.
In addition to this, innovations in packaging, increasing the shelf life of products and improving R & D in developing products to accommodate the requirements of importing countries should be made a priority.
The policy has suggested creating an agri-startup fund.
What are the significances of this policy?
The first ever 'Agriculture Export Policy, 2018' would support the government in reaching the target of doubling farmers' income.
The policy seeks to improve exports of agriculture commodities like tea, coffee and rice and improve the country's share in global agro-trade.
The policy aims at diversifying exports by-products and destination and will focus on high value-added farm produce as well as perishables. Currently, rice, wheat, and marine products constitute around 52% of the total farm exports.
The policy would focus on all features of agricultural exports such as modernizing infrastructure, standardisation of products, efficient regulations, reducing arbitrary decisions, and centered upon research and development activities.
It will also focus on removing all types of export restrictions on organic products. The policy will encourage organic, ethnic and indigenous products.
In the context of the sanitary and phytosanitary issues that farm exports mostly face with several countries, the policy will create an institutional mechanism to pursue market access and tackle challenges.
The policy will utilize the export capability of Indian agriculture by means of appropriate policy instruments to make India global power in agriculture.
The policy aims at doubling India's share in world agro exports by earlier integration with the global value chain and facilitate farmers to get the benefit of export opportunities in the overseas market.
What are the Challenges to its implementation?
Depressed market: According to critics, the agriculture policy may prove to be a challenging task, considering the depressed international market for food grain, sugar, cooking oil and dairy and meat products.
Low prices: There will be an initiative to dispose of the excess produce in the international market, however, the challenge is that prices in the international market are already lesser than domestic prices.
Domestic requirement: The present minimum support price (MSP) of wheat and rice renders India's food grain welcome in the domestic market. In such a scenario, India cannot export it into the international market.
Political considerations: In India, MSP of food-grain is connected to politics, not to world trade. Thus political views drive MSPs, rather than world trade considerations.
Trade disputes: India has subsidised sugar prices and can compete in the international market, but nations such as Brazil will drag India to the WTO dispute settlement forum.
An on-going dispute at the World Trade Organization (WTO) should also be considered. The United States has already accused India of heavily subsidising farmers to keep prices low.
Way Forward
Some experts recommend that India should change its focus towards indigenous, unique products from food grain for the international market.
The farmers should be made aware and they must know when to start sowing since external factors such as global price affect the domestic scenario.
The government must concentrate on the production of items such as edible oil and vegetables, which India import, to support the Indian farmers.
To implement the policy, dedicated clusters could be created for items such as mangoes, pomegranate, bananas, grapes, tea, coffee, turmeric, and marine products, etc.
The government should create 'Brand India' to encourage exports and set up a strong quality regime for exports in which there would be higher involvement of states as well.