E-Waste Management in India – Challenges & Responses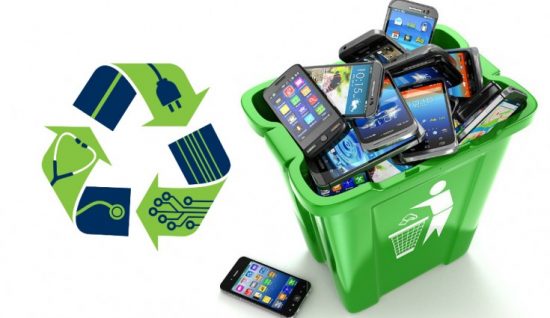 Electronic waste or e-waste refers to electronic products which have become unwanted, obsolete and have reached the end of their useful life. It refers to all electrical and electronic equipment (EEE) and its parts that have been discarded by its owner as waste without the intent of reuse.
According to Moore's law, the transistor numbers to be accommodated in same size chip doubles every 2 years = most electronic systems get outdated in about three years. Hence, people upgrade their mobiles, laptops, cameras, televisions, etc. creating an enormous amount of useless e-waste.
What is the magnitude of the e-waste problem?
According to the UN's "Global E-waste Monitor" Report 2017, globally, around 44.7 million metric tonnes (MMT) of e-waste was generated in 2016 and only 20 percent was recycled via suitable mediums.
China was the top e-waste generator in the world, producing 7.2 MMT.
India generated around 2 MMT of e-waste in 2016.
According to the report, India's electronics industry is one of the world's fastest growing industries and plays a huge role in the domestic generation of e-waste.
The report also mentions the problem of dumping of e-waste into India by developed countries.
According to the study conducted by ASSOCHAM-NEC,
E-waste generation by India was 1.8 MMT per annum in 2016 and would reach 5.2 MMT per annum by 2020.
Maharashtra is the biggest producer of e-waste in India followed by Tamil Nadu and Uttar Pradesh.
What are the impacts of E-waste on the environment and human health?
Air:
Disassembling and shredding of e-waste generate dust or large particulates into the surroundings and affects the respiratory health of waste management workers and others.
Moreover, unregulated burning of e-waste produces toxin especially brominated & chlorinated dioxins which are toxic and damaging to both neurological and immune system of humans and animals.
Water:
(Landfills are not properly designed to hold e-waste + Illegal dump sites + Improper recycling & disposal of e-waste) = compounds leach into the ground = Groundwater gets toxified due to heavy metals from e-waste.
Soil:
Soil is contaminated by direct contact with contaminants from e-waste or its by-products from recycling & disposal + indirectly through irrigation.
Soils become toxic when substances such as lead, mercury, cadmium, arsenic, and polychlorinated biphenyls(PCBs) are deposited in landfills.
Contaminated soils have bad impacts on microbes and plants => the pollutants reach higher animals or humans through the food chain.

What are the international initiatives regarding E-waste?
Basel Convention on the Control of the Trans-boundary Movement of Hazardous Waste, 1992
Originally, the Basel convention did not mention e-waste. E-waste was included only in 2006 (COP8).
The convention seeks to ensure environmentally sound management, prevention of illegal traffic to developing countries and building capacity to manage e-waste.
COP9 of the Basel convention adopted the

Nairobi declaration

which seeks to create innovative solutions for the environmentally sound management of e-waste.
It seeks to promote information exchange among parties over a range of potentially hazardous chemicals (including pesticides & industrial chemicals) that may be imported or exported.
What are the initiatives taken by India?
Intro:
Until 2011, E-waste was dealt with under the Hazardous Waste Management (HWM) Rules.
In 2011, the E-waste (Management and Handling) Rules, 2011 was enacted under the Environmental Protection Act 1986.
In 2016, the E-waste (Management) Rules, 2016 was enacted which replaced the 2011 rules and was eventually amended in 2018.
E-Waste (Management) Rules, 2016:
Applicability:
It covers Producers, Consumers, Collection Centres, Dismantlers & Recyclers, Manufacturers, Dealers, Refurbishers, and Producer Responsibility Organisations (PROs).
But Micro and Small Industries are exempted from its ambit.
The rules are applicable to several equipments/products, components, consumables, spares and parts of EEE.
Furthermore, Compact Fluorescent Lamp (CFL) and other mercury-containing lamp are also covered under the rules.
Collection:
The rules adopt collection based approach by introducing collection centres, collection point, take back system, etc. for collection of e-waste by producers under Extended Producer Responsibility (EPR). Note: EPR is an environmental policy approach by which the responsibility of the producer for a product is extended to the post-utility stage of a product's life cycle.
The rule provides for Pan India authorization of EPR by Central Pollution Control Board (CPCB) replacing the state-wise EPR authorization as provided under the 2011 rules.
Deposit refund scheme:
This serves as an additional economic instrument in which the producer charges an extra amount as a deposit during the sale of the equipment and returns it to the consumer along with interest when the used equipment is returned.
Liability for damages:
Liability for damages caused to the environment or third party because of improper management of e-waste has been introduced.
Financial penalty in case of violation of rules.
Role of State and Local Bodies:
States should ensure proper implementation of the rules.
Urban local bodies have been given the duty to collect and channelise the e-wastes to authorized dismantler or recycler.
Hazardous and other wastes (Management & Transboundary Movement) Rules 2016:
It seeks to ensure management, transboundary movement, resource recovery and disposal of hazardous waste in an environmentally sustainable manner.
Under the rules, waste electrical and electronic assemblies scrap are prohibited for import.
Programmes:
Awareness Program on Environmental Hazards of Electronic Waste: by Ministry of Electronics and Information Technology which aims at providing training, tools, and films that seeks to create awareness and minimising the impact of e-waste on the environment and health.
Creation of Management Structure for Hazardous Substances: This programme aims at creating awareness among people regarding the 2016 rules and its implementation.
Swachh Digital Bharat: seeks to raise awareness among the public regarding the recycling of e-wastes by unorganised sector and to educate them about alternative methods of disposing of their e-waste. The general public is encouraged to participate in the programme, by giving their e-waste to authorised recyclers only.
Greene: is a dedicated portal which seeks to create awareness about e-waste via social media.
How E-wastes are being managed in India?
Around 95% of the recycling of e-waste in India is done by the informal/unorganised sector.
Informal e-waste recycling units are distributed all over India.
Informal sector mostly follows the steps mentioned below:

Collection of e-waste from the rag pickers.
Disassembly of the products for their useable parts, components, modules, which are having resell value.
The rest of the material is chemically treated to recover precious/rare-earth metals. Non-recoverable materials are disposed of in landfills.

Organised or formal recycling units are very few in India. Unlike the informal sector, they use environmental-friendly methods for recycling of e-waste.
What are the issues or challenges with the E-waste management in India?
Lack of proper infrastructure & mechanism:
The number of present recycling and collection facilities does not match the amount of e-waste being generated in India.
Lack of effective collection and take-back system.
According to the ASSOCHAM study, only 5 percent of e-waste is formally recycled.
E-waste dumping by foreign countries:
Cross-border flow of waste equipment into India is a major problem.
India has been the destination of the hazardous and industrial wastes such as mercury, electronic and plastic wastes from the United States, asbestos from Canada, defective steel and tin plates from the EU, Australia and the US, Zinc ash, residues, lead waste and scrap, used batteries, etc. from European countries.
Issues with the informal sector:
Child Labour: ASSOCHAM report (2014) mentions that around 4.5 lakh child labourers are found to be engaged in several E-waste activities and that too without necessary protection and safeguards.
Occupational Health Hazard: Unscientific recycling methods + lack of proper safety gear = serious health effects to those employed in the informal sector.
Poor enforcement of EPR:
Setting up collection centres for entire India is not economically feasible for a company.
Customer care representatives do not know about their companies' responsibility to take back what they produce (EPR).
The producers/manufacturers do not have adequate information on their website regarding e-waste management.
Gaps in rules:
E-waste rules have also been violated on a regular basis and the informal sector stays unregulated.
There is no mechanism to verify whether all firms have achieved their EPR targets. Notably, the verification is only done via random checks by CPCB.
Moreover, according to the law, the responsibility of producers is not limited to waste collection, but also to make sure that the waste reaches the authorised recycler. However, there is no mechanism to ensure that the waste collected by producers is not going to unauthorised recyclers.
Lack of incentives:
There are no incentive schemes to promote people adopting a formal path of recycling.
The GST imposed a hefty 12% tax on electronic recyclers = deterrent for formal recycling.
Lack of awareness:
There is a lack of awareness among people since they don't know that there are collection centres exist to collect used electronics products for recycling.
Further, the lack of awareness results in poor segregation of waste.
Environmental concerns: Informal recycling and dumping of e-waste in landfills or burning of e-waste poses a serious threat to the environment and has far-reaching implications on animal and human health.
What is the way forward?
Checking unregulated e-waste imports: by strengthening the domestic legal framework.
Transition to formal: Measures needed to be taken to formalize the informal sector by integrating it with the formal sector.  The government should launch vocational training programs to rightly skill the present unorganized sector employees to make sure of their smoother transition to working with the organized sector.
R&D: The government must promote research into the development of better as well as environmentally-sustainable e-waste recycling methods.
Assessment: There is an urgent requirement for a detailed assessment of the E-waste including quantification, characteristics, current disposal practices, environmental impacts, etc.
Facilities: There is a need for more recycling facilities and the development of infrastructure to manage e-waste effectively. The government should promote Public-Private Partnership for setting up of e-waste collection, exchange, and recycling centres.
Incentives: There is a need for an effective take-back program by providing incentives to producers.
Mass awareness programmes: should be launched to promote consumers to reuse/ recycle electronic products and also educate them about the environmental and health impacts of e-waste.
Adopt Norway's Model
Norway has an e-waste take-back system in place for more than a decade now.
The producers/importers of e-waste in Norway are obliged to be members of a take-back company and have to pay a fee for their membership to the take-back companies.
This is how it provides the funding for collection and treatment of the waste
Take-back companies need to ensure that they will collect all e-waste from their market share which is determined by how much of electronics is put into the market by their members.
Adopt "R2 code of practices" certification
R2 stands for Responsible Recycling and is a standard specifically made for the electronics recycling industry by Sustainable Electronics Recycling International (SERI).
The standard is defined as "Responsible Recycling ("R2″) Practices for Use in Accredited Certification Programs for Electronics Recyclers".
R2 certified companies need to have a policy on handling used and end-of-life electronics equipment, components and materials with respect to strategies like reuse, materials and energy recovery and/or disposal.
This certification is meant for electronics recyclers.
Separate legislation:
The government should bring separate legislation on e-waste instead of handling it under the Environment Protection Act
Such legislation may call for establishing a central authority or a central public sector undertaking having experts from IT field and other technical domains possessing knowledge of e-waste disposal, management, and recycling techniques and its own e-waste collection centre/ recycling plants with state-of-art technologies, in all major cities of the country.
Learn More