Draft Defence Production and Export Promotion Policy, 2020 – Features, Challenges, Way Ahead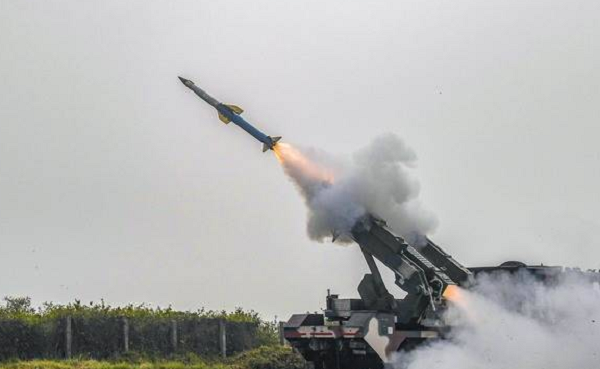 The Ministry of Defence (MoD) has put out Draft Defence Production and Export Promotion Policy (DPEPP) 2020 for public feedback. The draft policy seeks to enhance the defence production capabilities of the country for achieving self-reliance and increased exports. This comes at a time when India is facing security concerns at numerous fronts, with China and Pakistan's growing hostility towards India and neighbouring countries having closer ties with China.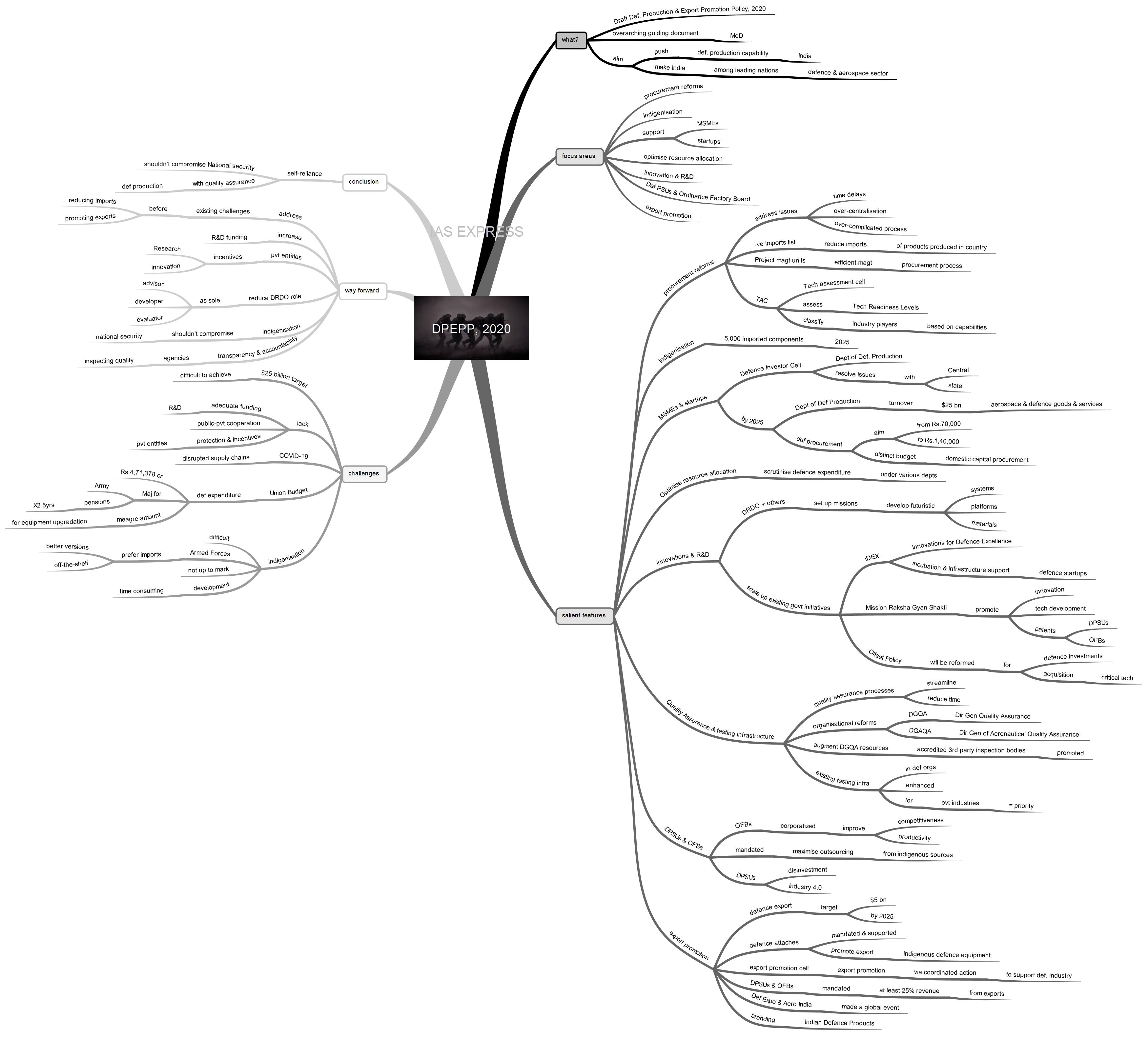 What is the Draft Defence Production and Export Promotion Policy, 2020?
Draft Defence Production and Export Promotion Policy, 2020 (DPEPP, 2020) is envisaged as an overarching guiding document of the Defence Ministry that aims to provide a focused and structured thrust to defence production capabilities of India.
It is in line with the Indian government's measures to achieve Atmanirbhar Bharat.
It also aims to make India one among the leading nations in the defence and aerospace sectors.
What are the focus areas of Draft DPEPP, 2020?
Draft DPEPP, 2020 provides for multiple strategies under the following focus areas:
Procurement Reforms
Optimise resource allocation
Investment promotion, FDI and Ease of Doing Business
Innovation and Research and Development
Defence Public Sector Undertakings and Ordnance Factory Board
Export Promotion
What are the salient features of DPEPP, 2020?
Procurement Reforms:
The draft policy addresses the issues faced during the procurement process, which include time delays, over-centralisation, over-complicated process etc.
In order to reduce imports of those products that can be produced within the country, the draft policy provides for a negative imports list.
Project Management Unit (PMU) proposed by the policy ensures efficient management of the procurement process.
It also mentions the Technical Assessment Cell (TAC), which assesses Technology Readiness Levels (TRLs) and classify various industry players according to their capability.
Indigenisation and support to MSMEs and Startups:
It proposes to indigenize 5,000 imported components (including alloys and special materials) and sub-assemblies for defence equipment by 2025.
The handholding of the MSMEs and startups is one of the focus areas of the draft policy. Defence Investor Cell in the Department of Defence Production will play a major role in this aspect by resolving issues with central, state and other authorities.
The Department of Defence Production aims to achieve a turnover of $25 billion in aerospace and defence goods and services by 2025. The share of domestic procurement in overall defence procurement is around 60%.
To enhance procurement from domestic industry, it is incumbent that the procurement is doubled from the current Rs.70,000 to Rs.1,40,000 by 2025.
To achieve this objective, it aims to carve out a distinct budget for domestic capital procurement.
Optimise resource allocation:
The draft policy proposes to scrutinise defence expenditure under various heads so as to prevent lesser priority items from receiving a major chunk of the budget.
Innovation and R&D:
Under this proposed policy, DRDO would collaborate with other scientific and industrial establishments to set up missions in certain areas to develop futuristic systems/platforms/materials.
For ensuring the growth of startups, the existing government initiatives will be scaled up. These include the following:
Innovations for Defence Excellence (iDEX): Provides incubation and infrastructure support for startups in defence.
Mission Raksha Gyan Shakti: Promotes a greater culture of innovation and technology development and file more number of patents in defence Public Sector Undertakings (DPSUs) and Ordnance Factory Boards (OFBs).
Offset Policy would be reformed to encourage defence investments and acquisition of critical technology.
DPSUs and OFBs:
OFBs, which are criticised for their ineffectiveness, will be corporatized to improve their competitiveness and productivity.
OFBs and DPSUs will be mandated to maximise outsourcing from indigenous sources.
Disinvestment of DPSUs will be pursued.
DPSUs will be encouraged to move towards Industry 4.0 to make use of modern technologies like AI, IoT, blockchain technology etc.
Quality Assurance and testing infrastructure:
The policy talks of streamlining quality assurance processes and reducing the time taken for the whole process without compromising the quality standards.
Organisational reforms are proposed for the Directorate General Quality Assurance (DGQA) and Directorate General of Aeronautical Quality Assurance (DGAQA).
To augment resources of DGQA, accredited third-party inspection bodies will be promoted.
Existing testing infrastructure with defence organisations would be enhanced and made available for private industry use on equal priority.
Export Promotion:
The policy sets a target of achieving Rs.35,000 crore ($5 billion) of defence export by 2025.
In order to achieve this target, defence attaches have been mandated and supported to promote exports of indigenous defence equipment abroad.
Export promotion cell will be set up to promote the exports via coordinated action to support the defence industry.
DPSUs and OFBs will be mandated to have at least 25% of their revenue from exports.
Defence Expo and Aero India will be made a global event. This will be supplemented by the branding of the Indian Defence Products.
What are the challenges?
Realising the target $25 billion would prove to a difficult feat to achieve. The total turnover of defence manufacturing in 2018-19 for the public sector is $8 billion and for the private sector, it is $2.48 billion.
India is the second-largest arms importer, making it vulnerable during a military crisis. Export promotion would be difficult without the necessary funding for research and innovation
The COVID-19 crisis has disrupted supply-chains on both civil and defence sectors. Measures must be taken to address this issue.
The Union Budget 2020-21 allocated 4,71,378 crore towards defence expenditure this year.
Despite this marginal increase, it is not sufficient to meet the department requirements.
Majority of the budget has been allocated to the Army, followed by the Navy and the IAF. Most of it is gone for paying pensions and salaries of personnel.
Pensions alone have doubled over the last five years. The magnitude of the allocation and it being a recurring future issue is a cause for concern.
This leaves marginal amounts left over for the MoD to upgrade its equipment. This is a huge challenge especially for IAF and Navy that are more tech-intensive than the Army.
Indigenisation would also be a challenge as Armed Forces currently prefer import rather than buying home-grown tech. the technology produced in India is not up to the mark and better versions of it are available off-the-shelf from the foreign suppliers.
It should be noted that most of this year's budget has gone towards acquiring new Tejas Mk 1A aircraft. Although indigenously developed, the aircraft took over 3 decades to reach fruition and match the capability of MiG-21 aircraft. Despite its meagre capabilities when compared to other fighter jets around the world, India plans to buy 83 Tejas Mk 1 A jets.
Another challenge facing India's defence sector is the inability of public entities cooperating with private players.
DRDO is currently discouraging private participation, claiming that they have superior expertise and thus should get priority in the strategic sector.
Forced indigenisation through ambitious short-time goals, as proposed by the draft policy, can make this situation worse.
It should also be noted that while DPSUs are given necessary protection, adequate assurances to the private entities are not provided. This prevents the necessary interactions between these entities.
What can be the way forward?
A thriving indigenous defence industry needs an overhaul of existing regulations and practices.
The draft Defence Production and Export Promotion Policy, 2020 proposes to do the same via a series of reforms.
This comprehensive and ambitious Draft DPEPP, 2020 will have to address the already existing challenges before seeking to reduce import dependence and promoting defence exports.
While increasing funding for R&D, incentives must be put in place to encourage private players to take up research and innovation in the sector.
To give private industry a level playing field for developing defence technologies, conflicts of interests, created by the role of DRDO as the government's sole adviser, developer and evaluator of technologies have to be addressed.
Indigenisation should not be at the cost of the country's security interests.
Transparency and accountability must be ensured for agencies that are involved in inspecting the quality of the defence equipment so as to not compromise the national security.
For any major reform, money, method and mindset are vital. Of these, mindset is the most critical and intractable. It takes a crisis to change it.
The current security issues because of Chinese aggression, the unreliability of the US and Pakistan's never-ending belligerence has created the crisis.
It can be made use of to overcome the resistance to change in the defence sector, the one that should be dominated by innovation and R&D and not by political red-tapism.
As for the issue of rising allocation of budget for pensions and not for technological development, it can be addressed ensuring double-digit growth of the Indian economy and reforming the Armed Forces. Freezing it or sending retired personnel to paramilitary forces is out of option, considering India's economy and security situation.
Conclusion:
Self-reliance in defence sector should not be at the cost of India's national security, though it is vital for securing the country during an unexpected crisis. In order to not compromise security, the government must take steps to promote indigenisation and export by ensuring the quality of defence production.
Practice question for mains:
What are the challenges faced by India's defence sector? How does the Draft Defence Production and Export Promotion Policy, 2020 seek to address them? (250 words)
Learn More