Reading Time:
5
mins
Recently, the DRDO's anti-satellite missile system (ASAT) project named Mission Shakti successfully destroyed a live satellite in the Low Earth Orbit (LEO) (300 km altitude). With this test, India became the fourth country after the US, Russia, and China to achieve the feat. It is considered to be a milestone for the institutions and a significant development in terms of strengthening the country's overall security. However, the test also sparked controversy regarding space militarization and space debris.
Click here to learn the basics of earth orbits before proceeding further.

What is ASAT?
ASAT is a weapon system designed to hit and destroy moving satellites in space by means of missiles launched from the ground.
The development of such systems has a long history fuelled by the cold war tensions between the United States and the former Soviet Union.
In 1985, the United States had used an anti-satellite system to destroy its P-781 satellite.
Anti-satellite weapons regained popularity after China conducted an anti-satellite missile test in 2007 targeting the Chinese weather satellite FY-1C.
A year later, the United States launched 'Operation Burnt Forest', to intercept and destroy a non-functioning US National Reconnaissance Office (NRO) satellite named USA-193.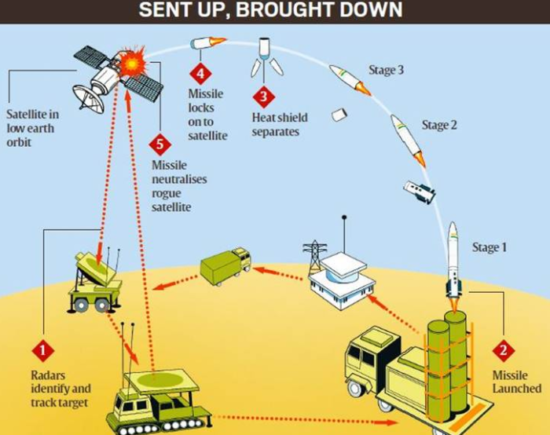 What is Mission Shakti?
India has been experiencing rapid development in its space programme particularly in the last 5 years with the launch of Mangalyaan mission to Mars and the government's approval for Gaganyaan Mission to take Indians to outer space.
India has undertaken 102 spacecraft missions comprising satellites for earth observation, communication, experimental, navigation, scientific research and exploration, education, etc. Thus India's space programme is an important pillar for India's economic, security and social infrastructure.
Therefore Mission Shakti is meant to safeguard our space assets and defend the country's interests in outer space.
The aim of the mission is also to destroy those satellites orbiting around the Earth aimlessly even after outliving its utility.
Mission Shakti targeted the micro-satellite named Microsat R which was launched by ISRO in 2007 and was orbiting at a distance of 300 km (LEO) from the Earth surface.
The test was carried out from the Dr. A.P.J Abdul Kalam Island launch complex off the coast of Odisha by the DRDO.
What are the key features of the mission?
Technology: DRDO's ballistic missile defence interceptor was utilized. The Kinetic kill space technology has also been used in the test.
Test and Debris: Test was conducted on lower atmosphere to make sure there is no space debris. Whatever debris created will decay and fall onto the earth within 2 weeks.
What are the arguments in favor of the mission?
Capability to destroy enemy satellites: The mission proves India's capability to shoot down a live satellite and disrupt the communication system of any hostile country trying to invade India's air space. It can cripple enemy infrastructure without causing a threat to human lives.
Protecting our space assets: It will serve as a credible deterrence against threats to our growing space assets from long-range missiles and proliferation in the types and numbers of missiles.
India among the elite group: With this mission, India joined the select club of countries such as the US, China, and Russia who have achieved this capability of bringing down live satellites orbiting earth.
Indigenous initiative: Indigenously developed technologies are used in this mission as India was kept away from acquiring key technologies for decades = forcing the country to develop its own space and nuclear capabilities.
Spin-off effect: India can also directly or indirectly exploit ASAT technology for civilian commercial purposes at both domestic and international level.
Drafting international space law: With this test, India has attained the space capacity to be considered a credible nation to play a role in drafting a future international law on prevention of arms race in outer space. It has to be noted that, India was not a nuclear weapons state when the Non-proliferation Treaty was signed in 1968.
What are the arguments against the mission?
Space weaponization: It will spur Pakistan to enter into the competition mode and start developing its own anti-satellite weapon systems leading to the militarization of the space in the neighborhood which is not good for India's security.
Space Debris Issue: The destruction of satellites into smaller pieces adds to the already existing space debris which will collide with the operational satellites and makes them dysfunctional.
Targeting high orbit satellites: Most of the satellites of the countries are placed in high earth orbit of around 30,000 km or even higher = India has to improve its capabilities to target them.
Election gimmick: The timing of the launch of the mission just before the election is viewed by many as an election gimmick to lure voters thus violating the Model Code of Conduct of the Election Commission.
Violation of international law: India is alleged to have violated the Outer space treaty to which India is a signatory. But India maintains that it has not violated the treaty since the treaty only prohibits weapons of mass destruction in space, not ordinary weapons which are meant for the safety and security of India's space assets.
What is India's stand?
Ministry of External Affairs has maintained that India is against the militarization of Outer space and supports international initiatives to strengthen the safety and security of space-based assets.
India has always maintained that space should be used only for peaceful purposes.
India did not violate any international law or treaty by testing this weapon system.
What are the international treaties regarding outer space?
It bans only weapons of mass destruction in outer space, not ordinary weapons.
India ratified it in 1982.
UN Transparency and Confidence Building Measures (TCBMs):
It requires countries to do the following

register their space objects with the UN register,
pre-launch notifications etc.

India is currently sharing this information with the UN.
Inter-Agency Space Debris Coordination Committee (IADC):
It is an inter-governmental forum meant for the coordination of activities regarding the issue of man-made and natural space debris.
India participates in IADC activities with respect to space debris management, undertaking SOPA (Space Object Proximity Awareness) and COLA (Collision Avoidance) Analysis.
UN resolution on No First Placement of Weapons on Outer Space: India has supported it.
What are some of the alternative technologies to bring down satellites?
Missile based weapon systems are not the only means to destroy satellites. There are many ways to bring down the satellites without directly destroying them as follows.
Jamming the satellite's communication system by interfering with its radio signals.
Sending another satellite that approaches the target satellite close enough to make it deviate from its orbit without actually destroying it.
Another option is to cripple the sensors of the satellites by using ground-based lasers which makes them partially blind so that they could not work properly.
However, these technologies are still in the experimental stage.
Way forward
Mission Shakti has made the Indians truly proud since the technologies used were wholly indigenous. The mission's success should not be used by the political parties for the electoral gains and also our premier institutions such as DRDO and ISRO should be protected from any kind of political meddling. Both DRDO and ISRO are committed to building a strong India, which would be instrumental in maintaining peace in the region.
India never had any interest in space weaponization and neither does it want to take it up now. However strong military capabilities are necessary for maintaining the peace in the region. Thus mission Shakti is a step towards muscle-building, not muscle-flexing.

Articles you should read: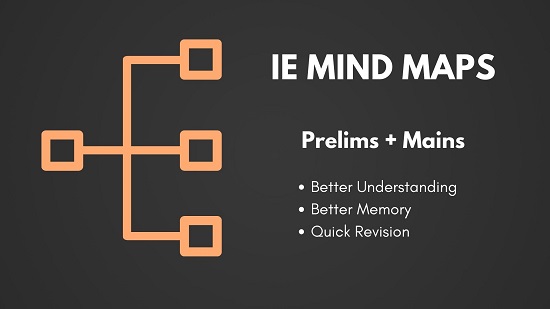 Related Posts: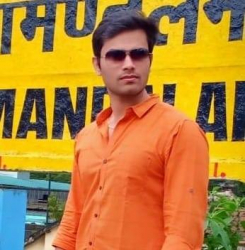 Latest posts by Santhosh Kumar
(see all)