[In-depth] India-Turkey Tensions – History and Grounds of contention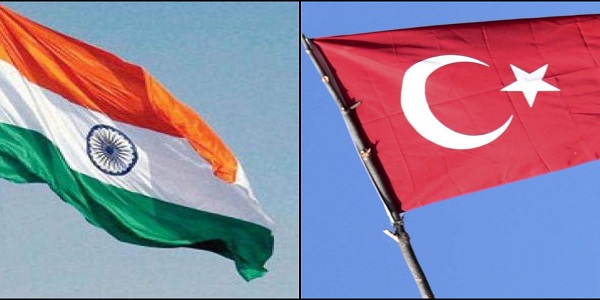 In a recent development, the Turkish government condemned the Naxal attack in Chhattisgarh in which 22 Indian security personnel were killed. While this is not the first time that Turkey has shown solidarity with India concerning domestic issues, it is interesting to note such a reaction from Turkey at a time when the relationship between both countries is not on good terms. For the last few years, the relationship between these nations has been turning sour on various grounds and both are trying to revitalise the relationship as Turkey has a major role to play in the Afghan peace process which has ramifications for India as well.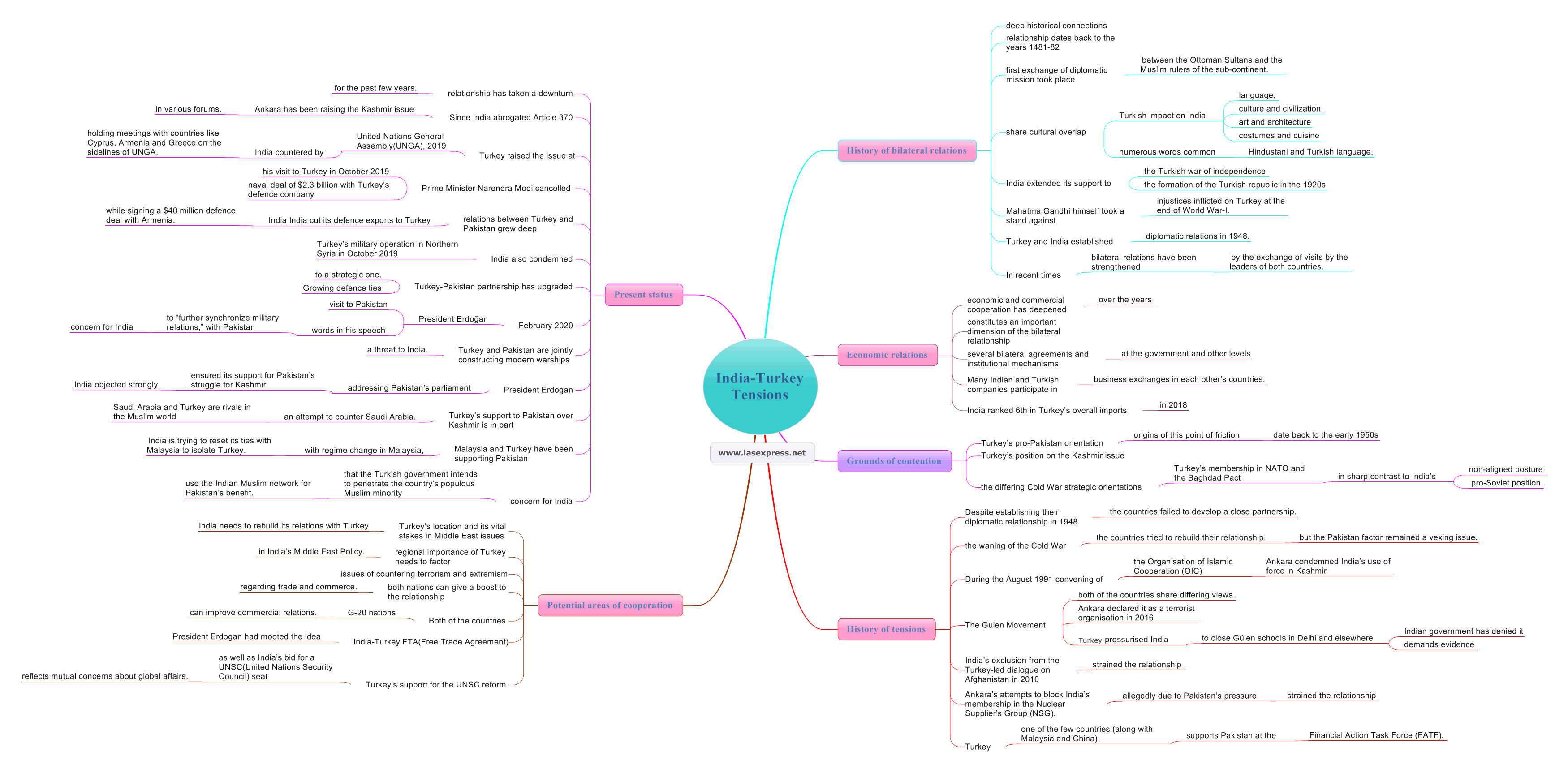 History of bilateral relations
India and Turkey have deep historical connections. The relationship dates back to the years 1481-82 when the first exchange of diplomatic mission took place between the Ottoman Sultans and the Muslim rulers of the sub-continent.
India and Turkey share cultural overlap as well. We can note the Turkish impact on India in the terms of language, culture and civilization, art and architecture, and costumes and cuisine. There are numerous words common in both Hindustani and Turkish language.
India also extended its support to the Turkish war of independence and the formation of the Turkish republic in the 1920s. Mahatma Gandhi himself took a stand against the injustices inflicted on Turkey at the end of World War-I. copyright©iasexpress.net
Turkey and India established diplomatic relations in 1948.
In recent times, bilateral relations have been strengthened by the exchange of visits by the leaders of both countries.
Economic relations
India-Turkey economic and commercial cooperation has deepened over the years and constitutes an important dimension of the bilateral relationship.
There are several bilateral agreements and institutional mechanisms at the government and other levels which tend to strengthen the relations between both countries.
Many Indian and Turkish companies participate in business exchanges in each other's countries.
India ranked 6th in Turkey's overall imports in 2018.
Grounds of contention
Both Turkey and India are middle-income secular democracies with deep historical connections. However, there is something that has impeded the development of more fruitful ties with India: Turkey's pro-Pakistan orientation.
The origins of this point of friction between the two countries date back to the early 1950s during the inception of the Cold War and the beginning of the Indo-Pakistan conflict.
Turkey's pro-Pakistan position on the Kashmir issue has given rise to the tensions between India and Turkey for a long time.
Secondly, the differing Cold War strategic orientations of both countries also did not let them develop their relationship fruitfully. Turkey's membership in NATO and the Baghdad Pact was in sharp contrast to India's non-aligned posture and pro-Soviet position. copyright©iasexpress.net
History of tensions
Despite establishing their diplomatic relationship in 1948, the countries failed to develop a close partnership.
With the waning of the Cold War, the countries tried to rebuild their relationship. Turkey-India relations seemed poised for progress on multiple fronts but the Pakistan factor remained a vexing issue.
During the August 1991 convening of the Organisation of Islamic Cooperation (OIC), Ankara condemned India's use of force in Kashmir, placing a strain on the relationship.
The Gulen Movement is another issue over which both of the countries share differing views. Ankara declared Gulen Movement as a terrorist organisation in May 2016 and pressurised India to close Gülen schools in Delhi and elsewhere. The Indian government has denied it and demands evidence from Ankara that would hold up in court.
India's exclusion from the Turkey-led dialogue on Afghanistan in 2010 and Ankara's attempts to block India's membership in the Nuclear Supplier's Group (NSG), both allegedly due to Pakistan's pressure, strained the relationship further.
Turkey is also one of the few countries (along with Malaysia and China) that supports Pakistan at the Financial Action Task Force (FATF), allowing Pakistan to escape being placed on the FATF blacklist for terror funding. copyright©iasexpress.net
Present status
Although both countries have tried to mend their relationship by keeping aside their relationship with Pakistan, the relationship has taken a downturn for the past few years.
Since India abrogated Article 370 of its constitution, which had given Jammu and Kashmir special status, in August 2019, Ankara has been raising the Kashmir issue in various forums.
Turkey raised the issue at the United Nations General Assembly(UNGA) in 2019. India countered by holding meetings with countries like Cyprus, Armenia and Greece on the sidelines of UNGA.
Prime Minister Narendra Modi cancelled his visit to Turkey in October 2019 and also the naval deal of $2.3 billion with Turkey's defence company.
As the relations between Turkey and Pakistan grew deep, India India cut its defence exports to Turkey while signing a $40 million defence deal with Armenia.
India also condemned Turkey's military operation in Northern Syria in October 2019.
During the same time, when India-Turkey relations are on the downturn, the Turkey-Pakistan partnership has upgraded to a strategic one. Growing defence ties between the two countries are also significant.
In his February 2020 visit to Pakistan, President Erdoğan's words in his speech to "further synchronize military relations," indicate concern for India and the souring of the Indo-Turkish relationship. copyright©iasexpress.net
Turkey and Pakistan are jointly constructing modern warships which can be a threat to India.
When President Erdogan addressed Pakistan's parliament and ensured its support for Pakistan's struggle for Kashmir, India objected strongly and remarked that Ankara should not interfere in India's internal matters. India also stated that such developments have strong implications for the bilateral relationship between them.
Turkey's support to Pakistan over Kashmir is in part an attempt to counter Saudi Arabia. Saudi Arabia and Turkey are rivals in the Muslim world. By backing Pakistan, Turkey hopes that Islamabad will side with Ankara and move away from Saudi Arabia. The fact that Saudi Arabia and the UAE have backed India's position Kashmir is further used by Turkey to woo Pakistan.
Malaysia and Turkey have been supporting Pakistan against India for a long time. But now with regime change in Malaysia, India is trying to reset its ties with Malaysia to isolate Turkey.
Meanwhile, it has become a concern for India that the Turkish government intends to penetrate the country's populous Muslim minority and use the Indian Muslim network for Pakistan's benefit. India's Muslim population has been used as a tool by Muslim countries to put pressure on India. copyright©iasexpress.net
Potential areas of cooperation
Given Turkey's location and its vital stakes in Middle East issues, India needs to rebuild its relations with Turkey. The regional importance of Turkey needs to factor in India's Middle East Policy.
The countries can also cooperate on issues of countering terrorism and extremism.
On the economic front, both nations can give a boost to the relationship regarding trade and commerce.
Both of the countries are G-20 nations and thus, they can improve commercial relations. During his visit to India, Turkish President Erdogan had mooted the idea of India-Turkey FTA(Free Trade Agreement). This idea can be taken forward and brought into action.
Turkey's support for the UNSC reform as well as India's bid for a UNSC(United Nations Security Council) seat reflects mutual concerns about global affairs.
Way forward
The recent happenings in global politics do not predict smoothening of India-Turkey relations. But with global politics evolving continuously, the interests of the countries will evolve and thus there is a huge chance of cooperation between both countries. India-Turkey relations are expected to gradually move in a positive direction based on newfound interests and some common grounds. The areas of cooperation can be explored and the 'Pakistan factor' needs to be sidelined to build a vibrant relationship. With strong political will and clever diplomacy, this can be done and the relationship can be turned from an adverse to a neutral one. copyright©iasexpress.net
Practise Question
Comment on India-Turkey bilateral relations and the recent tension between both countries.