[Editorial] The Impact of Conflict on Children and the Ethics of Protection
Introduction
Recent events in the Israel-Palestine conflict have brought to the forefront the devastating impact of conflicts on children. Nobel Peace Prize laureate, Kailash Satyarthi, has raised concerns about the protection of children in such situations. This article explores the ethical dimensions of the impact of conflicts on children and the importance of reconciliation over retribution.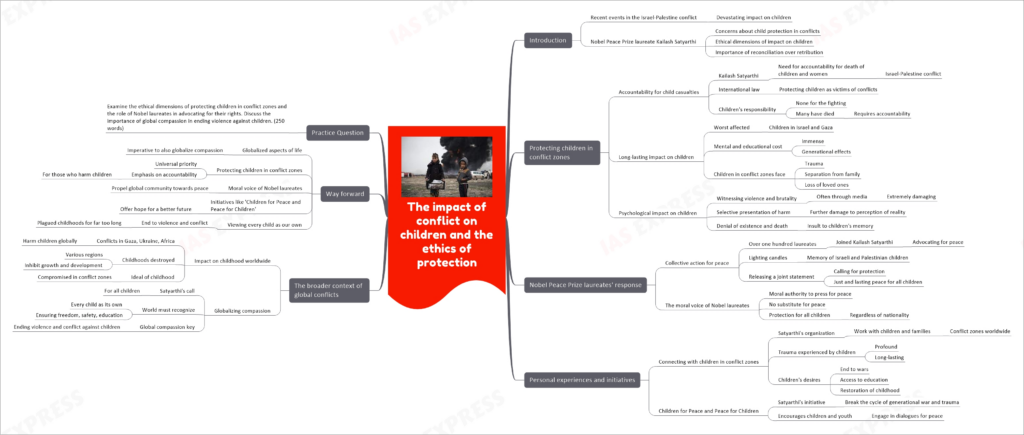 Protecting Children in Conflict Zones
Accountability for Child Casualties
Kailash Satyarthi emphasizes the need for accountability for the death of children and women in the Israel-Palestine conflict.
International law is clear about protecting children who are victims of conflicts.
Children bear no responsibility for the fighting, yet many have died, requiring accountability.
Long-lasting Impact on Children
The conflict's worst affected are the children in Israel and Gaza.
The mental and educational cost on children is immense and will have generational effects.
Children in conflict zones face trauma, separation from family, and loss of loved ones.
Psychological Impact on Children
Witnessing violence and brutality, often through media, can be extremely damaging for children.
Selective presentation of harm to children can further damage their perception of reality.
Denial of children's existence and death is an insult to their memory.
Nobel Peace Prize Laureates' Response
Collective Action for Peace
Over one hundred Nobel laureates have joined Kailash Satyarthi in advocating for peace. copyright©iasexpress.net
Lighting candles in memory of Israeli and Palestinian children.
Releasing a joint statement calling for protection and a just and lasting peace for all children.
The Moral Voice of Nobel Laureates
Nobel laureates have the moral authority to press the global community for peace.
They emphasize that there is no substitute for peace.
All children, regardless of nationality, are deserving of protection.
Personal Experiences and Initiatives
Connecting with Children in Conflict Zones
Satyarthi's organization has worked with children and families in conflict zones worldwide.
The trauma experienced by children in conflict is profound and long-lasting.
Children desire an end to wars, access to education, and the restoration of their childhood.
Children for Peace and Peace for Children
Satyarthi's initiative, 'Children for Peace and Peace for Children,' aims to break the cycle of generational war and trauma.
Encourages children and youth from conflicting zones to engage in dialogues for peace.
The Broader Context of Global Conflicts
Impact on Childhood Worldwide
Conflicts in Gaza, Ukraine, and Africa harm children globally.
Childhoods are destroyed in various regions, inhibiting children's growth and development.
The ideal of childhood is compromised in conflict zones.
Globalizing Compassion
Satyarthi calls for globalizing compassion for all children. copyright©iasexpress.net
The world must recognize every child as its own, ensuring freedom, safety, and education.
Global compassion is key to ending violence and conflict against children.
Way Forward
In a world that has globalized so many aspects of life, it is imperative that we also globalize compassion. Protecting children in conflict zones should be a universal priority, with a strong emphasis on accountability for those who harm them. The moral voice of Nobel laureates can help propel the global community towards peace, and initiatives like 'Children for Peace and Peace for Children' offer hope for a better future. It is only when every child is viewed as our own that we can truly put an end to the violence and conflict that has plagued childhoods for far too long.
Practice Question for Mains
Examine the ethical dimensions of protecting children in conflict zones and the role of Nobel laureates in advocating for their rights. Discuss the importance of global compassion in ending violence against children. (250 words)