[Editorial] Diplomatic Crisis: 8 Indian Navy Veterans Sentenced to Death in Qatar – An In-Depth Analysis
In recent news, the Indian government expressed shock at the verdict in the case against 8 Indian nationals, all formerly associated with the Indian Navy, who have been convicted in a Qatari trial and sentenced to death. This case has become one of the Modi government's most significant diplomatic challenges following the Commander Jadhav case in Pakistan.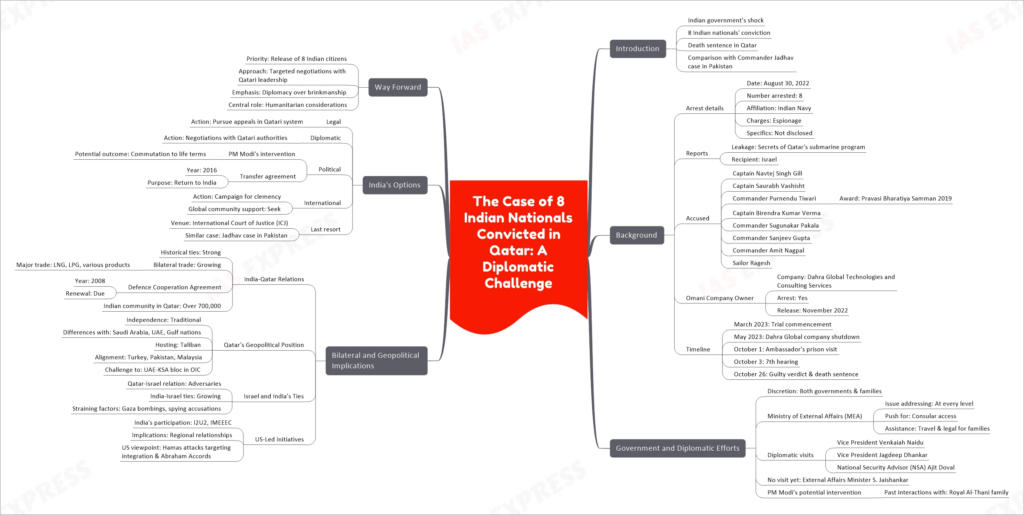 Background
August 30, 2022
Eight Indian nationals, including seven former Naval Commanders and Captains, and one former Naval sailor, were arrested by Qatari authorities.
The arrests were made on charges of espionage, but detailed charges, evidence, and the judgment's specifics were not disclosed to the accused or their families.
Reports, including one by Qatar's Al Jazeera network, suggested that secrets related to Qatar's stealth submarine program were leaked to Israel.
Notably, all the officers had outstanding service records, with Commander Purnendu Tiwari receiving the Pravasi Bharatiya Samman in 2019.
The Accused
Captain Navtej Singh Gill
Captain Saurabh Vashisht
Commander Purnendu Tiwari
Captain Birendra Kumar Verma
Commander Sugunakar Pakala
Commander Sanjeev Gupta
Commander Amit Nagpal
Sailor Ragesh
Omani Company Owner
The Omani owner of the company Dahra Global Technologies and Consulting Services was also arrested but was released on bail in November 2022.
Timeline
March 2023: The trial begins. copyright©iasexpress.net
May 2023: Dahra Global company shuts down.
October 1: Indian Ambassador to Qatar met the 8 men in prison, was given consular access.
October 3: 7th hearing in the case in the Court of First Instance.
October 26: The court hands down a guilty verdict in the case of espionage and pronounces a death sentence.
Government and Diplomatic Efforts
Given the sensitive nature of the case, both the Indian government and Qatari authorities have been discreet in their responses. The families of the accused have also refrained from making public statements. However, some notable diplomatic efforts have been made:
The Ministry of External Affairs (MEA) has taken several steps, including raising the issue at every level and lobbying for the release of the accused.
The MEA has been pushing for consular access to the imprisoned men.
The government has facilitated the families' travel and stay in Qatar and provided assistance with legal matters.
High-ranking Indian officials, including Vice President Venkaiah Naidu and Vice President Jagdeep Dhankar, visited Doha, but the specifics of their discussions with Qatari leadership remain undisclosed.
National Security Advisor (NSA) Ajit Doval is believed to have visited Qatar to intercede on behalf of the accused.
External Affairs Minister S. Jaishankar, who has visited Qatar in the past, has not made an official visit regarding this case. copyright©iasexpress.net
The question remains whether Prime Minister Modi will intervene at his level for clemency, considering his previous interactions with the Royal Al-Thani family.
Bilateral and Geopolitical Implications
This case has significant bilateral and geopolitical undertones:
India-Qatar Relations:

Historically, India and Qatar have had strong bilateral ties.
Bilateral trade has been steadily growing, primarily driven by Qatar's LNG and LPG exports to India and Indian exports of various products to Qatar.
The two nations signed a Defence Cooperation Agreement in 2008, which is due for renewal.
Qatar hosts a substantial Indian expatriate community, with over 700,000 Indians working in various capacities.

Qatar's Geopolitical Position:

Qatar has traditionally maintained its independence and has sometimes been at odds with Saudi Arabia, the UAE, and other Gulf nations.
Qatar's role in hosting the Taliban and facilitating negotiations with various groups has raised suspicions.
The country has aligned itself with Turkey, Pakistan, and Malaysia, challenging the UAE-KSA bloc in the OIC.

Israel and India's Ties:

Qatar and Israel have historically been adversaries.
India's growing ties with Israel have potentially strained relations with Qatar.
Recent events, including the Gaza bombings and accusations of spying for Israel, have further complicated the situation.

US-Led Initiatives:

India's participation in US-led initiatives such as I2U2 and IMEEEC has implications for its regional relationships. copyright©iasexpress.net
The US has suggested that the Hamas attacks in the region targeted regional integration efforts and the Abraham Accords.
India's Options
Considering the complex nature of the case and its diplomatic implications, India has several options:
Pursue Legal Appeals:

The accused can explore legal avenues for appeals within the Qatari legal system.

Diplomatic Resolution:

India can continue diplomatic efforts to resolve the case through negotiations with Qatari authorities.

Political Intervention:

Prime Minister Modi could personally request a pardon if Qatar agrees to commute the sentences to life terms.
An agreement on the transfer of sentenced prisoners, dating back to 2016, could facilitate their return to India.

International Campaign:

India can build an international campaign to appeal for clemency and garner support from the global community.

International Court of Justice (ICJ):

As a last resort, India could file a case at the International Court of Justice, similar to the Jadhav case in Pakistan.
Way Forward
With the conviction of the 8 Indian citizens and former naval servicemen, the government must prioritize their release. This case demands a focused approach through targeted negotiations with the Qatari leadership. Diplomatic efforts should be swift, emphasizing diplomacy over brinkmanship. Humanitarian considerations should play a central role in India's approach to resolving this sensitive issue. copyright©iasexpress.net
Practice Question for Mains
Examine the multifaceted diplomatic and geopolitical challenges that India faces in the case of 8 Indian nationals convicted in Qatar. Discuss the possible strategies and approaches that India can adopt to resolve this complex international issue. (250 words)