[In-depth] India-Qatar Relations: History, Economic, Cultural & Defence Ties
Introduction to India-Qatar Relations
The relationship between India and Qatar has evolved into a significant and multi-dimensional partnership, marked by close ties and mutual cooperation. Established in 1973, this relationship has a rich history that predates the formal diplomatic ties, with connections rooted in traditional trades like pearls, dhows, spices, and textiles. These historical links have fostered a deep cultural and people-to-people bond between the two nations.
In the contemporary context, the India-Qatar relationship encompasses a wide spectrum including political, economic, defense, and cultural aspects. Economically, the relationship is particularly strong, with India being a key export destination for Qatar, especially in the hydrocarbon sector. Notably, Qatar has emerged as the largest supplier of liquefied natural gas (LNG) to India, fulfilling about 70% of India's natural gas requirements. The bilateral trade between the two countries was valued at USD 10.95 billion in 2019-20, highlighting the economic significance of their relationship​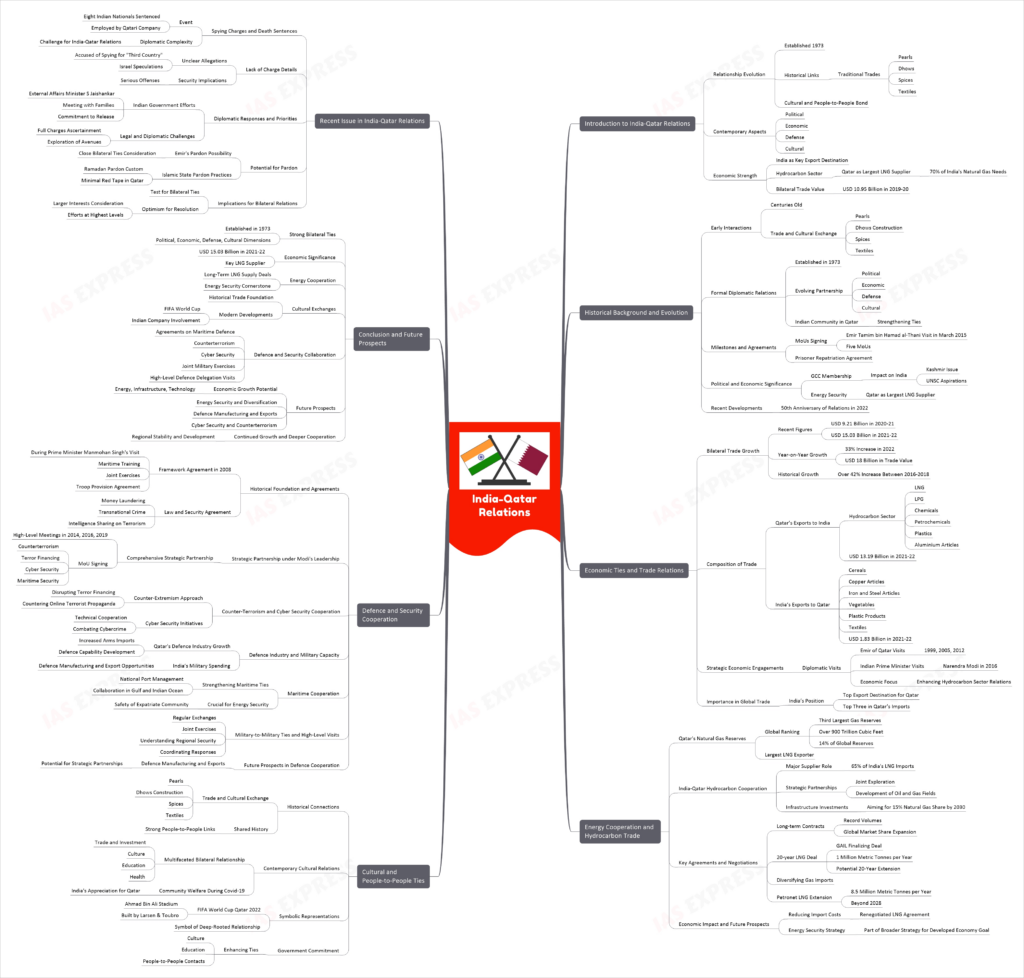 Historical Background and Evolution of India-Qatar Relations
Early Interactions: The relationship between India and Qatar is deeply rooted in history, stretching back centuries before formal diplomatic ties were established. These early interactions were characterized by:

Trade: Trade played a crucial role in the initial bonding between the two regions, with notable commerce in pearls, the construction of dhows (traditional boats), spices, and textiles. copyright©iasexpress.net
Cultural Exchange: These trading activities also facilitated cultural exchanges and fostered people-to-people contact, laying the groundwork for a robust relationship.

Formal Diplomatic Relations:

Establishment: The formal diplomatic relations between India and Qatar were established in 1973.
Evolving Partnership: Since then, the relationship has evolved to encompass a wide range of areas, including political, economic, defense, and cultural aspects.
Indian Community in Qatar: The presence of a large Indian community in Qatar has been instrumental in strengthening ties across various sectors.

Milestones and Agreements:

Memoranda of Understanding (MoUs): A significant step in the evolution of India-Qatar relations was marked by the signing of five MoUs during the visit of Emir Tamim bin Hamad al-Thani to India in March 2015. These MoUs covered cooperation in various fields.
Prisoner Repatriation Agreement: Additionally, an agreement on prisoner repatriation was also concluded.

Political and Economic Significance:

Gulf Cooperation Council (GCC): Qatar's membership in the GCC is politically significant for India, particularly concerning issues like Kashmir and India's aspirations for permanent membership in the United Nations Security Council (UNSC).
Energy Security: Economically, Qatar's role as the largest supplier of LNG to India underscores the strategic importance of this relationship in terms of energy security for India. copyright©iasexpress.net

Recent Developments:

50th Anniversary of Relations: The year 2022 marked the completion of 50 years of India-Qatar diplomatic relations, a milestone that underscores the enduring and strengthening bond between the two nations.
Economic Ties and Trade Relations between India and Qatar
Bilateral Trade Growth:

Recent Figures: Bilateral trade between India and Qatar has shown remarkable growth in recent years. For the financial year 2020-21, the trade was around USD 9.21 billion. This figure increased significantly to USD 15.03 billion in 2021-22.
Year-on-Year Growth: In 2022, the bilateral trade value crossed USD 18 billion, marking a 33% increase from the previous year.
Historical Growth: The trade volume has been on a consistent rise, with a notable increase of over 42% between 2016 and 2018.

Composition of Trade:

Qatar's Exports to India: Qatar's exports to India have been predominantly in the hydrocarbon sector, including LNG, LPG, chemicals, petrochemicals, plastics, and aluminium articles. In 2021-22, Qatar's exports to India were valued at USD 13.19 billion.
India's Exports to Qatar: India's exports to Qatar include a variety of products such as cereals, copper articles, iron and steel articles, vegetables, plastic products, and textiles. India's exports to Qatar in 2021-22 amounted to USD 1.83 billion.

Strategic Economic Engagements:

Diplomatic Visits and Economic Focus: High-level diplomatic visits have been pivotal in strengthening economic ties. Notable visits include those by the Emir of Qatar to India in 1999, 2005, and 2012, and Indian Prime Minister Narendra Modi's visit to Doha in 2016, which emphasized enhancing economic relations, particularly in the hydrocarbon sector. copyright©iasexpress.net

Importance in Global Trade:

India's Global Trade Position with Qatar: India consistently ranks as one of the top export destinations for Qatar. It is also among the top three sources of Qatar's imports, underlining the strategic importance of India in Qatar's global trade engagements.
Energy Cooperation and Hydrocarbon Trade
Qatar's Natural Gas Reserves:

Global Ranking: Qatar possesses the world's third largest gas reserves, exceeding 900 trillion cubic feet, which is approximately 14% of global reserves.
Largest LNG Exporter: Qatar is the world's leading exporter of liquefied natural gas (LNG).

India-Qatar Hydrocarbon Cooperation:

Major Supplier: Qatar is the largest supplier of LNG to India, accounting for 65% of India's total LNG imports.
Strategic Partnerships: India has agreements with Qatar for joint exploration and development of oil and gas fields in Qatar.
Infrastructure Investments: India is actively investing in building gas infrastructure to increase the share of natural gas in its energy mix, aiming for 15% by 2030 (up from about 6.5% currently).

Key Agreements and Negotiations:

Long-term Contracts: Qatar seeks to sign record volumes of long-term sales contracts, expanding its global market share.
20-year LNG Deal: India, through its government-backed gas supplier GAIL, is finalizing a significant LNG supply deal with Qatar for at least 1 million metric tonnes of LNG per year, potentially extending for over 20 years. copyright©iasexpress.net
Diversifying Gas Imports: The deal aligns with India's strategy to diversify its gas imports and hedge against potential supply disruptions.
Petronet LNG Extension: Petronet LNG, partly owned by GAIL, is negotiating an extension beyond 2028 for its long-term LNG deal with Qatar, under which Qatar supplies 8.5 million metric tonnes per year.

Economic Impact and Future Prospects:

Reducing Import Costs: India has successfully renegotiated its LNG agreement with Qatar, significantly lowering the cost of importing natural gas.
Energy Security Strategy: These energy agreements are part of India's broader strategy to ensure energy security and support its goal of becoming a developed economy.
Cultural and People-to-People Ties
Historical Connections:

Trade and Cultural Exchange: The cultural ties between India and Qatar have been nurtured over centuries through trade and cultural exchange. Historical trade involved pearls, the construction of dhows (traditional boats), spices, and textiles.
Shared History: These exchanges contributed to a shared history and understanding, fostering strong people-to-people links over time.

Contemporary Cultural Relations:

Multifaceted Bilateral Relationship: In recent times, the two countries have focused on strengthening their multifaceted bilateral relationship, encompassing not only trade and investment but also culture, education, and health.
Community Welfare: During the Covid-19 pandemic, India appreciated Qatar for taking care of the Indian community, highlighting the close and supportive ties between the nations. copyright©iasexpress.net

Symbolic Representations:

FIFA World Cup Qatar 2022: The Ahmad Bin Ali Stadium, built by Indian company Larsen & Toubro for the FIFA World Cup Qatar 2022, stands as a symbol of the deep-rooted relationship and shared history between India and Qatar.

Government Commitment:

Enhancing Ties: Both countries have pledged to enhance their bilateral ties, with a particular emphasis on culture, education, and people-to-people contacts, reflecting the commitment at the governmental level to deepen these connections.
Defence and Security Cooperation
Historical Foundation and Agreements:

Framework Agreement (2008): A pivotal moment in India-Qatar defence cooperation was in November 2008, when the two countries signed a framework agreement on defence and security during Prime Minister Manmohan Singh's visit to Qatar. This agreement encompassed areas such as maritime training, joint exercises, and provision for India to send troops if Qatar is threatened.
Law and Security Agreement: This visit also saw the signing of another agreement focusing on law and security, covering aspects like money laundering, transnational crime, and intelligence sharing on terrorism.

Strategic Partnership under Modi's Leadership:

Comprehensive Strategic Partnership: Prime Minister Narendra Modi's tenure saw a push towards transforming defence cooperation into a more comprehensive strategic partnership. High-level meetings in 2014, 2016, and 2019 aimed to deepen defence relations, culminating in the signing of a Memorandum of Understanding (MoU) covering counterterrorism, terror financing, cyber security, and maritime security. copyright©iasexpress.net

Counter-Terrorism and Cyber Security Cooperation:

Counter-Extremism Approach: Both countries are working on a coordinated approach to counter extremism, focusing on disrupting terror financing and countering online terrorist propaganda.
Cyber Security Initiatives: MoUs and protocols have been initiated for technical cooperation in cyber security and combating cybercrime.

Defence Industry and Military Capacity:

Qatar's Defence Industry Growth: Qatar is enhancing its military experience and diversifying its defence partners. Its arms imports have significantly increased, indicating a strategic effort to develop its modest defence capabilities.
India's Military Spending and Opportunities: India, as one of the largest military spenders globally, sees potential in establishing defence manufacturing and export cooperation with Qatar.

Maritime Cooperation:

Strengthening Maritime Ties: A significant aspect of the defence partnership is maritime cooperation, with agreements enhancing national port management and collaboration in the Gulf and Indian Ocean regions. This cooperation is crucial for India's energy security and the safety of its expatriate community in the region.

Military-to-Military Ties and High-Level Visits:

Regular Exchanges and Joint Exercises: The defence relationship is further bolstered by regular military delegation exchanges, high-level visits, and joint exercises. These interactions are key to understanding the security situation in the region and coordinating responses to shared security challenges. copyright©iasexpress.net

Future Prospects in Defence Cooperation:

Defence Manufacturing and Exports: Given the evolving nature of the Indian defence industry, there is significant potential for cooperation in defence manufacturing and exports. This includes inviting foreign direct investment in Indian defence manufacturing, with possibilities for strategic partnerships.
Conclusion and Future Prospects of India-Qatar Relations
Strong Bilateral Ties: India and Qatar share a robust bilateral relationship, with diplomatic ties established in 1973. The relationship encompasses political, economic, defense, and cultural dimensions.
Economic Significance: Bilateral trade between India and Qatar reached approximately USD 15.03 billion in 2021-22. Qatar is a key supplier of LNG to India, accounting for a significant portion of India's natural gas imports.
Energy Cooperation: Energy security is a cornerstone of this relationship, with Qatar being the largest LNG supplier to India. Ongoing negotiations for long-term LNG supply deals highlight the future trajectory of this cooperation.
Cultural Exchanges: The historical trade in pearls, dhows, spices, and textiles laid the foundation for strong cultural and people-to-people ties. Modern developments, like Qatar's hosting of the FIFA World Cup and the involvement of Indian companies, continue to strengthen these ties.
Defence and Security Collaboration: The defence partnership has evolved significantly, with agreements on maritime defence, counterterrorism, and cyber security. Joint military exercises and high-level defence delegation visits underscore the commitment to security cooperation. copyright©iasexpress.net
Future Prospects:

Economic Growth: The potential for further growth in trade and investment remains high, particularly in sectors like energy, infrastructure, and technology.
Energy Security and Diversification: Ongoing negotiations and agreements in the energy sector will likely continue to play a pivotal role.
Defence Manufacturing and Exports: Opportunities for cooperation in defence manufacturing and exports are emerging as a new area of partnership.
Cyber Security and Counterterrorism: Collaborative efforts in cyber security and counterterrorism are expected to intensify, addressing shared challenges in these domains.
In conclusion, the India-Qatar relationship, characterized by its depth and diversity, is poised for continued growth and deeper cooperation across multiple sectors. This partnership not only benefits the two nations but also contributes to regional stability and development.
Recent Issue in India-Qatar Relations
Spying Charges and Death Sentences:

Event: Recently, a Qatari court sentenced eight Indian nationals, employed by a Qatari company, to death on spying charges.
Diplomatic Complexity: This development poses a significant diplomatic challenge for India, raising concerns about the future of India-Qatar relations.

Lack of Charge Details:

Unclear Allegations: The specific details of the charges have not been disclosed by either New Delhi or Doha. Reports suggest the individuals were accused of spying for a "third country," with some speculations pointing to Israel. copyright©iasexpress.net
Security Implications: The confinement conditions of the accused hinted at serious security-related offenses, adding complexity to the situation.

Diplomatic Responses and Priorities:

Indian Government's Efforts: India's External Affairs Minister, S Jaishankar, met with the families of the sentenced individuals and emphasized the government's commitment to making all efforts for their release.
Legal and Diplomatic Challenges: Experts and diplomats have highlighted the need for ascertaining the full list of charges and exploring legal, diplomatic, and political avenues for a resolution.

Potential for Pardon:

Emir's Pardon Possibility: There is speculation that Qatar's ruling emir might pardon the sentenced individuals, considering the close bilateral ties and the importance of India to Qatar.
Islamic State Pardon Practices: It is customary in Islamic states to grant pardons during the holy month of Ramadan, and Qatar is known for not having extensive red tape in such processes.

Implications for Bilateral Relations:

Test for Bilateral Ties: The sentencing of these Indian nationals is seen as a test for the India-Qatar relationship, requiring careful diplomatic handling to ensure a favorable outcome.
Optimism for Resolution: Former diplomats express optimism that the larger interests of bilateral relations will not be harmed and that efforts will be made at the highest levels to resolve the issue. copyright©iasexpress.net
Practice Question for Mains
Evaluate the impact of the recent espionage case on India-Qatar relations and suggest measures for strengthening these ties amidst regional complexities. (250 words)