[In-depth] Social Media and Women Empowerment – Potential, Challenges, Way Ahead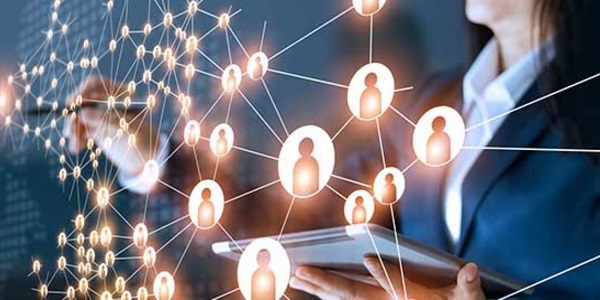 Recently, pop star Rihanna's tweet turned the global spotlight on internet shutdowns at sites where farmers' protests were taking place. She and other eminent women who tweeted support to the farmers' protests later became victims of misogynistic comments from those who were offended by the said tweets. The social media was at its lowest when several critics resorted to slut-shaming, name-calling and glorifying abuse against these women. From this incident, it is evident that, while social media plays a powerful role in enabling women's voice to be heard, it also fails to curb harmful and toxic contents by its users. Such instances often forcefully silences women users. It is the duty of the government and social media to protect women from such a harmful environment.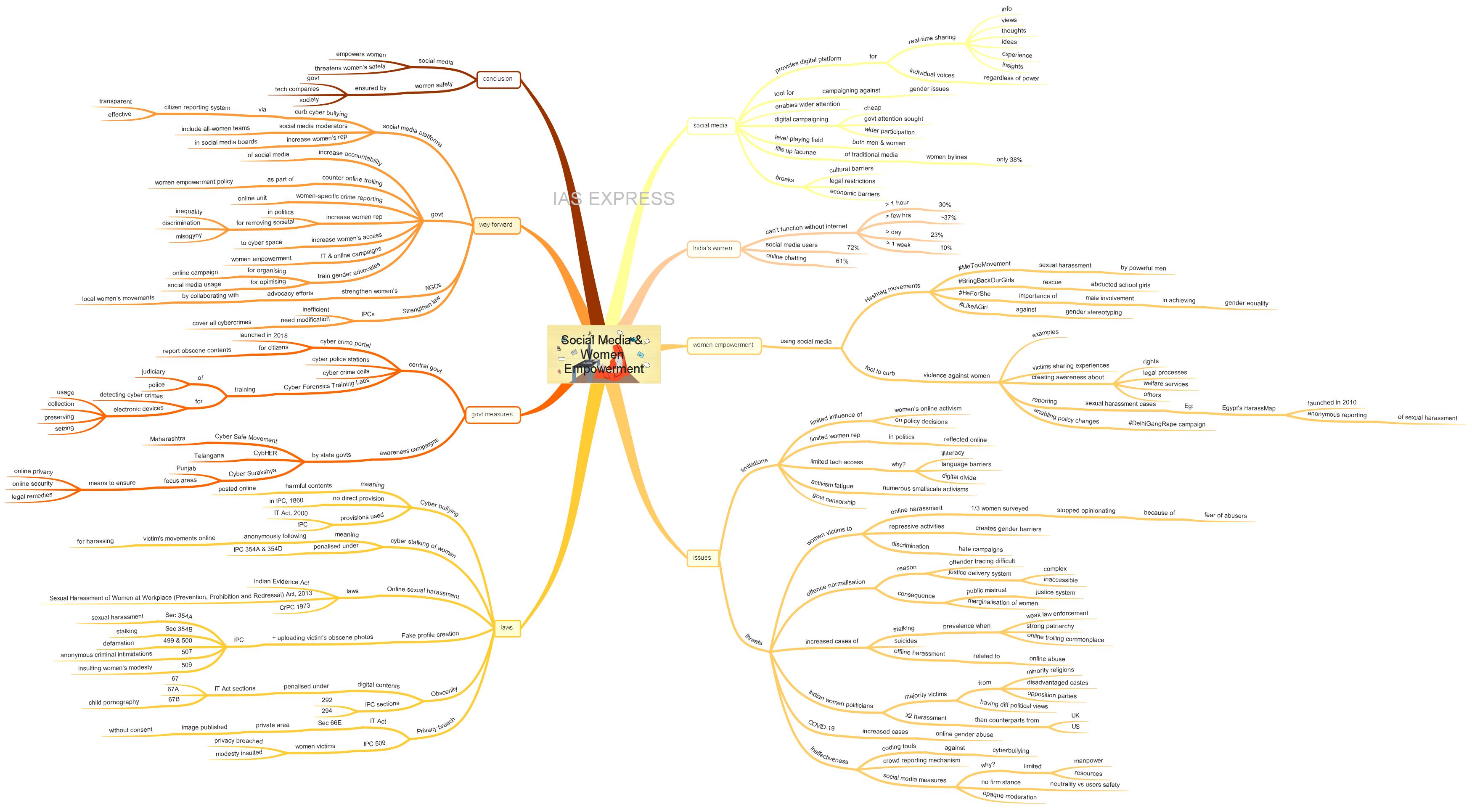 Can social media help empower women?
Social media provides a digital platform to create, communicate, share, discuss and exchange information, views, thoughts, ideas, experience, insights etc., among users in real-time across the world.
This has led to social media becoming a tool for women to campaign against issues like gender stereotyping, gender suppression etc.
It has now become a powerful channel for enabling wider attention of the community at large.
In digital platforms, the cost of participating for a cause or in a protest is cheaper. This encourages more people to participate and force governments to pay heed. copyright©iasexpress.net
While women still remain underrepresented, social media provides a level playing field by allowing individual voices from a wider range of backgrounds to be heard, with or without the traditional power.
It fills up the lacunae presented by the traditional media, where women receive only 38% of bylines.
A study by the Qatar Computing Research Institute found that in countries having large gender inequalities in offline life, women are more likely to have a significant presence. For instance, in Pakistan, women have more followers than their male counterparts in social media platforms like Twitter.
Social media breaks cultural barriers, legal restrictions, economic barriers and more, enabling the better representation of women from across the globe, even from countries following misogynistic systems.
It has played a critical role during the pandemic in enabling the continuation of activism even amid the lockdown and social distancing.
How prevalent is social media usage among Indian women?
A survey by a market research firm YouGov India revealed that despite the poor internet penetration within the country:
Nearly 37% of Indian women cannot function without the internet for more than a few hours
30% of women cannot do without the internet for more than an hour
23% of women cannot be without using the internet for more than a day and 10% beyond a week. copyright©iasexpress.net
72% of women use the internet for accessing social media and 61% use it for online chatting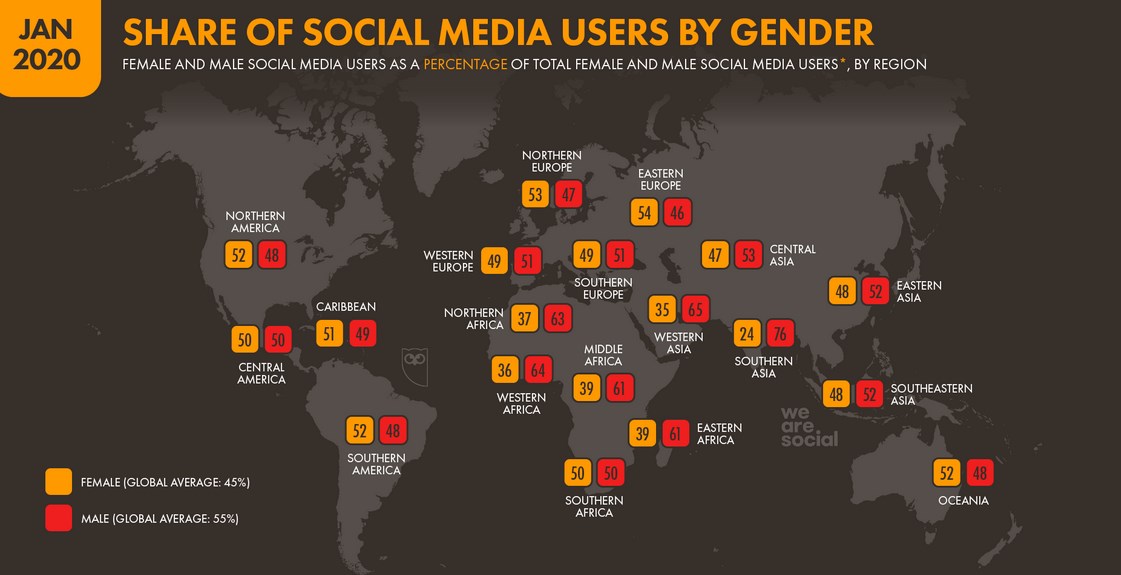 How was the social media used for women empowerment?
Hashtag activisms sought to mobilise the public for a particular cause. Some of the notable examples include:
#MeTooMovement: a global campaign to bring public attention to sexual harassment and abuse by powerful and prominent men
#BringBackOurGirls: campaign to rescue abducted schoolgirls
#HeForShe campaign: campaign led by the UN Women for highlighting the need for the involvement of men and boys for achieving gender equality
#LikeAGirl campaign sought to curb gender stereotyping and increase confidence among women and girls.
#GenerationEquality campaign was launched in 2020 during the 25th anniversary of The Beijing Declaration and Platform for Action of 1995. The Beijing Declaration and Platform for Action of 1995 was ratified by 189 countries for furthering women's rights.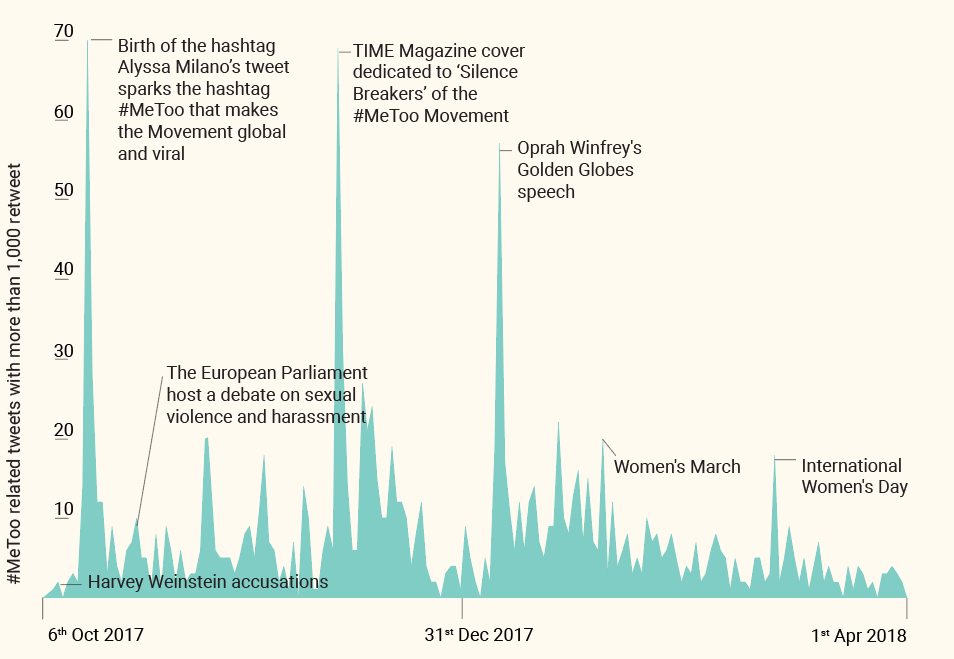 Social media was used as a tool to curb violence against women. It was used for the following purposes:
Experience sharing by victims
Creating awareness about rights, legal processes, welfare services etc.
Reporting of sexual harassment cases. For instance, Egypt launched HarassMap in 2010 for enabling anonymous reporting of sexual harassment cases and mapping all such reports
Forcing policy changes. Eg: #DelhiGangRape campaign that came response to the Nirbhaya case brought to spotlight the scale of gender violence in India and supported the public protest. This led to the government introducing stringent punishments for sexual assaults and funding for women's safety. It also resulted in more women reporting rape cases. copyright©iasexpress.net
What are the challenges?
Limitations:
The influence of online activism by women on policy decisions remains limited and unpredictable. This is similar to the offline struggles of women across the world
Limitations of the political representation of women are reflected in the online activisms.
Women have limited access to new technologies due to illiteracy, language barriers and the digital divide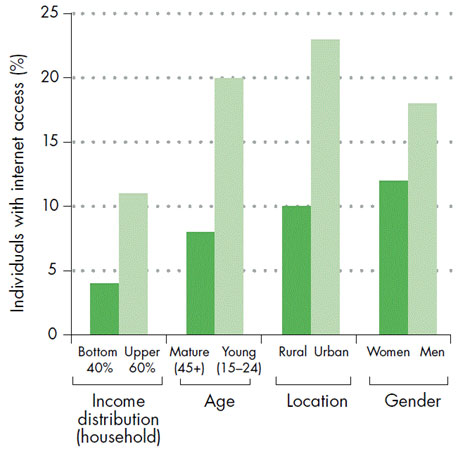 A large number of small online campaigns on specific issues overwhelms and leads to activism fatigue. This curbs the scaling up of the campaigns and attracting more supporters.
Campaigns by women activists are sometimes subject to censorship by governments
Threats:
Women are the most vulnerable to cyber abuse like online harassment.
Increased attention of women in social media often makes them the target of repressive activities. This results in gendered barriers for women online as in public places.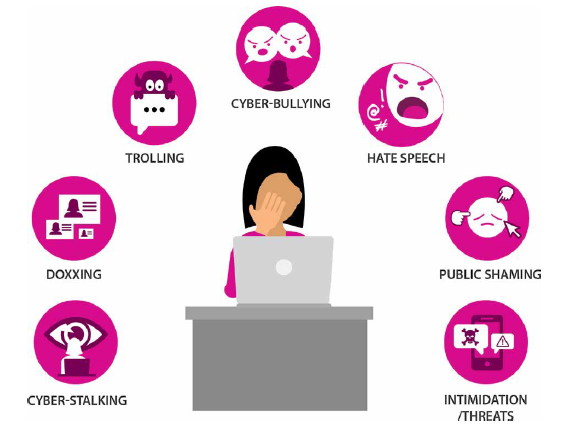 Online offences are often normalised due to the difficulty in tracing offenders and the complexity and inaccessibility of the justice delivery mechanisms
This creates mistrust of the public towards the justice system, leading to the further marginalisation of women.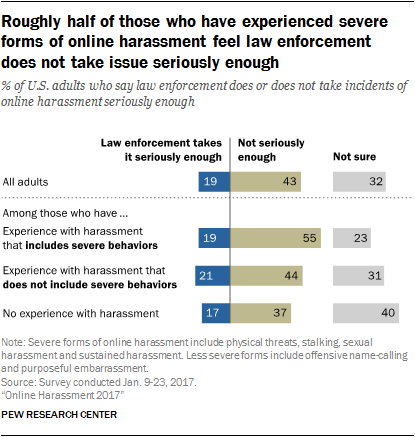 In this backdrop, social media has become a tool for the rapists to threaten their victims to not report the crime.
Such platforms are used by harassers to silence women who strive to break the misogynistic social norms. copyright©iasexpress.net
A study revealed that a third of the surveyed women stopped opinionating online due to the fear of abusers.
Online trolling is now going beyond the digital realm, leading to cases like suicides.
An international survey found that 20% of women being harassed offline believe that those attacks were connected to online abuse they receive.
Some are even vulnerable to stalkers because of their online presence. This is especially prevalent in regions where law enforcement is weak, patriarchy is strong and online trolling is commonplace.
According to a report by Amnesty International titled "Troll Patrol India: Exposing Online Abuse Faced by Women Politicians in India", majority of victims belong to minority religions, disadvantaged caste groups and those belonging to opposition parties and having different political ideologies.
This report also revealed that women politicians in India receive twice the harassment than their counterparts in the US and UK.
In recent years, the internet has become a tool to discriminate against women, with a high prevalence of hate campaigns across the world.
With the worldwide restrictions due to the pandemic pushing more people online, cases of online gender abuse have escalated.
Tech companies have several tools against cyberbullying, like using coding languages. These tools fail because online trolls are continuously evolving to find ways to dodge the measures put forth by these companies. copyright©iasexpress.net
Crowd reporting mechanism used by the social media companies is inefficient and there are limited reports of such cases.
This apart, there are even cases where the social media giants allowing contents like rape videos and revenge porn to exist in their platforms over a long period of time, with their excuse being the lack of manpower and resources.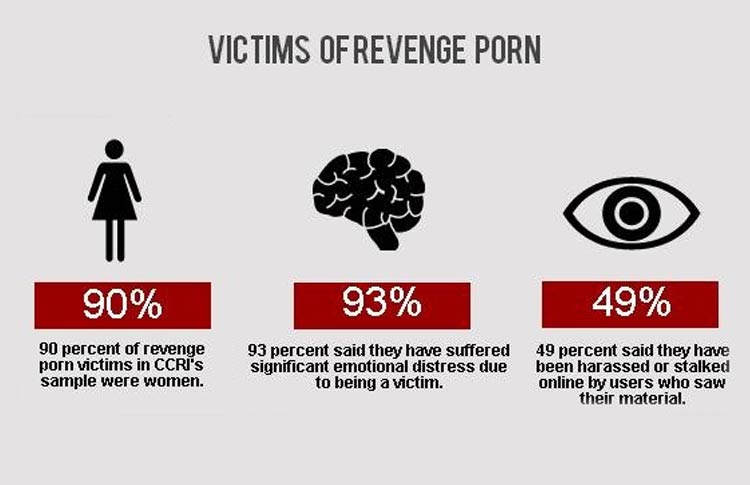 While these companies often commit to user safety, they also claim that it is not their business to police free speech.
These companies moderate flagged contents in an opaque This means that they are not obligated to honour the reports they receive and any decision to remove content can be legitimised.
Does India have laws to address cybercrimes against women?
Cyberbullying:
Cyber bullying or harassment means the use of electronic or communication devices like computers, mobile phones, social media platforms etc., for posting hurtful words, derogatory comments, fake information, threats etc.
Bullying is not defined or punished under the IPC, 1860. However, various provisions of the IT Act, 2000 and IPC can be used against cyberbullying.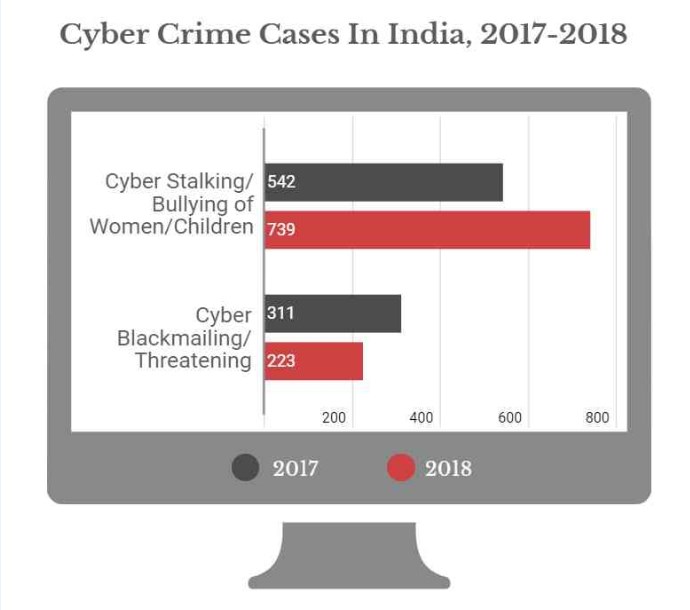 Cyberstalking of women:
Cyberstalking involves anonymously following the victims' movement across the internet for harassing in platforms frequently visited by them and bombarding them with emails, messages etc. copyright©iasexpress.net
This offence encompasses sending threatening/obscene contents, stealing an individual's identity and circulating misinformation about the same for humiliating and harassing, tracing individual's locations illegally, posting derogatory remarks online etc.
Section 354A and 354D of the IPC penalises cyberstalking of women.
Online sexual harassment:
The Sexual Harassment of Women at Workplace (Prevention, Prohibition and Redressal) Act, 2013, CrPC 1973 and Indian Evidence Act enable prosecution of sexual harassment.
Fake profile creation:
Fake profiles are often created for sullying victims' reputation.
If the creation of such profiles is accompanied by the uploading of vulgar or obscene photos of the victim, following sections of the IPC will apply:
Section 354A (sexual harassment)
Section 354D (stalking)
Sections 499 and 500 (defamation and punishment for defamation)
Section 507 (criminal intimidations by an anonymous communication)
Section 509 (word, gesture or act for insulting the modesty of women)
Obscenity:
Digital transmission of materials that are obscene, sexually explicit etc., would attract penalty under Sections 67, 67A and 67B of the IT Act.
Section 67B of IT Act deals with Child pornography.
Sections 292 and 294 of the IPC also have similar provisions.
Privacy breach:
Section 66E of the IT Act penalises individuals who intentionally captures, publishes or transmits images of a private area without consent. copyright©iasexpress.net
Activities insulting the modesty or breaching the privacy of a woman are punishable under Section 509 of the IPC.
What are initiatives taken by the government?
Measures by central government:
A cyber crime portal was launched in 2018 to enable citizens to report obscene contents.
Cyber police stations and cyber crime cells were set up in each state for reporting and investigating cybercrime cases.
The Cyber Forensics Training Labs were constituted in the north-eastern states and cities like Mumbai, Pune, Kolkata and Bengaluru for training state police personnel and judiciary in detecting cyber crimes and collecting, preserving and seizing electronic evidence.
Awareness Campaigns by state governments:
Cyber Safe Movement: Initiated by Maharashtra cyber police, it was a week-long campaign aimed at creating awareness about cybercrimes targeting women and children. This came in response to the increased number of cybercrimes like stalking, picture morphing, online abuse and defamation, sextortion, pornography, matrimonial and dating apps fraud.
CybHER: It is an online awareness campaign initiated by the Telangana police for women and children. It emphasised on the threats within the cyberspace.
Cyber Surakshya: It is a three-month-long cyber campaign launched in Punjab last year on the occasion of Universal Children's Day (November 20). Through this campaign, women and children were informed about the ways to ensure privacy in online platforms and protect against online stalkers as well as the information regarding the legal remedies. copyright©iasexpress.net
What can be the way forward?
By social media platforms:
Social media platforms have moral obligations to safeguard their users.
They must strive towards ensuring transparent and efficient reporting systems so that people can use them to curb cyberbullying.
All-women teams of social media moderators must be set up for keeping an eye on contentious contents
Increase women's representation at social media boards for enabling proactive solutions against cyber harassment
By the government:
The government must prioritise the safety of women in online platforms by taking the following steps:
Making social media platforms accountable
Countermeasures against online trolling must be encompassed within the women empowerment policies
Online women-specific crime reporting unit must be set up for quicker disposal for complaints regarding targeted harassment of women users of social media.
Increasing political representation of women for removing societal inequality, discrimination and misogyny
Use IT solutions and online campaigns to make women's voice be heard in social media platforms
Increase women's access to cyberspace
Training gender advocates for organising online campaigns and optimising women's social media usage. Eg: using hashtags, monitoring impact, identifying the target audience and developing strong messaging.
By NGOs:
Involve volunteers from various sectors, including men, for collaborating with local women's movements so as to strengthen advocacy efforts copyright©iasexpress.net
This can strengthen advocacy and help campaigns garner better public attention.
Strengthen law:
There are instances where character assassination of women in social media are normalised by the legal system. Such instances do not even find a place for discussion in social media.
Solutions provided by the society range from forcing women to withdraw or hide themselves from social media platforms to keeping silent about the violation of their rights
The cybercrimes in social media platforms are mainly addressed under the IPC provisions that deal with conventional offences like sexual harassment, privacy violation etc.
They are largely inefficient in dealing with techno-motivated crimes, which have more impact on victims than those traditional offences due to the lack of justice.
Therefore, the cyber crimes under the IT Act must be repealed and IPC must be modified to cover all cybercrimes, including those currently covered under the IT Act.
Conclusion:
It is evident that social media has the potential to empower women. At the same time, it also creates a scope for further suppressing women. It is the obligation of the tech companies, the governments as well as society to let women's voice in social media be heard without tarnishing their reputation. copyright©iasexpress.net
Practice question for mains:
Social media, while being a revolutionary tool in empowering women, also creates novel threats to women's safety. Critically examine. (250 words)