Defamation in India – IPC Section 499 and 500 Vs Freedom of Speech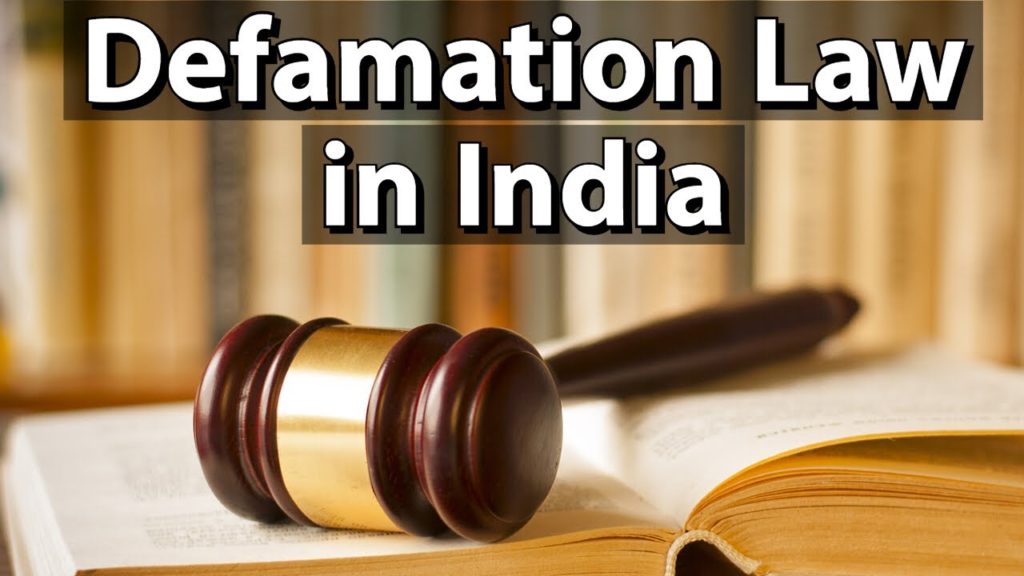 Reading time: 8 minutes
Recent happenings across the country against individual rights and free speech have questioned the relevance and the validity of certain laws such as Sedition law, defamation law, and the AFSPA. Sedition law has already been discussed here. In this article, we are going to discuss the defamation law in India, the associated issues and the way forward. AFSPA will be discussed in the next article.
It has been claimed that criminalization of defamation has a harsh effect on the right to freedom of speech and expression under Article 19 and hence demands have been raised to make it as a civil offence. However, the Supreme Court in its 2016 judgement approved the constitutional validity of criminal defamation laws such as IPC sections 499 and 500 which led to widespread criticism across all political circles.

What is defamation?
Defamation refers to destroying the reputation of an individual or organisation by means of slander (speech), libel (written) or both.
Slander: Means to make a false spoken statement that causes people to have a bad opinion of someone.
Libel: Means to publish a false written statement that causes people to have a bad opinion of someone.
MINDMAP COURSES FOR 10X FASTER LEARNING/REVISION
How is defamation dealt in India?
Unlike many other countries, defamation in India is both civil and criminal offence.

Civil defamation in India is based on tort law,
that is, an area of law which does not depend on statutes to define offences but rely on the increasing number of case laws to define what constitutes an offence.
Under civil law, the defamed victim can move either the high court or trial court.
The victim can seek damages in the form of monetary compensation from the accused.
There are 2 sections under the Indian Penal Code (IPC) that deals with criminal defamation – IPC Sec 499 and Sec 500.
Section 499: deals with what constitutes defamation – Whoever, by words either spoken or intended to be read, or by signs or by visible representations, makes or publishes any "imputation" concerning any person intending to harm, or knowing or having reason to believe that such imputation will harm, the reputation of such person, is said, except in the cases hereinafter expected, to defame that person.
Section 500: deals with punishment for defamation – Whoever defames another shall be punished with simple imprisonment for a term which may extend to 2 years, or with fine or with both.
Under these laws, Defamation is a bailable
Defamation is a non-cognizable offence = police cannot register a case and start an investigation without the court's permission.
Defamation is a compoundable offence = criminal court can drop the charges if the victim and accused enter into a compromise (even without the court's permission).
Repeated topics (with notes) for UPSC CSE prelims!
LEARN MORE
What is Article 19(1)a and Article 19(2) of the constitution?
Article 19(1)(a) confers right to freedom of speech and expression on all citizens.
Article 19(2) allows the state to make laws which impose reasonable restrictions on this right in the interests of the sovereignty and integrity of India, the security of the state, friendly relations with foreign states, public order, decency or morality or in relation to contempt of court, defamation or incitement to an offence.
We're hiring history & psychology optional staffs for making mindmap notes. Earn ₹12,000-15,000 per month!
APPLY NOW
What are the arguments against criminalising defamation?
Violative of Right to free speech:
It is an ideal weapon for powerful individuals to silence critical or inconvenient speech.
It is a colonial-era law introduced by the British regime to suppress political criticism.
Thus Sec 499-500 are violative of the right to freedom of speech and expression provided under Article 19 of the constitution.
Social stigma: Unlike many other countries, defamation in India is a criminal offence and not just a criminal wrong = it results in social stigma and jail term.
Harmful effects on society: The state uses it as a means to coerce the media and political opponents into adopting self-censorship and unwarranted self-restraint.
Increase in corruption & other offences: With the fear of being arrested by the police, held in detention and subjected to a criminal trial in the back of the mind, journalists will not try to expose political wrongs like high-level corruption.
Implications for democracy:
Only the "imputation" or accusation is enough to be interpreted as harming the reputation of a person.
Thus even an ironical statement can amount to defamation and a criminal suit can be filed even for political speech which is the most protected speech in a democracy.
The process is itself a punishment:
The accused has multiple defences open but they are available only after the trial commences.
Hence an accused person has to undergo the long-drawn-out trial process which in itself a punishment.
Defences are insufficient:
Even the defences are inadequate to protect free speech.
In a civil defamation case, the accused need to show only his/her statement was true for escaping the conviction.
But in a criminal defamation case, the accused must show that his/her statement was true + in the public interest.
Therefore the question arises that why the legal system is more advantageous for persons accused under civil proceedings and harsher for those under criminal cases.
Therefore, it is unclear why defamation has to be a criminal offence at all and why civil remedies are not sufficient.
What are the arguments in favour of criminalising defamation?
Reasonable restrictions: Defamation is one of the reasonable restrictions on freedom of speech & expression under Article 19(2).
Compensation: Defamation should remain a criminal offence in India as the defamer may be too poor to compensate the victim in some cases.
Online defamation: As there is no mechanism to censor the Internet from within = online defamation could only be countered by retaining defamation as a criminal offence.
Right to dignity: Criminal defamation laws are important to protect the citizens' right to dignity and reputation under Article 21 (Right to life) of the constitution.
Exceptions to Section 499: clearly exclude from its ambit any speech that is truthful, made in good faith and/ or is for public good = no need to decriminalise defamation.
Free and fair elections: will be destroyed because the absence of criminal liability will give rise to hate speeches during elections.
What is the supreme court's verdict?
Defamation is one of the recognised exceptions to the fundamental right to free speech and expression under Article 19(1)(a) of the Constitution.
In Subramanian Swamy vs Union of India case, the Supreme Court approved the Constitutional validity of sections 499 and 500 (criminal defamation) in the Indian Penal Code, underlining that an individual's fundamental right to live with dignity and reputation "cannot be ruined solely because another individual can have his freedom".
The ruling noted that "the right to freedom of speech and expression is not an absolute right" and has to be "balanced with the right to reputation" which is protected under Article 21 of the Constitution".
The court held that criminalisation of defamation to protect individual dignity of life and reputation is a "reasonable restriction" on the fundamental right of free speech and expression.
SC also underscored that criticism was not defamation = the bench ruled that a trial court must be "very careful" in scrutinising a complaint before issuing the summons in a criminal defamation case.
What is the response of the government?
The government has sought a report from the Law Commission of India (LCI) on the issue.
LCI notes that the respondents "overwhelmingly expressed dissatisfaction with the current state of defamation law".
LCI acknowledged that criminal defamation laws violated international norms and that the penalty of imprisonment up to 2 years was clearly disproportionate.
International bodies such as the UN had recognized the threat posed by criminal defamation laws and have recommended its abolition.
The Right to Protection of Speech and Reputation Bill 2016
Tathagata Satpathy, a member of Parliament belonging to the Biju Janata Dal, has introduced a private member's Bill in Parliament named "The Right to Protection of Speech and Reputation Bill, 2016".
The Bill seeks to decriminalise defamation and remove the "chilling effect" of colonial provisions that violate free speech and encourage censorship.
The Bill seeks to remove the criminal provisions while guarding the right to reputation with stronger, more effective remedies for civil relief, including apologies, corrections and retractions, and the award of reasonable damages.
The Bill will also attempt to set the maximum claim limits and to bar governments, local bodies, and other institutions, exercising statutory functions, from filing suits for defamation.
What are the solutions?
Criminal defamation should not be allowed to be an instrument in the hands of the state, particularly when the Code of Criminal Procedure provides public servants an unfair advantage by enabling the state's prosecutors to stand in for them when they claim to have been defamed by the media or political opponents.
The courts can choose to revisit the constitutionality of criminal defamation, but even without that, there are enough ways to judicially interpret Sec 499 as follows.
Criminal complaints must not be entertained except the damage to reputation is prima facie, a serious one.
Unnecessary complaints should be dismissed at once.
The complaints cannot be entertained except on behalf of the "aggrieved person".
Such a restriction must not be arbitrary or excessive, and the impairment of freedom must be 'as little as possible'.
This is to ensure that the defamation laws are no longer remains the tool of the powerful people to blackmail, harass, and silence inconvenient speech in India and at the same time to protect the right to dignity and reputation of the individuals.
MINDMAP COURSES FOR 10X FASTER LEARNING/REVISION