Income Inequality in India – Causes, Impacts & Solutions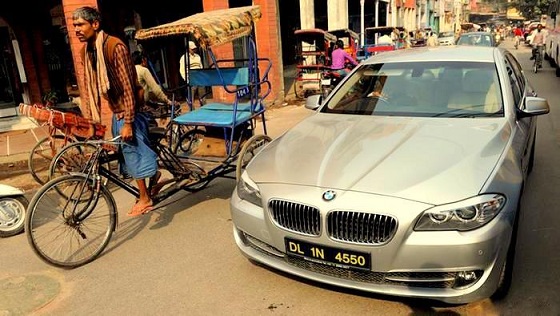 According to the Asia-Pacific wealth report, Japan's richest persons have the largest wealth accumulation in the Asia-Pacific region, however, Chinese millionaires are also catching up to them. Meanwhile, Indian millionaires are adding wealth at the fastest in the region, which India can take pride in it. But the reality is that the bottom 60%, the majority of the population, owns less than 5% of the country's wealth. This growing inequality threatens to destroy the fabric of Indian democracy.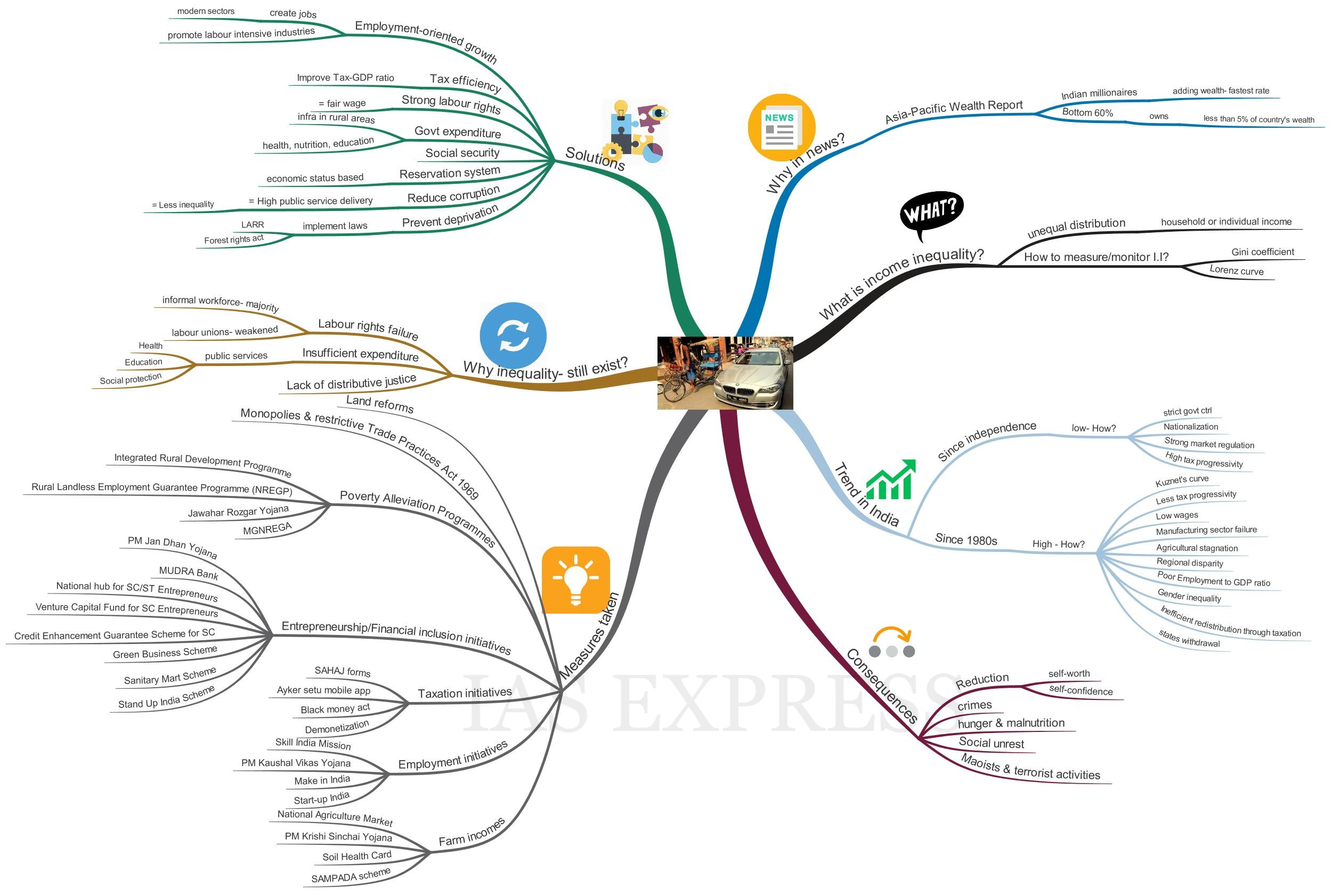 Mindmap Learning Programme (MLP)
Absorb information like a sponge!
What is income inequality?
Income inequality is the unequal distribution of household or individual income across different participants in the economy.
Gini Coefficient is the most popular measure of income inequality. The Gini Coefficient is derived from the Lorenz Curve.
The Lorenz curve shows the percentage of total income earned by cumulative percentage of the population. As inequality increase, the Lorenz curve deviates from the line of equality.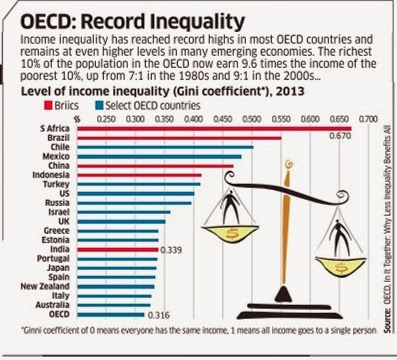 What is the inequality trend in India?
Since independence
Income inequality was widely reduced and the incomes of the bottom 50% grew at a faster rate than the national average.
It was primarily because of the socialist policies followed by the then government as follows

Strict government control over the economy, with the main goal to reduce the power of the elite.
Nationalization
Strong market regulation and
High tax progressivity (Note- A progressive tax is a tax in which the tax rate increases as the taxable amount increases).
Since the 1980s
According to the world inequality report, Income inequality in India increased rapidly since the 1980s to the point where the top 10% of the earners accounted for 56% of the income and top 1% of earners accounted for 22% of income earned in 2014.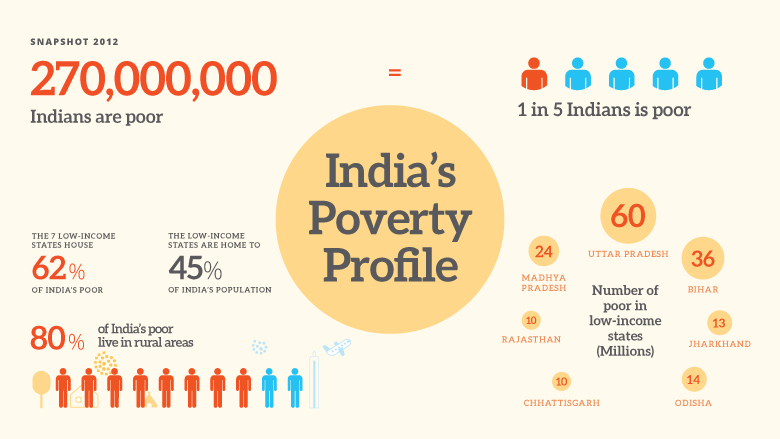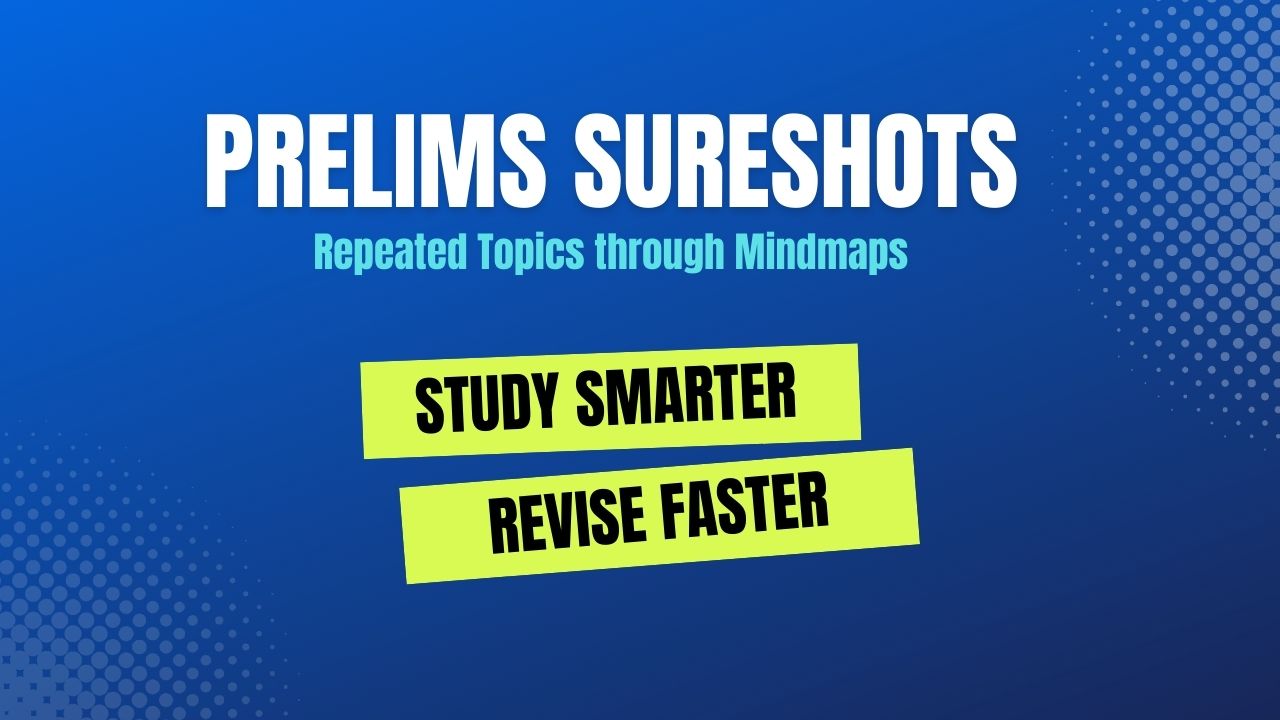 What are the reasons for the rising inequality since the 1980s?
Since the 1980s, even though poverty decreased, the inequality increased due to the reasons as follows
Kuznet's curve
Kuznets curve showed that economic growth initially results in high inequality and starts to decrease when the economy develops. In the starting stage, economic growth brings more gains to those who participate in the first wave of innovation but others would catch up eventually.
The decrease in tax progressivity
When the economy was freed from the government control, it resulted in a higher growth and gave opportunities to people.
However, this opportunity was exploited by the upper class.
For example, top tax rates which were very high in the 1970s (up to 98%) were decreased to 30% since 1980s which highly benefited people in the top bracket.
Wages:
The excess supply of skilled and unskilled labour kept wages low for the middle and lower classes.
Labour unions are useful for collective wage bargaining, however, they became weaker after economic liberalization even in the organized sector.
Manufacturing sector: Failure of labour-intensive manufacturing in India compared to its huge success in China.
Agricultural stagnation:
Stagnation in agricultural wages due to low yields, crop failures, post-harvest damages, and climate risks.
While the proportion of labour force in agriculture has been decreased, however, the workers who have left agriculture have got no jobs in modern factories or offices. Most of this labour force is employed in the informal sector.
Regional disparity:
Income remains low in relatively backward states like Rajasthan, Bihar, Chhattisgarh etc. which have lagged behind in GSDP growth due to infrastructure and governance deficits.
Hilly states and border areas are also experiencing the slow pace of growth at less than 3% in the last few decades.
Employment to GDP ratio: Employment grew merely by 0.5% per annum from 2004-05 to 2011-12, the period that saw the highest GDP growth rate of 8.5% per annum.
Gender inequality:
India is ranked 132 out of 187 countries on the Gender Inequality Index (GII) of UNDP.
Female Labour Force Participation Rate stands at 27% and there is also a significant gender wage gap which contributes to the income inequality in the country.
Inefficient redistribution:
With only 7 out of 100 people paying taxes and the tax to GDP ratio being 16% (Economic survey), India is not efficient at redistribution of wealth.
The income gap between rich and poor also worsens because of tax evasion and black money.
States withdrawal:  
In order to improve their financial performance and keep public debt obligations under permissible limits, states minimised their welfare expenditures and withdrew crucial support in health and education, leaving the sector open to the private sector. This further aggravated inequality.
What are the consequences of this rising inequality?
Reduction of people's self-worth and confidence.
Increase in crime levels in the country.
The rise of hunger and malnutrition.
Social disharmony and unrest.
Inequality causes dissatisfaction against the government which is one of the major reasons that influence Maoist and terrorist activities.
High environmental degradation because affluent people would cause more pollution and global warming due to the high usage of personal vehicles, flights, air conditioners, unnecessary building constructions, etc.
What are the measures taken by the government to reduce income inequality?
Land reforms: Land reforms have been introduced to eliminate inequality in land ownership.
Monopolies and Restrictive Trade Practices Act 1969: was passed to put a check on the concentration of economic power.
Poverty alleviation programmes
Integrated rural development programme (IRDP)
Rural Landless Employment Guarantee Programme (NREGP)
Jawahar Rozgar Yojana (JRY)
Jawahar Gram Samridhi Yojana (JGSY)
Mahatma Gandhi National Rural Employment Generation Scheme (MGNREGS)
Entrepreneurship/Financial inclusion initiatives
PM Jan Dhan Yojana – ensures economically weaker sections to have access to banks.
Institutional support for small entrepreneurs

MUDRA Bank – to provide microfinance to entrepreneurs in rural areas of India.
National Hub for SC/ST entrepreneurs – to support the entrepreneurs from the marginalized communities.

Venture Capital Fund for Scheduled Caste Entrepreneurs
Credit Enhancement Guarantee Scheme for the Scheduled Castes: to promote entrepreneurship among the scheduled castes and to provide concessional finance to them.
Green Business Scheme: The scheme has been started by National Scheduled Castes Finance and Development Corporation (NSFDC) to promote green/env-friendly businesses and support sustainable livelihoods for scheduled castes and safai karamcharis (Manual scavengers). Click here to learn about the plight of manual scavengers in India.
Sanitary Mart Scheme: Under the scheme, loans are provided to manual scavengers for construction of toilets.
Stand up India scheme: to provide credit to and promote entrepreneurship among schedule caste, scheduled tribe and women in the non-farm sector.
Taxation initiatives
Measures undertaken to improve tax compliance include SAHAJ forms, Ayker setu mobile app etc.
Black Money Act – to penalize non-disclosure of assets/income and to provide for the imposition of tax thereon. This would be instrumental in improving tax revenues.
Demonetization – followed by digitization of the economy helped in formalizing transactions, thus improving tax collections.
Employment initiatives
The launch of Skill India Mission, PM Kaushal Vikas Yojana – help in enhancing the employaibility of youth and thereby improve their income.
Make in India, Start-up India etc. helps in creating employment opportunities.
Farm incomes
eNAM (National Agriculture Market), PM Krishi Sinchai Yojana, Soil Health card etc. with a vision to double farm incomes.
The launch of SAMPADA scheme helps in promoting food processing industries to create low skilled jobs.
Despite these measures why inequality still exist?
Labour rights failure
India fares poorly in labour rights as the majority of its labour force works in the agricultural and informal sectors which lack union organization.
Since economic liberalization in the 1990s, labour unions have become weaker even in the organized sector.
Insufficient expenditure on public services
The government's spending on health, education and social protection is very low.
Thus, if non-income indicators such as health and education is considered, then inequalities between the rich and the poor is very high.
Lack of distributive justice is also a major issue. Distributive justice means the socially just allocation of goods among the people.
What are the solutions?
Employment-oriented growth
Rather than redistributing money to poor through populist schemes which is inefficient and only short-term, the government should focus more on creating jobs in the modern sectors of the economy which is both efficient and work for the long-term. There is a Chinese proverb that beautifully explains this – "Give a man a fish and you feed him for a day. Teach a man to fish and you feed him for a lifetime".
Promoting labour-intensive industries like leather and apparel as recommended by NITI Aayog can help in increasing the incomes of the bottom 50%.
Tax efficiency
India needs to improve tax to GDP ratio and bring it on par with emerging economies (23%).
This can be done by lowering income tax threshold, preventing tax evasion and generation of black money, simplifying tax procedures to improve compliance and campaigning to inculcate a habit of tax paying.
Labour rights: Strong labour rights to help workers secure a fair wage.
Government Expenditure
The government should spend more on infrastructure projects in rural areas rather than only in urban areas.
The state should be the dominant provider of merit goods such as health, nutrition, and education. Public spending in these sectors needs to be increased by around 6% of GDP from the current 2%.
The quality of education should be improved so that the newly created jobs in the modern sectors can be filled with potential workers.
Social security
Social safety initiatives for the informal sector workers such as life insurance and pension policies are important.
Revamping reservation system
Replacing the caste-based reservation with the economic status based reservation system. Click here to read more.
Public service delivery
Efficient systems for delivery of public services. Thus removing corruption is required for improving service delivery = reduce inequalities.
Preventing deprivation
Implementing laws against eviction and exploitation such as LARR, Forest Rights Act etc can also avoid impoverishment of people while guaranteeing income security through land and forest resources.