Digital Agriculture – All You Need to Know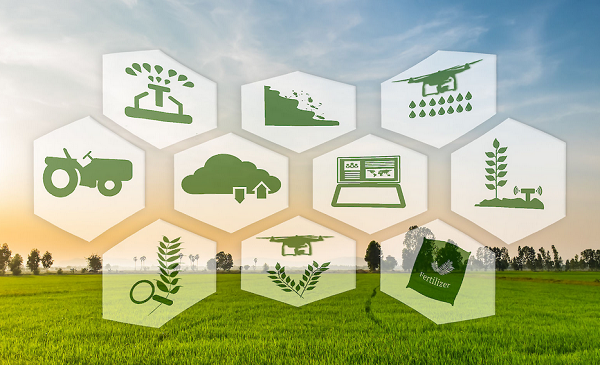 Historically, agriculture has undergone a series of revolutions that have driven efficiency, yield and profitability to levels that were previously unreachable. The market estimates suggest that the next decade would witness a "digital agricultural revolution" that would help meet the needs of the agricultural sector. With the majority of the Indian population employed under the sector, efforts need to be put forth in addressing barriers that are currently hindering the adoption of digital technologies within this sector.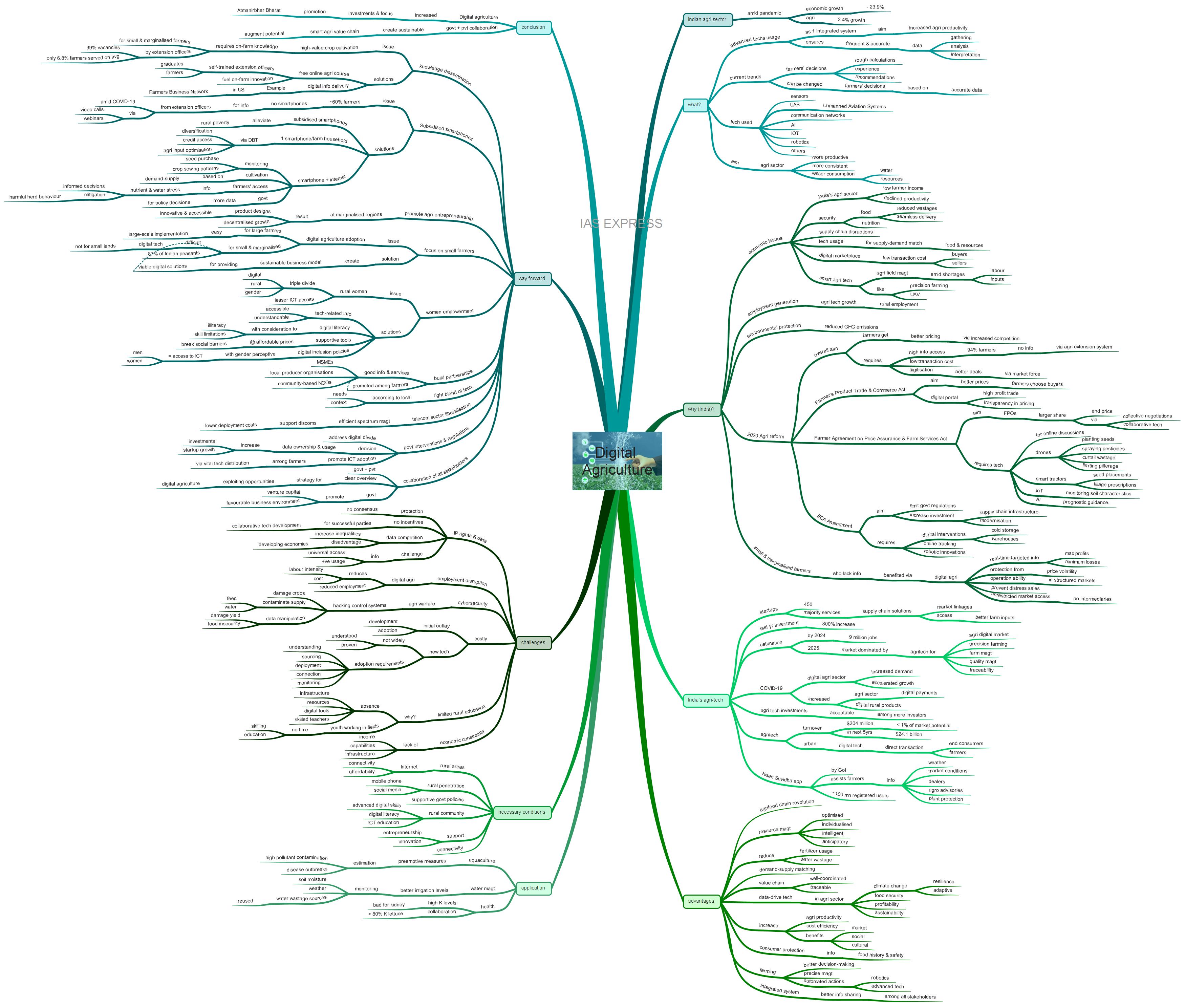 Mindmap Learning Programme (MLP)
Absorb information like a sponge!
How has India's agricultural sector fared amid the COVID-19 pandemic?
The coronavirus pandemic has caused the global level crisis, impacting every business across industries and slowing economic growth exponentially.
Yet, the agricultural sector continues to be resilient to one of the most disruptive crises the world has ever seen.
During the first quarter of the last fiscal, the pandemic led to the

23.9% contraction of the Indian economy

, with manufacturing sector witnessing a 40% decline and the service sector showing muted economic activity.
The agricultural sector, in contrast, showed a

3.4% growth

.
What is Digital Agriculture?
Digital agriculture is the use of new and advanced technologies as one integrated system to enable all stakeholders in the agricultural sector to improve agricultural production.
The digital agriculture system ensures more frequent and accurate data gathering, analysis and interpretation, often in combination with external sources like weather information.
The current decisions by farmers on crop selection, fertiliser usages etc., are based on rough calculations, experience and recommendations.
The results for these rough estimations are seen only during the harvesting time.
The digital agriculture addresses this issue by enabling farmers and others to make more informed and appropriate decisions, with greater accuracy through robotics and advanced technology.
The technologies used include sensors, communication networks, Unmanned Aviation Systems (UAS), Artificial Intelligence, Internet of Things, robotics and other advanced systems.
Digital agriculture, in short, enables agriculture to be more productive, more consistent as well as less time and resource consuming.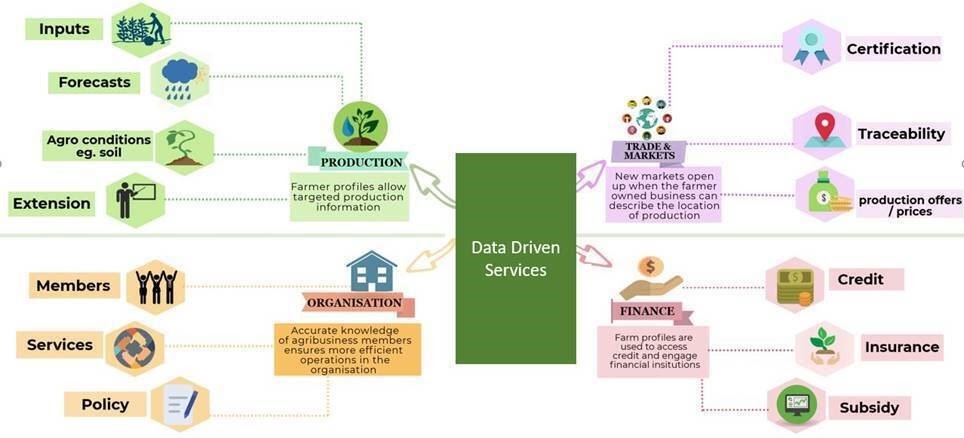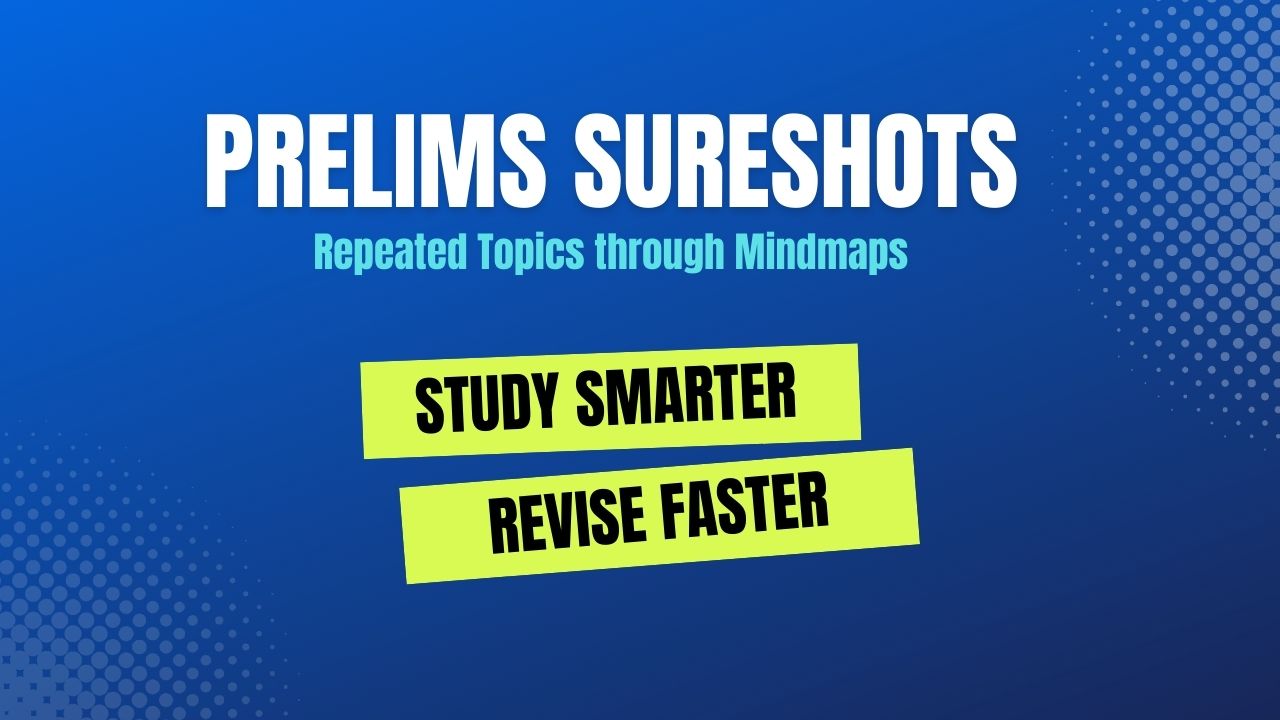 Why does India need digital agriculture?
Solutions for economic issues:
While it was previously mentioned that India's agriculture sector is more resilient during the pandemic, there still remains the issues of low farmer income and declining productivity.
Digital technologies in the agriculture sector can help address these issues.
They can also serve in alleviating food and nutritional insecurity and supply chain disruptions, issues that were especially predominant during the pandemic-led lockdown.
This can be done by using technologies to match supply and demand for resources and food.
Digital marketplace ensures lower transaction costs for buyers and sellers and greater value capture for smallholder farmers.
With the COVID-19 situation and social distancing protocol affecting the labour and agricultural input availability, smart agricultural technologies like precision agriculture and UAVs can be effectively used for the management of agricultural fields.
India has an exhaustive social security net, consisting of the world's largest food-based social programmes. However, these often face food wastages and bottlenecks. Agricultural technologies can address these issues as well.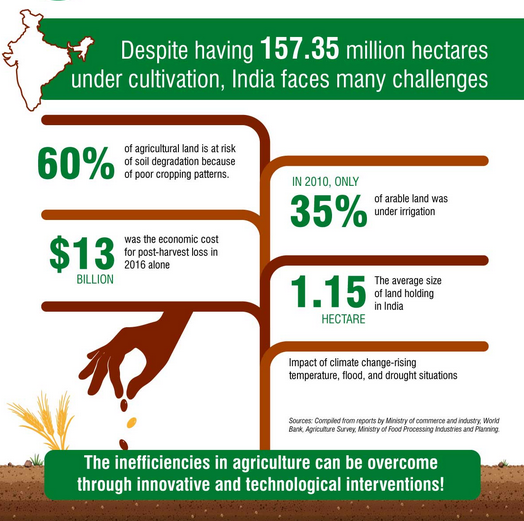 Employment generation:
Agritech growth is critical for absorbing the growing demand for rural employment when the farmers are already facing uncertainty amid the economic crisis.
According to the International Labour Organisation's estimation,

43.9% of the Indian workforce

was employed under the agriculture sector in 2018.
Approximately 700 million Indians depend either directly or indirectly on an agriculture-driven livelihood.
Environmental protection:
The farming practices and land usage are responsible for approximately one-quarter of global greenhouse gas emissions.
If emissions from processing, transport, storage, cooling and disposal are included, this figure rises to more than 40%.
Agritech, especially digital solution, help address these issues.
Supplementing Agricultural Reform with digital agriculture:
The newly passed Acts to reform the agricultural sector aim to increase competition for better prices for farmers.
However, this requires high information access and low transaction costs.
Currently, nearly 94% of India's farm landholdings do not receive information through the agriculture extension system due to which small and marginalised farmers continue to be less productive.
The real benefits of these reforms can be felt only when the entire agricultural produce trade is digitised as it can help farmers consolidate farm produce in real-time and help them get better deals based on demand and consumption in the market.
The recently enacted 'Farmer's Product Trade and Commerce Act, 2020' seeks to promote an ecosystem where farmers can choose who to sell for realising the best prices.
A digital portal can increase pricing transparency and enable high-profit trade.
Making use of the country's robust digital payment system will enable prompt financial realisation.
The Farmer (Empowerment and Protection) Agreement on Price Assurance and Farm Services Act, 2020 aims to enable Farmer Producer Organisations (FPOs) to realise a larger share of consumer payments via collective negotiations and collaborative technologies.
For this, the FPOs would require collaborative tools for holding video and audio discussions, with the ability to translate and transcribe conversation whenever necessary.
They would also require other technologies and tools that can be made widely available by sharing costs.
These include drones for planting seeds and spraying pesticides, curtailing wastes and limiting pilferage, smart tractors for seed placements and tillage prescriptions, the Internet of Things for monitoring soil characteristics and Artificial Intelligence for prognostic guidance.
The Essential Commodities Amendment Act, 2020, while limiting the number of essential commodities, also aims at increasing investments in the food supply chain infrastructure and modernisation.
Digital interventions in cold storage and warehouses to optimise people and asset productivity, robotic innovations and online tracking will be a gamechanger.
Thus, digital backing for the new agricultural reform laws will ensure greater efficiency of the intended benefits.
Assistance for small and marginal farmers:
Agricultural productivity can be increased via comprehensive data ecosystem supported by Information and Communication Technology (ICT) and Internet of Things that are capable of delivering real-time, targeted information.
This would maximise profits while minimising the losses.
This is especially beneficial for small and marginalised Indian farmers who often lack necessary information, leading to crop losses.
Their access to these technologies would empower them to make quick and timely decisions to increase productivity.
It can also protect them against price volatility.
Digitally empowered farmers will be able to integrate and operate in structured markets. This prevents them from undertaking distress sale by selling in saturated markets that are not based on standards.
The digital market enables them to have unrestricted market access, without the need for intermediaries.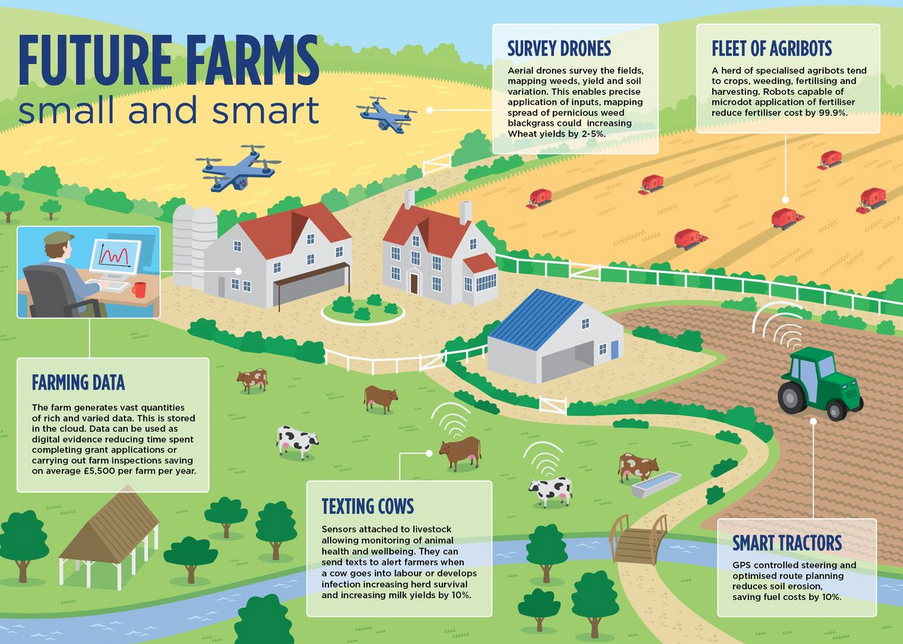 How is India's agri-tech sector impacted by COVID-19?
With the growing need for digital agriculture, agritech startups are taking the lead in bringing smart, implementable solutions to the Indian farmers.
NASSCOM estimates that approximately 450 startups are operational in this field.
There has also been a 300% increase in investment over the last year.
Majority of these agritech startups are offering supply chain solutions, including market linkages and better access to farm inputs.
It is estimated that India would witness 9 million jobs in this field by the year 2024.
The pandemic has created the urgency to expand the digital agriculture growth in India.
In fact, it has accelerated the digitisation in India's agricultural sector, along with other sectors.
There is a growing demand for digital rural products and payments over the last few months, with increased rural smartphone penetration.
Agritech as an asset class is acceptable for more investors in the current situation.
Tech giant Google has pledged to invest $10 million over 5-7 years to stimulate India's digital economy.
This will directly help in the acceleration of digitisation of the agricultural sector.
Currently, with a turnover of $204 million, India's agritech sector is at less than 1% of its market potential. However, it is estimated that it has the potential to reach $24.1 billion in the next five years.
Agritech for digital marketing of farm inputs, precision agriculture, farm management, quality management and traceability are expected to dominate the market by 2025.
Investments in this field are also turned towards these aspects.
Many of the urban agritech startups are leveraging digital technology for enabling direct transactions between end consumers and farmers, allowing the latter to make use of the growing urban demands.
The Indian government has developed the Kisan Suvidha app to assist farmers by providing information on weather, market conditions, dealers, agro advisories and plant protection.
This app currently has around 100 million registered users.
Farmers and others have also increased their dependence on other government initiatives like National Soil Health Card Scheme and E-NAM (National Agriculture Market)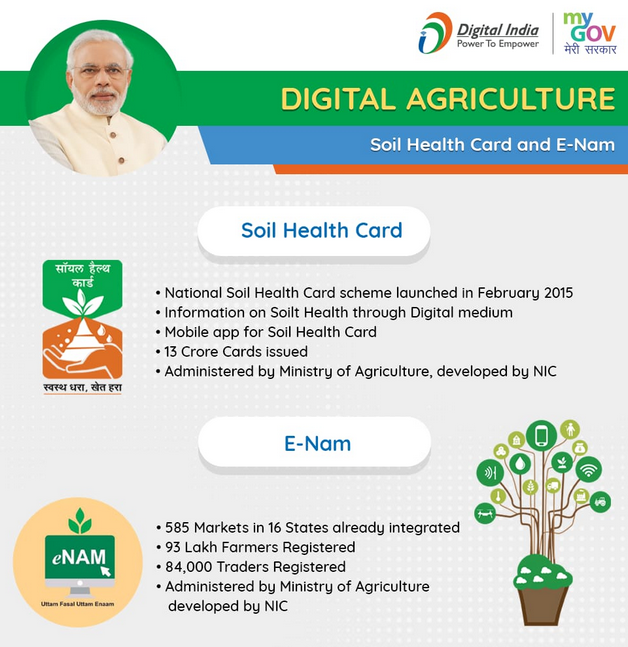 What are the advantages of digital agriculture?
Digital agriculture can revolutionise the agrifood chain.
Resource management throughout the system would become highly optimised, individualised, intelligent and anticipatory.
Digital agriculture will enable a reduction in the fertilizer usage and water wastage and better matching of supply to demand.
Value chains would become traceable and well-coordinated.
Data-driven technologies would enable the agricultural sector to be more adaptive and resilient to climate change.
This could lead to an improvement in food security, profitability and sustainability.
There also exists the potential for increased agricultural productivity, cost efficiency and market benefits along with social and cultural benefits through increased communication and inclusivity.
Consumers protection can also be ensured by providing access to information on food history and safety at the point of purchase.
Farming will be remodelled via better decision-making, more precise management and automated actions through the use of robotics and advanced technologies.
When the full potential of this nascent field is realised, well-integrated systems across the supply chain would allow better information sharing among providers, distributors, retailers, consumers and supporting industries.
Sustainable Development Goals can also be achieved.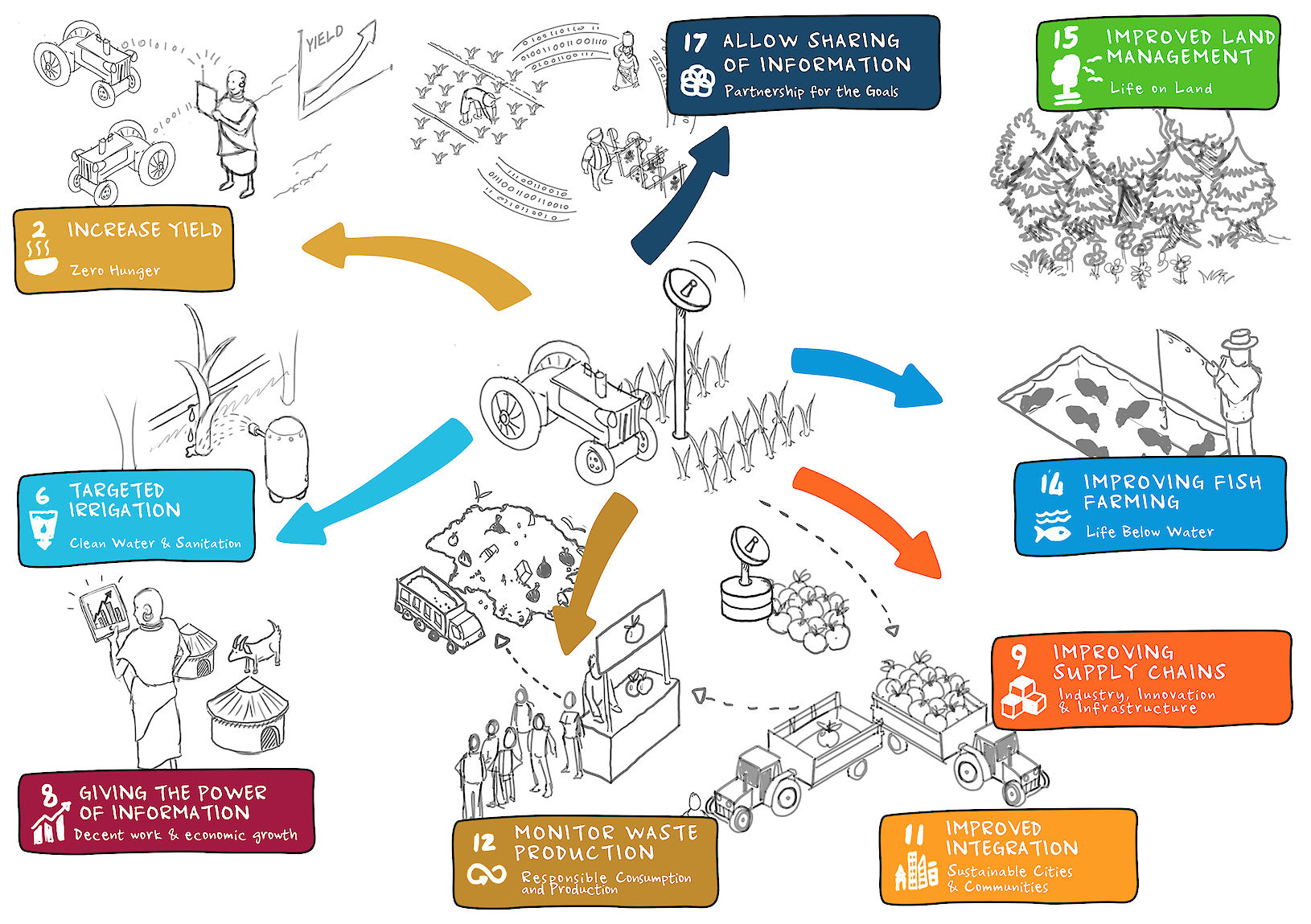 Which are the areas where digital agriculture is used?
Digital agriculture has wide-ranging applications. Some of these include the following:
Aquaculture:
Sensors, predictive analytics and a clear user interface are used to address the challenges of contamination from pollutants and diseases.
These technologies are currently made use of by Tasmanian oyster farmers for accurate estimation of when the water has high contaminants or a disease outbreak.
With these estimations, the farmers are able to take pre-emptive measures to reduce oyster losses.
Water management:
The past decade witnessed PepsiCo successfully reducing water input in their potato crops by 26% by accurately locating the sources of wastewater, which was then reused in irrigation.
Monitoring of soil moisture along with weather forecasts enabled the setting of better irrigation levels.
These measures together enabled improved sustainability and availability of water in countries at risks from drought.
Sensors, analytics and data visualisation were used to create a system to improved agriculture practices.
This has helped address health problems.
For instance, high potassium vegetables are harmful to people with kidney disease.
This has become a major issue in countries like Japan, where around 10% of the population suffers from chronic kidney disease.
Fujitsu, an IT company teamed with Microsoft and others to grow lettuce with less than 80% of the potassium content of the traditionally grown lettuce by carefully controlling the growing conditions of the vegetable.
What are the conditions necessary for the digitisation of the agriculture sector?
Factors that would facilitate the adoption of technologies in the agricultural sector include:
Internet connectivity and affordability
Mobile phone and social media penetration in rural areas
Supportive government policies
Advanced digital skills, digital literacy and ICT education among rural community
Support for entrepreneurial and innovative culture via hackathons, incubators, accelerator programmes etc.
Connectivity infrastructure via network coverage, electricity supply etc.
What are the challenges?
Protection of data and intellectual property rights:
While extensive sharing of data enables better benefits, there is no clear consensus on how to protect data or IP rights.
There are no incentives for the already successful parties to develop collaborative technologies that would benefit their competitors.
The few highly resourceful parties having access to data could worsen inequalities rather than inspiring collaboration.
It could disincentivize open source technology and open data, leading to the creation of economic barriers that may be a disadvantage for the developing markets.
Ensuring the universal access to information and its positive usage could be a huge challenge.
Employment disruption:
Agriculture and the allied sector remains one of the world's largest employment generators.
Digital agriculture is capable of reducing labour intensity and cost.
This could cause economic disruptions in areas where many unskilled and semiskilled people work in industries.
With the increasing digitisation of the economy, there persist the cybersecurity issues at wide-ranging sectors from health to financial transactions.
The large-scale digitisation of the agricultural sector could result in well-coordinated agricultural warfare.
This would involve the hacking of control systems to damage crop growth, contaminating feed and water supplies and manipulating data to damage yields and threaten food security.
Costly:
While the cost of the technologies needed for enabling digital agriculture is reducing day by day, the initial outlay for the large-scale development and adoption of the same could be highly expensive.
This could discourage their usage and innovation by even large farmers.
The new technologies used in this field are not yet widely understood or proven.
These technologies should be understood, sourced, deployed, connected and monitored to be adopted at the grassroots level.
This requires a large amount of money, which no one is willing to risk.
Limited education in rural areas:
The lack of infrastructure and resources often limit the quality of education in rural India, where agriculture is the main of income for many.
This results in less effective learning, lower attendance rates and increased dropout rates.
In many cases, youth are also required to work in the fields, leaving little time for education and skilling.
The rural areas also lack digital tools like computers and the internet as well as skilled teachers in schools for promoting IT education.
Thus, despite the near eradication of illiteracy rates in rural areas, many lack digital literacy along with the necessary skills and knowledge needed for the adoption of the digital technologies within the agricultural sector.
Economic constraints:
While significant progress has been made in expanding ICT access and digital network along with the promotion of e-services in sectors like health, the lack of income, capabilities and infrastructure still remains a challenge.
Way forward:
Knowledge dissemination:
Small and marginalised farmers can get better returns only when they harvest high-value products that can compete in markets. Else, only bigger farmers will dominate the market.
Therefore, on-farm knowledge of high-value crop cultivation must be provided for small and marginalised farmers.
This knowledge is provided by extension officers.
It should be noted that, despite having 77 state agricultural universities and 700 Krishi Vigyan Kendras, vacancies to the position of extension officers is 39%.
Therefore, the average extension services reach only 6.8% of farmers.
For ensuring capacity building, agricultural universities and institutes need to create open access online agriculture course on horticulture, soil science, nutrient management, crop protection, greenhouse cultivation, post-harvest management and cold supply chain.
This can enable graduates and even farmers to self-train as extension officers and fuel on-farm innovation.
Digital information delivery via audios, videos and e-contents in vernacular languages can also be provided by the government for free.
In this regard, it is worth mentioning the Farmers Business Network (FBN) of the United States. This farmer-to-farmer network and e-commerce platform empowers farmers with impartial information via cloud-based analytics on seed performance, input price transparency, farm operations and yield forecasting.
Subsidised smartphones:
It is estimated that around 60% of Indian farmers do not have smartphones to obtain personalised information via video calls and webinars amid the pandemic when extension officers are not able to visit farms.
Providing these farmers with subsidised smartphones for having access to the provided information can bring many of the small and marginalised farmers out of poverty.
Government's decision of connecting all villages with optical fibre must be complemented with the policy of 'one smartphone per farm household' via the direct benefit transfer.
This would prove to be more beneficial to farmers than PM KISAN aid, as would enable diversification, access to credit and increased saving on agricultural inputs.
With all farmers having access to smartphones and internet connection, there will be a better understanding of seed purchase and crop sowing patterns.
This would enable farmers to cultivate according to the needs and demands of the markets and consumer, with safer bets and better assurance of returns.
Information obtained via remote sensing on nutrient and water stress analytics can also be accessed by the farmers via smartphones.
With such individualised information, farmers will be able to make independent data-driven decisions and mitigate harmful herd behaviour.
The government will also be benefited by providing smartphones to farmers, as it would be able to gather large amounts of data necessary for policy decisions on the agricultural sector.
Promote entrepreneurship:
Disproportionate growth in different regions increases the inequality problem in the country.
Promotion of agri-entrepreneurship ecosystems in the marginalised regions will build ground-level capacity to design innovative products and make them more accessible to these regions.
This will reduce the need to depend on the government, which is fundamental for decentralised growth.
This in turn ensures that even those living in the remotest regions are not at the mercy of a single entity's ability to deliver.
Focus on small and marginalised farmers:
While the adoption of digital agricultural technologies are easier for those who can implement them at large scale, small and marginalised farmers cannot garner the same advantage.
This is because these transformative digital innovation and technologies are often not designed for the needs of smaller lands.
Small and marginalised farmers constitute 87% of India's peasants
To address this issue, a sustainable business model can be created for providing viable digital solutions for the inclusion of small and marginalised farmers.
Empowering women:
Women play a critical role in agricultural production, though they face a triple divide – digital, rural and gender.
They often have lesser access to ICTs, leaving them at a disadvantageous position.
Following measures can be taken for enabling rural women to have access to these advanced technologies:
Provide accessible and understandable information on the technology and its potential
Promotion of digital literacy with consideration to challenges like illiteracy and skill limitations
Provide tools like smartphones, computers etc., at affordable prices to break the barriers of social norms
Launch of digital inclusion policies with a gender perspective to enable equal access to ICT for both men and women.
Build Partnerships:
MSMEs, local producer organisations and community-based NGOs often have the social capital to provide trustworthy information and good quality services.
These diverse and wide-ranging advises and services can be promoted among the farming communities via favourable government interventions and policies.
Ensuring the right blend of technologies
Identifying the right mix of technologies as per the local needs and context is a challenging task despite the mobile phone penetration in rural areas.
Relevant technologies should be identified based on the in-depth analysis of local needs and existing information systems so as to increase the efficiency of digital agriculture.
The liberalisation of the telecom sector:
Widespread connectivity can be achieved by ensuring increased liberalisation of the telecommunication sector.
Efficient spectrum management can also help mobile network operators lower deployment costs.
This in turn would result in the end-user having greater access to ICT services.
Government interventions:
The full potential of digital agricultural transformation cannot be realised without the government interventions and regulatory environment.
Addressing the digital divide must be made the top priority of the government.
It must also decide on the ownership and the use of data so as to enable investment and start-up growth.
Policy interventions must be ensured to transform smallholder farming into viable and sustainable digital businesses.
The government must ensure ICT adoption among farmers by distributing technologies that provide vital information for farmers.
Collaboration of all stakeholders:
The full potential of digital agriculture can be realised only with the comprehensive collaboration of all players in the agricultural value chain.
There is a need for a clear overview on the part of public and private actors on how to make use of the opportunities presented by digital agriculture.
The government, in this context, can help in increasing the availability of venture capital and creating a more favorable business environment.
Conclusion:
While considering the aforementioned arguments, it is amply clear that an increased focus and investments in digital agriculture would help India in realising the aspiration of 'Atmanirbhar Bharat' in the coming years. The government, along with the private players, must ensure the creation of a successful and sustainable smart agri value chain to augment the potential of the sector.
Practice question for mains:
How can digital agriculture help empower small and marginalised farmers? Critically examine challenges regarding the same. (250 words)