One Nation, One Grid – Power Grid, Gas Grid , Benefits and Way Forward
In a recent webinar, the Prime Minister of India stated that in recent years, India has added 139 Giga Watts capacity and reached the goal of one nation-one grid-one frequency. He added that reforms like the UDAY scheme were undertaken to improve financial and operational efficiencies. He further added that India has become a power surplus country from a power deficit one. The idea of One Nation, One Grid has been making rounds in the news for the last few years. However, the idea is not new to us. To reach the ambitious goal of India becoming a nation using renewable energy sources for most of its needs, the idea of One Nation, One Grid is vital. The energy sector plays a crucial role in the progress of the country and influences both ease of living and ease of doing business. To fulfil the goals, the nation needs to have last-mile connectivity and One Nation, One Grid is a step forward in this direction.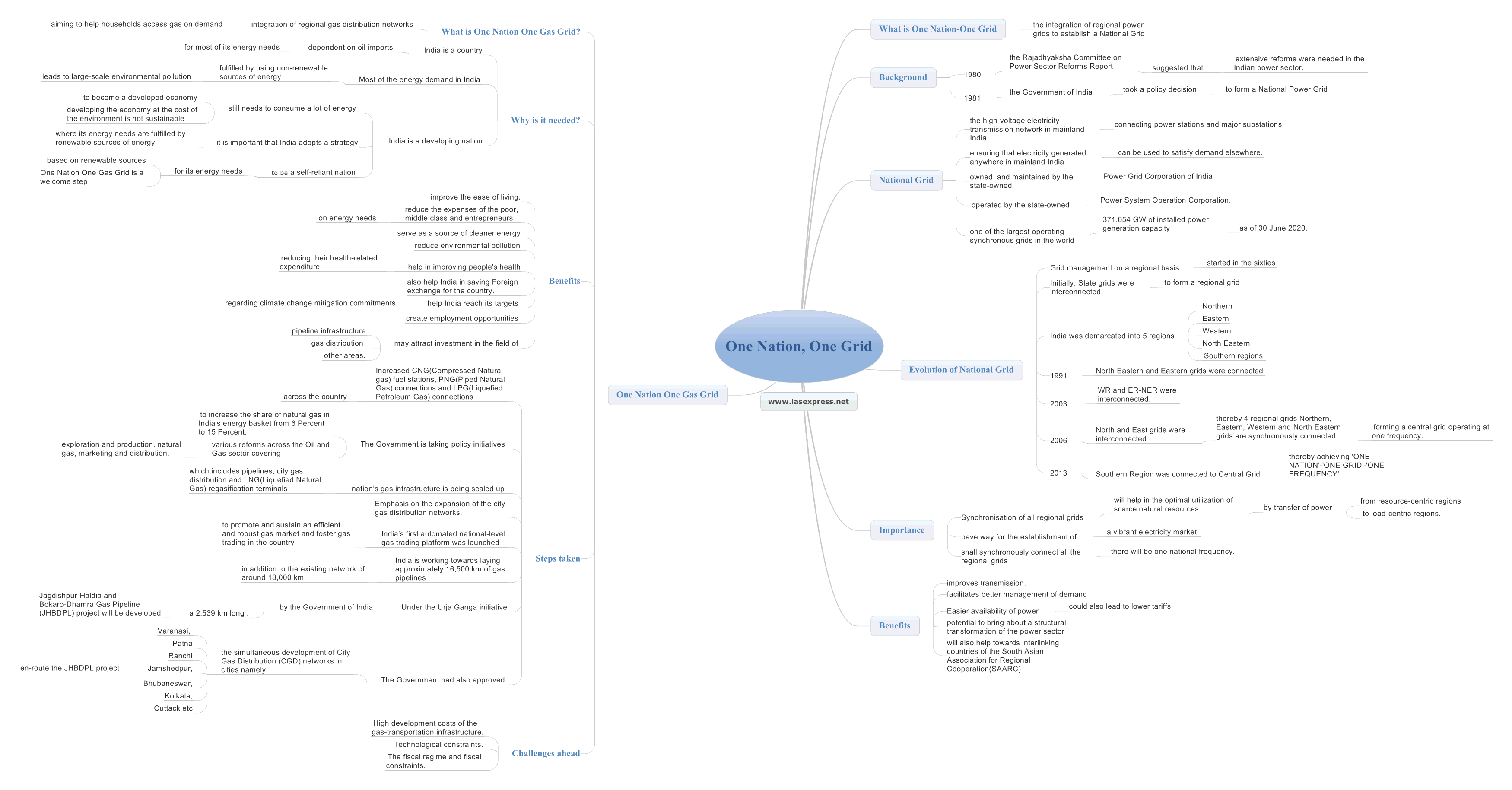 What is One Nation-One Grid
This refers to the integration of regional power grids to establish a National Grid.
Background
In 1980, the Rajadhyaksha Committee on Power Sector Reforms submitted its report to the Government of India suggesting that extensive reforms were needed in the Indian power sector. 
In 1981, the Government of India took a policy decision to form a National Power Grid, which would pave the way for the integrated operation of the central and regional transmission systems.
National Grid
The National Grid is the high-voltage electricity transmission network in mainland India, connecting power stations and major substations and ensuring that electricity generated anywhere in mainland India can be used to satisfy demand elsewhere.
The National Grid is owned, and maintained by the state-owned Power Grid Corporation of India and operated by the state-owned Power System Operation Corporation.
It is one of the largest operating synchronous grids in the world with 371.054 GW of installed power generation capacity as of 30 June 2020.
Evolution of National Grid
Grid management on a regional basis started in the sixties.
Initially, State grids were interconnected to form a regional grid and India was demarcated into 5 regions namely Northern, Eastern, Western, North Eastern and Southern regions.
In October 1991 North Eastern and Eastern grids were connected.
In March 2003 WR and ER-NER were interconnected.
In August 2006 North and East grids were interconnected thereby 4 regional grids Northern, Eastern, Western and North Eastern grids are synchronously connected forming a central grid operating at one frequency.
In 2013, Southern Region was connected to Central Grid in Synchronous mode with the commissioning of 765kV Raichur-Solapur Transmission line thereby achieving 'ONE NATION'-'ONE GRID'-'ONE FREQUENCY'.
Importance
Synchronisation of all regional grids will help in the optimal utilization of scarce natural resources by transfer of power from resource-centric regions to load-centric regions.
Further, this shall pave way for the establishment of a vibrant electricity market facilitating the trading of power across regions.
One Nation One Grid shall synchronously connect all the regional grids and there will be one national frequency.
Benefits
It improves transmission.
It facilitates better management of demand, ensuring the stability of the electricity grid.
Easier availability of power could also lead to lower tariffs.
It has the potential to bring about a structural transformation of the power sector.
The creation of an integrated national grid will also help towards interlinking countries of the South Asian Association for Regional Cooperation (SAARC) that groups India, Pakistan, Nepal, Bhutan, Bangladesh, Sri Lanka, Afghanistan and the Maldives.
One Nation One Gas Grid
The Government of India has been planning for quite a long time of connecting the nation through the creation of a "one nation one gas grid" by more than doubling the share of natural gas in the country's energy basket and diversifying the energy sources. This plan will make the economy a gas-based economy. It is a move towards cleaner energy sources.
What is One Nation One Gas Grid?
It is the integration of regional gas distribution networks aiming to help households access gas on demand.
Why is it needed?
India is a country that is dependent on oil imports for most of its energy needs. Most of the energy demand in India is fulfilled by using non-renewable sources of energy. This leads to large-scale environmental pollution. India is a developing nation. It still needs to consume a lot of energy to become a developed economy but developing the economy at the cost of the environment is not sustainable. Given these conditions, India must adopt a strategy where its energy needs are fulfilled by renewable sources of energy. To make the country a self-reliant nation for its energy needs, based on renewable sources, One Nation One Gas Grid is a welcome step.
Benefits
It would improve the ease of living.
It would reduce the expenses of the poor, middle class and entrepreneurs on energy needs.
It would serve as a source of cleaner energy.
It would reduce environmental pollution.
It would help in improving people's health and reducing their health-related expenditure.
It will also help India in saving thousands of crores of foreign exchange for the country.
It would help India reach its targets regarding climate change mitigation commitments.
It will create employment opportunities for a lot of people.
It may attract investment in the field of pipeline infrastructure, gas distribution and other areas.
Steps taken
Increased CNG(Compressed Natural gas) fuel stations, PNG(Piped Natural Gas) connections and LPG(Liquefied Petroleum Gas) connections across the country. Increased connections have reduced the shortage of kerosene and many States and Union Territories have declared themselves kerosene free.
The Government is taking policy initiatives to increase the share of natural gas in India's energy basket from 6 Percent to 15 Percent.
The Government has brought in various reforms across the Oil and Gas sector covering exploration and production, natural gas, marketing and distribution.
The nation's gas infrastructure is being scaled up which includes pipelines, city gas distribution and LNG(Liquefied Natural Gas) regasification terminals.
Emphasis on the expansion of the city gas distribution networks.
India's first automated national-level gas trading platform was launched to promote and sustain an efficient and robust gas market and foster gas trading in the country.
To enhance energy availability and accessibility, India is working towards laying approximately 16,500 km of gas pipelines in addition to the existing network of around 18,000 km.
Under the Urja Ganga initiative by the Government of India, a 2,539 km long Jagdishpur-Haldia and Bokaro-Dhamra Gas Pipeline (JHBDPL) project will be developed.
The Government had also approved the simultaneous development of City Gas Distribution (CGD) networks in cities namely Varanasi, Patna, Ranchi, Jamshedpur, Bhubaneswar, Kolkata, Cuttack etc. en-route the JHBDPL project.
The pipeline is expected to improve the usage of gas in eastern India and reduce the disparity of gas use in India.
Challenges ahead
High development costs of the gas-transportation infrastructure.
Technological constraints.
The fiscal regime and fiscal constraints.
Way forward
India is the 3rd largest global consumer of oil and its energy requirement is expected to grow at a CAGR of 4.6% through 2030, making it the fastest-growing energy consumer in the world. One Nation One Grid is a step by India to chart its own energy transition depending on the demand pattern and availability of resources. To save the environment and to meet its energy needs, India must adopt a sustainable way. To sum up, we can say that India has taken the responsible path of sustainable development and energy transition for a clean and green future for the nation.
Practise Question
Discuss briefly the concept of One Nation One Grid and how is it beneficial. (250 words)
Learn More