[In-depth] Renewable Energy in India – Progress, Challenges & Opportunities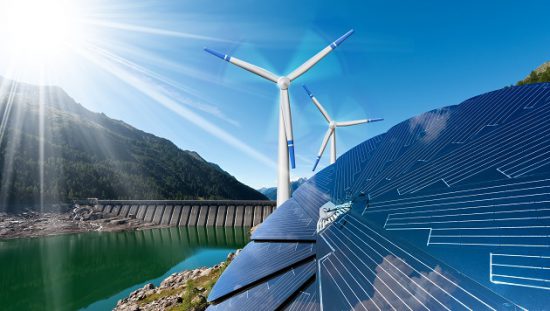 India is anticipated to be the biggest contributor to the renewables boom in 2021, with the country's annual growth in renewables doubling from 2020. Prime Minister of India mentioned about having huge renewable energy deployment plans for India for the next 10 years which are likely to create business opportunities of around $20 billion a year.

What is renewable energy?
It is an energy that is generated from the renewable sources – the ones that can be replenished quickly on par with human demand.
The examples of renewable energy sources include solar energy, wind energy, tidal energy, etc.
These sources, if used to produce energy, can reduce the amount of carbon emitted into the atmosphere.
Renewable energy is often used in the following areas:
Electricity generation
Heating/cooling of air and water
Transportation
Stand-alone power system or Remote Area Power Supply (RAPS) for rural areas.
In recent years, renewable energy is globally established as the mainstream energy source.
It has been estimated that the share of renewables in the global electricity generation is more than 24% by the end of 2018.
Also, renewables make up one-third of the global installed power capacity.
This is mainly due to the policy initiatives and targets that have sent a positive signal to the industries. copyright©iasexpress.net
Due to these facts, the costs of renewable energy are decreasing and the technologies are advancing to make it far more efficient and cheaper.
Despite the progress in renewables' adoption, it is insufficient to achieve the goals under the Paris Agreement or the Sustainable Development Goal 7 within the deadline.
This is because of the fossil fuel companies' continuous lobbying for delay or block climate change policies of various governments across the world and also influencing the public opinions with regards to climate change.
Why is it important for India?
Reduce oil demand:
It is evident that India has a vast amount of renewable resources.
What India doesn't have is the conventional energy sources like petrol and diesel.
India imports 84% of its oil needs.
With the volatile nature of international politics in the Middle East, India constantly faces insecurity in the global oil trade.
If India opts for renewable energy source, the global oil prices won't affect India's economy.
Reduce Pollution:
According to a study in 2019, 7 of the world's top 10 most polluted cities are in India.
New Delhi is deemed to be the most polluted capital on Earth.
It is vital that we address the issue before the situation worsens in the major cities in India. copyright©iasexpress.net
Rural electrification:
India still has many locations that do not have access to electricity.
Electrification of remote areas and inaccessible terrains is not possible using grid connectivity.
The only possible solution is the use of renewable energy sources to promote electrification to these areas.
This is because renewable energy sources are inexhaustible and the sourcing is versatile.
What are the initiatives taken by the government to promote renewable energy sector?
India is the first country in the world to have an exclusive ministry that is involved in the promotion and development of the renewables – Ministry of New and Renewable Energy (MNRE).
Nation Green Corridor Programme: This project aims at synchronising energy that is produced from renewable energy sources with the conventional stations.
National Clean Energy Fund: It is the fund created using the carbon tax for backing research and development of innovative eco-friendly technologies.
National Biogas and Manure Management Programme (NBMMP): It is a central scheme that promotes setting up of Family Type Biogas Plants mostly for the use of rural and semi-urban households. The energy is generated from biodegradable wastes such as cow-dug, wastes from the garden, kitchen, etc.
Biomass power and cogeneration programme: This scheme aims at optimum utilization of the country's biomass resources in the power grid. copyright©iasexpress.net
Draft National Wind-Solar Hybrid Policy: Through this policy, the government seeks to promote new renewable energy projects and hybridisation of the existing ones. It is a policy that provides a comprehensive framework to promote large grid-connected wind-solar photovoltaic hybrid system.
Off-Grid and Decentralised Solar Photo Voltaic Applications Programme: This scheme aims to promote off-grid application of the Solar Photovoltaic (SPV) systems for meeting the lighting and electricity needs of the individuals, communities, commercial and industrial institutions.
National Offshore Wind Energy Policy: This involves the utilization of India's Exclusive Economic Zone (EEZ) for the development of offshore wind farms up to 200 Nautical Miles from the baseline.
Promotion of Solar Parks and Ultra Mega Solar Power Projects: The aim of the mega project is to set up at least 25 Solar Parks and Mega-Solar Power Projects to produce 20, 000 MW of solar energy between 2014-15 and 2021-22.
Grid Connected Solar Rooftop programme: This scheme promotes the installation of solar panels across the country. It involves the installation of the solar panel at the rooftops of the residential, commercial, industrial and institutional buildings.
Sustainable Rooftop Implementation for Solar Transfiguration of India (SRISTI) scheme: This scheme provides financial aids to the beneficiaries who install a solar power plant at the rooftop within the country. copyright©iasexpress.net
Policy for Repowering of the Wind Power Projects: The main objective of this policy framework is to promote optimum utilization of the wind energy resources. This policy aims to replace the old wind turbines and promote a newer version of wind energy technologies.
Small Hydropower Programme: It involves the development of Small Hydro Power (SHP) Projects up to 25 MW station capacity. The potential of this programme is about 20,000 MW and it is mostly in the Himalayan States where the rivers are abundant and in States which have sufficient irrigation canals
National Solar Mission: It is a part of the National Action Plan on Climate Change. It is an initiative to promote solar power in India. This program was initiated in 2010 with a target of 20 GW by 2022. Later, this target was increased to 100 GW in 2015. By 2017-18, India has surpassed the original target of 20 GW – five years ahead of the deadline.
Promotion of Renewable Purchase Obligation: RPOs are policies that make it mandatory for large energy consumers utilize a certain percentage of their energy from renewable sources.
FDI Policy: FDI up to 100% is allowed in the renewable energy sector under the Automatic route and no prior Government approval is needed.
A new Hydropower policy for 2018-28 has been drafted for the growth of hydro projects in the country. copyright©iasexpress.net
The Ministry of New and Renewable Energy (MNRE) has decided to give custom and excise duty benefits to the solar rooftop sector, which in result will reduce the cost of setting up as well as generate power, thus increasing growth.
The Indian Railways is taking increased efforts via sustained energy efficient measures and high use of clean fuel to reduce emission levels by 33 per cent by 2030.
Pradhan Mantri- Kisan Urja Suraksha evam Utthaan Mahabhiyan: PM- KUSUM aims at providing financial and water security to farmers by means of utilizing solar energy capacities of 25,750 MW by 2022.
The Ministry of New and Renewable Energy on its website also provides Akshay Urja Portal and India Renewable Idea Exchange (IRIX) Portal. IRIX is a platform that enabled the exchange of ideas among energy-conscious Indians as well as the global community.
How far has India utilised its renewable energy potential?
India is the fifth-largest producer of solar energy and the sixth-largest producer of renewable energy.
However, India has not reaped the cost-effective benefits of the renewables.
The developing countries like China and Brazil have taken advantages of low-cost renewable energy to promote their economic growth.
According to International Renewable Energy Agency, China ranks first as the largest producer of renewable energy while Brazil ranks third in this list. copyright©iasexpress.net
Between the years 2014 and 2017, China's addition of its renewable energy capacity is six-times more than India's renewable energy capacity.
While China increased its solar energy capacity by 105.5GW, India has increased its capacity to only 14.3 GW.
In other words, India has increased its capacity only one-seventh of China's capacity.
The developed economies like the USA and Japan have twice this capacity.
Furthermore, the government has imposed safeguard duty on imported solar PV cells.
This, along with depreciation of rupee against the US dollar, is reducing the cost energy benefits of the renewables.
One of the crucial objectives for the promotion of renewable energy is to advocate the reduction of and finally eliminate the use of fossil fuels.
In contrast to the objective, according to Reuters, India's annual coal demand has risen by 9.1% during the year ending March 2019.
Coal is among the top five most imported goods in India.
The coal imports have risen from 166.9 million tonnes in 2013-14 to 235.24 million tonnes in 2018-19.
According to a study by Centre for Science and Environment, New Delhi, India's coal-powered thermal power plants are the most inefficient and polluting in the world.
75% of these plants don't comply with government regulation. copyright©iasexpress.net
Laws like the Coal Mines (Special Provision) Act, 2015 and the Mines and Minerals (Development and Regulation) Amendment Act, 2015 have increased the domestic coal usage for power generation.
This has worsened environmental pollution.
According to a report by Centre for Financial Analysis, only private banks are willing to invest in the clean energy projects and there has been 90% decline in the investments in the coal power projects in 2018 compared to the previous year.
According to a report by the Centre for Financial Accountability that was released on June 2018, out of the total lending of Rs.83,680 crore for 72 energy projects, 12 were for coal-powered thermal plants that had the combined capacity of 17 GW.
These thermal power plants have obtained a loan worth Rs.60, 767 crores while the other 60 renewable energy projects with a combined capacity of 4.5 GW were able to obtain Rs. 22,913 crore.
This report also stated that 8 of the top 10 lenders for these thermal power plants were from public sector banks.
Through this report, it is evident that the public sector banks are not willing to invest in new and emerging technologies.
These nascent renewable energy technologies require financial assistance to grow.
If governments and public sector banks do not promote these technologies, India will not be able to stay afloat in the era that is dominated by the race for clean energy resources and also will not be able to address the crisis of climate change and global warming. copyright©iasexpress.net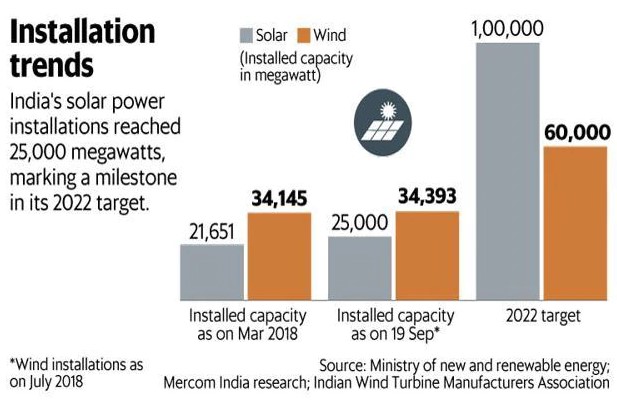 What are challenges while shifting to renewable energy?
High initial cost: While the coal-based power plants require an initial investment of about Rs. 4 crores per MW, the investments for solar and wind energy is far higher. The wind-based power plant with capacity utilization of 25% requires Rs. 6 crores per MW. For more efficient capacity utilization of 80%, the initial investment is about Rs.18 crore per MW. For solar power plants with a capacity of 15% requirement is Rs. 18 crores in investments. Thus due to the high cost, many opt for investment in coal-based power plants.
Weather-dependent: Renewable energy sources like solar, wind, tide, etc., are dependent on weather conditions. If the favourable weather conditions are not available, it becomes inefficient and unfeasible.
Location: Most renewable energy plants occupy large areas of space. This brings in the issue of the cost of the vast land area and other issues related to land acquisition. Also, the distance between the renewable energy source and the grid increased the cost and efficiency of renewable energy.
Drawbacks of wind energy technology: The turbines have caused noise pollution and are also killing birds while functioning.
Consequences of Hydropower plants: The dams destroy the habitat of the aquatic organisms and also hinder their migration pattern. They also reduce the movements of the sediments and nutrients which in turn affects the floodplains and deltas. copyright©iasexpress.net
Integration with the Main Grid:  is the area India needs to focus upon. To improve the uptake of renewables, storage and battery solutions are required in huge quantities.
24*7 Power Supply: (Sustainable + 24-hour power supply) + storage system = Huge challenge.
Agricultural Sector: High amount of power is consumed in the agricultural sector. Hence, the challenge is to provide enough power and energy to each household and also to the agricultural sector.
India's Key Focus for Next 5 Years
Methanol and Biomass: Utilizing other alternatives like methanol-based economy and biomass.

Bio-CNG vehicles with 20% blending in petrol is also a target for the government.
Generating energy from Biomass is a better option since it will clean the cities and also decrease our energy dependence. Fuels created from biomass have a high calorific value and are cleaner than traditional biomass.
The Twin Challenge: India has a twin challenge of providing more as well as cleaner energy to the population in India.

It should focus on getting into the manufacturing of solar panels under the Atma Nirbhar Bharat initiative because the demand is to generate jobs and supply decentralised energy to all the households in India.
Developing the whole supply chain of all the components besides the manufacturing sector. copyright©iasexpress.net

Hydrogen based FCV:  is likely to change the landscape of renewables and moving towards Hydrogen Based Fuel Cells Vehicles (FCV) is another area of focus.
Grid Integration: It is the practice of developing effective ways to provide variable renewable energy (RE) to the grid.
Way Forward:
It is estimated that India has the capacity to extract 900 GW from commercially available sources like the wind, hydro energy, bioenergy, and solar energy.
High financial assistance is essential for this nascent sector to grow.
The governments must undertake all measures necessary to increase the investments in the research and development of new sources of clean energy to safeguard the environment and to provide a sustainable energy source to the future generation.
Bulk production can reduce the production cost.
For example, if the solar panels are manufactured on a large scale, it will minimize the costs.
It is essential to integrate the new technology with the existing infrastructure to reduce the cost of renewable technology.
Renewable resources particularly wind cannot be set up everywhere, they require a particular location. Identification of these specific locations, integrating them with the main grid and distribution of powers; A combination of these three is what will take India forward.
More storage solutions need to be explored.
Agricultural subsidies need to be rectified for making sure that only the necessary amount of energy is consumed.
Hydrogen fuel cell-based vehicles and Electric vehicles are the most suitable options for moving towards renewable sources of energy and we need to focus on them.
If this is done the limitations of the clean energy sources can be easily overcome.
Updates
Prime Minister Narendra Modi made two important announcements at the climate summit in Glasgow (COP26):
India will achieve non-fossil energy capacity to 500 gigawatt (GW) by 2030.
The country will achieve 50 per cent of its energy needs from renewable energy by 2030.
The two targets may sound big, but in reality are just an extension of the commitments India made at the Paris Summit of 2015. However, they are significant and have helped the country get a lot of international attention, that should in time translate into much-needed funding for the rapidly increasing renewable energy market, particularly solar.
In Paris, India had said it would create 40 per cent of its installed energy capacity from non-fossil sources (solar, wind, hydro, biomass and nuclear) by 2030. Therefore, the government revised and fixed an ambitious target of generating 450 GW of renewable energy (RE) by 2030.
In Glasgow, PM revised the renewable energy installation target for this decade from 450GW to 500GW, an 11% jump.