[In-depth] Blood Batteries- Role of EV in Child Labour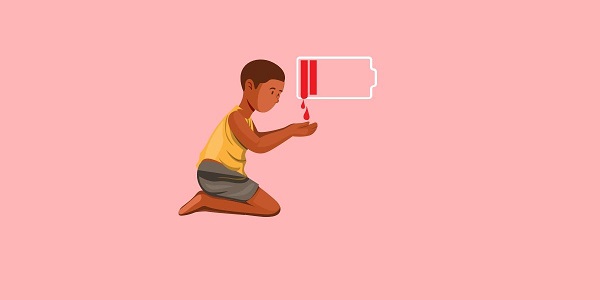 The world is quickly turning to electric vehicles are one of the sure-fire ways of addressing climate change. India too is on this bandwagon. While EVs are essential for weaning the countries away from relying on fossil fuels for transportation, there is a hidden side to the story- that of battery metal mining. The mining of these metals involve not only environmental degradation, but also child labour- making EV a not so clean a solution as presented.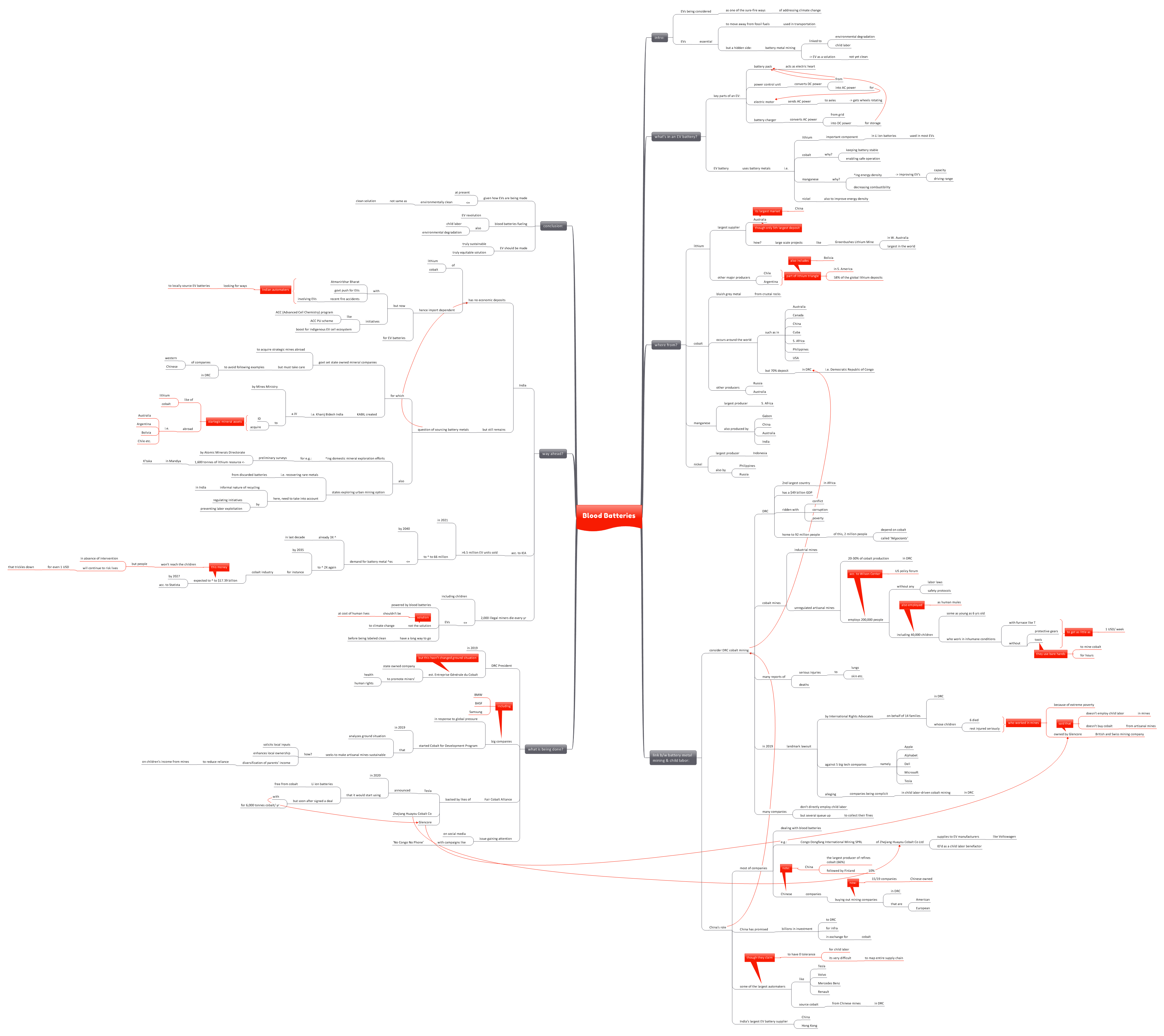 What goes into an EV battery?
A

battery pack

– functions as the vehicle's electric heart

Power control unit

– coverts the DC power, stored in the battery pack, into AC power for the motor

Electric motor

– sends the AC power to the axles to get the vehicle's wheels rotating

Battery charger

– converts the AC power from the electric grid into DC power for the battery pack during charging process
Several metals go into making these batteries-

lithium

,

cobalt

,

manganese

and

nickel

. These are known as

'battery metals'.

Most of the EVs use

Li-ion batteries.

Cobalt is used to keep the battery

stable

and to enable

safe operation.

Manganese is noted for increasing the battery's

energy density

, thereby improving the vehicle's

capacity

and

driving range

. It is also used in decreasing the battery's

combustibility

. copyright©iasexpress.net
Nickel is another ingredient used to improve the battery's energy density.
Where do these metals come from?
Lithium
Australia is the

largest supplier

of lithium, even though its lithium deposit is only the 5th largest in the world.
This is thanks to mining projects like the

Greenbushes Lithium Mine

, considered as the world's largest lithium mining project, in Western Australia.
Notably,

China

is Australia's largest lithium market.
Other major lithium producers are

Chile

and

Argentina

– part of the

Lithium Triangle

which holds

58% of the global lithium deposits.
Cobalt:
Cobalt is a

bluish grey metal

extracted from

crustal rocks

i.e. rocks found on the earth's crust.
It occurs around the world, in countries like Australia, Canada, China, Cuba, South Africa, the Philippines and USA.
However,

70%

of the global cobalt supply is from Democratic Republic of Congo.
Other major producers are

Russia

and

Australia

.
Manganese:
South Africa

is the largest manganese producer.
Other major producers include

Gabon

,

China

,

Australia

and

India

.
Nickel:
Indonesia

is the largest nickel producer.

Philippines

and

Russia

are other major producers.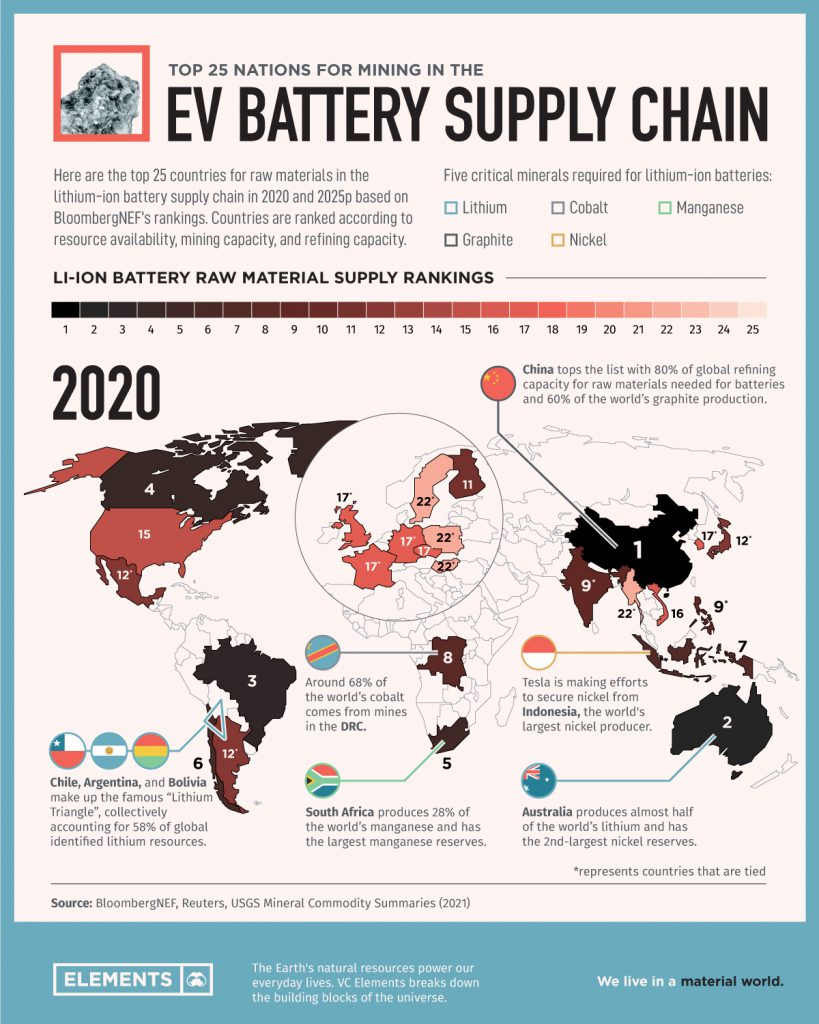 How is battery metal mining linked to child labour?
The case of cobalt mining in DRC can be taken to understand the link: copyright©iasexpress.net
DRC is Africa's 2nd largest country and has a

$49 billion GDP

. The country is ridden with

conflict

,

corruption

and

poverty

.
Of the

92 million people

who live in DRC,

2 million people

depend on cobalt production. They are referred to as '

Négociants

'.
While the country has

industrial scale cobalt mining projects

, some

20-30% of the metal

is mined from the

unregulated artisanal mines.

These mines employ

200,000 people

, but aren't governed by

labour laws

or

safety protocols

. Some

40,000

of these people are children– some as young as 6 years old, according to Wilson Center (a US policy forum).
These children are used to dig for cobalt in places that are inaccessible for the adult miners. They work in inhumane conditions with furnace-like temperatures.
They aren't given

protective gear

or even shovels to mine the metal. They typically dig for it with bare hands for hours, only to earn as little as a

dollar/ week

. They are sometimes employed as

human mules

for transporting the mined cobalt.
There have been many reports of

serious injuries

(to the lungs and skin) and

death

of children employed in these mines.
In

2019

, a

landmark lawsuit

was filed by

International Rights Advocates

, on behalf of 14 families from DRC, against

5 large tech companies

– Tesla, Apple, Alphabet, Dell and Microsoft.

The lawsuit accused the tech giants of being

complicit in the child labour-driven cobalt m

ining in DRC. copyright©iasexpress.net
Of these 14 families, 6 had lost their children to tunnel collapses while the rest saw their children affected by serious injuries, such as paralysis.
These children had been forced by their family's extreme poverty to work in mines owned by

Glencore

– a British and Swiss mining company.
Glencore argued that it doesn't employ child labour in its mines nor does it purchase cobalt from artisanal mines.

Many of these children aren't directly employed by such large companies. However, many companies queue up to collect their fines.
China's Role:
Notably, a significant majority of the companies dealing with blood batteries are

Chinese

. China is the

largest producer of refines cobalt (66%)

. It is followed by

Finland (at 10%).

Over the years, Chinese companies have been buying out

American and European mining companies

in the DRC. In recent times,

15 out of 19 industrial mines

in DRC fall under Chinese ownership.
An example is the

Congo Dongfang International Mining SPRL

of

Zhejiang Huayou Cobalt Co Ltd,

which supplies to EV manufacturers like

Volkswagen

. It is one of the companies identified as a

child labour benefactor.

China has promised the country billions in investment for infrastructure in exchange for DRC cobalt.
Some of the largest automakers, including Tesla, Renault, Mercedes Benz and Volvo source their cobalt from Chinese mines in the DRC. Even though they claim to have zero tolerance for child labour, it is very difficult to map the

entire supply chain.

copyright©iasexpress.net
Notably,

China

and

Hong Kong

are the largest suppliers of EV batteries to India.
What is being done to address this situation?
In 2019, DRC President Tshisekedi established the

Entreprise Générale du Cobalt,

a state-owned company to promote

miners' health

and

human rights

. However, this hasn't changed the situation at the ground level.
In response to global pressure, big companies, like BMW, BASF and Samsung, launched the

Cobalt for Development Program

in

2019

. It is a program to analyse the ground-level situation and make the

artisanal mines more sustainable.

It solicits local inputs and enhances

local ownership

. One of its strategies is

diversification of parents' income source

to reduce the families' reliance of children's income from mining.
Another initiative of note is the

Fair Cobalt Alliance

. Notably, it is backed by Tesla, Zhejiang Huayou Cobalt Co and Glencore.
In

2020

,

Tesla

announced that it would start using c

obalt-free Li-ion batteries

in its cars. However, it soon concluded a deal with Glencore for 6,000 tonnes of cobalt/ year.
The issue is gaining attention on social media and is seeing campaigns like

'No Congo No Phone'

to protest the use of child labour in DRC's cobalt mines.
What is the way ahead?
India doesn't have an economic deposit of cobalt or lithium. As a result, most of the

EV batteries are imported.

copyright©iasexpress.net
However, with the recent government push for Atmanirbhar Bharat and

use of EVs

, Indian automakers are looking to source the batteries locally.
This demand has increased even more following the

recent fire accidents

involving EVs. Automakers are betting that

locally manufactured batteries

might be a

safer option.

Other recent initiatives that are seeing many takers are the

ACC (Advanced Cell Chemistry) program

and the

ACC production linked incentive scheme

. These are expected to boost the

indigenous EV cell ecosystem.

However, a question of sourcing the battery metals still remains. Towards this, the government has set several state-owned mineral companies on mission to

acquire strategic mines abroad.

In January, the Mines Ministry created

KABIL (Khanij Bidesh India)

– a joint venture company to identify and acquire lithium, cobalt and other strategic mineral assets in countries like

Australia

,

Argentina

,

Bolivia

and

Chile

.
But care must be taken to

avoid

following the

examples of Chinese and Western companies

in DRC.
The government is also stepping up

domestic mineral exploration efforts

. For instance, preliminary surveys by

Atomic Minerals Directorate

revealed the presence of

1,600 tonnes of lithium resource

in

Karnataka's Mandya district.

Meanwhile, states are examining the option of

urban mining

i.e. recovering rare metals from discarded EV batteries. However, given the

informal nature

of India's recycling sector, care must be taken to regulate the initiatives and prevent labour exploitation. copyright©iasexpress.net
IEA reports that

over 6.5 million EV units

were sold in

2021

. This is expected to increase to

66 million

by

2040

.
Understandably, the demand for battery metals

tripled

in the

past decade

and is projected to

double again

by

2035

. For instance, the cobalt industry is expected to swell up to

$17.39 billion

by

2027

, according to Statista.
None of this money will reach the children employed in DRC's cobalt mines. However, in absence of intervention, people will continue to risk their lives for even that single dollar trickling down.
As

2,000 illegal miners

, including children, die in the DRC mines every year, there is a need to understand that EVs, powered by blood batteries, cannot be a solution to climate change.
An answer to climate change shouldn't be at the cost of human lives. EVs have a long way to go before getting the

'clean' label.
Conclusion:
Given the way EVs are being manufactured at present, it is to be understood that what is clean for the environment, may not be really clean. Blood batteries continue to power the EV revolution and also fuel child labour and environmental exploitation. Efforts are imperative to make EV a truly sustainable and equitable solution.
Practice Question for Mains
Comment on the link between battery metals and child labour. What can India do to address the issue? (250 words) copyright©iasexpress.net