GS Paper 1 Question Paper (Analysis & Solutions) – UPSC Civil Services Mains 2023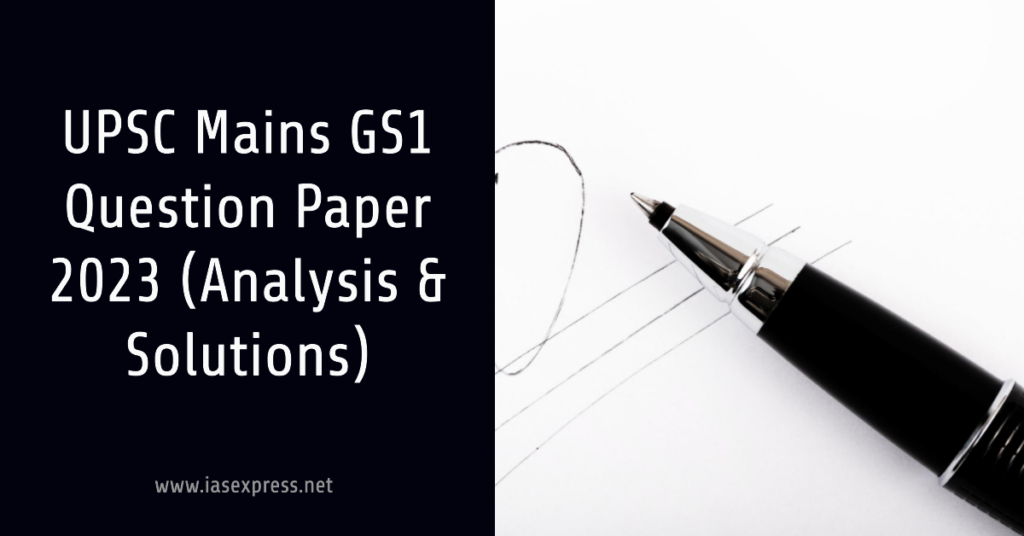 Click the links to read the solutions!
Analysis & Approach
The questions cover a broad spectrum, ranging from geography, history, to society topics relevant to India. Here's an analytical approach to each question: copyright©iasexpress.net
Geographical Factors in Ancient India's Development:

Introduction: Briefly describe Ancient India's vast geography.
Mention factors: Himalayas, River systems, Climate, Topography, Natural resources.
Conclude by stating the significance of these factors in shaping civilizations, trade, etc.

Gandhi vs. Tagore on Education and Nationalism:

Compare their views on education: Gandhi's Nai Talim vs. Tagore's Shantiniketan.
Contrast their opinions on nationalism: Gandhi's mass-based approach vs. Tagore's world citizenry.

Socio-economic Effects of Railways Globally:

Europe: Industrial Revolution, urbanization.
Africa: Extraction of resources.
Asia: Movement of people, goods, cultural exchange.
America: Westward expansion, trade, and development.

Climate Change and Food Security:

Describe the adverse effects: Altered rain patterns, unpredictable seasons, loss of arable land.
Impact on staple crops.
Concluding thoughts on the urgency to adapt.

Crisis of Freshwater Resources:

List reasons: Over-extraction, Pollution, Climate change.
Emphasize on population growth, industrialization, poor water management.
Implications for the future.

Formation of Fjords:

Define fjords and describe their formation due to glaciation.
Explain their scenic value due to unique landscapes, deep-blue waters, towering cliffs.

South-West Monsoon and 'Purvaiya':

Explain the wind system.
Link to cultural practices, agricultural reliance, festivals.

Marriage as a Sacrament:

Describe the traditional view of marriage.
Current trends: Rising divorce rates, live-in relationships, individualistic society. copyright©iasexpress.net
Concluding remarks on changing values.

Increase in Suicides among Young Women:

List reasons: Societal pressures, mental health stigma, domestic violence.
Role of social media, changing family structures, and economic pressures.

Mobile Phones Replacing Child Cuddling:

Discuss the rise of technology.
Impact: Delayed social skills, increased screen time, dependency on virtual communication.

Vedic Society and Religion:

Describe Vedic society: Caste system, rituals.
Present-day parallels: Ritual practices, festivals, societal structures.

Technological Changes during the Sultanate Period:

Introduce advancements: Architecture, irrigation, military tech.
Effects: Socio-cultural amalgamation, agricultural boost, fortified cities.

Colonial Rule and Tribals:

Discuss forest acts, land acquisitions.
Tribal revolts: Santhal, Munda, and others.

Resource Potential of Indian Coastline:

Enumerate resources: Fisheries, ports, tourism.
Discuss natural hazard preparedness: Tsunamis, cyclones.

Diversity of Natural Vegetation in India:

Factors: Climate variations, topography, soil types.
Highlight rainforest sanctuaries: Western Ghats, Northeast.

Human vs. Economic Development in India:

Discuss disparities: Income inequality, social indicators lagging.
Education, health care challenges.

India's Food Export Transition:

Discuss Green Revolution, agricultural reforms.
Global trade dynamics, advancements in agri-tech.

Urbanization and Marginalization:

Present urban challenges: Slums, lack of basic amenities.
Increasing wealth disparity in cities.

Fluidity and Static Nature of Caste:

Discuss historical rigidity.
Current dynamics: Political mobilization, inter-caste marriages. copyright©iasexpress.net

Post-liberal Economy's Impact:

Discuss economic liberalization of 1991.
Resultant rise in ethnic identity: Globalization vs. Regionalism.
Interplay with communalism: Political scenarios, social fabric changes.
For each topic, it's essential to adhere to the word count and ensure the answer is concise, relevant, and well-structured. Always start with a brief introduction, followed by the main content, and end with a conclusion or forward-looking statement.
Learn More