Food & Nutrition Security in India: Issues, Challenges & Government Policies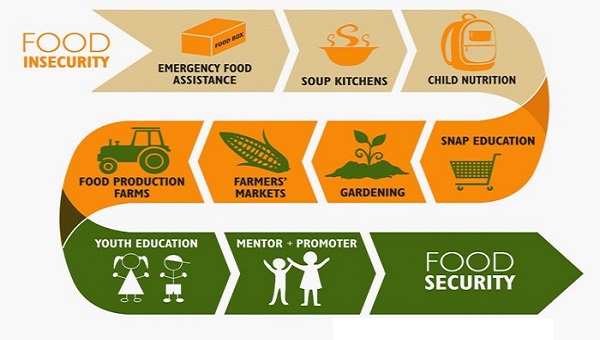 Food and Nutrition Security Analysis, 2019 – report that was recently published showed the bleak picture of the hunger and malnutrition amongst children in India. Regardless of all measures taken by the Indian government to ensure economic growth, implementation of numerous government schemes to eradicate poverty and malnutrition, undernourishment remains high among the poor in Indian society. If the situation is not addressed soon, the aspiration to achieve SDG-2 may become far more difficult.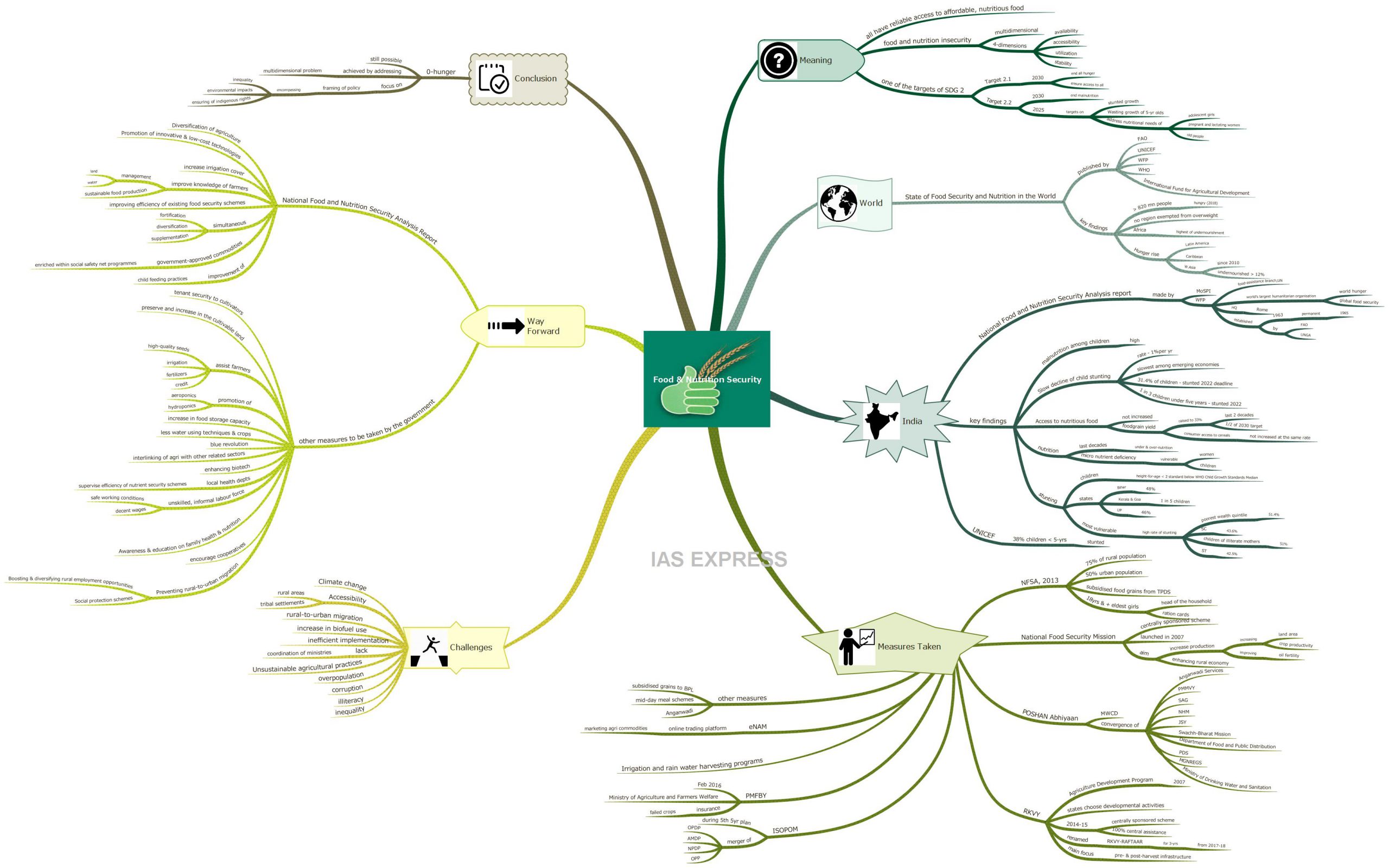 Mindmap Learning Programme (MLP)
Absorb information like a sponge!
What are food and nutrition security?
Food and nutrition security is when all individuals have reliable access to sufficient quantities of affordable, nutritious food to lead a healthy life.
The problem of food and nutrition insecurity is multidimensional in nature.
It has four dimensions that encompass both the chronic and temporary (acute) situations:
Availability: Sufficient food must be available on a consistent basis to all.
Accessibility: The food may be produced or available for consumption. However, it does not help if it can't reach those who are in need of it. Thus, there must be sufficient resources to obtain appropriate foods for the achievement of food and nutrition security.
Utilization: Food must be prepared and consumed appropriately based on the basic knowledge of nutrition and handling, as well as the availability of adequate water and sanitation to prevent foodborne diseases.
Stability: The availability, access, and utilization of a nutritious food must be consistent without being vulnerable to economic and natural shocks.
Food and nutritional security is one of the targets of SDG-2.
Sustainable Development Goal – 2
Goal 2 of the 2030 Sustainable Development plans to end hunger and malnutrition of all forms and double the agricultural productivity in the next 15 years.
Target 2.1: By 2030, end hunger and ensure access by all in people, in particular, the poor and people with vulnerable situations, including infants, to safe, nutritious and sufficient food all year round.
Target 2.2: By 2030, end all forms of malnutrition, including achieving, by 2025, the internationally agreed targets on stunting and wasting children under 5 years of age and address the nutritional needs of adolescent girls, pregnant and lactating women and older persons
What is the status of food and nutrition security in the world?
"The State of Food Security and Nutrition in the World" is the annual joint report published by the FAO, UNICEF, the World Food Programme, the International Fund for Agricultural Development and WHO.
This report presents the latest estimates on food insecurity, hunger, and malnutrition at global and regional levels.
The 2019 edition of this report continues to signal the significant challenges that remain in the fight against food insecurity and malnutrition in all forms.
Some of the highlights of this report are as follows:
More than 820 million people in the world were still hungry in 2018, emphasizing the immense challenge of achieving the Zero Hunger target by 2030.
At the same time, no region is exempt from obesity and overweight.
Hunger in on the rise in almost all African sub-regions, making Africa the region with the highest prevalence of the undernourishment.
Hunger is also slowly rising in Latin America and the Caribbean while Western Asia shows a continuous increase since 2010, with more than 12% of its population undernourished.
The report had called for actions to safeguard food security and nutrition through economic and social policies to help counteract the effects of such slowdowns and downturns – including guaranteed funding of social safety and ensuring universal access to health and education.
The report also called for action to curb inequalities at all levels through multi-sectorial policies to sustainably avert food insecurities and malnutrition.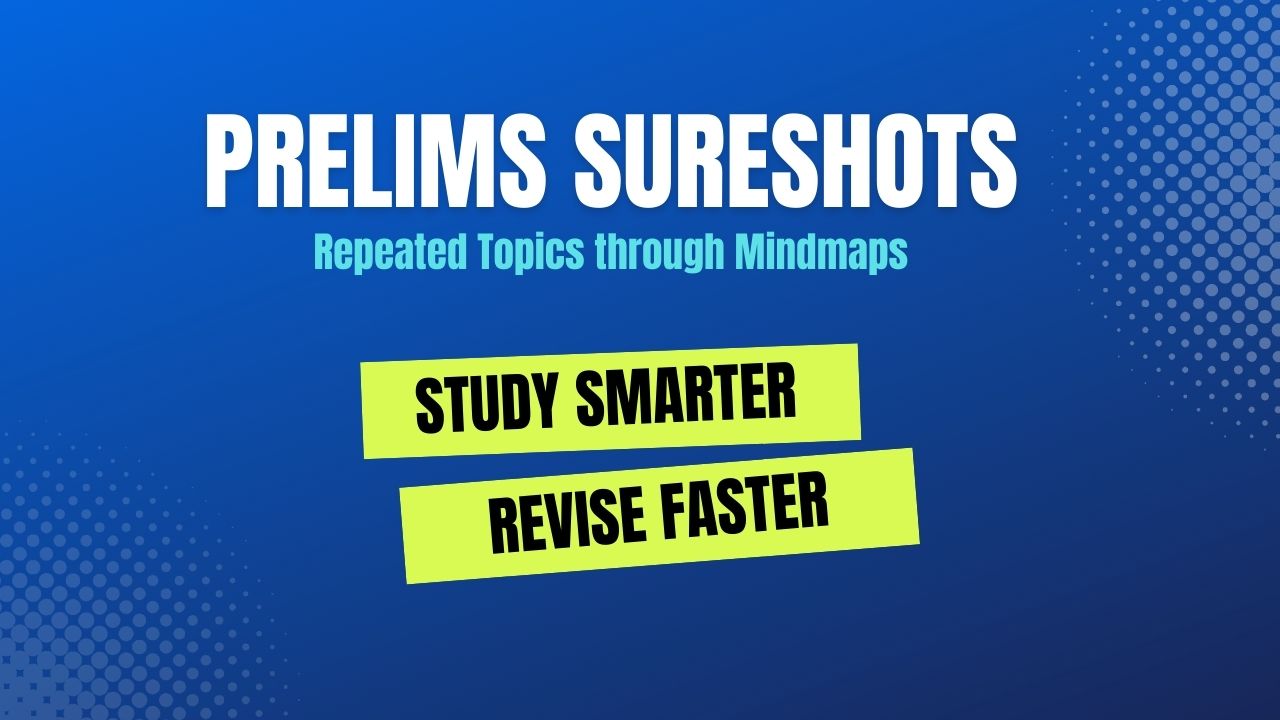 What is the status of food and nutrition security in India?
National Food and Nutrition Security Analysis report was developed in partnership between the World Food Programme (WFP) and the Ministry of Statistics and Programme Implementation (MoSPI), Government of India.
WFP:
It is the food-assistance branch of the UN and is the world's largest humanitarian organisation that was established to address global hunger and for the promotion of food security across the world.
Its headquarters is located in Rome and it assists those who cannot produce or obtain enough food by themselves.
It was established in 1963 by FAO and UNGA on a three-year on an experiment basis.
It became a permanent organisation in 1965.
It is a member of the United Nations Development Group and a part of its executive committee.
The significant findings of National and Nutrition Security Analysis report are as follows:
Malnutrition amongst children in India is estimated to be high in spite of all the progress made in food security.
The slow decline of child stunting: In the last decade, the child stunting had been reduced at a rate of about 1% per year. This is the slowest among the emerging economies. At this rate, about 31.4% of children will be stunted by the 2022 deadline. Based on the current trends, almost one in three children under five years of age will be stunted by 2022.
Access to nutritious food has not been increased: The yield of food grains has raised to 33% over the last 2 decades. This is only half of the 2030 target yields. The consumers' access to rice, wheat, and other cereals has not increased at the same rate due to population growth, food wastage, and losses, inequality and exports. As a consequence, the average per capita consumption of energy among the poorest 30% of the population is 1811 kilocalories. This is much lower than the norm of 2155 kilocalories per day.
Nutrition: In the early decades, India was suffering from only under-nutrition. In the last decade, however, it had to deal with both under-nutrition and over-nutrition and is becoming prominent in recent times. Despite the positive trends and results of the food security measures in India, many people, especially women and children are vulnerable to micronutrient deficiency.
Stunting:

The children are stunted if their height-for-age is more than two standard deviations below the WHO Child Growth Standards Median.

State-wise analysis: In Bihar and Uttar Pradesh, the stunting rate is around 48% and 46% respectively. This means that, in these states, almost every 2nd child is stunted. On the other hand, in Kerala and Goa, it is only one in five children.
The most vulnerable: There is a high rate of stunting amongst children in the poorest wealth quintile (51.4%), Scheduled Tribes (43.6), Scheduled Castes (42.5%) and children of illiterate mothers (51%).
According to UNICEF, 38% of children younger than 5-years of age in India are stunted. This is the outcome of chronic under-nutrition in the country.
Stunting and other malnutrition may be responsible for nearly half of all children's deaths globally.
What are the measures taken by the government to address this issue?
There are numerous government initiatives that were undertaken since independence to address this issue. The most recent of them all are as follows:
National Food Security Act (NFSA), 2013: This Act legally permits up to 75% of the rural population and 50% of the urban population to receive the subsidized food grains under the Targeted Public Distribution System. The eldest woman of the household age 18 years or above is authorized to be the head of the household to ensure the issuing of ration cards under the Act.
National Food Security Mission:
It is a centrally sponsored scheme that was launched in 2007.
It aims to increase the production of rice, wheat, pulses, coarse cereals, and commercial crops by expanding the area of cultivation and increasing the productivity of the crops.
It also deals with the improvement of soil fertility and productivity at the ground level and enhancement of the rural economy.
National Nutrition Mission (POSHAN Abhiyaan) is a flagship programme of the Ministry of Women and Child Development (MWCD). It ensures the convergence of various programmes like Anganwadi Services, Pradhan Mantri Matru Vandana Yojana (PMMVY), Scheme for Adolescent Girls (SAG) of MWCD, Janani Suraksha Yojana , National Health Mission (NHM), Swachh-Bharat Mission, PDS, Department of Food and Public Distribution, Mahatma Gandhi National Rural Employment Guarantee Scheme (MGNREGS) and Ministry of Drinking Water and Sanitation.
Rashtriya Krishi Vikas Yojana (RKVY)
Also known as Agriculture Development Program, it was launched in 2007 to allow states to choose their own developmental activities for the growth and development of agriculture and other related sectors in accordance with the district or state agricultural development plan.
It was made into a centrally sponsored scheme in 2014-15 with 100% central assistance.
RKVY has been renamed as Rashtriya Krishi Vikas Yojana – Remunerative Approaches for Agriculture and Allied sector Rejuvenation (RKVY-RAFTAAR) for 3 years i.e., from 2017-18 to 2019-20.
It aims to make farming a lucrative economic activity by strengthening the farmer's efforts, risk mitigation and promoting entrepreneurship in the agricultural sector.
The main focus will be on pre & post-harvest infrastructure while also promoting entrepreneurship and development within the sector.
Integrated schemes on oilseeds, pulses, palm oil and maize (ISOPOM):
To provide flexibility to the states in the implementation of these programmes based on the regional differences, the following four schemes were merged together into one centrally sponsored scheme during the 10th Five-year plan.
Oil Seeds Production Programme (OPP)
Accelerated Maize Development Programme (AMDP)
Oil Palm Development Programme (OPDP)
National Pulses Development Project (NPDP)
This was based on the recommendation by the planning commission.
Pradhan Mantri Fasal Bima Yojana:
It was launched in February 2016.
It comes under the jurisdiction of the Ministry of Agriculture and Farmers Welfare.
It ensures inclusive insurance cover in case of failure of the crop.
It helps stabilize the farmers' incomes.
eNAM: National Agriculture Market or eNAM is an online trading platform for agricultural commodities. It facilitates farmers, traders, and buyers with online trading of the commodities. It helps promote fair prices and ensures a smooth market for the goods.
Irrigation and rainwater harvesting programs to increase the irrigation area from 90 million hectares to 103 million hectares by 2017.
Other innovative measures: The government had taken several measures to counter malnutrition over the past two decades through:
Mid-Day meal scheme at schools is a centrally sponsored scheme that covers all school children between class I-VIII of government and government-aided schools.
Anganwadi: A type of childcare centre that provides rations to pregnant and lactating mothers.
Subsidised grains for BPL people through PDS systems
What are the challenges faced by India with regard to food and nutrition security?
There are several challenges that are affecting the food and nutritional security of India. They are as follows:
Climate Change: The rise in temperature and the unreliability of rainfall makes it highly difficult for the agricultural sector to grow. It is not only exclusively affecting the crop outputs but also affecting livestock, fisheries, and aquaculture, forests This, as a consequence, can affect the income, employment opportunities, trade, health, etc., leading to it becoming a multidimensional problem.
Accessibility: Even today, few areas in India are isolated and infrastructure development and connectivity in these areas are few and far between. This is especially prominent in rural areas and tribal settlements.
Migration: In recent times, there is an increase in rural-to-urban migration. Therefore, there is an increase in competition for limited employment opportunities. This has led to growth in slums. These slums lack proper housing, health, and hygiene and are increasing the food insecurity.
Biofuel: Currently, there is a high demand for biofuels in the market due to the interventions by the government. This has reduced food cultivation.
Implementation: Although there are numerous nutritional and food security programmes across the nation, the implementation is inefficient due to the exclusion of deserving beneficiaries. This is also because the identification of the beneficiaries is subjective and they differ from state-to-state.
Lack of coordination between various ministries is preventing the implementation of innovative food and nutrition security measures.
Unsustainable agricultural practices: The overexploitation of resources for increasing the production of crops is creating both environmental and economic impacts within the country.
The other challenges include overpopulation, corruption, illiteracy, inequality in all forms.
What can be the way forward?
National Food and Nutrition Security Analysis Report had recommended several steps to deal with food security. These recommendations were grouped into three categories – availability, access, and utilization. The recommendations are as follows:
Diversification of agriculture: The farmers must be made aware of the need and advantages of diversification of agriculture. Example: legumes alternative to rice and wheat.
Promotion of innovative and low–cost technologies: New and innovative technologies must be provided to the farming community at a subsidised rate to ensure higher returns with less wastage of resources.
Increasing the irrigation coverage and improving the knowledge of farmers on the management of land and water resources to promote the sustainability of food production.
The government must enforce policies to support the cultivation of the traditional crops in India.
Storage capacity should be improved to prevent post-harvest food losses.
The targeting efficiency of all food security schemes, especially the Targeted Public Distribution System (TDS) to ensure food security to the poor.
The government-approved commodities must be enriched within the social safety net programmes to ensure the nutrition security of the country.
Child feeding practices should be improved in the nation, especially during the critical stages when healthy food should be introduced in the diets of pregnant women.
Fortification, diversification, and supplementation must be undertaken simultaneously to achieve the overall food and nutrition security by specifically addressing micro and macronutrient deficiencies.
While implementing food and nutrition security, the government must include the following:
The government must provide security to the tenant cultivators through policies and laws.
Measures should be taken to preserve and increase the cultivable land.
The government must assist the farmers to improve their production capacities by providing them with irrigation facilities, high-quality seeds, fertilizers, credits with low and stable interest rates, etc.
Promotion of aeroponics and hydroponics – the systems that allow the plants to grow without soil. This will ensure the efficient use of water and nutrients. Given the increased land degradation, desertification, and reduction in the area of cultivable land, making use of these techniques in a country that may have a very high population in the future is a need of the hour.
Infrastructure and technological development to ensure improved food storage capacity in rural areas.
Adoption of crops and techniques that needs less water consumption. For example, the System of Rice Intensification (SRI) method for rice cultivation.
Government measures to promote crops that require less water to grow.
Promotion of agricultural practices that maintains soil moisture to reduce wastage of water.
Promotion of Blue Revolution: Improving the performance of fisheries and aquaculture sectors to ensure food and nutrition security. This is a highly efficient source of protein. It can be made use of to address the nutrition security of the country.
Integration of agriculture with other related sectors. For example Rice-Fish integration, horticulture-fish system, mushroom-fish system, and integration of agricultural crops like rice, coconut, and banana with fish culture under on interlinked system.
Biotechnology: India is still not making use of the potentials emerging out of biotechnology. Selective breeding of livestock and Genetically Modified (GM) plants can produce specified and needed nutrients. Example: GM wheat that is resistant to diseases and breeding of cows to increase the milk yields.
The local health departments must supervise the efficiency of nutrient security schemes on a regular basis.
The unskilled, informal labour force must be provided with healthy and safe working conditions and decent wages.
Awareness and education on family health and nutrition must be prioritized by the government. Participatory and planned communications methods should be used in these situations.
The cooperatives play a significant role in providing food security to the poor especially in southern and western India. The cooperatives set up shops to sell goods at a cheap price. These initiatives must be encouraged and promoted.
Prevention of rural-to-urban migration through:
Boosting and diversifying rural employment opportunities especially to the women and youth living in the villages.
Social protection schemes to ensure risk management for the vulnerable.
Conclusion:
The aspiration to achieve zero hunger is still not unachievable in India despite all the indications of otherwise. It can be achieved by addressing the multidimensional problem of food insecurity by framing of policy that encompasses various issues like inequality, environmental impacts, ensuring of indigenous rights, etc., for achieving sustainable food and nutritional security to all.