REDD+ : Features, Significance, Issues


Recently, Uganda became the first African country to submit Reducing Emissions from Deforestation and Forest Degradation (REDD+) results to the United Nations Framework Convention on Climate Change (UNFCCC). According to Food and Agriculture Organization, the result submission paved the way for result based payments to the country. In this context, it is important to study REDD+ and its role in climate action.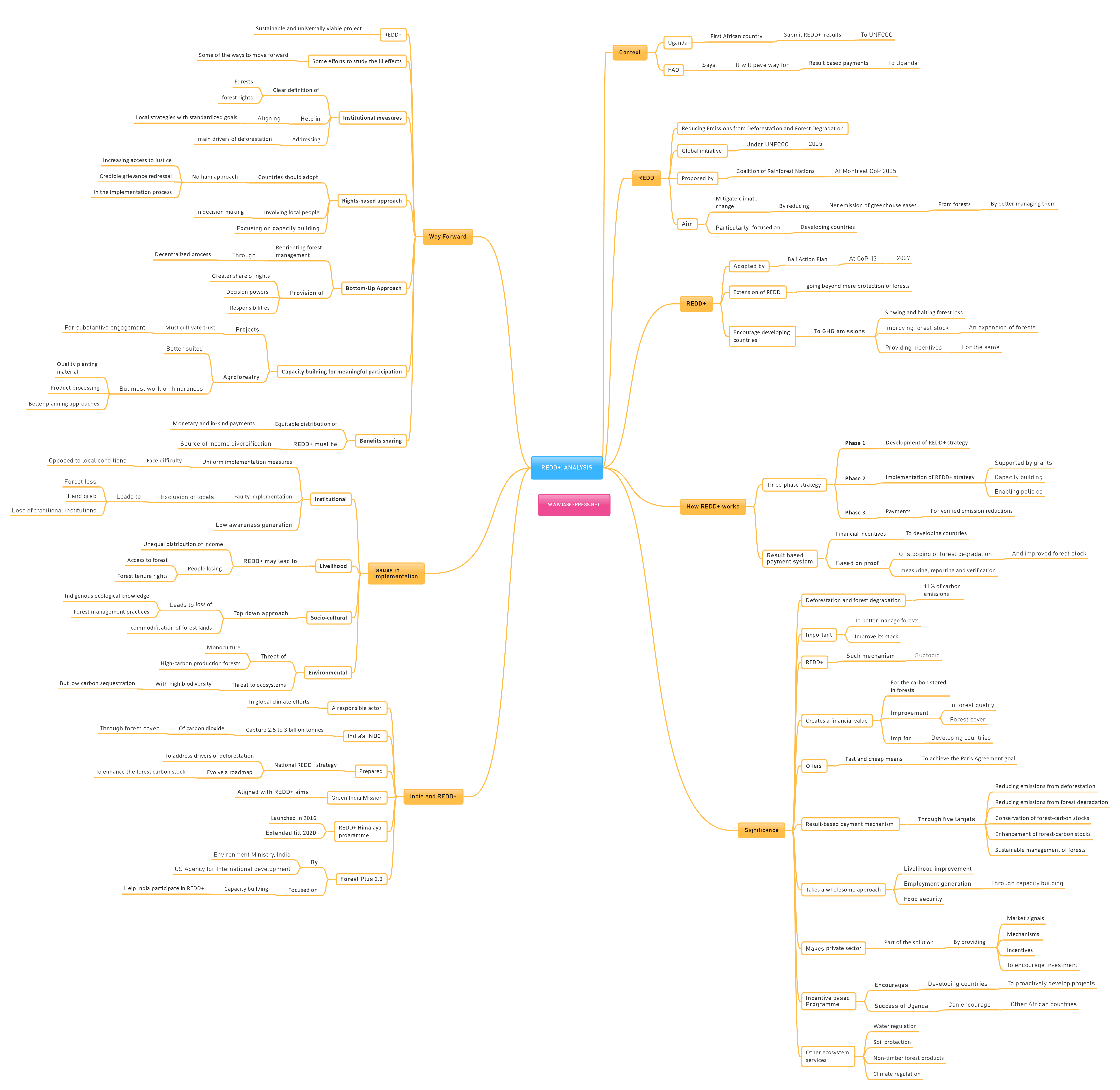 What are REDD and REDD+?
Reducing Emissions from Deforestation and Forest Degradation i.e. REDD is a global initiative under the UNFCCC which came in 2005.
It was proposed at Montreal Conference of Parties (CoP11) of UNFCCC in 2005 by the Coalition of Rainforest Nations.
The aim of REDD was to mitigate climate change by reducing the net emission of greenhouse gases from forests by better managing them. The programme is particularly focused on the developing countries.
The REDD programme provides incentives to developing countries to better protection and management of their forest reserves.
Further the Bali Action Plan adopted at CoP-13 in 2007 adopted the REDD+ initiative. REDD+ is an extension of REDD as in it expands the ambit of REDD by going beyond mere protection of forests.
The aim of REDD+ is to encourage developing countries to reduce greenhouse gas emissions (GHG) by slowing and halting forest loss and increasing removal of GHGs from atmosphere through management and expansion of forests.
How REDD+ works?
The REDD+ framework proposes a three-phase strategy of implementation.
Phase 1: Development of REDD+ strategy (supported by Grants)
Phase 2: Implementation of REDD+ strategy, supported by grants or other financial support for capacity building and enabling policies and payments for emission reductions.
Phase 3: Continued implementation of REDD+ strategy and payments for verified emission reductions.
Result based payment system provides financial incentives to developing countries that prove they stopped deforestation during a certain period of time. This is done through rigorous UN-backed technical evaluations.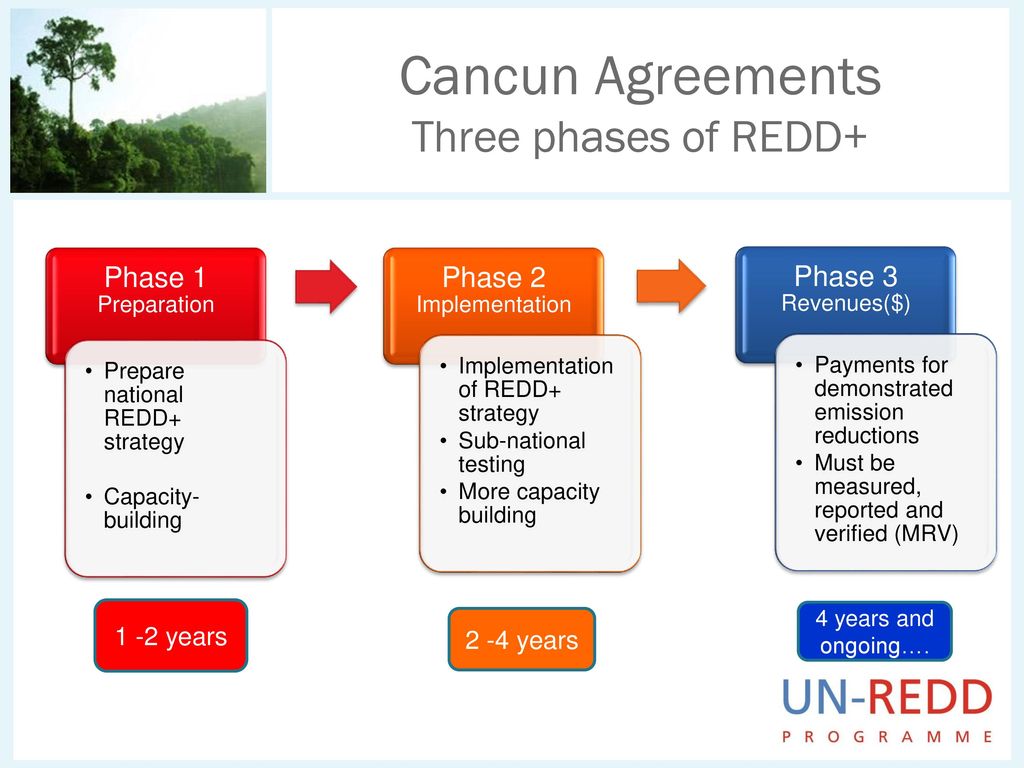 How will countries reliably assess and prove their carbon stock?
The countries will implement measuring and monitoring systems compliant with the measuring, reporting and verification (MRV) concept agreed upon by the Conference of the Parties of the United Nations Framework Convention on Climate Change.
UN-REDD assists countries to develop cost-effective technically sound MRVs.
What is the significance of REDD+?
Deforestation and forest degradation are responsible for around 11% of carbon emissions, i.e. more than the global transportation sector and second to the energy sector.
It is important to better manage forests and improve its stock and quality if we want to address the climate change issue substantively.
REDD is a mechanism developed by Parties to the United Nations Framework Convention on Climate Change (UNFCCC) in this endeavour.
It creates a financial value for the carbon stored in forests by offering incentives for developing countries to reduce emissions from forested lands and invest in low-carbon paths to sustainable development.
It offers a potentially fast and cheap means to achieve the Paris Agreement goal of keeping global warming below 1.5 degrees Celsius over pre-industrialised era.
It does so through result-based payment mechanism targeted on five activities
reducing emissions from deforestation
reducing emissions from forest degradation
conservation of forest-carbon stocks
enhancement of forest-carbon stocks
sustainable management of forests
The REDD+ initiative takes a wholesome approach by giving importance to livelihood improvement and food security for the forest dependent population.
It also makes private sector part of the solution by providing the kinds of market signals, mechanisms and incentives to encourage investments that manage and conserve the world's nature-based resources rather than mining them.
Through REDD+ programme, financial benefits can be achieved by local population, private players, and developing countries through forest-based conservation storage device.
The incentives-based programme encourages the developing countries to proactively engage in REDD+ activities. The Successes as that of Uganda will encourage other African countries to reduce carbon emissions by decreasing deforestation and forest degradation.
Apart from arresting climate change and making money, the programme success will also provide many other ecosystem services to society.
The nature of these services is varied such as water regulation, soil protection, non-timber forest products including food and fibre, climate regulation and biodiversity depending upon the local conditions.
India and REDD+
India as a responsible actor in global climate efforts stands to gain extensively from REDD+.
India through its Intended Nationally Determined Contributions (INDCs) commits to capture 2.5 to 3 billion tonnes of carbon dioxide through additional forest and tree cover.
So, to comply with the UNFCCC REDD+, India has prepared its National REDD+ strategy. Complementary to INDC, the strategy builds upon existing national situation and seeks to address drivers of deforestation and evolve a roadmap to enhance the forest carbon stock in the country and achieve sustainable management of forests through REDD+ actions.
India's National action plan on climate change has Green India Mission which has identical goals as that of REDD+ combining conservation and enhancement.
The Indian Council of Forestry Research and Education (ICFRE) and International Centre for Integrated Centre for Integrated Mountain Development (ICIMOD) REDD+ Himalaya programme was launched in 2016. It was extended till July 2020 last year keeping inn view its positive contribution.
Ministry of Environment, Forest and Climate Change along with US agency for International Development (USAID) launched Forest Plus 2.0 banking on the experience of Forest Plus. Forest Plus is focused on capacity building to help India participate REDD+
What are the issues in REDD+ implementation?
Institutional
Uniform implementation measures face difficulty from opposition due to local socio-cultural, political conditions.
The faulty implementation of REDD+ can recentralize forest governance excluding local communities from forest management and decision making.
It can lead to forest loss, large scale land grab, loss of traditional institutions.
Shortcomings in enforcement and implementation of protocols and safeguards that can prevent benefits from reaching indigenous people.
Studies in African countries have shown that there is very low awareness among the programme among local population.
Livelihood
The REDD+ programme can lead to unequal distribution of income, people losing access to forest, and forest tenure rights.
In a condition of low or non-existent tangible benefits from the projects, it is difficult to get the local population ready to implement project.
Socio-cultural
The top down approach could lead to loss of traditional or indigenous ecological knowledge and forest management practices.
It potentially leads to commodification of forest lands which goes against many traditional worldviews of indigenous populations.
Environmental
It can lead to monoculture and high-carbon production forests. It can create more pressure on land outside REDD+ forests.
REDD+ is a potential threat to ecosystems with high biodiversity but low carbon sequestration.
What is the Way forward?
As the REDD+ programme is an important sustainable and universally viable project in climate mitigation activities, its success becomes critical.
There were some efforts to study the ill effects and shortcomings in the programme. Based on that, some of the ways to move forward are discussed below.
Institutional measures
Actions must be taken for clear definition of forests, forest rights to make local population trust projects and also align local strategies with standardized goals.
Addressing main drivers of deforestation will go a long way in better targeting of projects.
In the absence of real tangible benefits, countries should adopt "No ham approach". It means increasing access to justice and building a credible grievance redressal in the implementation process.
Involving local people in decision making and focussing on capacity building efforts at the grassroot level are some of the actions.
This involves reorienting forest management through adoption of a decentralized process in developing countries.
This involves greater share of rights, decision powers and responsibilities with the local communities.
Capacity building for meaningful participation
REDD+ projects must cultivate trust throughout the process for substantive engagement, improve outreach.
Agroforestry has been used in REDD+ since beginning but hindrances such as quality planting material, product processing, better planning approaches must be done away with.
The experience of REDD+ Himalaya are important which developed some behavioural changes such as efficient wooden stoves, creating additional source of income through planting bamboo etc
There should be equitable distribution of monetary and in-kind payments.
REDD+ must be a source of income diversification through giving sustainable alternatives to livelihood strategies.
Despite many stumbling blocks, REDD+ can help forest rich countries meet their climate action targets.
A well-defined REDD+ programme can help India capture one billion tonnes of additional cardon dioxide in next 30 years.
Conclusion
Global climate actions till now have largely focused on absolute solution invention without studying viability and universal nature of solution. The REDD+ programme largely solves these two problems. It is a substantive mitigation technique which fulfils both utility and incentive demands. Success of REDD+ mainly benefits developing countries. Therefore, success of REDD+ is of critical importance.
Practice Question for Mains
What is REDD+? Critically analyze the programme for the success of climate action. (250 words)
Learn More