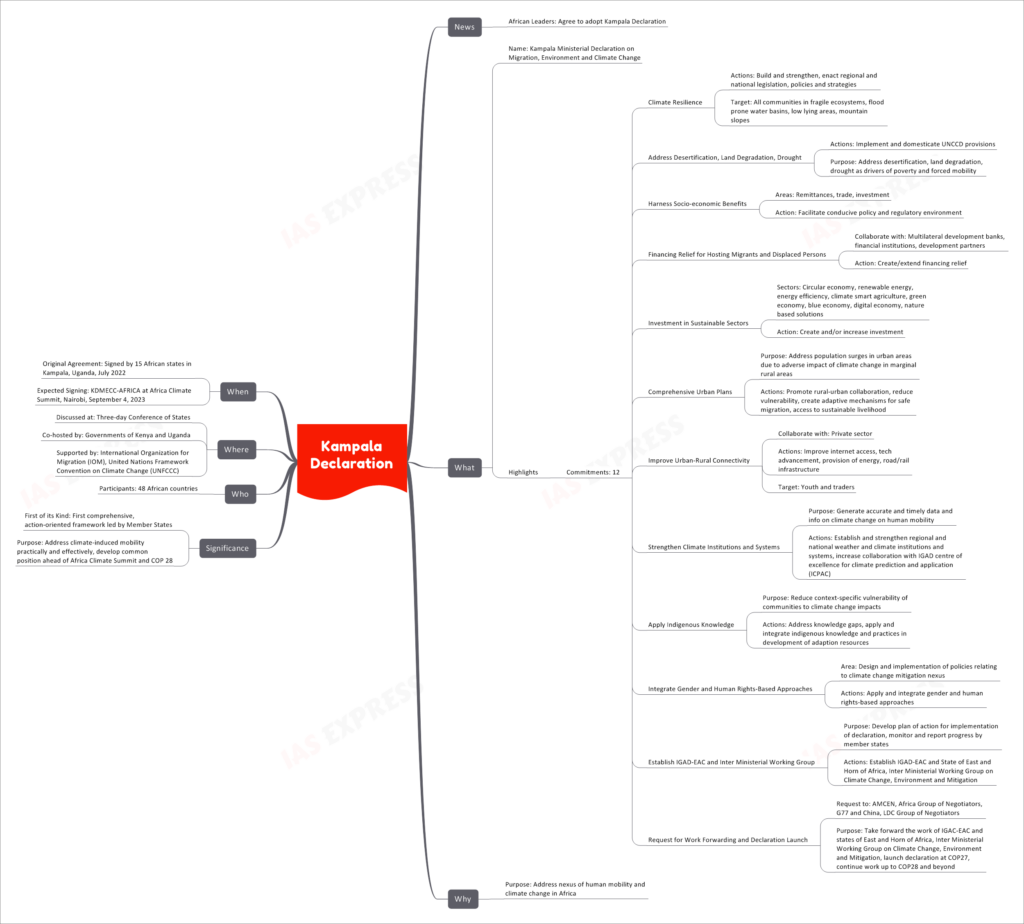 A significant stride in the realm of climate action unfolds as African leaders unanimously adopt the Kampala Declaration. This historic decision is poised to revolutionize climate discourse by recognizing the intricate link between human mobility and climate change, particularly in the African context.
The Essence of the Kampala Declaration
Understanding the Declaration
Official Name: The Kampala Ministerial Declaration on Migration, Environment, and Climate Change (KDMECC-AFRICA).
Core Focus: This declaration encapsulates twelve fundamental commitments, outlining a comprehensive framework to address the intertwined challenges of climate-induced migration, environmental vulnerabilities, and their repercussions.
Crucial Commitments
Climate Resilience: Pledge to build and fortify climate resilience through regional and national legislation, targeting communities in fragile ecosystems, flood-prone water basins, low-lying areas, and mountain slopes.
Addressing Desertification, Land Degradation, and Drought: Commit to implementing and adopting provisions of the United Nations Convention to Combat Desertification (UNCCD), aiming to mitigate these drivers of poverty and forced mobility.
Socio-economic Harnessing: Recognize the potential in areas such as remittances, trade, and investment, and vow to create a conducive policy environment to harness socio-economic benefits.
Financing Relief for Hosting Migrants and Displaced Persons: Collaborate with multilateral development banks, financial institutions, and development partners to extend financing relief for hosting migrants and displaced individuals. copyright©iasexpress.net
Investment in Sustainable Sectors: Pledge to create and augment investments in sustainable sectors encompassing circular economy, renewable energy, climate-smart agriculture, and more.
Comprehensive Urban Plans: Endeavor to address population surges in urban areas due to climate change impacts on marginal rural regions by promoting rural-urban collaboration and adaptive mechanisms.
Urban-Rural Connectivity: Collaborate with the private sector to improve internet access, technological advancement, energy provision, and infrastructure for improved urban-rural connectivity, primarily benefiting youth and traders.
Strengthening Climate Institutions and Systems: Focus on generating accurate climate data by establishing and reinforcing regional and national weather and climate institutions and collaboration with IGAD center of excellence for climate prediction and application (ICPAC).
Applying Indigenous Knowledge: Recognize the importance of indigenous knowledge in reducing community vulnerabilities to climate change impacts and integrate these practices into adaptation resource development.
Gender and Human Rights Integration: Apply gender and human rights-based approaches in the design and implementation of policies relating to the climate change mitigation nexus.
Establishing IGAD-EAC and Inter-Ministerial Working Group: Commit to forming a strategic framework to monitor and report the implementation of the declaration, promoting cross-regional cooperation.
Forwarding Work and Declaration Launch: Urge key entities to carry forward the work of the IGAD-EAC and States of East and Horn of Africa, Inter-Ministerial Working Group, culminating in the launch of the declaration at COP27, continuing through COP28 and beyond. copyright©iasexpress.net
The Underlying Purpose
Core Objective: The Kampala Declaration signifies the concerted effort to tackle the intricate relationship between human mobility and climate change, a pressing concern in the African context.
Unprecedented Significance
First of its Kind: This declaration stands as a pioneering comprehensive and action-oriented framework, driven by member states.
Integral Purpose: The framework aspires to practically and effectively address climate-induced mobility, establish a unified position ahead of the Africa Climate Summit, and contribute to the upcoming COP28.
Involvement of African Nations
Participants: A total of 48 African countries actively participated in shaping and adopting the Kampala Declaration.
Venue and Support
Discussion Platform: The declaration was deliberated upon at a three-day Conference of States, co-hosted by the governments of Kenya and Uganda.
Support: This initiative garnered support from the International Organization for Migration (IOM) and the United Nations Framework Convention on Climate Change (UNFCCC).
Temporal Context
Origins: The journey of the Kampala Declaration began with the original agreement signed by 15 African states in Kampala, Uganda, in July 2022.
Upcoming Milestone: The anticipated formal signing of the KDMECC-AFRICA is set to take place at the Africa Climate Summit in Nairobi on September 4, 2023.
Learn More