Vienna Convention on Consular Relations – Explained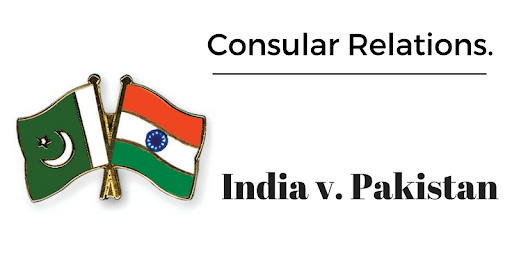 On 17th July 2019, the International Court of Justice (ICJ) had delivered its final verdict on the Kulbhushan Jadhav Case between India and Pakistan. With a 15-1 majority decision in India's favour, the ICJ held that Pakistan had violated its obligations under the 1963 Vienna Convention on Consular Relations. This case is a clear victory for India. Yet, the ICJ can provide only limited remedies for India. This brings into question the uncertainty about Jadhav's detention and his pending death sentence.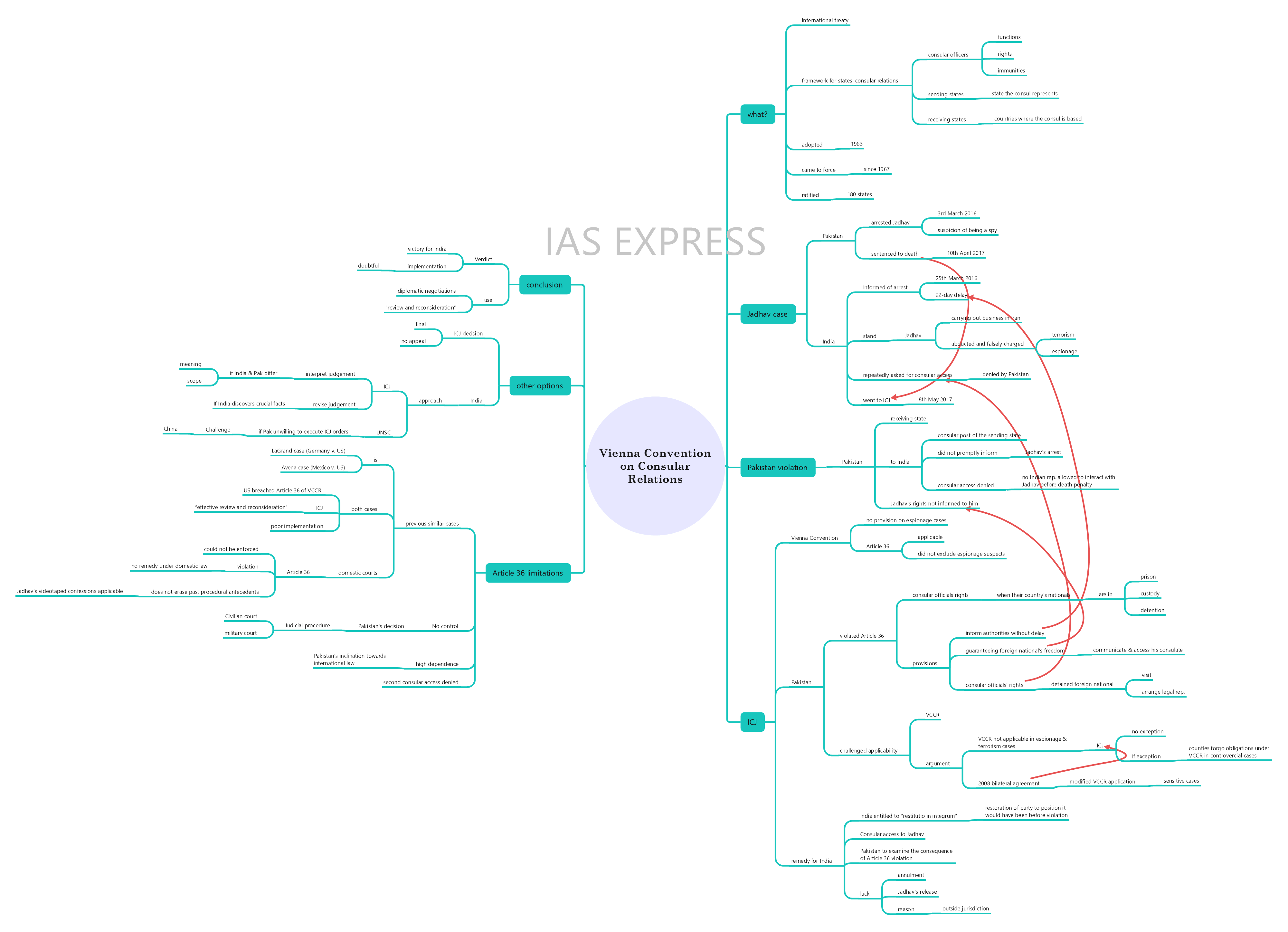 Mindmap Learning Programme (MLP)
Absorb information like a sponge!
What is the Vienna Convention on Consular Relations?
The Vienna Convention on Consular Relations (VCCR) is an international treaty that provides a framework for consular relations between the sovereign states.
It was adopted in 1963 and came to force since 1967.
It has been ratified by 180 states.
The Convention defines the functions, rights and immunities given to the consular officers and their offices, as well as the rights and duties of the "receiving states" (countries where the consul is based) and "sending states" (the state the consul represents).
Kulbhushan Jadhav case:
Pakistan arrested Jadhav on 3rd March 2016 on the suspicion that he was a spy sent by India to conduct subversive activity in Pakistan.
India was informed of Jadhav's arrest on 25th March 2016 after an unexplainable 22-day delay.
India claimed that Jadhav was carrying out business in Iran post-retirement and that he was abducted and tried on false and fabricated charges of terrorism and espionage.
Subsequently, India made repeatedly requested for consular access to Jadhav, to visit him and arrange for his legal representation.
This was not only denied by Pakistan but was also made conditional upon receiving India's assistance for investigation against Jadhav.
Later, Jadhav was sentenced to death by Pakistan's military court on the grounds of espionage and terrorism on 10th April 2017.
In response, India filed a case before the International Court of Justice on 8th May 2017, accusing Pakistan of violating VCCR.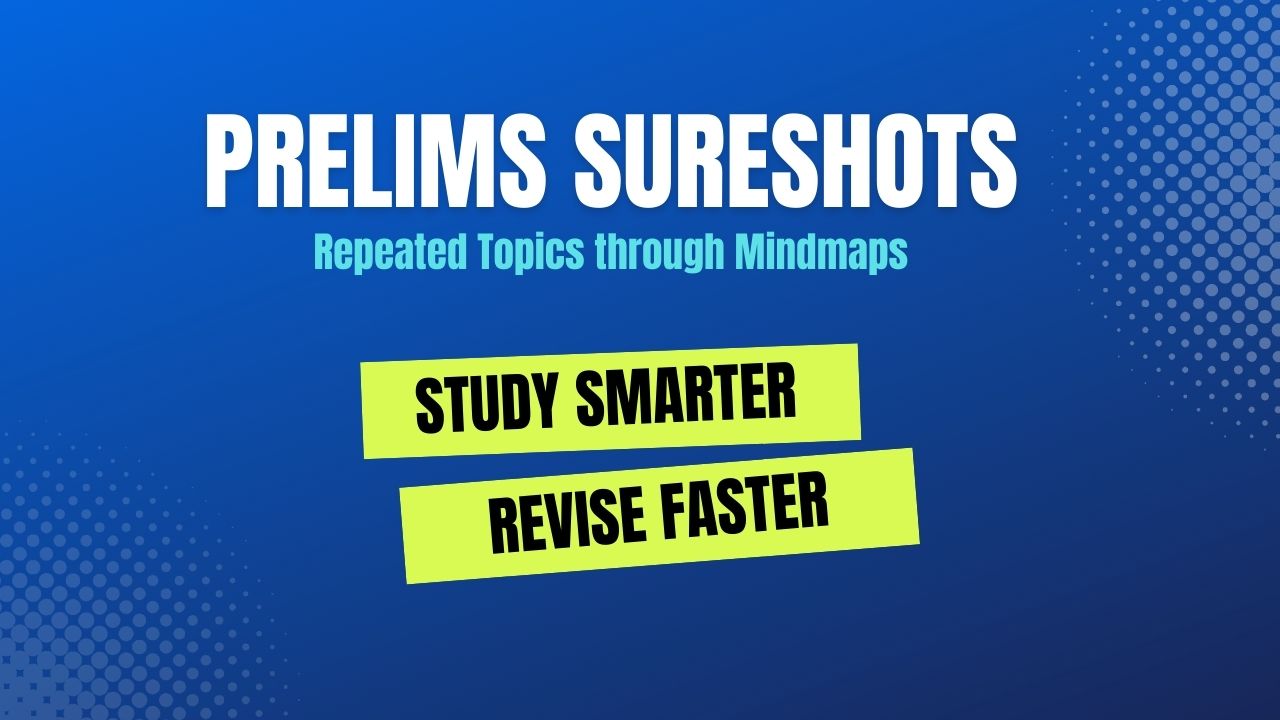 How did Pakistan violate Vienna Convention on Consular Relations in the Kulbhushan Jadhav case?
Vienna Convention on Consular Relations mandates that the "receiving state" (Pakistan), should "without delay, inform the consular post of the sending state (India) if, within its consular district, a national of that state is arrested or committed to prison or custody pending trial or is detained in any other manner".
In this context, India argued that Pakistan had delayed informing New Delhi about Jadhav's arrest, and that Jadhav was "kidnapped" from Iran on 3rd March 2016 and that India was informed about the act only on 25th
Furthermore, Pakistan had denied India the right to communicate with and have access to Jadhav.
India was not allowed to arrange for his legal representation and thus, breaching VCCR.
Additionally, the convention mandated the said authorities to inform the concerned person of his rights without delay. This too was not done in Jadhav's case, as his rights were not made known for him.
India also argued that no Indian representative was allowed to interact with Jadhav before convicting him in a military court and awarding him the death sentence, again breaching the convention.
What is ICJ's take on Kulbhushan Jadhav Case?
The International Court of Justice (ICJ) had held that Pakistan has violated its obligations under Article 36 of the Vienna Convention in the Kulbhushan Jadhav case.
The Court had also noted that there was no provision in the Vienna Convention that had any reference to espionage cases.
Also, Article 36, which deals with consular access, did not exclude from its scope certain categories of persons suspected of indulging in espionage.
Therefore, the Court had concluded that Article 36 of the Vienna Convention was applicable in this case.
Article 36 of the Vienna Convention on Consular Relations defines the rights of consular officials when a national of their country is in prison, custody or detention. It includes:
Informing competent authorities of arrest without "undue delay",
Guaranteeing the foreign national's freedom to communicate with and access his consulate, and
The right of consular officials to visit him and arrange for his legal representation.
The ICJ had held that Pakistan had violated all the above-mentioned provisions.
Pakistan had challenged the applicability of the VCCR to this case by arguing that:
It does not apply to the suspected case of espionage and terrorism
A 2008 bilateral agreement between India and Pakistan modified the application of VCCR to sensitive (political and security) cases.
The Court rejected these because no such exception or modification is envisioned under the convention.
It further stressed that exempting espionage or terrorism cases will make it convenient for countries to forgo their obligations under the VCCR in controversial cases.
The ICJ had held that India is entitled to "restitutio in integrum", an action with aims to restore a complaining party to the position it would have been in, had none of its rights has been violated.
As a remedy, the court ordered Pakistan to give "effective review and reconsideration" to Jadhav's conviction and sentence by "means of its own choosing".
This means that Pakistan must recognise the right to a fair trial is "absolute" and "cannot be taken away".
Also, it needs to give consular access to Jadhav, and fully examine the consequences of the violation of Article 36 and any prejudice that has arisen because of it.
However, the ICJ did not allow other remedies that were sought by India.
It did not annul the death sentence given by Pakistan's military court and did not order the release of Jadhav to India.
This is because these are outside ICJ's jurisdiction as it does not function as a criminal appellate court over domestic cases.
What are the limitations of Article 36?
In light of the remedy offered by the ICJ, it is necessary to look into the implementation outcomes for similar cases.
Jadhav case is almost similar to the LaGrand case (Germany v. the US) and Avena case (Mexico v. the US).
In both these cases, the ICJ had found that the US had violated its obligations under Article 36 of VCCR and directed it to give "effective review and reconsideration" to sentences and convictions of foreign nationals.
Regrettably, the implementation of the decisions on the ground was particularly poor.
Many of the US decisions stated that Article 36 could not be enforced in domestic courts and that no remedy under domestic law could be awarded even if a violation was found.
Several domestic courts had even decided that Article 36 does not erase any past procedural antecedents.
This means that the accused foreign national cannot discard any statements or confessions made during the period of Article 36 violation.
In this context, Jadhav's various videotaped confessions whose authenticity is being questioned by India will be used by Pakistani courts as evidence.
Thus, from the aforementioned facts, it remains to be seen how far the courts in Pakistan will give effective "review and reconsideration" in this case.
Also, India has no control over Pakistan's choice of judicial procedure.
If the case goes to a civilian court, one can expect a fairer trial.
If it continues to remain with the military court, the trial would remain bigoted.
Much depends on Pakistan's inclination towards rules, principles, and decisions on par with the international law.
This gives no assurance to India as Pakistan's track record when it comes to complying with international legal obligations has never been up to the mark.
It should be noted that Pakistan has denied second consular access to Jadhav and India is currently trying for full implementation of the verdict by the ICJ.
What other options does India have to address this issue?
India has few options that it can use if Pakistan's action is unsatisfactory.
Though decisions made by the International Court of Justice are final and without appeal, India can approach the court again to:
Interpret the judgement, if both sides differ on its meaning and scope, and
To revise it, if new and crucial facts discovered by India.
These are not appeals, but they will provide India with an additional avenue for relief on certain qualified grounds.
If Pakistan is not willing to execute any of the ICJ's orders, India can approach the United Nations Security Council, which is empowered to take required measures to give effect to an ICJ judgement.
However, this course of action depends on the consensus of the permanent five for decision-making, which includes Pakistan's all-weather ally – China.
Conclusion:
Though legally ICJ's verdict on Jadhav case is a resounding victory for India, its implementation is still doubtful given the outcomes in previous VCCR cases. Using diplomatic mediations along with the "review and reconsideration" of Jadhav case may yield the desired results.
Test yourself:
Critically examine the limitations of the verdict given by the International Court of Justice in the Kulbhushan Jadhav case. (250 words)