[In-Depth] E-commerce Sector in India – Recent Trends, Challenges and Government Initiatives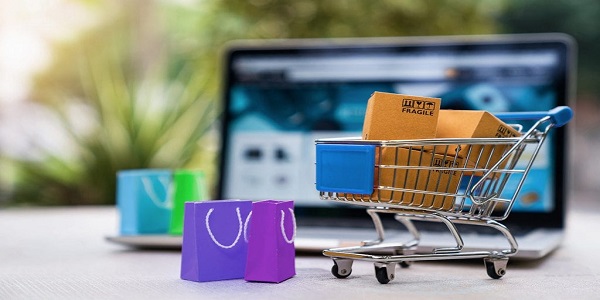 The Government of India's ambitious project the Open Network for Digital Commerce (ONDC) is expected to make the network for public use available soon. The initiative aims to promote an open platform for all aspects of the exchange of goods and services through electronic networks. The pilot phase had been started in April this year. It is believed that it will democratize the e-commerce sector which was hitherto dominated by major players only. It would be interesting to see how the well-thought initiative helps the sector expand in the coming time.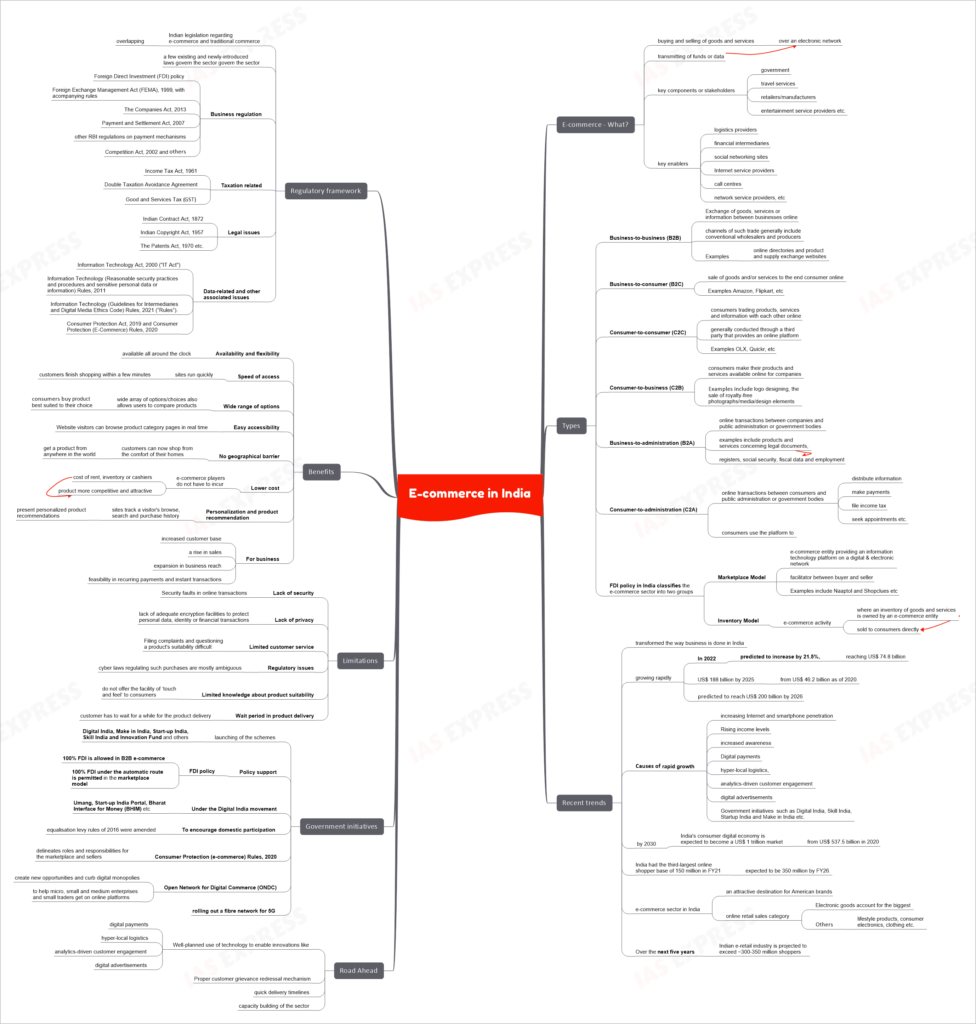 What is e-commerce?
E-commerce, that is, electronic commerce is the buying and selling of goods and services, or the transmitting of funds or data, over an electronic network, primarily the Internet.
Under the FDI policy, e-commerce comprises products, both digital and physical, and services traded on digital and electronic networks.
It includes all retail activities conducted over the Internet such as purchasing goods, availing services, delivery, payment facilitation as well as supply chain and services management.
The key components or stakeholders of e-commerce are the government, travel services (airlines, Indian Rail, bus operators), retailers/manufacturers, entertainment service providers, and many others.
The key enablers of the e-commerce sector are the logistics providers, financial intermediaries, social networking sites, Internet service providers, call centres, network service providers, etc. that help in facilitating transactions online.
Types
Business-to-business (B2B)

Exchange of goods, services or information between businesses rather than between businesses and consumers.
The channels of such trade generally include conventional wholesalers and producers who are dealing with retailers.
Examples include online directories and product and supply exchange websites that let businesses search for products, services and information and initiate transactions through e-procurement interfaces.

Business-to-consumer (B2C)

It is the retail part of e-commerce on the Internet, that is, the sale of goods and/or services to the end consumer through digital means.
It enables the consumer to have a detailed look at the product they want to buy on online platforms and once the order is placed, the company/agent receiving the order will then deliver the same to the consumer in a convenient period.
Some of the businesses operating in this channel include well-known players like Amazon, Flipkart, etc.
It has proved to be highly beneficial to consumers as compared to traditional methods, especially during the Covid-19 pandemic.

Consumer-to-consumer (C2C)

It involves consumers trading products, services and information with each other online.
These transactions are generally conducted through a third party that provides an online platform on which the transactions are carried out.
Some of the examples of such third-party online platforms that enable such transactions include OLX, Quickr, etc.

Consumer-to-business (C2B)

In this model, consumers make their products and services available online for companies to bid on and purchase.
It is the opposite or reversal of the traditional commerce model of B2C.
Examples include logo designing, the sale of royalty-free photographs/media/design elements, and so on.

Business-to-administration (B2A)

These are the transactions conducted online between companies and public administration or government bodies.
Several government branches or units are dependent on various types of e-services or products.
Some of the examples include products and services concerning legal documents, registers, social security, fiscal data and employment.
With the growing adoption of the e-government model, the scope of this type of e-commerce model is expanding and enhancing rapidly.

Consumer-to-administration (C2A)

The transactions that are conducted online between consumers and public administration or government bodies.
Here, the consumers use the platform to distribute information, make payments, file income tax, seek appointments, information about illnesses, pay for health services, etc.

The FDI policy in India classifies the e-commerce sector into two groups. These are:

Marketplace Model

In this model, an e-commerce entity provides an information technology platform on a digital & electronic network to act as a facilitator between buyer and seller.
It allows multiple sellers to interact with buyers and sell their goods.
The marketplace model charges a commission from the sellers for the service it provides.
Examples include Naaptol and Shopclues etc.

Inventory Model

It is an e-commerce activity where an inventory of goods and services is owned by an e-commerce entity and is sold to consumers directly.
The seller is an e-commerce company that sources directly from brands and sellers and stocks them.
Example: Myntra.
Recent trends
E-commerce has transformed the way business is done in India and is growing rapidly making a significant contribution to the economy.
In 2022, the Indian e-commerce market is predicted to increase by 21.5%, reaching US$ 74.8 billion and US$ 188 billion by 2025 from US$ 46.2 billion as of 2020.
It is estimated to reach US$ 111 billion by 2024 and US$ 200 billion by 2026.

By 2030, the e-commerce market may touch the value of US$ 350 billion.

The rapid growth of this sector may be attributed to increasing Internet and smartphone penetration in many parts of the country that remained untouched earlier.

Data suggests that the number of Internet connections in 2021 increased significantly to 830 million, driven by the 'Digital India' programme.

Rising income levels and increased awareness have also contributed to it.
Digital payments, hyper-local logistics, analytics-driven customer engagement and digital advertisements have played a crucial role.
Government initiatives such as Digital India, Skill India, Startup India and Make in India have also given a push to this sector.
India's consumer digital economy is expected to become a US$ 1 trillion market by 2030, growing from US$ 537.5 billion in 2020, driven by the strong adoption of online services such as e-commerce and edtech in the country.
After China and the US, India had the third-largest online shopper base of 150 million in FY21 and is expected to be 350 million by FY26.
The e-commerce sector in India seems to be an attractive destination for American brands.
Electronic goods account for the biggest online retail sales category with lifestyle products, consumer electronics, clothing, footwear, jewellery and accessories, health and beauty, household goods, art and collectables, event tickets and online music also doing well.
Over the next five years, the Indian e-retail industry is projected to exceed ~300-350 million shoppers, propelling the online Gross Merchandise Value (GMV) to US$ 100-120 billion by 2025.
Regulatory framework
Indian legislation regarding e-commerce and traditional commerce is overlapping in terms of requirements for setting up a business, employment laws and legal metrology legislation. There are no specific codified laws in India for e-commerce. However, a few existing and newly-introduced laws are seeking to govern the sector and its various dynamic aspects.
Business regulation

The prevailing Foreign Direct Investment (FDI) policy and Foreign Exchange Management Act (FEMA), 1999, with the accompanying rules govern the B2B e-commerce foreign investments and setting up of business by foreign entities and individuals in India.
Besides, as per the FDI policy of India, several specific rules are required to be followed by the market and inventory-based models in India.
Some other regulations monitoring e-commerce in India are:

The Companies Act, 2013, Payment and Settlement Act, 2007 and other RBI regulations on payment mechanisms.
Labelling and Packaging, Sales, Shipping, Refunds and Returns etc.
Legal Metrology Act, 2009 read with Legal Metrology (Packaged Commodity) Rules, 2011.
Competition Act, 2002.
The regulations prescribed by the relevant ministry/state regulations from time to time.

Taxation related

Income Tax Act, 1961.
Double Taxation Avoidance Agreement.

Legal issues are regulated through the following:

Indian Contract Act, 1872.
Indian Copyright Act, 1957.
The Patents Act, 1970.
Intellectual Property related Laws.
Labour laws.

Data-related and other associated issues are monitored through the following:
Benefits
Availability and flexibility

E-commerce sites are available all around the clock. There is no time limit on its opening. A customer can access the site at any time and order a product he/she desires.

Speed of access

Customers may have to face crowding in physical stores which may result in a slowing down of the purchasing activity.
On the contrary, e-commerce sites run quickly online allowing the consumer to finish shopping within a few minutes.

Wide range of options

The e-commerce sites offer a wide range of choices to consumers. This allows the consumers to purchase the product best suited to their choice.
The wide array of options/choices also allows users to compare products and go through customer reviews who have already bought the product.

Easy accessibility

A person may have to face difficulty while locating the appropriate physical store that may offer a product of his/her choice. However, after the advent of e-commerce in India, accessibility has become easier.
Website visitors can browse product category pages in real time and use the site's search feature to find the product immediately.

No geographical barrier

With an online store or website, customers can now shop from the comfort of their homes without visiting physical stores.
The worldwide shipping services have made it easier to get a product from anywhere in the world to one's place without any discomfort.

Lower cost

The e-commerce players do not have to incur the cost of rent, inventory or cashiers. All they incur is the shipping and warehouse cost.
This reduces the overall cost of a product making it more competitive in the market and attractive to customers due to its affordability.

Personalization and product recommendation

The e-commerce sites track a visitor's browse, search and purchase history and they use this data to present personalized product recommendations and obtain insights about target markets.

For business

Businesses can benefit a lot by turning to e-commerce options. The benefits include an increased customer base, a rise in sales, expansion in business reach, and feasibility in recurring payments and instant transactions.
Limitations
Lack of security

Security faults in online transactions create a sense of fear in the minds of users.
People fear providing personal and financial information on e-commerce sites which adversely affects the growth of this sector.

Lack of privacy

The lack of adequate encryption facilities to protect personal data, identity or financial transactions is impeding the acceptance of e-commerce shopping habits among people on a wide scale.

Limited customer service

Filing complaints and questioning a product's suitability is easier in the case of physical stores.
However, in the case of e-commerce sites, their online customer service options may be difficult to navigate and they may not address certain questions or complaints regarding the product.

Regulatory issues

The cyber laws regulating such purchases are mostly ambiguous and thus they lead to trust issues between the buyer and consumer.

Limited knowledge about product suitability

Online purchases do not offer the facility of 'touch and feel' to consumers. Customers have to rely on electronic images to purchase products.
Often the products delivered to the end user may not match the electronic images shown on the site eventually resulting in the needs of the buyer not being fulfilled.

Wait period in product delivery

In physical stores, customers purchase a product, pay instantly and go home with it.
However, in online purchasing, the customer has to wait for a while for the product delivery.
Although shipping windows are decreasing as next-day and even same-day delivery become common, it's not instantaneous.
Government initiatives
The Government of India has been trying tremendously to give a boost to this sector in India. Some of the major efforts are as follows:
The launching of the schemes such as Digital India, Make in India, Start-up India, Skill India and Innovation Fund and others.
Policy support

FDI policy

100% FDI is allowed in B2B e-commerce.
100% FDI under the automatic route is permitted in the marketplace model of e-commerce.
Clarification in the FDI policy regarding the definitions of e-commerce, e-commerce entities, marketplace-based model and inventory-based model is a positive step in this direction.

Under the Digital India movement, the Government launched various initiatives like Umang, Start-up India Portal, Bharat Interface for Money (BHIM) etc. to boost digitisation.
To encourage domestic participation in this sector, the equalisation levy rules of 2016 were amended and the foreign companies operating e-commerce platforms in India were mandated to have permanent account numbers (PAN).

The Government imposed a 2% tax in the FY21 budget on the sale of goods or delivery of services through a non-resident e-commerce operator.

The Consumer Protection (e-commerce) Rules, 2020.

The Rules directed the e-commerce companies to display the country of origin alongside the product listings.
In addition, the companies will also have to reveal parameters that go behind determining product listings on their platforms.
Therefore, the Rules by delineating roles and responsibilities for the marketplace and sellers would reinforce competition and efficiency within the Indian e-commerce market

Open Network for Digital Commerce (ONDC) was launched by the Department for Promotion of Industry and Internal Trade (DPIIT) under the Ministry of Commerce and Industry.

It aims to create new opportunities and curb digital monopolies.
It also aims to help micro, small and medium enterprises and small traders get on online platforms by providing them required support.

Heavy investment is being made by the Government for rolling out a fibre network for 5G that will help boost e-commerce in India.
Road Ahead
The e-commerce sector in India is showing an upward growth trajectory and is expected to surpass the US to become the second largest e-commerce market in the world by 2034. However, the issues of financing, technology, training, data privacy and delayed service delivery have been hindering the potential growth of the sector. Well-planned use of technology to enable innovations like digital payments, hyper-local logistics, analytics-driven customer engagement and digital advertisements may help the sector grow efficiently. Proper customer grievance redressal mechanism, quick delivery timelines and capacity building of the sector as a whole may pave the way for a healthy growth e-commerce sector in India.
Practice Question
Q. The Open Network for Digital Commerce (ONDC) initiative is expected to make e-commerce more inclusive and accessible for consumers. Discuss.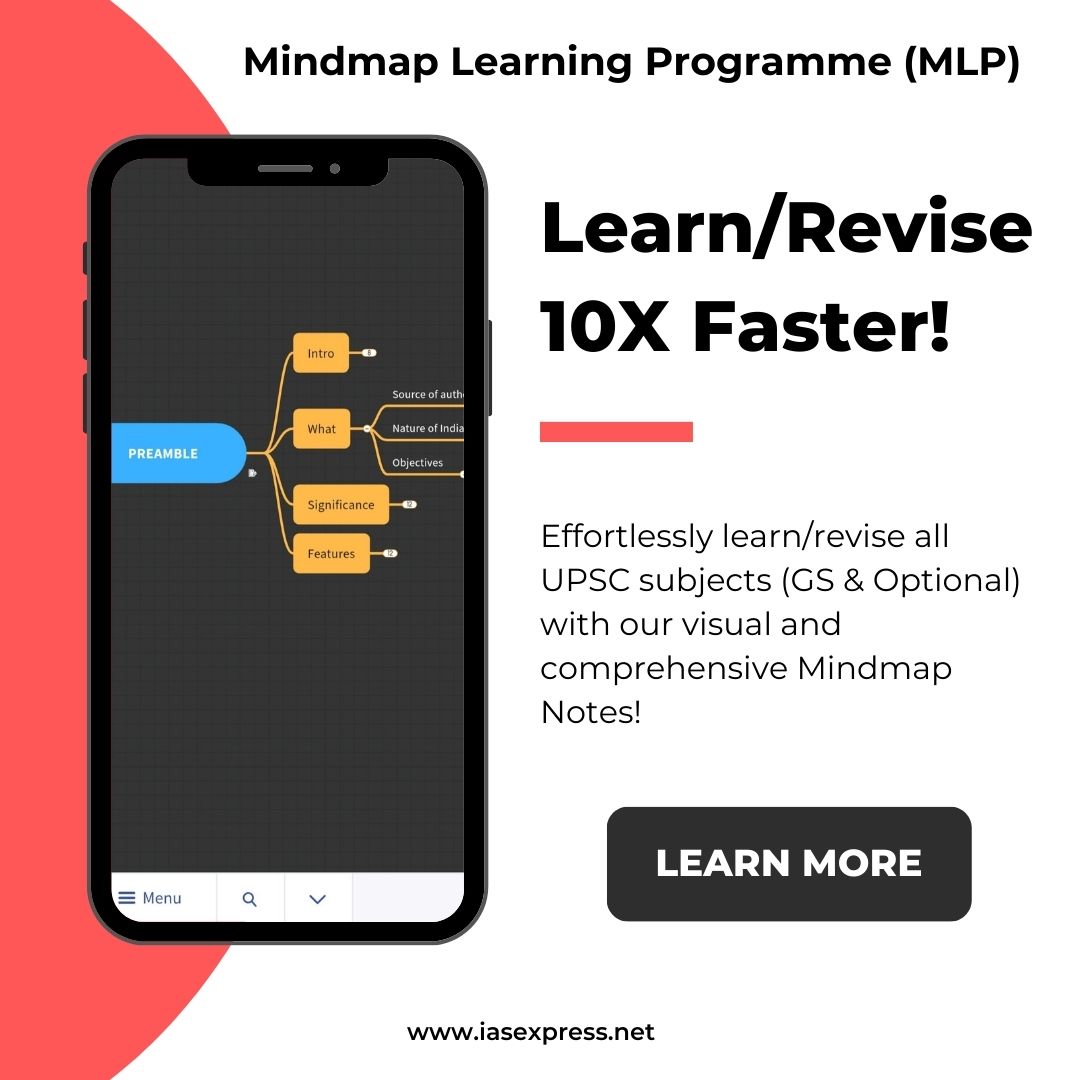 Learn More