Consultation Paper on "Digital Inclusion in the Era of Emerging Technologies"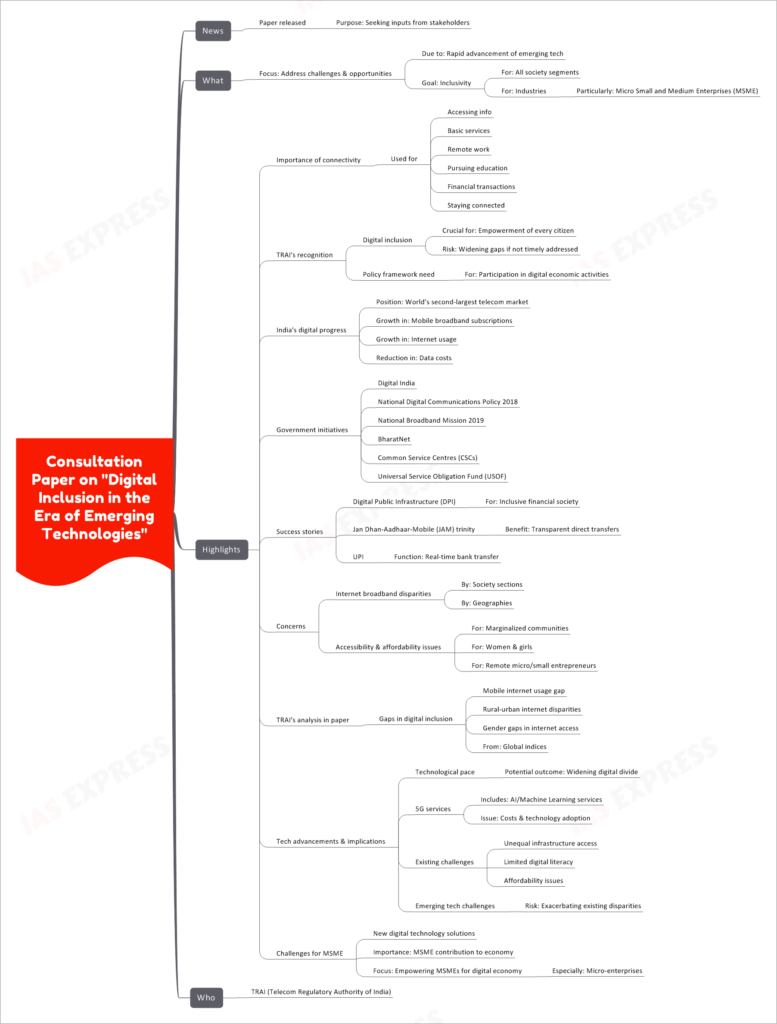 In recent news, the Telecom Regulatory Authority of India (TRAI) has released a Consultation Paper focusing on "Digital Inclusion in the Era of Emerging Technologies." This paper seeks inputs from stakeholders to address the challenges and opportunities arising from the rapid advancement of emerging technologies with the ultimate goal of achieving inclusivity for all segments of society, including industries, particularly Micro Small and Medium Enterprises (MSMEs).
The Importance of Digital Inclusion
The Role of Connectivity
Access to Information: Digital inclusion is crucial as it enables individuals to access a wealth of information through the internet.
Basic Services: It facilitates access to essential services such as healthcare, education, and government services.
Remote Work and Education: In a digital age, it supports remote work and online education.
Financial Transactions: It empowers individuals to conduct financial transactions online, fostering financial inclusion.
Staying Connected: Digital inclusion ensures that people can stay connected with each other, especially in a fast-paced digital world.
TRAI's Recognition
Empowerment: TRAI recognizes that digital inclusion is essential for the empowerment of every citizen.
Risk of Gaps: Failing to address digital inclusion could lead to widening gaps in society.
Policy Framework: There is a need for a robust policy framework to encourage participation in digital economic activities. copyright©iasexpress.net
India's Digital Progress
Telecom Market: India has positioned itself as the world's second-largest telecom market.
Mobile Broadband: There has been significant growth in mobile broadband subscriptions.
Internet Usage: The country has witnessed a surge in internet usage.
Cost Reduction: The reduction in data costs has contributed to increased connectivity.
Government Initiatives
Digital India: The government's flagship program aims to transform India into a digitally empowered society.
National Digital Communications Policy 2018: This policy outlines the government's vision for the digital communications sector.
National Broadband Mission 2019: Focused on providing affordable broadband access to all.
BharatNet: A project to connect rural India with high-speed internet.
Common Service Centres (CSCs): These centers provide digital services in rural areas.
Universal Service Obligation Fund (USOF): Supports universal access to telecom services.
Success Stories
Digital Public Infrastructure (DPI): DPI is essential for creating an inclusive financial society.
Jan Dhan-Aadhaar-Mobile (JAM) Trinity: This initiative facilitates transparent direct transfers of government benefits.
UPI (Unified Payments Interface): UPI enables real-time bank transfers, enhancing financial inclusion.
Concerns and Challenges
Internet Broadband Disparities: Disparities exist in internet access among different sections of society and geographies.
Accessibility and Affordability Issues: Marginalized communities, women and girls, and remote micro/small entrepreneurs face accessibility and affordability challenges. copyright©iasexpress.net
TRAI's Analysis in the Paper
Gaps in Digital Inclusion: The paper highlights disparities in mobile internet usage, rural-urban internet discrepancies, and gender gaps in internet access, drawing insights from global indices.
Technological Advancements and Implications
Technological Pace: The rapid pace of technological advancement has the potential to widen the digital divide.
5G Services: The integration of AI and Machine Learning services into 5G raises issues related to costs and technology adoption.
Existing Challenges: Challenges such as unequal infrastructure access, limited digital literacy, and affordability issues persist.
Emerging Tech Challenges: The adoption of emerging technologies poses risks of exacerbating existing disparities.
Challenges for MSMEs
New Digital Technology Solutions: MSMEs need to adapt to new digital technology solutions to stay competitive.
Economic Contribution: The MSME sector plays a vital role in the Indian economy.
Empowering MSMEs: The focus should be on empowering MSMEs, particularly micro-enterprises, to participate effectively in the digital economy.
Learn More