Digital India Programme – How successful is it?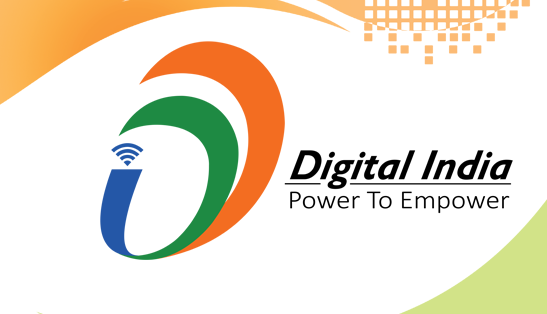 In recent years, India has charted a unique path to digitization, the impact of which is inclusive, empowering and transformative. It is amongst the top two countries globally, only after China on many dimensions of digital adoption. By 2022, India's digital economy may cross $1 trillion. This was the focus of India Digital Summit 2019 that was held in New Delhi. Since its launch, it has transformed India significantly. However, it is facing numerous challenges in the current times and the government needs to take steps to make it successful for the inclusiveness and empowerment of all Indian citizens.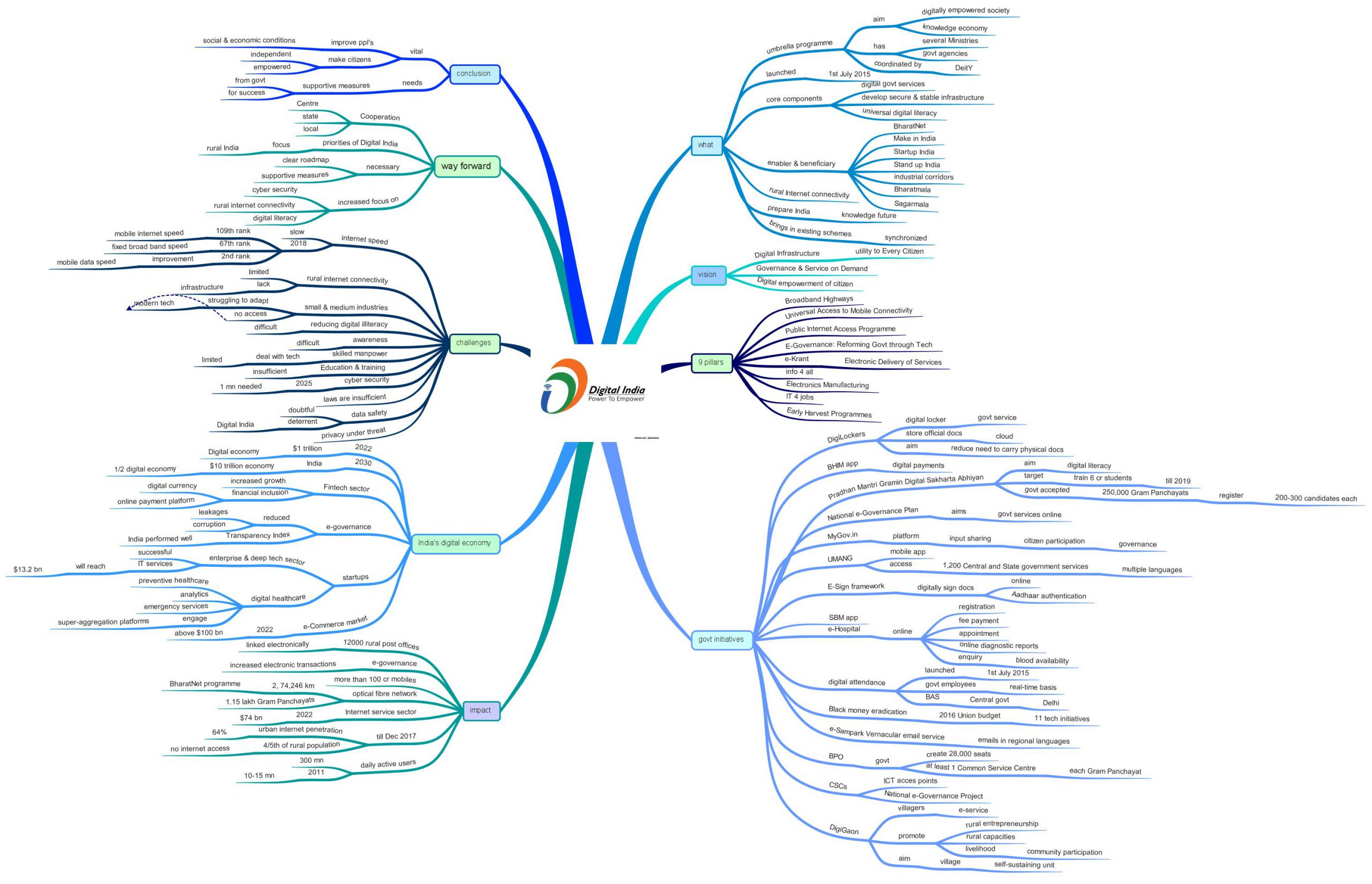 What is Digital India?
Digital India is an umbrella programme based on technology with an aim to transform India into a digitally empowered society and knowledge economy.
To achieve this objective, this programme has established an ecosystem comprised of several Ministries and government agencies and initiatives which are coordinated by the Department of Electronics and Information Technology (DeitY).
This initiative was launched on 1st July 2015.
It consists of three core components:
Development of secure and stable digital infrastructure
Delivering government services digitally
Universal digital literacy
This initiative is both enabler and beneficiary of other key government initiatives like BharatNet, Make in India, Startup India and Stand up India, industrial corridors, Bharatmala, Sagarmala, etc.
The initiative includes plans to connect rural areas with high-speed internet.
Its aims to prepare India for a knowledge future and make technology central to enabling change
This umbrella programme brings together a large number of ideas into a single comprehensive vision so that each of them is seen as a part of a larger goal.
It brings together many existing schemes that would be restructured, re-focussed and implemented in a synchronized manner.
What are the vision areas of Digital India?
Digital Infrastructure as a Utility to Every Citizen
Governance and Service on Demand
Digital empowerment of citizen
What are the nine pillars of Digital India?
Digital technologies, in the current times, influence almost all aspects of the economy and society. Hence this programme connects wider areas to make India a digitally empowered country. It consists of nine pillars:
Broadband Highways
Universal Access to Mobile Connectivity
Public Internet Access Programme
E-Governance: Reforming Government through Technology
e-Krant – Electronic Delivery of Services
Information for All
Electronics Manufacturing
IT for Jobs
Early Harvest Programmes
What are the government initiatives under the Digital India programme?
Digilockers: It is a "digital locker" service operated by the Indian government. It enables Indians to store certain official documents on the cloud. This service aims to reduce the need to carry physical documents.
BHIM app: This app enables digital payments. It was used to facilitate 913 million transactions in 2017-18.
Pradhan Mantri Gramin Digital Sakharta Abhiyan: It aims to ensure digital literacy to all. This project is expected to be one of the largest initiatives of the country with an overall target to train 6 crore students until the financial year, 2019. The government had accepted 250,000 Gram Panchayats to register at least 200-300 candidates each.
National e-Governance Plan: It aims to bring all the front-end government services online.
in is a platform that enables sharing of inputs and ideas on matters of policy and governance. It ensures citizens' engagement in governance, through a "discuss", "do" and "disseminate" approach.
UMANG (Unified Mobile Application for New-age Governance) is an all-in-one unified, secure, multi-channel, multi-platform, multi-lingual, multi-service freeware mobile app. It enables access to over 1,200 Central and State government services in multiple languages over android, iOS, and Windows and USSD devices. These services include AADHAAR, DigiLocker, Bharat Bill Payment System, tax, health, agriculture, e-District, e-Panchayat, police clearance, passport, other utility services from private companies, etc.
E-Sign framework: It allows the citizens to digitally sign documents online using Aadhaar authentication.
Swachh Bharat Mission (SBM) Mobile app: It is used by people and the government agencies for achieving the goals of SBM.
The e-Hospital application provides important services like online registration, fee payment and appointment, online diagnostic reports, enquiring availability of blood online etc.
Digital attendance was launched on 1st July 2015 to keep a record of the attendance of the government employees on a real-time basis. This initiative was started with the implementation of a common Biometric Attendance System (BAS) in the Central government in Delhi.
Black money eradication: The 2016 Union budget announced 11 technology initiatives including the use of data analytics to nab tax evaders, creating substantial opportunity for the IT companies to build systems that will be required for this initiative.
BPO and job growth: The government is intending to create 28,000 seats of BPOs in various states and set up at least one Common Service Centre in each Gram Panchayat in the state.
e-Sampark Vernacular email service: Out of the 10% English speaking Indians, only 2% reside in rural areas. The rest are dependent on their vernacular language. As of now, email addresses can only be created in the English language. To connect rural India with Digital India, the Indian government impelled the email service giants including Gmail, office and Rediff to provide the email address in regional languages. These companies are currently working to provide the same.
Common Service Centres (CSCs) are information and communication technology (ICT) access points created under the National e-Governance Project. Through computer and internet access, the CSCs provide multimedia content related to e-governance, education, health, telemedicine, entertainment and other government and private services. Currently, there is a rapid expansion in the network of CSCs.
DigiGaon or Digital Village is a concept wherein the citizens in the villages can avail of e-services. These DigiGaon are projected as change agents, promoting rural entrepreneurship, building rural capacities and livelihood through community participation. It aims to turn each village into a self-sustaining unit.
What is the impact of the Digital India programme?
A total of 12000 rural post office branches have been linked electronically.
There is an increase in electronic transactions related to e-governance. It is estimated that there are more than 100 crore mobile phones in India.
2, 74,246 km of optical fiber network has connected over 1.15 lakh Gram Panchayats under BharatNet programme.
It is estimated that the internet service sector may reach $74 billion in 2022.
Internet data has become the major tool to deliver government services.
India, till December 2017, has made progress in the urban internet penetration of 64%. However, four-fifths of rural India is yet to have access to the internet.
Currently, there are 300 million daily active users of the internet which has risen from 10-15 million daily users in 2011. It is estimated that by 2020, this number may double.
India's digital economy:
India's digital economy will touch $1 trillion by 2022.
Also, India would be a $10 trillion economy by 2030 and half of it would be the digital economy.
The fintech sector's growth has increased in recent years. The digital currency and online payment platform have played a significant role in financial inclusion.
E-Governance: There is a steady growth in the digital transformation in areas like e-governance. This has considerably brought down leakages and corruption while providing these services. This has led to India's improved performance in the Transparency Index.
Digital healthcare startups are playing an important role in addressing areas like preventive healthcare, analytics, and emergency services and engage with super-aggregation platforms like Facebook and Google.
Startups of the enterprise and deep technology sector have been successful in the past few years. The IT services in the country are set to reach $13.2 billion by the end of this year.
India's e-commerce market may grow three times to surpass $100 billion by 2022.
What are the challenges?
Internet speed: India has a very low internet speed. In 2018, India was ranked 109th for the mobile internet speed and stood at 67th for fixed broadband speed. However, in the same year, India had captured the 2nd slot in terms of showing the most improvement in mobile data speed.
Rural internet connectivity: The majority of the India population live in rural India where the infrastructure growth is slow. Hence, there is a need for funds to improve infrastructure to support Digital India in these areas.
The small and medium scale industries are struggling to adapt to modern technology and many still don't have access to them.
Reducing digital illiteracy is one of the major challenges of the Digital India programme.
Creating awareness about the Digital India scheme to the people is also turning out to be a difficult feat.
The skilled manpower to deal with digital technology is very limited.
Education and training are insufficient.
India needs over 1 million cybersecurity experts by 2025 to monitor and deal with the growing threat of digital crime and laws pertaining to it are absent.
In recent times, there is an increase in the doubts over the safety of Digital India since the cybercrime and data breach is becoming more frequent. This is acting as a deterrent to adapt to digitization.
Security of data is an important aspect since the digital medium is very unsafe and data vulnerability is a big issue, especially in international transactions.
A 2017 study by PwC and Assocham had revealed that attacks on Indian websites have increased 5 times in the past 4 years.
It should be noted that Digital India spends only a minuscule amount on security.
There are critical data pools across Digital India platforms with sensitive personal information. Thus, there is a high risk to the privacy of the citizens.
What can be the way forward?
The success of Digital India does not rest only in the hands of the Central government but also with the state and the local governments.
The focus on the priorities of Digital India needs to be aligned with the larger rural population.
A clear roadmap and the implementation of necessary supportive measures can provide the much-needed reboot to this programme.
Though it is a risky endeavour to digitize almost all of our personal information, reverting to older, time-consuming practices like paper transaction and money order transfers is not the answer to the current problems faced by this flagship programme
The government should ensure there is an increase in the focus on improving cybersecurity, internet connectivity and digital literacy to all in India for the success of Digital India.
Conclusion:
Digital India is a vital tool to improve people's social and economic conditions through inclusive and transformative growth. It is a much-needed initiative to make the citizens independent and empowered. However, this initiative cannot be successful without supportive measures from the government like infrastructure development, education, awareness, favourable business environment, cybersecurity, etc.
Model question:
How successful is the government's Digital India Programme? Critically evaluate.