National Digital Communications Policy 2018 – A Major Boost to Digital India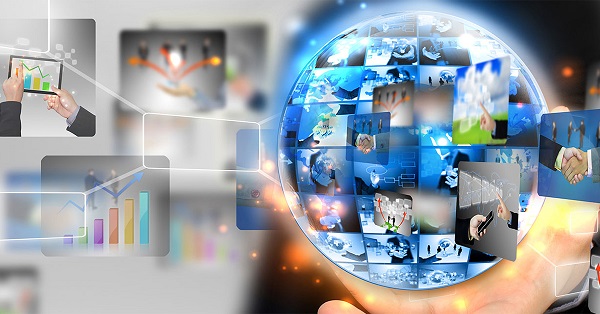 Recently, the Union cabinet chaired by Prime Minister Narendra Modi has approved National Digital Communications Policy (NDCP 2018). It replaces the current National Telecom Policy 2012 in order to satisfy the modern needs of the digital communications sector in India.
What is the need?
As of now, there are many technological advancements happening in the telecom sector like 5G technology, Internet of Things (IoT), Machine to Machine (M2M) communication etc.
Hence there is a need to introduce customer focused and application-driven policy for the Indian telecom sector.
NDCP 2018 will serve as the main pillar of Digital India by means of addressing emerging opportunities for expanding both telecom and telecom-based services.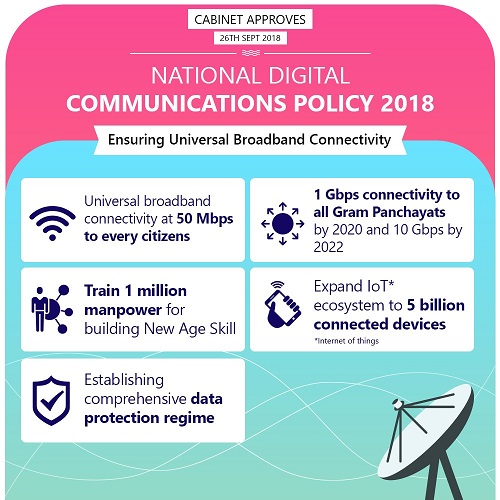 What are the key objectives of the policy?

(To be achieved by 2022)
Broadband for all
Creation of 4 million additional jobs in the Digital Communications sector
Increasing the contribution of Digital Communications sector to India's GDP from 6% in 2017 to 8%
Placing India in Top 50 nations ranking of ICT Development Index of International Telecommunications Union (ITU) from 134 in 2017
Increasing India's contribution to global value chains and
Ensuring digital sovereignty.
What are the salient features?
Providing universal broadband connectivity at 50 Mbps to every citizen.
Ensure 1 Gbps connectivity to all Gram Panchayats by 2020 and 10 Gbps by 2022.
Ensure internet connectivity to all uncovered regions.
Draw in investments worth the US $100 billion in Digital Communications Sector.
Training 1 million manpower for developing advanced skills.
Extend IoT ecosystem to 5 billion connected devices.
Create a comprehensive data protection regime for digital communications that safeguards privacy, autonomy, and choice of individuals.
Enabling effective participation of India in the global digital economy.
Implement accountability through institutional mechanisms to ensure citizens are safe and,
Secure digital communications infrastructure and services.
What is the strategy to reach the goals?
NDCP 2018 emphasizes on
Setting up a National Digital Grid by establishing a National Fibre Authority
Set up Common Service Ducts and utility corridors in all new city and highway road projects.
Establish collaborative institutional mechanism between Centre, States and Local Bodies for common rights of way, standardization of costs and timelines
Eliminate barriers to approvals.
Encourage development of Open Access Next Generation Networks.
What are the arguments in favour?
It emphasizes supporting India's transition to a digitally empowered economy and society by means of satisfying information and communications needs of citizens and enterprises.
It endeavors to achieve this by means of creating ubiquitous, resilient and affordable digital communications infrastructure and services.
It is customer focussed and application-driven policy.
It will help garner new ideas and innovations after the launch of advanced technology like 5G, IoT (Internet of Things), M2M (Machine to Machine Communication), etc. which shall govern India's telecom sector. These techs will further promote Make in India vision.
What are the arguments against?

(Challenges in the telecom sector)
Investments – Annual investments by mobile phone companies are in the range of about $10 billion, which the government seeks to enhance considerably.
However, the Indian telecom industry is deeply in trouble.
Notably, India's top telecom company, Bharti Airtel, appears in Credit Suisse's list of stressed companies.
Levies – The government has ambitious plans with respect to 5G, IoT, M2M, and other techs.
However, the policy has still not cut the very high levels of government levies in this regard.
India's levies including the 18% GST range from 29 to 32% when compared to just an 11% VAT rate in China.
Spectrum plans – There are also no concrete plans for cutting high spectrum costs.
It has to be noted that, 100% of spectrum put on auction in 2015 remained unsold due to high spectrum prices. It was as high as 59% in 2016.
As telecom companies cash-strapped, no auction could take place in 2017 or 2018.
As a result, in the last two years, revenues from the sector to the government have fallen by around 37%.
Finances – The unstable finances would mean an unhealthy position with respect to repayment of bank loans.
More worrying is the fact that Telecom Companies could not even meet the spectrum payment obligations from the earlier auctions.
There is also no possibility of this improving in the near future.
The policy fails to address this.
Facilities – There is a little progress has been made in providing right-of-way (the legal right to pass along a specific route through land or property of another) for connecting telecom towers with optic fibre.
There is also a little progress in framing a sensible policy for the critical E and V bands.

Spectrum in E and V band can ease work of telecom operator from laying optical fiber cable and facilitate them in providing last mile connectivity.
Data through E and V band can be transmitted with speed of around 1,000 Mb per second.

The policy does not specifically address this problem also.
Therefore, getting the telecom back on track needs a lot more work in addressing the financial and policy issues.
What are the solutions?
Judicious use of the Universal Service Obligation Fund (USOF)
USOF was established with an aim to fund projects to boost connectivity in rural areas.
The fund must be disbursed fairly to ensure that affordable communication services are available to most citizens.
Affordable "right-of-way" and spectrum
Department of Telecom (DoT) should make available the right of way and spectrum at very affordable price points to provide much-needed relief to the Telecom operators who are operating at a loss.
Also, subsidies towards the roll-out of communication infrastructure can help Telecom operators to become profitable.
This will facilitate them in enhancing their R&D and investments towards future expansion.
Effective collaboration of initiatives
The policy's focus on Industry 4.0 techs like IoT and M2M is commendable but there are other initiatives with similar vision like Bharat Udyog.
Therefore, it is important that all such initiatives collaborate for optimal use of funds and share the benefits towards the common vision.
Learn from past
It is important to do a reasonable analysis of the past gaps and study the challenges.
This will help in achieving the desired objectives of the policy and not repeat the same mistakes again.
Way ahead
The vision and the objectives are commendable particularly the three-pronged approach of "CONNECT-PROPEL-SECURE' that covers all aspects of Digital Communications. But the key challenge with the policy is that the stated vision and policies are not supported by a very credible implementation plan with specified timelines. Therefore, unlike National Telecom Policy 2012, NDCP 2018 should not fall behind on the implementation front.
Practice Question
Discuss the key objectives of the National Digital Communications Policy 2018. Also discuss how it seeks to achieve the objective of digital sovereignty.
Learn More