[Editorial] Punjab's Ban on Songs Glorifying Violence- Will it Curb Gun Culture?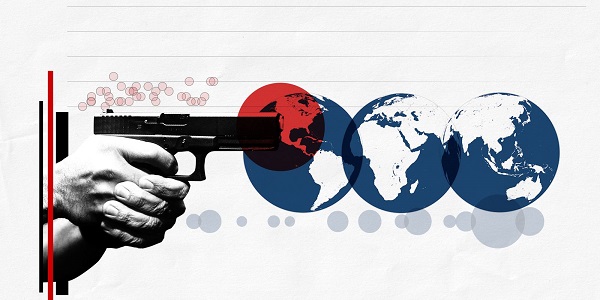 Punjab government, seeking to curb the state's gun culture, recently issued an order banning songs that glorify guns and violence.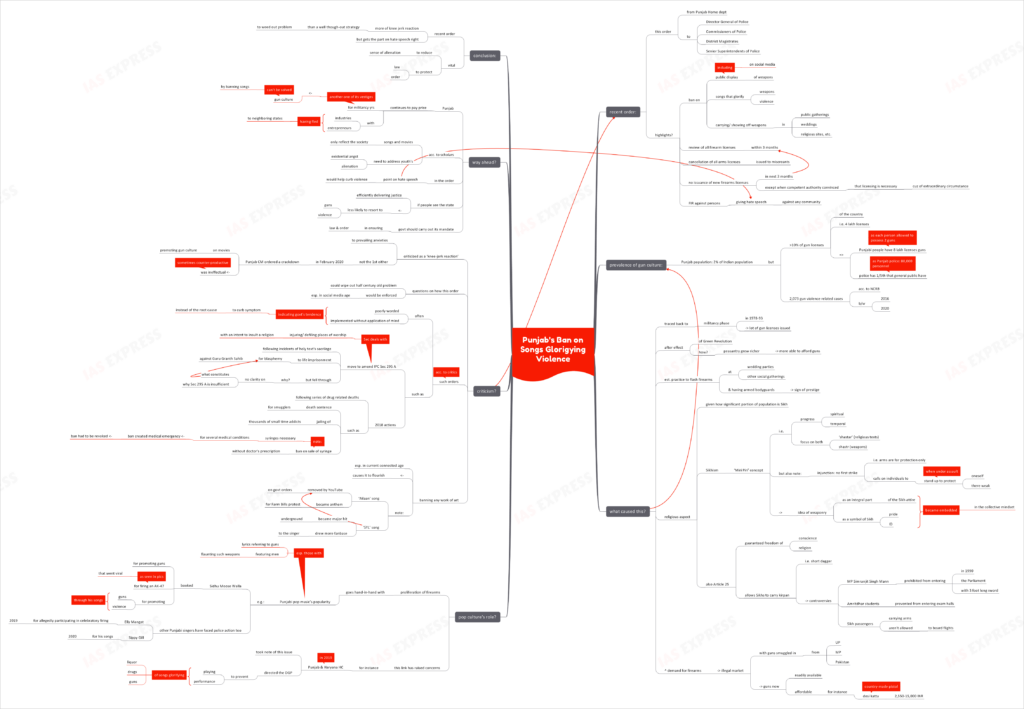 What is the recent order?
The state government's Home Department circulated a communication to its Director General of Police, Commissioners of Police, District Magistrates and Senior Superintendents of Police. This order:
Bans public display of weapons, including on social media
Bans songs that glorify weapons and violence
Bans carrying/ showing off weapons in public gatherings, weddings, religious sites, etc.
Calls for a review of all firearm licenses within 3 months
Calls for cancellation of all arms licenses found to be issued to miscreants
Prohibits issuance of new firearms licenses in the next 3 months, except in case of competent authorities being personally convinced that the licensing is necessary due to extraordinary circumstances
Registration of FIRs against persons giving hate speech against any community
How prevalent is gun culture in Punjab?
The state population accounts for some 2% of the entire Indian population. However, it accounts for more than 10% (some 4 lakh licenses) of the gun licenses in the country.
Given how each of these licenses allows possession of 2 guns, the people in the state could easily be in possession of some 8 lakh licensed firearms. copyright©iasexpress.net
Punjab police is 80,000 strong. If each personnel possesses 1-2 guns, then the police hold 1/5th of the guns that the people have.
According to the NCRB, Punjab reported some 2,073 gun violence related cases in the 2016-20 period.
What are the contributing factors?
The present gun culture in Punjab can be traced back to its militancy phase in 1978-93. During this period, the state issues many gun licenses.
The culture could also be understood as an after-effect of the Green Revolution. With the peasantry growing richer, they were able to afford guns more easily.
Over time, it became an established practice to flash firearms in wedding parties and other social gatherings. Armed bodyguards became a sign of prestige in the Punjabi society.
There is also a religious aspect to the issue. A significant section of the population is Sikh.

The religion is based on the 'Miri Piri' concept, i.e. temporal and spiritual progress. This means that it focuses on both- 'shastar' (religious texts) and shastr (weapons).

While both are integral to Sikhism, the injunction is to not strike first, i.e. the arms are for protection.

It calls on the individual to stand up and protect oneself and the weak, when under assault. copyright©iasexpress.net

Over time, the idea of weaponry as an integral part of the Sikh attire and a symbol of Sikh pride and identity, became deeply embedded in the collective mindset.

Notably, the Article 25 of the Constitution which guarantees freedom of conscience and religion, allows Sikhs to carry a 'kirpan' i.e. a short dagger.

However, controversies have been erupting with regards to this provision.

In 1990, MP Simranjit Singh Mann was prohibited from entering the Parliament with a 3 foot long sword.

Amritdhar students are prevented from entering exam halls.

Sikh passengers carrying arms aren't allowed to board flights.

The high demand for firearms has bred an illegal market of arms, smuggled in from Madhya Pradesh, Uttar Pradesh and even Pakistan.
As a result, illegal arms are readily available and even affordable. For instance, country-made pistols (called 'desi katta') cost between 2,550-15,000 INR.
What role does pop culture have here?
The proliferation of firearms in the state goes hand-in-hand with the Punjabi pop music's popularity, especially those with lyrics referring to guns and featuring men flaunting such weapons.
For instance, Sidhu Moose Walla was booked for promoting guns in 2020. In May that year, pictures of him firing an AK-47 went viral, for which he was booked under Arms Act. He was again booked in July for promoting guns and violence through another one of his songs. copyright©iasexpress.net
Other Punjabi singers have faced police action too, like Elly Mangat for allegedly participating in celebratory firing in 2019, Sippy Gill for his songs allegedly promoting weapons and violence in 2020, etc.
Why is the order being criticized?
The Punjab government's recent order is being criticized as a 'knee-jerk reaction' to the prevailing anxieties over the state's law and order situation.
This isn't the 1st such order either. In February 2020, the state's CM ordered a crackdown on movies promoting gun culture. Such tactics have proved to be ineffectual, and sometimes even counter-productive.
How the government would wipe out a half-century-old culture through such a ban is being questioned by critics. There are also questions about how the government would enforce such an order in the social media age.
Critics say that such orders are often poorly worded and implemented without proper application of mind.

For instance, following several instances of holy texts' sacrilege, the state government amended the IPC Section 295 A which deals with injuring/ defiling places of worship with an intent to insult a religion.

This Punjab Legislative Assembly unanimously passed the amendment which introduced life imprisonment as a penalty for those convicted for blasphemy against the Guru Granth Sahib. copyright©iasexpress.net

However, it was returned seeking clarity on what constituted 'blasphemy' and why Section 295 A was in itself not sufficient. Finally, the amendment fell through.

Similarly, following the series of drug-related deaths in 2018, several ill-considered actions were taken:

Death sentence was recommended for the smugglers, thousands of addicts were thrown in jail and sale of syringes without doctor's prescription was banned.

As syringes are essential for several medical conditions, the order led to a medical emergency and had to be withdrawn.

Such reactions from the government's part shows the tendency to curb the symptom, without addressing the root cause.
It is to be noted that banning a work of art, especially in such a connected age, could cause it to flourish.

During the Farm Bills protest, when the government made YouTube remove the 'Ailaan' song, it quickly moved on to other platforms and evolved into an underground anthem of protest.

Similarly, when the government got YouTube to ban the 'SYL' song, it turned into a major hit and even expanded the singer's fanbase.
What is the way ahead?
The state continues to pay the price for its militancy phase, with industries and entrepreneurs having fled to neighbouring states. The gun culture is another one of its vestiges. copyright©iasexpress.net
The recent spate of gun violence-related cases has been taking a toll on the society's anxiety over the law and order situation. However, solving Punjab's gun culture issue will take more than banning a few songs.
Some scholars opine that songs and movies only reflect the society. Addressing the existential angst and alienation among the state's youth could help solve the issue.
Despite the many criticisms of the recent order, its point on lodging an FIR and police action against hate speech is where it gets things right. Curbing hate speech is vital to keep the Punjabi society from losing any more by descending into violence, as was seen in the 1980s.
When the people see that the state efficiently delivers justice, they are less likely to resort to guns and violence. The government needs to carry out its mandate in ensuring law and order, to create a sense of safety.
Conclusion:
The recent order is more of a knee-jerk reaction than a well-thought-out strategy to clean up a half-century-old problem. However, the order gets it right with regards to curbing hate speech. Reducing the sense of alienation and protecting law and order is vital.
Practice Question for Mains:
Comment on the prevalence of gun culture in Punjab. How far would the recent government order banning songs promoting guns and violence go in addressing the issue? (250 words) copyright©iasexpress.net