National Energy Policy – Need, Issues, Solutions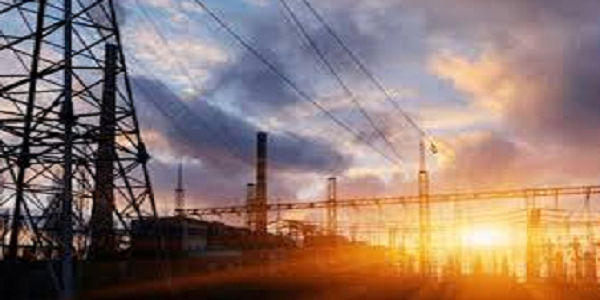 The International Energy Agency, in its India 2020 Energy Policy Review, has recommended adoption of NITI Aayog's Draft National Energy Policy, which is under consideration since 2017 and is yet to be enforced due to several inter-ministerial differences. This said policy fails to address various other issues faced by India's energy sector. Therefore, changes must be made in a way that enables coordination of all parties and also allows the country to adopt green energy as climate change has a significant impact on India's economy and people. This reformed policy must be adopted as soon as possible as the country is currently facing rampant energy poverty despite having surplus energy under its domain.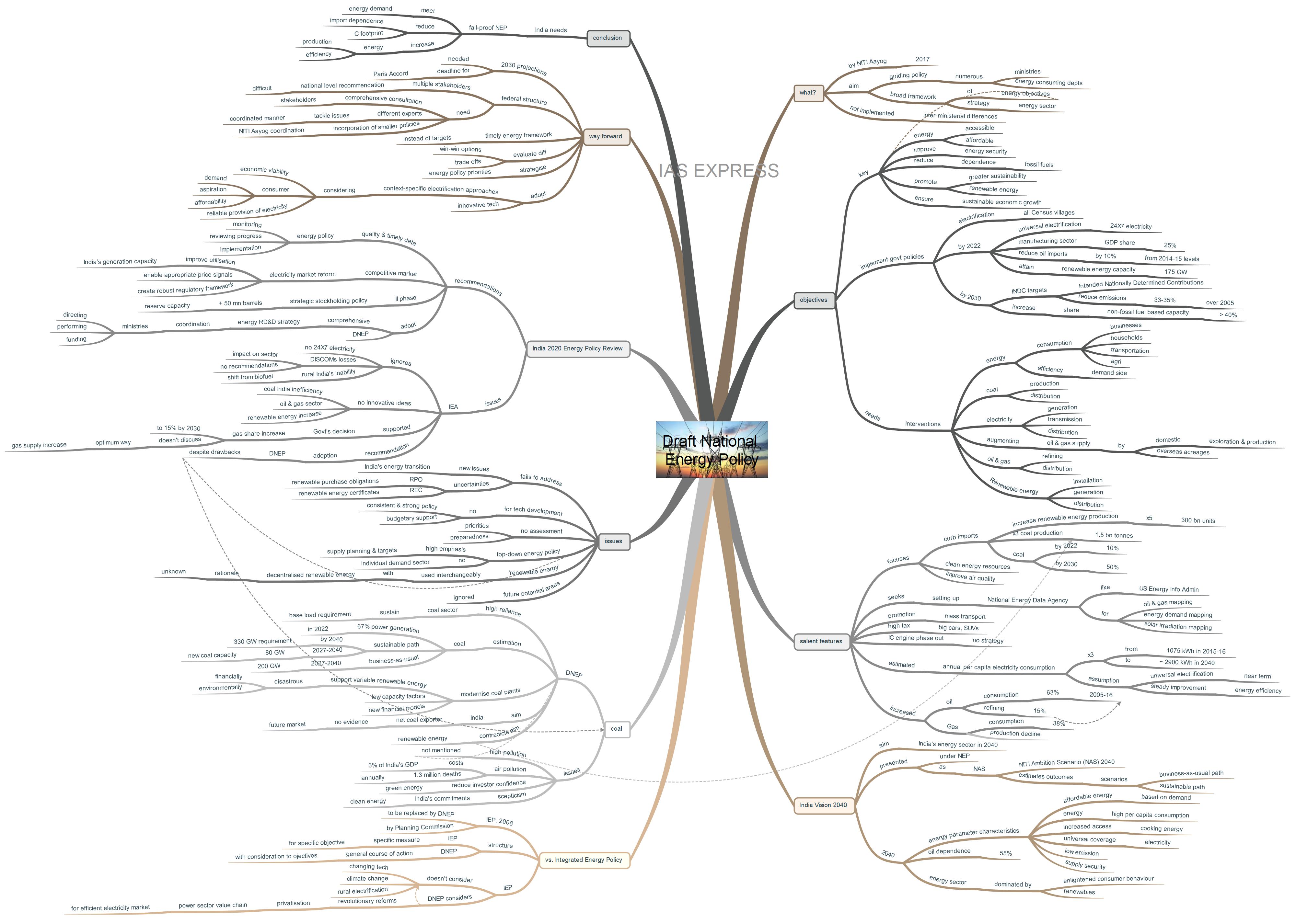 Mindmap Learning Programme (MLP)
Absorb information like a sponge!
What is Draft National Energy Policy (DNEP)?
NITI Aayog's Draft National Energy Policy (DNEP) aims to provide a guiding policy for all energy ministries by encompassing regulations for coals and mines, renewable energy, oil and gas, and the environment.
This integrated policy covers half a dozen ministries and energy-related departments, mandating them to follow its guidelines while formulating their own policies and regulations.
In short, the policy intends to provide a broad framework of national energy objectives and a strategy for the overall energy sector while considering challenges and global developments.
The Draft National Energy Policy has been under consideration since 2017 and has not been implemented due to some inter-ministerial differences.
What are the objectives of DNEP?
The key objectives of Draft National Energy Policy are as follows:

Ensuring accessibility at affordable prices
Improving energy security and reducing dependence on fossil fuels
Promoting greater sustainability and renewable energy
Ensuring sustainable economic growth

To achieve these aforementioned objectives, seven areas of interventions were identified:

Energy consumption by businesses, households, transportation and agriculture
Energy efficiency or de-carbonisation measures on the demand side
Production and distribution of coal
Electricity generation, transmission and distribution
Augmenting oil and gas supply, both by domestic exploration and production and through the acquisition of overseas acreages
Refining and distribution of oil and gas
Installation, generation and distribution of renewable energy

The policy also intends to meet the government's following proposals pertaining to the energy sector:

Electrification of all Census villages
Universal electrification with 24X7 electricity by 2022
Increase the GDP share of the manufacturing sector to 25% by 2022
Reduction of oil imports by 10% from 2014-15 levels by 2022
Achieving Intended Nationally Determined Contributions (INDC) target of reducing emissions intensity by 33-35% of the 2005 levels by 2030
Attaining 175 GW renewable energy capacity by 2022,
Increase share of non-fossil fuel-based capacity in electricity mix at above 40% by 2030.

Though the government is already taking necessary initiatives to implement these goals, there is a need for a clear strategy to ensure clarity amongst all stakeholders on the government's long-term energy agenda.
The Draft National Energy Policy seeks to provide the same.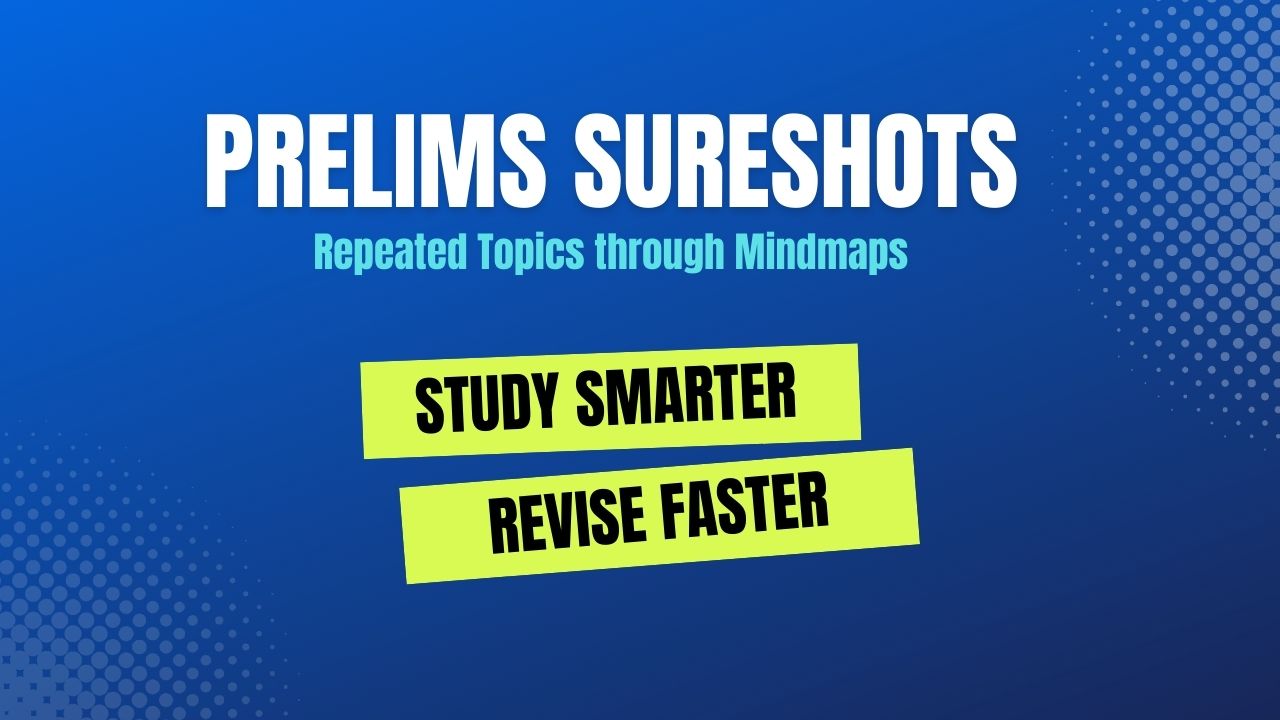 What are the salient features of Draft National Energy Policy?
The DNEP aims to curb imports by increasing production of renewable energy fivefold to 300 billion units and tripling coal production to 1.5 billion tonnes.
It seeks to bring down coal imports by 10% by 2022 and by 50% by 2030.
It focuses on clean energy resources like solar and natural gas
It recommends setting up of National Energy Data Agency similar to the US' Energy Information Administration (EIA) to provide oil and gas mapping, energy demand mapping, solar irradiation mapping etc.
The policy recommended high tax for big cars, SUVs and promotion mass transport like metro and buses in order to improve air quality
Though the policy mentions phasing out of IC engine vehicles, not much emphasis has been given.
The DNEP predicted tripling of India's annual per capita electricity consumption from 1075 kWh in 2015-16 to over 2900 kWh in 2040 by assuming universal electrification of India in the near term and steady improvement of energy efficiency.
The report also found the following:
India's oil consumption has grown by 63% from 2005 to 2016. However, the refining capacity has grown only by 15% during the same period.
Gas consumption has increased by 38% while the production has fallen since 2012.
What is India Vision 2040?
India Vision 2040 aims to predict what India's energy sector would look like in 2040.
It was presented under the NEP as NITI Ambition Scenario (NAS) 2040 to estimate the expected energy status of India.
The NAS seeks to provide effects on the Indian energy sector, representing the outcomes if India follows a business-as-usual path versus if it moves to the sustainable and cleaner pathway. The policy focuses on link to the latter
India's energy parameters in 2040 will be characterised by:

Providing affordable energy based on demand
High per capita consumption of electricity
Increased access to cooking energy
Universal coverage of electricity
Low emission
Supply security

The energy sector is predicted to be dominated by renewables and the enlightened consumer behaviour will become the order of the day.
The NAS estimates that by 2040, India's oil dependence may reach 55% from the current level of 33%. However, it does not provide for any solution to curtail this scenario.
How is Draft National Energy Policy different from Integrated Energy Policy, 2006?
DNEP, if implemented, would replace Integrated Energy Policy, 2006.
Integrated Energy Policy (IEP), which was adopted by the then Planning Commission, provides a roadmap and a basket of specific measures to achieve specific objectives.
For example, for the advancement of renewable energy, the IEP recommended conversion of the Indian Renewable Energy Development Agency (IREDA) into a national refining institution similar to NABARD.
The DNEP, on the other hand, contains a list of general courses of action the government should take by identifying objectives that need to be considered during the implementation.
Additionally, unlike DNEP, IEP does not take into account change in solar energy technology, issues of climate change and government's rural electrification agenda.
DNEP can be praised for recommending revolutionary reforms like privatising the entire power sector value chain to create an efficient electricity market.
What is the issue of promotion of coal by DNEP?
The DNEP relies on coal sector to sustain the nation's baseload requirement for meeting the growing energy demand. It estimates that coal would fuel 67% of India's power generation in 2022.
It should be noted that though India's power sector continues to be dominated by coal, there has been a progressive shift towards renewable energy. According to CARE Ratings, between 2015 and 2020, installed capacity of coal has declined from 61% to 54%.
The DNEP calculated energy requirement until 2040 and estimated that India would require 330 GW of coal capacity by 2040 in its sustainable pathway.
Under the best-case scenario (for clean energy), DNEP plans to build at least 80 GW of new coal capacity between 2027 and 2040.
Under the business-as-usual scenario, the policy plans for nearly 200 GW of new coal capacity during the same period, taking the total to 441 GW.
This comes at a time when the world is moving towards investments in renewable energy in a bid to address climate change.
Planning to increase coal capacity now is like detailing plans to invest in old technologies that are not only inefficient but also prone to increasing the effects of climate change.
Promoting coal should not be the strategy for India as:

India is home to half of the 20 most polluted cities in the world
Air pollution costs 3% of India's GDP and 1.3 million deaths annually.

The policy plans for modernising coal power stations to support variable renewable energy, similar to the model used in Germany. However, Germany's model proved to be disastrous both financially and environmentally.
While the DNEP plans for low capacity factors and new financial models for coal power plants as renewable energy sources eat into their revenue stream, it does not mention anything about the additional pollution caused by the old thermal power plants not built for flexible operation.
Additionally, the policy also seeks to make India a net coal exporter in a few years, despite the lack of evidence that there would be a market for purchasing coal.
The policy, while aiming to triple the coal production to 1.5 billion tonnes, contradicts the aim of shifting towards renewable energy
It creates scepticism about India's commitment to clean energy and crushes investor confidence in the renewable sector.
What are the issues with Draft National Energy Policy?
Draft National Energy Policy fails to address the following aspects:
It did not provide for an adequate framework for several issues that have risen and intensified during India's energy transition, which is still in its nascent stage.
It did not address the uncertainties, especially the issues pertaining to renewable purchase obligations (RPO) and renewable energy certificates (REC). However, it does offer DISCOMs government support for the implementation of RPO and REC obligations.
The DNEP, while providing broad recommendations on how India should develop and acquire necessary technology for the energy sector, has not recommended consistent and strong policy and budgetary support for technological development.
The policy calls for grid-based supply to all households with renewable energy implementation to address accessibility issues in places where grid power is impossible. In the report, the term 'renewable energy' has been used interchangeably with decentralised renewable energy. It has failed to give out the rationale for this approach.
The DNEP, though provides for comprehensive coverage, fails in the assessment of priorities and preparedness.
This top-down energy policy gives high emphasis to supply planning and targets while missing out much of the dynamics in the individual demand sectors.
Most of the potential areas of future like time of load management, growth of electric vehicles, are not given higher priority.
India 2020 Energy Policy Review:
What are the recommendations made by IEA's India 2020 Energy Policy Review?
Apart from lauding government's energy sector policies, IEA has recommended the following:
Good quality and timely energy data are vital for monitoring, reviewing progress and for the implementation of energy policies.
It called for the creation of a competitive market through electricity market reforms to:

Improve utilisation of India's generation capacity
Enable appropriate price signals
Create a robust regulatory framework

It recommended the government to pursue the second phase of its strategic stockholding policy, which would add an additional 50 million barrels of reserve capacity and prepares subsequent phases.
It also called for adopting comprehensive energy research, development and deployment (RD&D) strategy for coordinating the widespread activities of ministries that are engaged in directing, performing and funding energy RD&D.
It also recommended adoption of NITI Aayog's DNEP to guide policymaking, implementation and enforcement across the country.
What are the issues with IEA's India 2020 Energy Policy Review?
The IEA, which was initiated in 1974 immediately after oil shock, is highly influential in the global energy market. Yet, the IEA's recent Energy Policy Review fails to provide India with necessary recommendations for the development of the country's energy sector by ignoring several policy limitations and glossing over problems faced by the sector. Some of the issues with the review are as follows:
Though it is remarkable that all villages in India have access to electricity, 24X7 power supply is still a distant dream, even in large cities. IEA ignores this aspect by praising India for merely giving high priority to the electrification of all villages
IEA, while lauding the functioning of Energy Regulatory Commissions, does not point out the large-scale losses faced by the DISCOMS and their impact on the country's power sector. It also does not provide the necessary recommendations to address this issue.
IEA appreciated the steps taken by the Indian government to invite private players in the coal sector. Also, it recognised the inefficiency of Coal India. However, it does not give any innovative ideas to transform the sector.
It did not provide any creative policy suggestions that are needed to improve operations of the oil and gas sector.
The IEA supported the government's decision of increasing gas share to 15% in the energy mix by 2030 from the current level of 6%. However, it does not discuss the optimum way to increase gas supplies and just recommends market-based pricing.
Because of Ujjwala programme, LPG is now available for 95% of people in India. However, rural poor are still unable to completely stop using biofuel. This is not discussed in the IEA report.
IEA has also praised India for increased renewable power production, though it did not recommend the necessary measures the government needs to take in order to achieve its goal of 175 GW grid-connected renewable energy capacity in 2022. It only recommended the obvious – the need for better system integration.
The IEA has recommended the adoption of the yet-to-be-completed National Energy Policy despite its drawbacks.
From these, it is evident that IEA has failed to help India in decarbonising the energy sector. It did not do a better job at analysing the necessary information for recommending policies that India needs to make the unhindered transition towards a cleaner economy, though it has the required expertise.
What can be the way forward?
NEP estimates 2022 and 2040 results for its business-as-usual and ambitious scenarios. As it provides valuable feedback for policymakers, it should also provide 2030 projections, as it is the deadline for India's Nationally Determined Contributions (NDCs) under the Paris Climate Accord.
One of the major challenges faced by NEP is the issue of multiple stakeholders in a federal structure. This is why even the US has failed to implement an effective 'national' energy policy. Also, states, the key stakeholders, have different levels of preparedness, ability and appetite for the transition to green energy. So, any recommendation at the national level is highly difficult to be implemented at the ground level.
India too has multiple jurisdictions, ministries and stakeholders. NEP must undertake extensive consultation and must task different domain experts to address issues in a coordinated manner.
Also, the top-down or 'national' approach is unrealistic for a country's energy policy. Therefore, it must incorporate multiple smaller policies so that none of the vital policies is overshadowed by a single broad strategy. NITI Aayog has the capacity to coordinate these policies.
More than targets, it is necessary to bring in better energy frameworks at the right time and place.
The difference between win-win options and trade-offs must be evaluated. The NEP must focus on strategizing India's energy policy priorities.
While doing this, it is necessary to encourage context-specific electrification approach in consideration with economic viability, consumer demand, aspiration and affordability and reliable provision of electricity.
Exploring new technologies should be made a part of this policy so that innovation and technological growth is encouraged in the sector.
Conclusion:
India, being one of the fastest-growing economies in the world, needs a fail-proof National Energy Policy that can meet the growing demand for energy within the economy by reducing import dependence. This policy should not only increase energy production and efficiency but also minimise the impact of the energy sector on the environment and climate change.
Practice question for mains:
Critically examine the limitations in Draft National Energy Policy. What can be done to improve it? (250 words)