[Editorial] Desludging Model for ULBs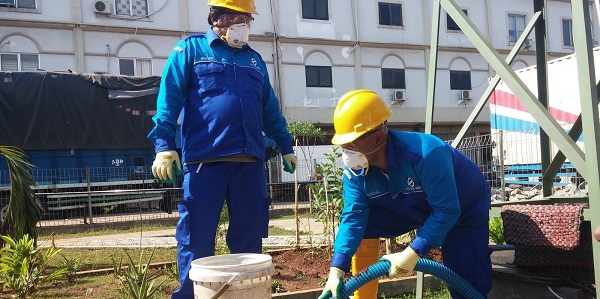 Mindmap Learning Programme (MLP)
Absorb information like a sponge!
What is the situation in India?
In India, ULBs (Urban Local Bodies) have started to take measures for FSSM/ faecal sludge and septage management.
According to

NITI Aayog's

report (

Faecal Sludge and Septage Management in Urban Areas, Service and Business Models, 2021

),

over 700 cities and towns

are in different stages of implementing the FSSM system.
More than

220 faecal sludge treatment plants

(FSTPs) are under construction and

150 are operational

.
However, sustaining the FSTPs has been a challenge for the ULBs. One of the major challenge is matching the faecal sludge load with the treatment plant's

design criteria

. Too much load can lead to the plant's failure.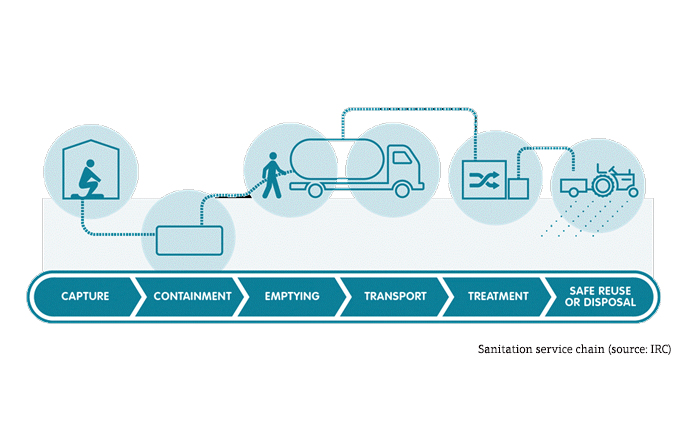 How frequently is desludging done?
National Faecal Sludge and Septage Management Policy

recommends the desludging of septic tanks once every

2-3 years

.
Indian households generally have

huge septic tanks 

that require cleaning once

every 10-15 years

.
In other countries, this is done once every

2 to 5 years

.
In some countries, like

Canada

and

Philippines

,

onsite sanitation system

is

inspected

and desludged according to the accumulation.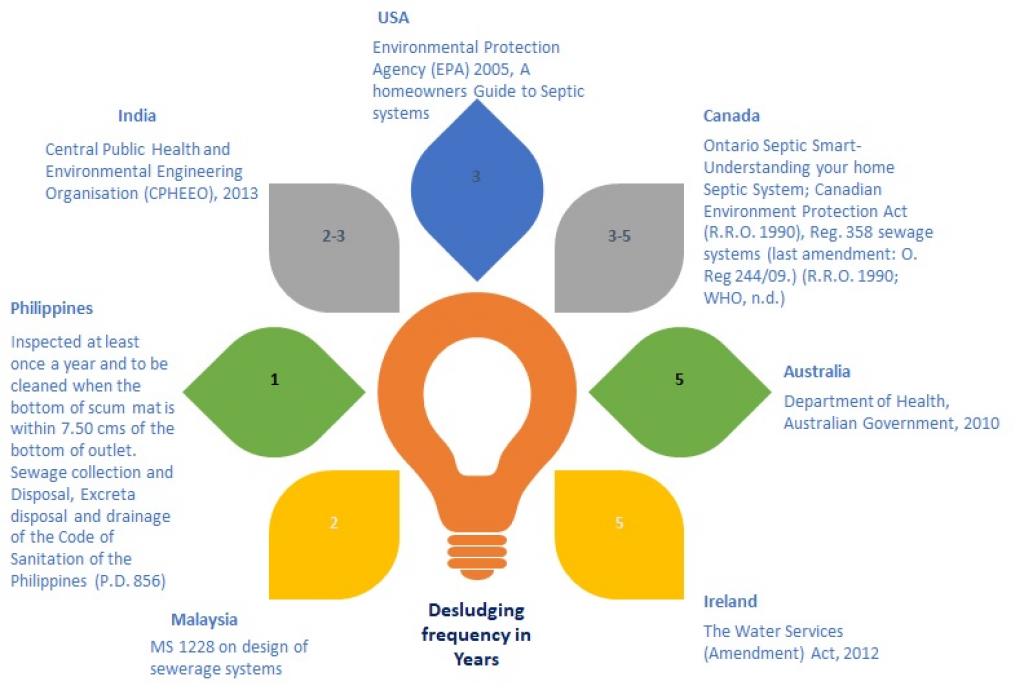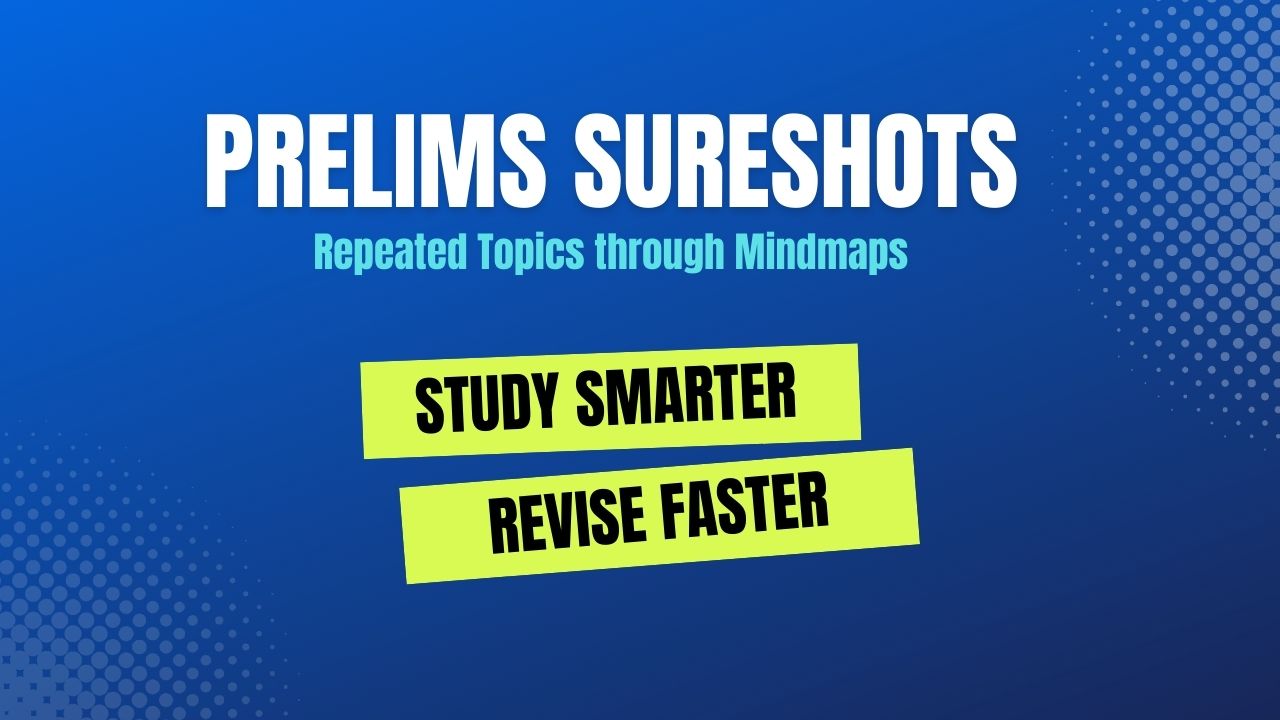 What are some criteria for determining desludging frequency?
Desludging frequency adopted by the different countries depend on

several factors

:

Access
Onsite sanitation system typology
Operational scheme
Financial arrangement
Personnel arrangement
Best practices and regulations
Byelaws and taxations
Awareness generation
Behaviour change

When considering a desludging model for ULBs in India, several other factors must be taken into account:

Desludging cost

: the cost is

competitive

in

larger ULBs

due to presence of

multiple private players

. However, the

smaller ULBs

face

more expenses

in desludging due to smaller number of private players creating a monopolistic situation.

Demand

: the demand is higher in larger ULBs compared to smaller ULBs. As a consequence, private players are attracted towards the larger ULBs.
How do the demand-based model compare with the scheduled desludging model?
The countries have largely resorted to one of the

2 types of desludging model

, based on the various factors:
Demand-based model
Scheduled desludging model
In places where the houses have

large septic tanks

requiring desludging only once

every 10-15 years

,

scheduled desludging

is a suitable model.
This model is also used in

Wai

, Maharashtra and in

Malaysia

. It is also used in

Nepal

,

Bangladesh

and

Indonesia

.
The

schedules

are planned by the authorities and the households are required to pay a

desludging tax

.
This monthly taxation facilitates the households to pay for sanitation in

small amounts

rather than having to shell out a big amount at once. This makes the model

financially sustainable

.
For this model to succeed, the key requirements are

local government capacity

with regards to sanitation management and also

investment decisions

.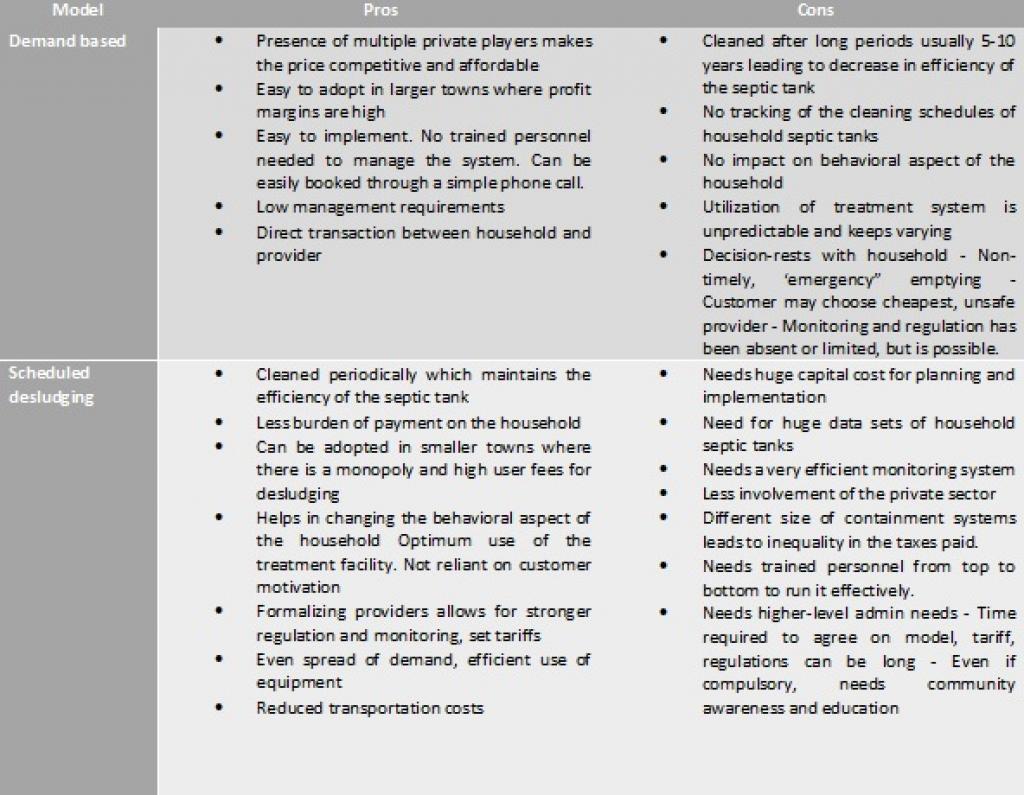 What are some examples?
Malaysian example:
The system in Malaysia could shed light on the involvement of various factors like

regulation

,

governance

,

private sector involvement

,

stakeholder engagement

,

incremental technologies

,

containment quality

and the importance of 

standard operating procedures

.
The government had

nationalized

the sewerage services between

1993

and

2013

. It provided regulated desludging services via

Indah Water Konsortium

, a state-owned sanitation company.
Though the system worked for the first 2 years, it failed as a result of

poor enforcement of septage management policies

. The scheduled desludging service wasn't regularly provided and regulatory agencies failed to fine the households that didn't comply with the rules.
The system also faced

poor sustainabilit

y due to

low demand

. The households were required to pay the

direct user charges

and this reduced the demand. The resulting

low collection

was inadequate for financing regular operations.
Tamil Nadu's strategy:
About

67% of the urban households

in the state have

septic tanks

.
The

Tamil Nadu Urban Sanitation Support Program

uses the following approach:

Cost effective faecal sludge management solutions are scaled up using

State Investment Plan

. This is done in a phased manner across some

663 ULBs

.

Treatment facilities

are expanded
Creation of

enabling environment

and

institutional framework

to sustain the FSM interventions.
What is the way ahead?
Key to an

experiential learning approach

:

Rapid data collection
Co-develop program and finance options
Conduct early pilot projects on small scale to identify gaps
Upfront assessment of legal and institutional arrangements

Desludging must be treated as a part of the

bigger challenge of sanitation

.
The success of a desludging model lies in

Minimizing disruption

of existing market
Use of

differentiated model

based on the

generators' category

Focus on

protecting livelihood

and

prioritizing workers

' welfare, safety and health.

There isn't a one-size-fits-all kind of model. Each model has its own pros and cons. In general,

smaller ULBs

can do with

scheduled desludging model

while

larger ULBs

can be served by the

demand-based model

.
While deciding the desludging model for an ULB:

A

small scale pilot project

should be implemented before large scale adoption.
Lessons from the pilot project should help

tailor the model

to

local requirements.

Before finalizing a model, aspects such as

financial viability

,

regulations

,

infrastructural availability

,

institutional framework

, etc. must be evaluated.

In general, the model favoured by the

local households

tend to work better than the model imposed on them. Hence, ULBs need to assess what works and what doesn't while deciding on a desludging model.
Conclusion:
Solid waste management is a key requirement in light of increasing urbanization. A well-structured desludging model that is suited to local needs would help maintain sanitation at optimum level.