Civil Services Reforms: Mission Karmayogi – Need, Criticisms, Way Forward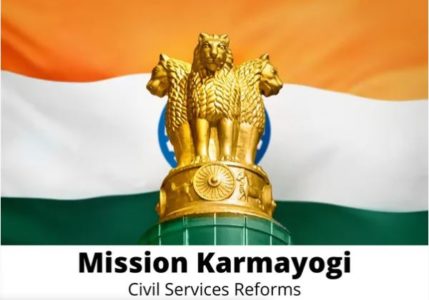 A well-functioning civil service helps to foster good policy formulation, effective service delivery, accountability and responsibility in utilizing public resources, which are the characteristics of good governance and also,  play an extremely important role in the administration and implementation, and in taking the country forward towards progress and development. Because of the changing societal needs, civil service reform is a must. Recently, The Union Cabinet has approved 'Mission Karmayogi', a new capacity-building scheme for civil servants aimed at upgrading the post-recruitment training mechanism for the officers and employees at all levels. In this context, let's quickly examine about Mission Karmayogi in detail.

According to reports, the main objective of the mission Karmayogi is to overcome existing obstacles such as the 'lack of lifelong and continuous learning environment' while improving sharing practices towards eliminating the emergence of departmental silos.
The program has been, reportedly, developed to improve the ease of living for the common man by creating a more harmonious relationship between India's citizens and government institution.
For years, the government bureaucracy has been criticized for its high levels of inefficiency and red-tapism.
Governmental positions have come to be viewed as the archetype sinecure with civil servants rarely held answerable to their performance.
Moreover, civil servants have also come under criticism for their 'rulebook' approach in handling cases, overly complicated procedures and thereby remaining inflexible to the actual needs of the Indian public.
There have also been reports of significant political interference within administrative ranks leading to a greater incidence of corruption and overall institutional decline.
Another one of the chief criticism of Indian government bureaucracy has been an inertia to embrace change and adapt to new norms and practices.

What the mission is all about?
The mission Karmayogi is a nationwide program to lay the foundation for capacity building of civil servants, so that they remain entrenched in Indian culture while they learn the best practices across the world.
It is also called the National Program for Civil Services Capacity Building (NPCSCB), the mission seeks to transform Human Resource Management from 'rules-based' to 'roles-based'.
According to the central government, this is the biggest human resource development program in the government.
Mission Karmayogi aims to prepare Indian civil servants for the future by making them more creative, constructive, imaginative, innovative and proactive.
The program will also help in making the civil servants more professional, progressive, energetic, enabling, transparent and technology-enabled and ending subjective evaluation, and ensure scientifically-devised, objective and real-time assessment of employees.
It will use scale & state of the art infrastructure to augment the capacity of civil servants.
Under the mission, officers will get an opportunity to improve their performance and the government will be providing mid-career training to civil servants. The training which was earlier available for only All India Services will now be compulsory for all officers at all levels.
It will build future-ready civil service with the right attitude, skills and knowledge, aligned to the vision of new India.

What are the six pillars of the mission?
The mission will be based on six pillars which includes

Policy Framework
Institutional Framework
Competency Framework
Digital Learning Framework
The Electrical Human Resource Management System
The Monitoring and Evaluation Framework
Salient Features and Core Guiding Principles
Mission Karmayogi is based on the government's vision on how a civil servant should be. A civil servant of today, to meet the challenges of the world, will have to be imaginative and innovative, proactive and polite, professional and progressive, energetic and enabling, transparent and tech-enabled, and constructive and creative.
The Program will be delivered by setting up an Integrated Government Online Training – iGOT Karmayogi Platform.
The core guiding principles of the Program will be:

Supporting Transition from 'Rules-based' to 'Roles based* HR Management. Aligning work allocation of civil servants by matching their competencies to the requirements of the post.
To emphasize on 'on-site learning' to complement the 'off-site' learning.
To create an ecosystem of shared training infrastructure, including that of learning materials, institutions and personnel.
To calibrate all Civil Service positions to a Framework of Roles, Activities and Competencies (FRACs) approach and to create and deliver learning content relevant to the identified FRACs in every Government entity.
To make available to all civil servants, an opportunity to continuously build and strengthen their Behavioral, Functional and Domain Competencies in their self-driven and mandated learning paths.
To enable all the Central Ministries and Departments and their Organizations to directly invest their resources towards co-creation and sharing the collaborative and common ecosystem of learning through an annual financial subscription for every employee.
To encourage and partner with the best-in-class learning content creators, including public training institutions, universities, start-tips and individual experts.
To undertake data analytics in respect of data emit provided by iGOT- Karmayogi about various aspects of capacity building, content creation, user feedback and mapping of competencies and identify areas for policy reforms.
How will Mission Karmayogi work?
An integrated government online training platform – iGOT Karmayogi – will be set up for the Mission.
The iGOT-Karmayogi platform brings the scale and state-of-the-art infrastructure to augment the capacity of over two crore officials in India.
The platform will act as a launchpad for the National Program for Civil Services Capacity Building (NPCSCB), which will enable a comprehensive reform of the capacity building apparatus at the individual, institutional and process levels.
There will be a Prime Minister's Public Human Resources Council consisting of select Union Ministers, Chief Ministers, eminent public HR practitioners, thinkers, global thought leaders and public service functionaries under the chairmanship of the Prime Minister.
The council will serve as the apex body for providing strategic direction to the task of civil services reform and its capacity building.
NPCSCB will be governed by the Prime Minister's Human Resource Council.
Besides the Prime Minister's Public Human Resources Council, there will be a Cabinet Secretary Coordination Unit comprising of select secretaries and cadre controlling authorities.
The government has proposed to set up a Capacity Building Commission to manage capacity building ecosystem.
The Commission will also come out with an Annual State of Civil Service Report.
There will be a Special Purpose Vehicle (SPV) for owning and operating the digital assets and technological platform for online training and a coordination unit headed by the Cabinet Secretary for the program. It will be set up under Section 8 of the Companies Act, 2013.
The SPV will be a "not-for-profit" company and will own and manage iGOT-Karmayogi platform.
The SPV will create and operationalise the content, market place and manage key business services of iGOT-Karmayogi platform, relating to content validation, independent proctored assessments and telemetry data availability.
The SPV will own all Intellectual Property Rights on behalf of the Government of India.
Besides the setting up of the SPV, an appropriate monitoring and evaluation framework will also be put in place for performance evaluation of all users of the iGOT-Karmayogi platform to generate a dashboard view of Key Performance Indicators.
Role of Capacity Building Commission
Mission Karmayogi proposed to set up a Capacity Building Commission, to ensure a uniform approach in managing and regulating the capacity building ecosystem on a collaborative and co-sharing basis.
The role of the commission includes:

To assist the PM Public Human Resources Council in approving the Annual Capacity Building Plans.
To exercise functional supervision over all Central Training Institutions dealing with civil services capacity building.
To create shared learning resources, including internal and external faculty and resource centres.
To coordinate and supervise the implementation of the Capacity Building Plans with the stakeholder Departments.
To make recommendations on standardization of training and capacity building, pedagogy and methodology.
To set norms for common mid-career training programs across all civil services.
To suggest policy interventions required in the areas of HR Management and Capacity Building for the Government.
How will the mission be implemented?
The implementation will be based on the framework for the mission, which consists of the following:

Prime Minister's Public Human Resource Council
Cabinet Secretary Coordination Unit
Capacity Building Commission
Special Purpose Vehicle
How will it be funded?
To cover around 46 lakh central employees, a sum of Rs 510.86 crore will be spent over a period of 5 years from 2020-21 to 2024-25.
The expenditure is partly funded by multilateral assistance to the tune of $50 million.
Merits
The mission Karmaayogi will help make Civil Servant more efficient, effective, accountable, and responsive to the needs of the citizen as the capacity of Civil Services plays a vital role in achieving better governance
The presence of capacity building apparatus at individual, institutional and process levels for efficient public service delivery makes it holistic in nature.
Due to the special emphasis given to continuous online learning and shared ecosystem, it significantly reduces the training cost of civil servants for both Center and State government.
The salient features and objectives of the mission bring in expert knowledge, help in the overall success of the program.
The mission helps for the transformation of work culture and leads to a better work culture due to the adoption of modern technology (i GOT) which emphasizes skills.
Criticisms
Linking training to career progression and performance is complex in practice and needs careful planning, systemic ownership and a high degree of transparency and credibility.
While a centralized architecture may offer coordination and standardization, a diverse public sector workforce needs a decentralized training and learning ecosystem.
Good training is an important facet of state capacity, but is unlikely to improve service delivery or get absorbed by organizations without a concomitant effort to change organizational norms and learning culture.
The challenges of incentives–linked training
While the emphasis on incentives and motivation is important, previous attempts to link training to performance reveal implementation challenges. Civil servants must allocate time and get clearance to attend training, especially at locations away from their posting. Systems that don't value training can make attendance difficult as demonstrated in practice with the Mid-Career Training Program (MCTP). Eventually, this leads to the incentive-linked training becoming a burden rather than an opportunity to learn.
Here, the proposed digital ecosystem and self-learning model offered by the iGOT platform could help overcome some of these challenges through flexibility in terms of location and the availability of time. However, if adequate time for online coursework is not prioritized by the department, but transferred too often already overloaded individuals, one might end up with another version of the same problem.
The methodology for performance assessment must be consistent, credible and transparent. As seen in the case of other initiatives to rank and induce competition in public programs, frequent changes in the scoring methodology provide unclear signals on whether the improvement in ranks reflects better performance or the re-weighting of score components.
If poorly conceived and executed, incentive-linked training runs the risk of becoming a source of demotivation in the system.
Getting assessments right will become particularly important and challenging in the context of a large and diverse public service workforce.
Way Forward
Though this is a great breakthrough for the Indian civil service, the success of the initiative mainly depends on how it will be received by civil servants
As such, it remains to be seen how quickly the existing cohort of civil servants will be able to adapt to the government's new human resource framework.
Need a diverse and decentralized learning ecosystem
Mission Karmayogi departs from previous administrative reform initiatives by going beyond Group A and B officers to include in its ambit the 89 per cent of public service workers in Group C — many of whom serve frontline functions. This is a much-needed prioritization. However, it is for precisely this reason that the emphasis on digital content and training, and the centralized institutional architecture of the proposed reform must be balanced by an understanding of the contexts and needs of diverse workers and learners.
While digital learning undoubtedly offers numerous possibilities, we must also consider which aspect of learning it is best suited to address.
The importance of organizational culture
Extensive research shows that individual-level technical, behavioural and professional training alone offer limited gains to performance in complex systems.
Civil servants must contend with deeply embedded norms of governance, complex tasks and outcomes, overload, extensive networks of partners, and exogenous socio-political factors.
Norms of hierarchy and bureaucratic processes can stifle innovation even among highly skilled workers. In short, the culture in which competence is deployed is as important as competence itself.
Conclusion
Though the program to reform the Civil Services is well intended, In the current form, there is a fear that the Mission aims at a more centralized system of man-management. So its success depends on how transparently it is implemented.
Practice Question for Mains
Critically examine the below statement in the context of the recently proposed 'Mission Karmayogi' for Civil service reforms.
"The need for reform: the sooner it is done, the better would it be." (250 Words)
Learn More