[In-depth] Education During Pandemic – Issues Involved and Way Forward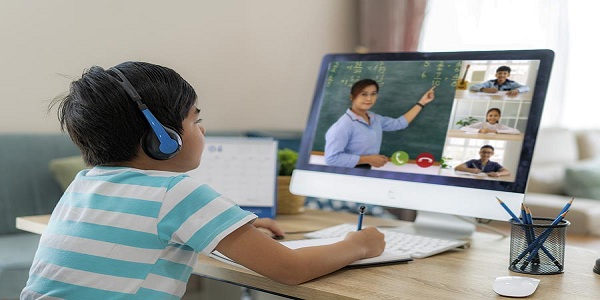 The recent confusion amongst the student fraternity and the education system regarding the holding of various examinations like board examinations, NEET and others highlight how the COVID-19 pandemic has hit the educational sector. The pandemic has not only made regular classroom learning difficult but also impossible. However, technology has come to rescue some through online learning, yet those students who have no access to technology are the worst sufferers. Although the governments at various levels are trying their best to find a solution to the problem, it is difficult to substitute the learning loss the students have to bear.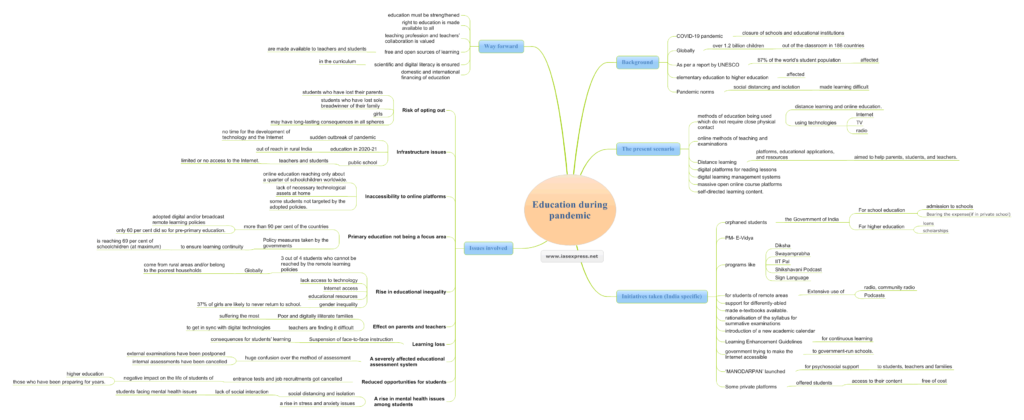 Mindmap Learning Programme (MLP)
Absorb information like a sponge!
Background
The occurrence of the COVID-19 pandemic has led to the closure of schools and educational institutions all over the world. 
Globally, over 1.2 billion children are out of the classroom in 186 countries.
As per a report by UNESCO, 87% of the world's student population is affected by COVID-19 school closures. 
From elementary education to higher education, all the levels of education have been affected.
Pandemic norms like social distancing and isolation have made learning difficult.
The present scenario
Since social distancing and isolation have become important, such methods of education are being used which do not require close physical contact.
Here comes the role of distance learning and online education.
With school closures across 188 countries (as of April 2020), many of them are exploring alternative ways to provide continuous education using technologies such as the Internet, TV, and radio.
Educational institutions are adopting online methods of teaching and examinations.
Distance learning solutions have become the way forward to the issue. These solutions include platforms, educational applications, and resources that are aimed to help parents, students, and teachers.
Now we have a lot of digital platforms for reading lessons, digital learning management systems, massive open online course platforms, and self-directed learning content.
According to the data released by the Ministry of Education (Government of India), 33 crore students have continued to attend classes and learn with the help of digital, online radio.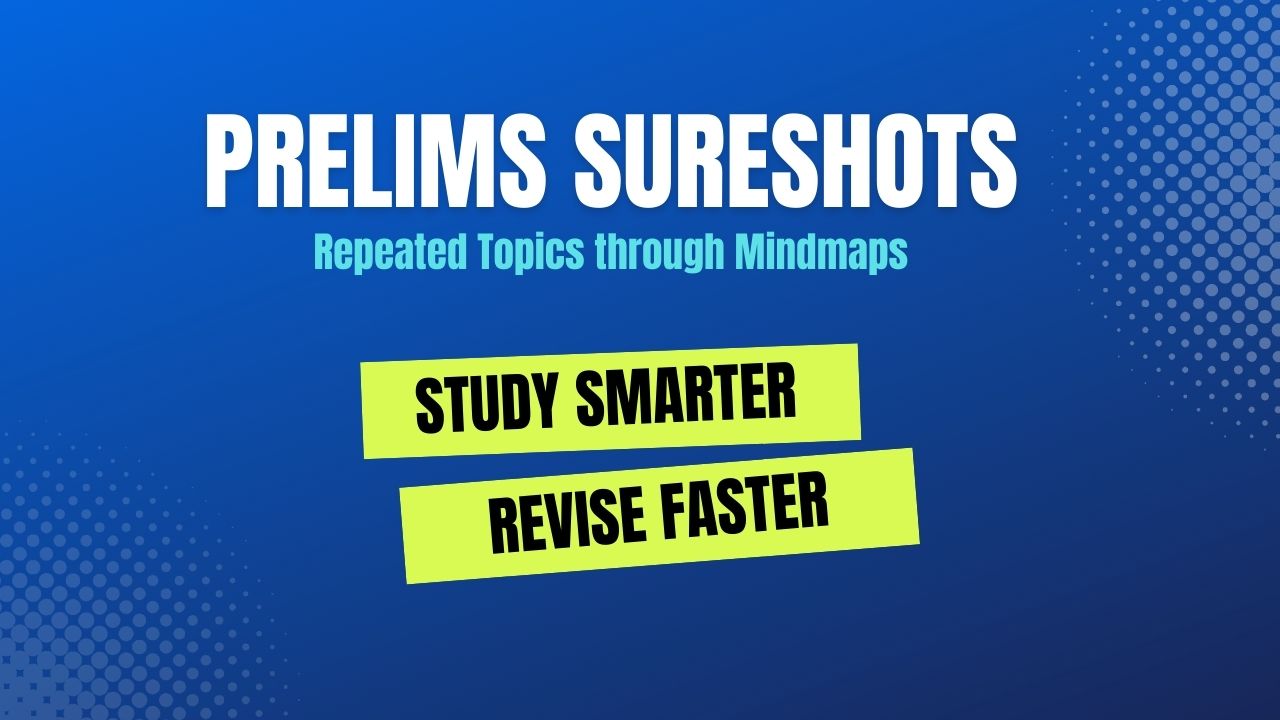 Issues involved
Risk of opting out 

Since many students have lost their parents or the sole breadwinner of their family, many of them are at risk of opting out.
Pandemic orphans have become an issue of concern that may have long-lasting consequences in all spheres.
Due to weak financial conditions caused by the pandemic, many students especially, girls face the risk of not attending educational institutions again.

Infrastructure issues

The sudden outbreak of pandemic in 2020 did not give time for the development of technology and the Internet. As a result, education in 2020-21 has been far out of reach in rural India.
Also, public school teachers and students have limited or no access to the Internet. 

Inaccessibility to online platforms

While, online platforms were the most used means by the governments to deliver education when schools remain closed, with 83 per cent of countries using this method. However, this allowed for potentially reaching only about a quarter of schoolchildren worldwide.
31 per cent of schoolchildren worldwide (463 million) cannot be reached by the broadcast- and Internet-based remote learning policies either due to the lack of necessary technological assets at home, or because they were not targeted by the adopted policies. 

Primary education not being a focus area

Coming to primary education, while more than 90 per cent of the countries adopted digital and/or broadcast remote learning policies, only 60 per cent did so for pre-primary education.
Policy measures taken by the governments to ensure learning continuity through broadcast or digital media allowed for potentially reaching 69 per cent of schoolchildren (at maximum) in pre-primary to secondary education globally. 

Rise in educational inequality

Globally, 3 out of 4 students who cannot be reached by the remote learning policies come from rural areas and/or belong to the poorest households.
Students in rural areas and from disadvantaged families lack access to technology, Internet access, and educational resources. 
Furthermore, there are also concerns over gender inequality. The problem of gender discrimination has also been seen along with the decline in the level of education in 2020 and 21.
In the Indian context, when it comes to providing gadgets to girls for their education in the time of economic crisis, their needs are often bypassed. 37% of girls are likely to never return to school.

Effect on parents and teachers

Distance learning is a good opportunity for students, parents and teachers in developed countries but not in developing ones. 
Poor and digitally illiterate families are suffering the most. 
Many teachers are finding it difficult to get in sync with digital technologies. They are facing numerous issues. Teachers in rural areas and from humble backgrounds are not able to adapt effectively.
Many students are dependent on their parents for their studies but due to the digital illiteracy of their parents and other reasons, such students are unable to learn.

Learning loss 

Suspension of face-to-face instruction in schools during the COVID-19 pandemic has led to concerns about consequences for students' learning.
According to studies, numerous students have lost language and mathematical capabilities in the time of pandemic due to inaccessibility to online classes and if distance learning is there, due to lack of understanding of the technologies of digital learning.

A severely affected educational assessment system

Most of the external examinations have been postponed and almost all the internal assessments have been cancelled, which harms students' learning capabilities.
Even if examinations are held, there is huge confusion over the method of assessment to be adopted and how the real capabilities of students are going to be assessed. This creates anxiety among students.

Reduced opportunities for students

Many entrance tests and job recruitments got cancelled which created a negative impact on the life of students of higher education and those who have been preparing for years.
These may hamper job eligibility and opportunities for students in future.

A rise in mental health issues among students

As social distancing and isolation have increased due to the closure of educational institutions, thus there is a lack of social interaction and therefore many students are facing mental health issues.
Many college students admit that their mental health has worsened during the pandemic.
There has been a rise in stress and anxiety issues among students.
Initiatives taken (India specific)
For those who are at risk of opting out for being orphaned, the Government of India has taken several measures to ensure their education.

For school education of those who are under 10 years

The child will be given admission to the nearest Kendriya Vidyalaya or in a private school as a day scholar.
If the child is admitted to a private school, the fees as per the RTE norms will be given from PM-CARES.
The PM-CARES Fund will also pay for expenditure on the uniform, textbooks and notebooks.

For school education of those who are in the group of 11-18 years

The child will be given admission to any Central Government residential school such as Sainik School, Navodaya, etc.
If the child is admitted to a private school, the fees as per the RTE norms will be given from the PM-CARES.
The PM-CARES Fund will also pay for expenditure on the uniform, textbooks and notebooks.

For higher education

The child will be assisted in obtaining an education loan for Professional courses / Higher Education in India as per the existing Education Loan norms. The interest on this loan will be paid by the PM-CARES.
As an alternative, scholarships equivalent to the tuition fees/course fees for undergraduate/ vocational courses as per Government norms will be provided to such children under Central or State Government Schemes.
For children who are not eligible under the existing scholarship schemes, PM-CARES will provide an equivalent scholarship.

A comprehensive initiative like PM- E-Vidya has been taken to students of the country. Along with this, programs like Diksha, Swayamprabha, IIT Pal, Shikshavani Podcast, and Sign Language have been started.
Extensive use of radio, community radio and Podcasts for those students who live in remote areas.
The government has also extended support for differently-abled and made e-textbooks available.
Furthermore, the government has rationalised the syllabus for summative examinations and introduced a new academic calendar.
The Indian government has issued Learning Enhancement Guidelines for continuous learning and is also trying to make the Internet accessible to government-run schools.
For psychosocial support, 'MANODARPAN' has been launched. It covers a wide range of activities to provide psychosocial support to students, teachers and families for mental health and emotional wellbeing during the COVID outbreak and beyond.
Some private platforms have also offered students access to their content free of cost.
Way forward
Given the challenges that the pandemic has posed in the educational sector, education must be strengthened for common good. The right to education should be made available to all, the teaching profession and teachers' collaboration is valued, free and open sources of learning are made available to teachers and students, scientific and digital literacy is ensured in the curriculum and domestic and international financing of education is done to reduce current levels of inequality. With changing times, there is a need to change priorities. Only this can ensure better learning outcomes in the forthcoming days.
Practise Question
Q. Discuss the various issues that the educational sector has been facing in the time of the COVID-19 pandemic.