National Medical Commission Guidelines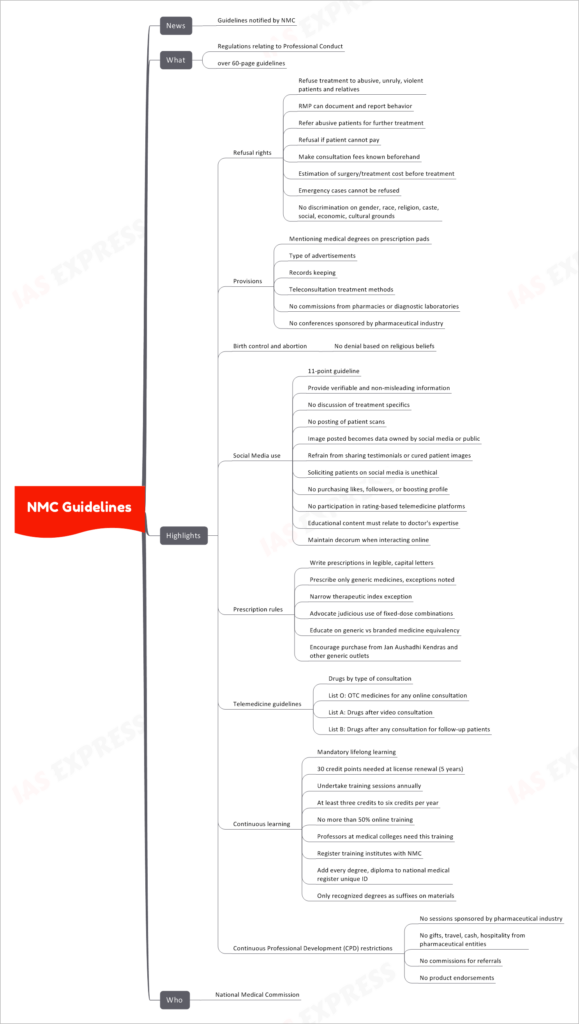 In recent news, the National Medical Commission (NMC) has taken a significant step to uphold ethical and professional standards in the medical field. The NMC has notified a comprehensive set of guidelines that address various aspects of medical practice, aiming to ensure patient welfare, transparency, and accountability.
Guidelines Notified by NMC
The guidelines laid out by the National Medical Commission encompass a wide range of regulations aimed at promoting professional conduct and ethical behavior within the medical community. Spanning over 60 pages, these guidelines cover diverse areas of medical practice and patient care.
Regulations Relating to Professional Conduct
The NMC guidelines touch upon various essential aspects of medical practice, including:
Refusal Rights
Refusing Treatment: Healthcare professionals have the right to refuse treatment to patients and their relatives if their behavior is abusive, unruly, or violent.
Documentation and Reporting: Registered Medical Practitioners (RMPs) are empowered to document and report such behavior for appropriate actions.
Referral for Further Treatment: In cases of abusive behavior, patients can be referred for further treatment to address their behavior.
Financial Considerations: Refusal of treatment is allowed if a patient is unable to pay for the medical services.
Transparency in Fees: Doctors are required to make consultation fees known to patients before treatment. copyright©iasexpress.net
Cost Estimation: The cost of surgeries or treatments should be estimated before the commencement of the procedure.
Emergency Cases: Emergency cases cannot be refused treatment.
Non-Discrimination: Healthcare providers must not discriminate against patients based on gender, race, religion, caste, social, economic, or cultural grounds.
Provisions
Prescription: Medical degrees should be mentioned on prescription pads for clarity and credibility.
Advertisements: Guidelines on the type of advertisements that medical professionals can engage in.
Records Keeping: Proper maintenance of patient records and medical documentation.
Teleconsultation Methods: Regulations for conducting teleconsultations and providing remote medical care.
Avoiding Commissions: Doctors are prohibited from receiving commissions from pharmacies or diagnostic laboratories.
Sponsored Conferences: Medical professionals cannot participate in conferences sponsored by the pharmaceutical industry.
Birth Control and Abortion
Religious Beliefs: Medical practitioners are not allowed to deny birth control or abortion services based on their religious beliefs.
Social Media Use
Guidelines: An 11-point guideline for medical professionals' social media presence.
Verifiable Information: Provide accurate and verifiable information on social media platforms.
Treatment Discussion: Avoid discussing specific treatment details on public platforms.
Patient Scans: Do not share patient scans or images on social media.
Ownership of Images: Images posted on social media may become public or owned by the platform. copyright©iasexpress.net
Testimonials: Refrain from sharing patient testimonials or images of cured patients.
Solicitation: Soliciting patients on social media is considered unethical.
No Artificial Boosting: Purchasing likes, followers, or boosting profiles is prohibited.
No Rating Platforms: Avoid participating in rating-based telemedicine platforms.
Educational Content: Share educational content relevant to the doctor's expertise.
Online Decorum: Maintain professionalism and decorum when interacting online.
Prescription Rules
Legible Prescriptions: Prescriptions should be written in legible, capital letters.
Generic Medicines: Doctors should primarily prescribe generic medicines, with exceptions noted.
Therapeutic Index: Narrow therapeutic index exceptions apply.
Fixed-Dose Combinations: Advocacy for judicious use of fixed-dose combinations.
Medicine Equivalency: Educate patients on the equivalence of generic and branded medicines.
Jan Aushadhi Kendras: Encourage patients to purchase medicines from Jan Aushadhi Kendras and other generic outlets.
Telemedicine Guidelines
Drug Classification: Guidelines for prescribing drugs based on the type of consultation:

List O: Over-the-counter medicines for any online consultation.
List A: Drugs after video consultation.
List B: Drugs after any consultation for follow-up patients.
Continuous Learning
Mandatory Lifelong Learning: Doctors are required to engage in continuous learning throughout their careers.
Credit Points: Accumulate 30 credit points for license renewal every 5 years.
Annual Training: Attend training sessions annually.
Training Credits: Attend a minimum of three to six credits per year. copyright©iasexpress.net
Online Training Limit: No more than 50% of credits can be earned through online training.
Training for Professors: Professors at medical colleges must also undergo this training.
Registration of Institutes: Medical training institutes must be registered with the NMC.
Degrees and IDs: Add all degrees and diplomas to the national medical register with a unique ID.
Recognized Degrees: Only recognized degrees can be used as suffixes on materials.
Continuous Professional Development (CPD) Restrictions
Sponsorship Restrictions: Medical professionals cannot attend sessions sponsored by the pharmaceutical industry.
No Gifts or Commissions: Restrictions on receiving gifts, travel, cash, or hospitality from pharmaceutical entities.
Referral Commissions: Doctors are prohibited from receiving commissions for patient referrals.
No Product Endorsements: Medical practitioners cannot endorse pharmaceutical products.
Learn More