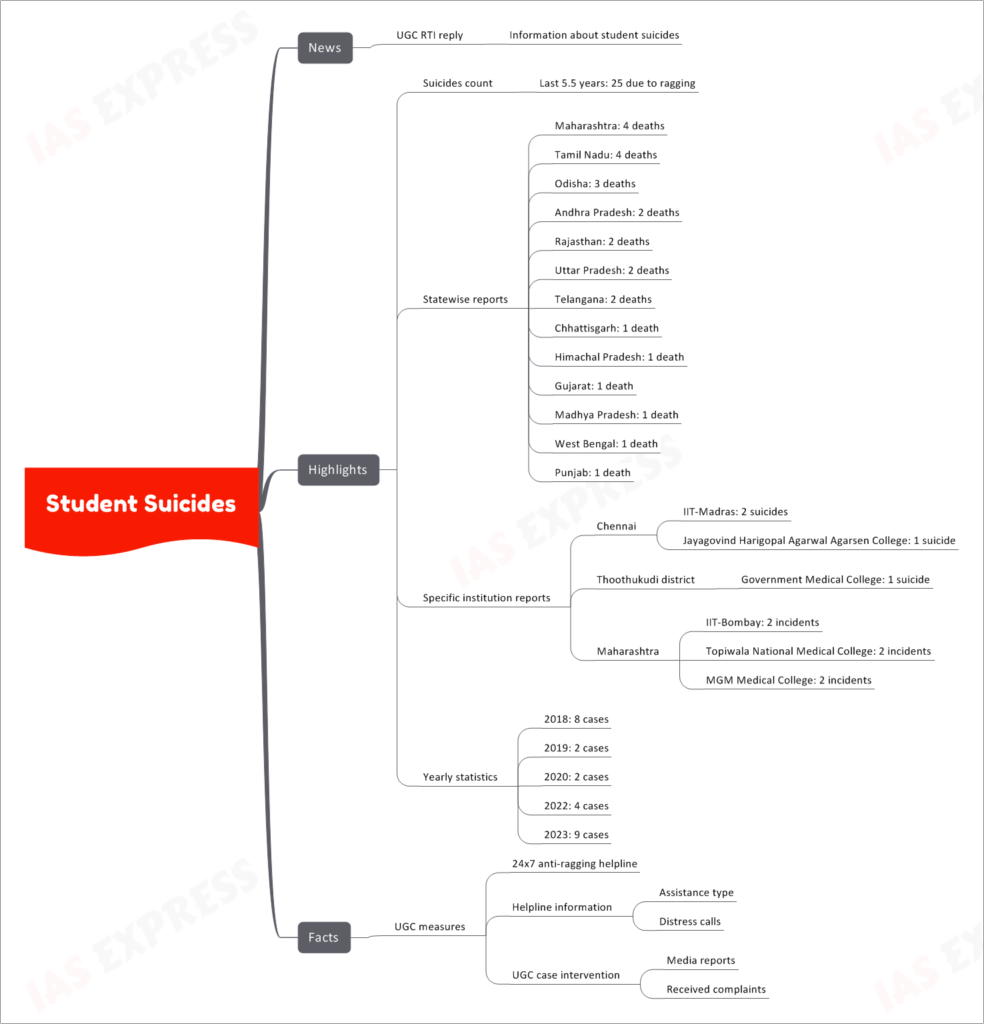 Recent news has brought to light a deeply concerning issue plaguing the education system – student suicides. A recent reply to an RTI query by the University Grants Commission (UGC) has shed light on the distressing prevalence of student suicides in the past few years. The statistics reveal a grim reality that demands urgent attention.
Highlights: The Stark Numbers
The UGC's RTI reply has revealed shocking numbers regarding student suicides, particularly those attributed to ragging. Over the past 5.5 years, there have been 25 reported suicides due to ragging. These numbers paint a distressing picture of the mental health challenges students are facing within the educational environment.
Statewise Reports
The suicides are not limited to any particular region, as evidenced by statewise reports:
Maharashtra: 4 deaths
Tamil Nadu: 4 deaths
Odisha: 3 deaths
Andhra Pradesh: 2 deaths
Rajasthan: 2 deaths
Uttar Pradesh: 2 deaths
Telangana: 2 deaths
Chhattisgarh: 1 death
Himachal Pradesh: 1 death
Gujarat: 1 death
Madhya Pradesh: 1 death
West Bengal: 1 death
Punjab: 1 death
Specific Institution Reports
Numerous institutions across India have been affected by this troubling trend:
Chennai:

IIT-Madras: 2 suicides
Jayagovind Harigopal Agarwal Agarsen College: 1 suicide

Thoothukudi district:

Government Medical College: 1 suicide

Maharashtra:

IIT-Bombay: 2 incidents
Topiwala National Medical College: 2 incidents
MGM Medical College: 2 incidents
Yearly Statistics
The yearly statistics paint a stark picture of the evolving crisis: copyright©iasexpress.net
2018: 8 cases
2019: 2 cases
2020: 2 cases
2022: 4 cases
2023: 9 cases
Facts: Addressing the Issue
The UGC has taken measures to address the concerning rise in student suicides:
24×7 Anti-Ragging Helpline: The UGC has established a helpline to combat ragging, providing assistance round the clock.
Helpline Information: This helpline offers various forms of assistance, including counseling for distressed students and a platform for reporting distress calls.
UGC Case Intervention: The UGC intervenes based on media reports and received complaints, working to address issues that come to its attention.
Learn More
[crp]